When it comes to planning for a holiday trip in Australia, many of my friends tend to choose cities like Perth, Melbourne, Sydney and Queensland, especially it's their first trip to Australia. Like me, I visited Perth and other parts of Western Australia some years ago. So, just going to Tasmania sounds devilishly exotic enough!
From Singapore, we arrived at Melbourne International Airport for the domestic flight to Hobart, Tasmania. Melbourne is our first port of entry; we need to pick up our luggage and clear the immigration and customs.
Note: Fill up your immigration form with care and do declare those items listed on the arrival card if you carry any. Also, if your flight is delayed, approach the ground staff; they may bring you to a shorter queue.
Just proceed to the main arrival hall after clearing the custom, turn left and take the travellator to the Qantas Domestic Terminal for check-in again.

As we flew past the Bass Straits that separates Tasmania from the south of mainland Australia, seeing miles of luscious untouched land and lakes from aerial view was intriguing. The view from above the dramatic landscape of the Apple Isle is so different from the mainland.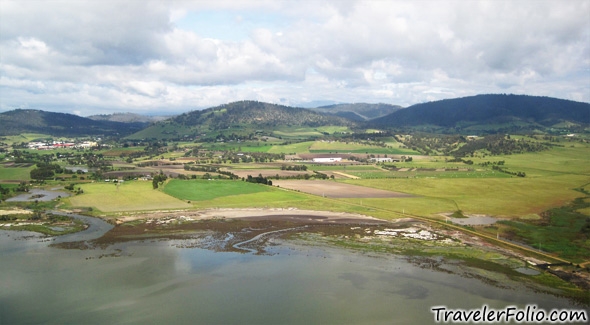 After a short flight of less than an hour from Melbourne, we finally touched down in Hobart, the capital of Tasmania.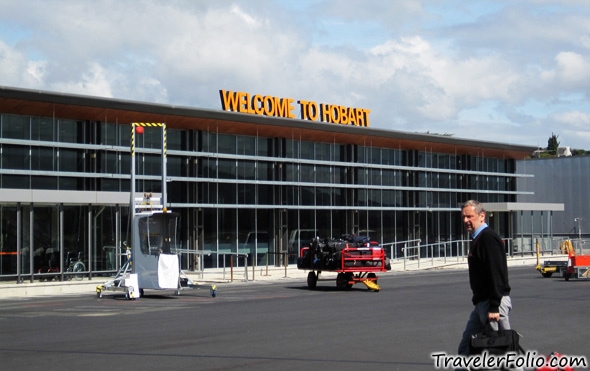 Sniff… sniff… a very cute little beagle was sniffing us out as we entered the check point at Hobart Int'l Airport. Tasmania is very strict about enforcing quarantine: no fresh fruits or meat items are permitted into Tasmania. The sniffer dog is there to check for any fresh produce and meat that is not allowed to be brought into the island state. It's so cute that I wish I could give it a pat!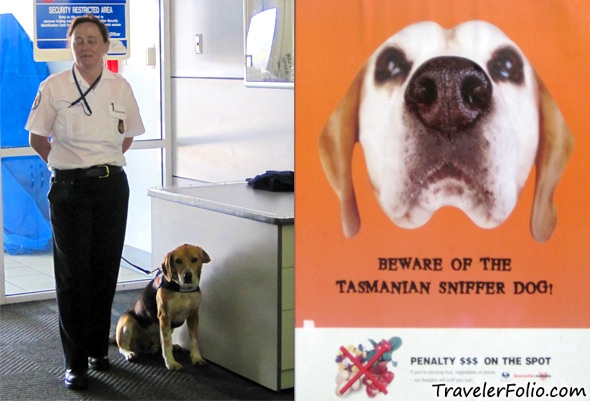 There is a wide range of car rental companies available for car pick up at the airport. However, if we pick up our rented car from the airport, it will incur a 10 to 15% airport concession fee on top of the car rental bill. We need to rent the car for 8 days so it's more cost effective to pick up a rented car from the city since most of the car rental companies also have their offices conveniently located in the city. Moreover, after the overnight flight from Singapore to Melbourne, and a domestic flight from Melbourne to Hobart, we were quite drained out due to lack of sleep, so we preferred someone to drive us around instead! For your info, Tasmania is 3hrs ahead of Singapore between October to April during Daylight Saving Time.
It's so convenient to get airport transfers to the city. Just outside the arrival hall, a shuttle bus operated by Redline is readily available to pick up passengers to the city. We just told the helpful driver the hotel we were heading to and he helped us load our baggage into the bus storage compartment. We paid A$15 per adult for one way transfer to the hotel. A return transfer costs A$25.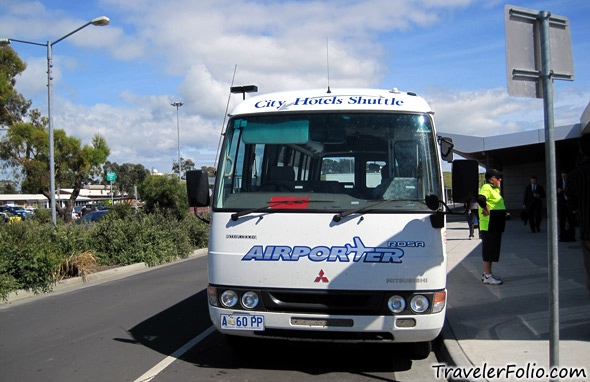 For the next 3 nights, we will be staying at Old Woolstore Apartment Hotel. This property is one of the Innkeepers chain properties consisting of wilderness lodges, self-contained apartments, quality hotels, charming inns and intimate retreats to suit everyone's budget. We have booked all our accommodations via Chan Brothers Travel. Throughout our stay, for 5 nights we are taking the Innkeepers Flexi Holiday pass. The pass comes with a minimum of 3 nights booking and we can enjoy our choice of properties and best of all, the accommodation does not need to be at one property or within one chain or even consecutive nights. That's exactly what we are looking for.
The Old Woolstore Apartment Hotel is centrally located and is just a stone's throw away from Hobart's majestic waterfront with great restaurants, Hobart CBD where the malls are located, Salamanca Place and its famous markets, historic Battery Point, and more waiting for us to be discovered!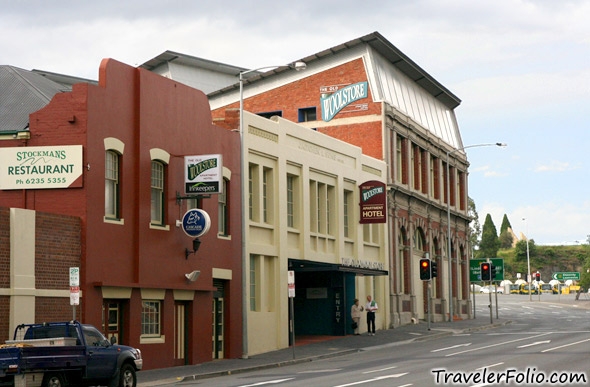 Hobart is Australia's second oldest city after Sydney with rich colonial heritage. The city is compact and it's easy to navigate by foot. We can't wait to explore this vibrant city. At one glance, you know we are the typical tourists holding cameras and busily snapping at any and everything!
Tasmanian Travel & Information Centre is centrally located at 20 Davey Street near Franklin Wharf. Do drop by the centre to get all the essential information on getting around Tasmania. They can assist with enquiries, provide travel brochures and maps to help visitors make the most out of holiday.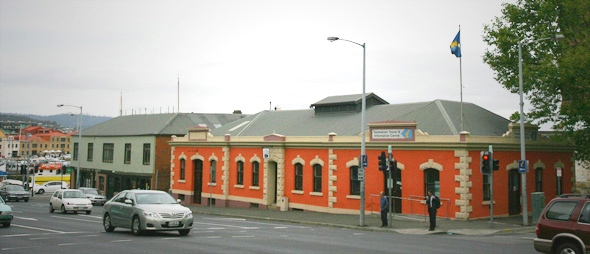 Diagonally opposite Tasmanian Travel & Information Centre, there stands a bronze statue of a great arctic explorer – Sir John Franklin at Franklin Square. He was the governor of Van Dieman's Land (the original European name for Tasmania) from 1837 until 1843. He died while exploring the Canadian Arctic.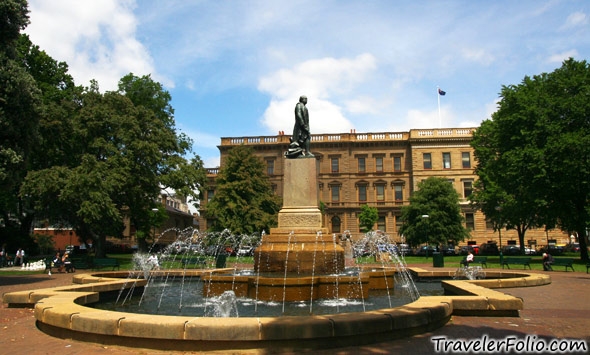 A police officer on bicycle patrol in the city.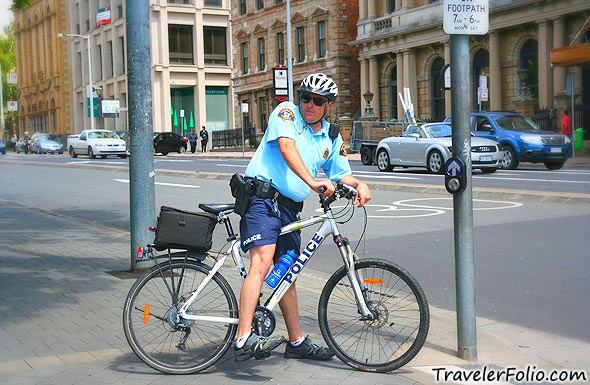 The other side of the road lies the historic General Post Office with a clock tower. It was erected in 1905. Most buses terminate near the Post Office on Elizabeth Street.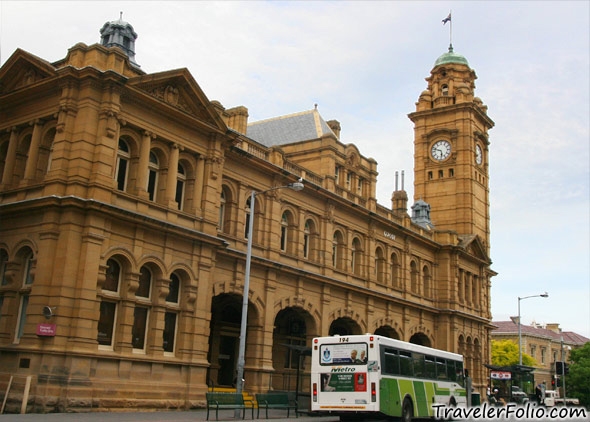 The city centre is a shoppers' paradise. There are departmental stores and shopping centres retailing a variety of goods. The Elizabeth Street Mall is one of Hobart's major shopping areas.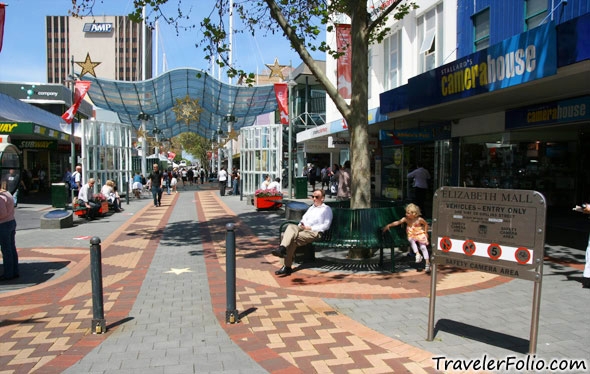 Cat & Fiddle Arcade is another sheltered shopping area off Elizabeth Street Mall. We had our lunch at the food court in the arcade. In case you miss your hometown food, the food court offers a selection of Indian, Japanese, Chinese, Italian and other international culinary delights at reasonable prices.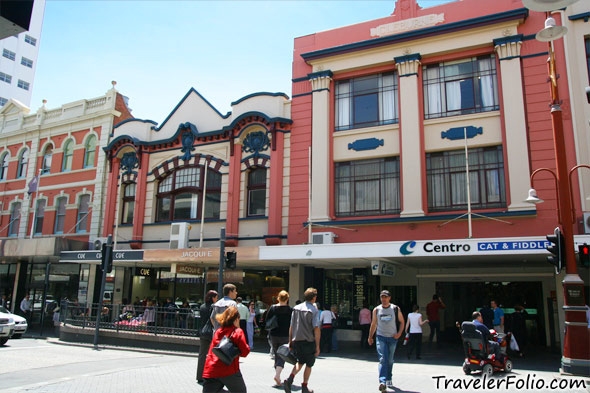 Just opposite Cat & Fiddle Arcade is Centrepoint Shopping Centre, located at Murray Street.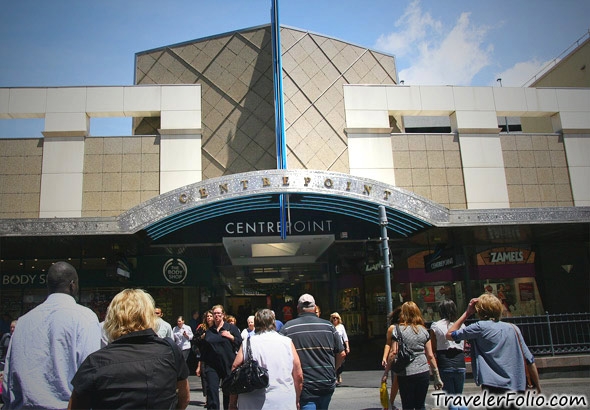 This building is famous for the two great Australian icons at the top: the extinct Tasmanian tiger or Thylacine, and the barrel that apparently represents Cascade Brewery, the oldest brewery in Australia based in South Hobart, Tasmania.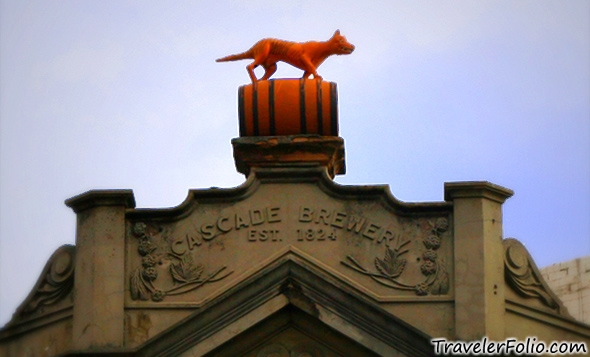 Someone must have fallen in love with Tassie and decided to settle down in Hobart, leaving his holiday van behind a sushi bar.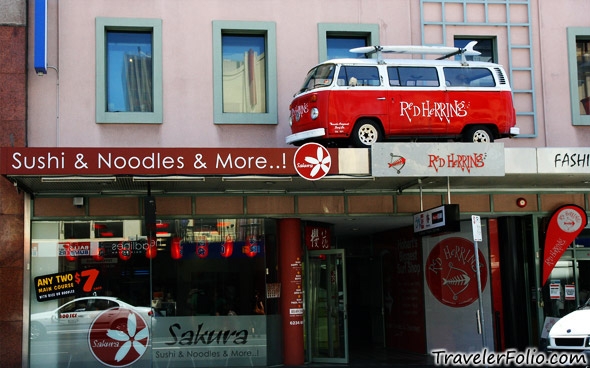 Hobart is shaped by water and has a rich maritime history. There are great restaurants serving the catch of the day at the busy waterfront area. We headed down to Franklin Wharf and strolled along the docks lined with fishing and sailing boats.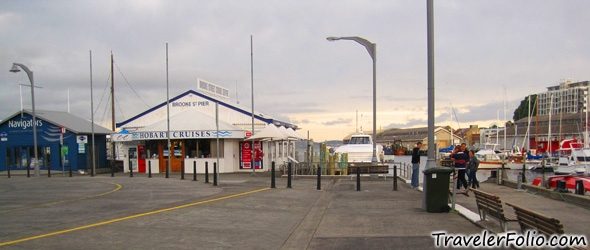 And to my horror, I saw a pirate flag.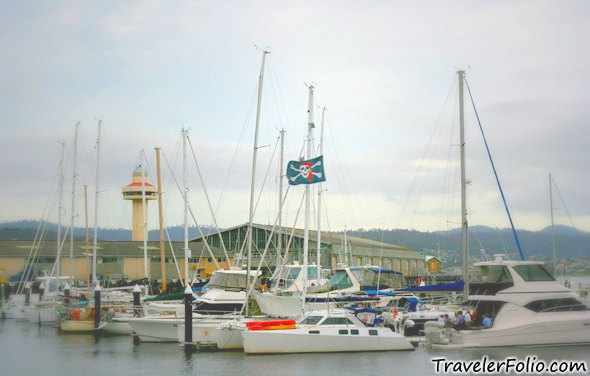 All the restaurants at the waterfront look good, so where to eat?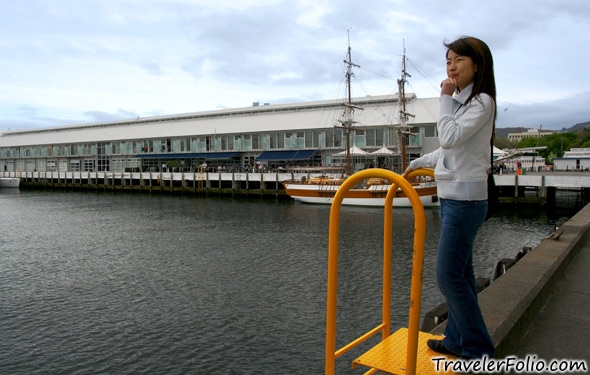 We finally decided to try Fish Frenzy at Elizabeth Street Pier. Seems like everyone flocks there for fish and chips.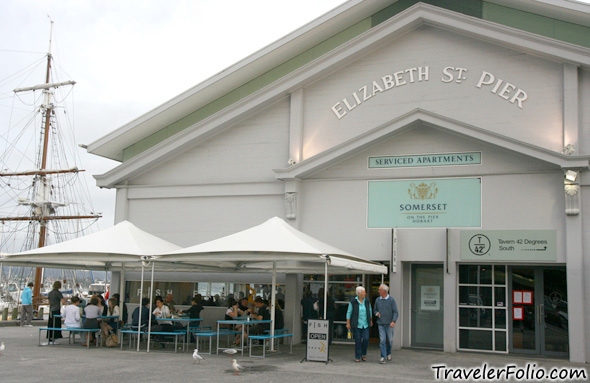 At Fish Frenzy, we can build our own fish. There are a few choices of fish like flake, trevally, blue eye and flathead, and you can choose the choice of batter like tempura batter, beer batter or bread crumbs for your fish fillets.
This is what I had – three pieces of crumbled fish & chips at A$15.50. Back home, I don't fancy chips, Here, I've just learnt a great way to eat fries, that's, to sprinkle some vinegar on the fries and they taste good!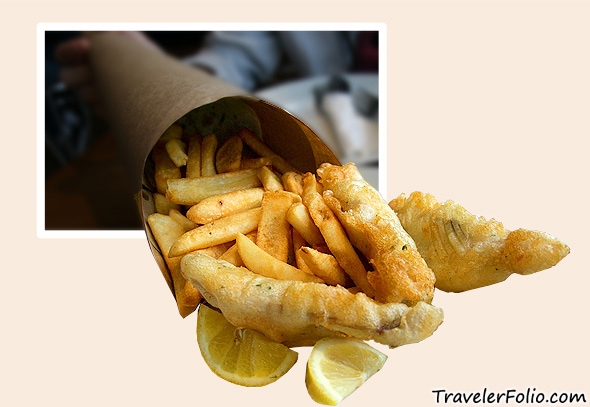 Just outside Fish Frenzy restaurant, you will see this little brig docked at the pier. It is a full-size replica of the original "Lady Nelson" which sailed from England to Australia in 1800 and was involved in the first three European settlements in Tasmania. Lady Nelson was also involved in the founding of Melbourne, Brisbane, Launceston and Hobart. Unfortunately, 25 years later, it was captured by pirates in Indonesia. The crew was murdered and the ship was burnt.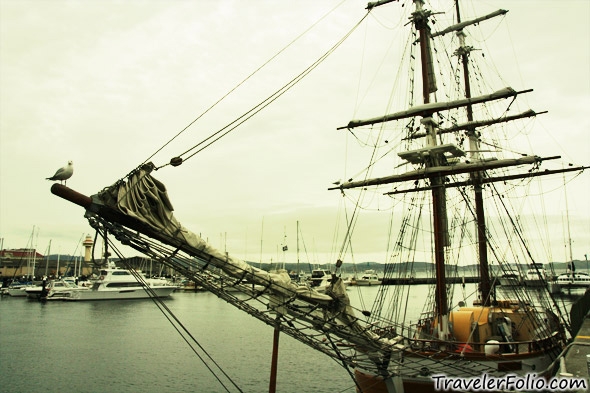 Let's check out the south of Hobart – Mt Wellington & Jet Boating along Huon River!