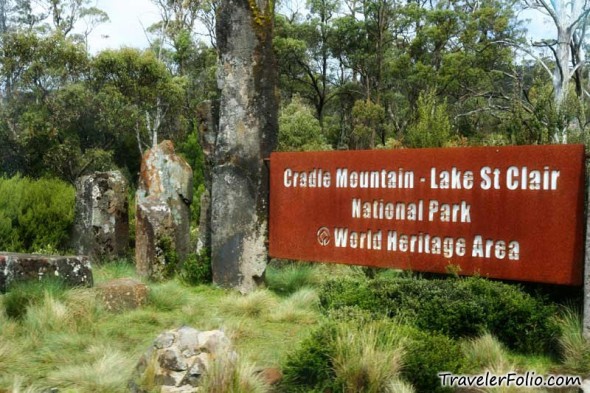 Standing at 1545 metres high, the craggy profile of the remarkable Cradle Mountain is Tasmania's natural icon and the National Park is one of the most popular natural areas in this Apple Isle. Lake St Clair – Australia's deepest freshwater lake – is at the southern end of the park.
Covered in an array of alpine and sub-alpine jewels, the National Park is reputed for its wealth of wildlife, tall forests, glacial lakes, rare vegetation and of course, its captivating scenery.
Scroll left-right for full view of Cradle Mountain and Dove Lake.

The Cradle Mountain weather is unpredictable and one can even expect snowfall at anytime of the year. Rainfall is abundant and most of other days are cloudy.
Boat shed, Dove Lake.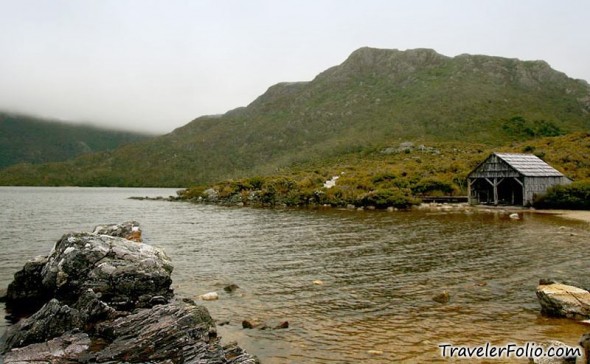 "This must be a National Park for the people for all time. It is magnificent, and people must know about it and enjoy it."
– Gustav Weindorfer, the great Austrian-born Australian pioneer of the Cradle Mountain region who worked on his tourism dream to promote the concept of a national park for Cradle Mountain and went through lot of hardships in order to fulfill his dream.
Waldheim Chalet is originally the home of Weindorfer. The chalet has been restored and there are displays depicting the vision of Weindorfer about promoting and preserving Cradle Mountain for everyone.

Keep your eyes peeled for wallabies, wombats and other little critters while walking around the Waldheim Chalet!
The best way to appreciate the wilderness beauty is by taking a scenic walk. Tasmania boasts to have a lot of great short walks from 20 mins Enchanted Walk, 2.5 hrs round the Dove Lake or up to 8 hrs up Cradle Mountain.
We had a very pleasant stroll at the Enchanted Walk that is just a stone's throw away from where we dined in the Highland Restaurant at Cradle Mountain Lodge close to the visitor information centre.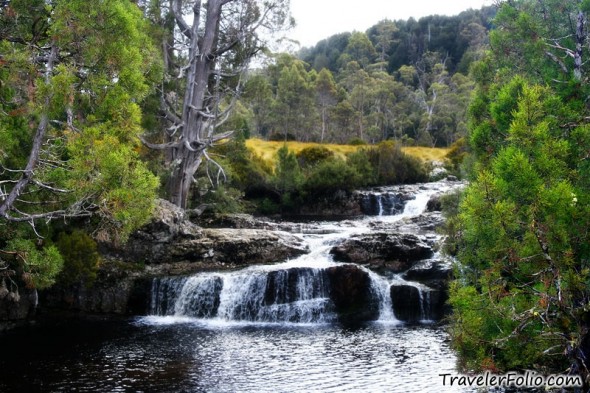 The name of this forest walk – "Enchanted Walk" – already evokes a sense of some fairytale escapism. You just feel like you are walking into a big storyboard with lush forest and meadow, waterfalls, pretty flora and little critters along the creek.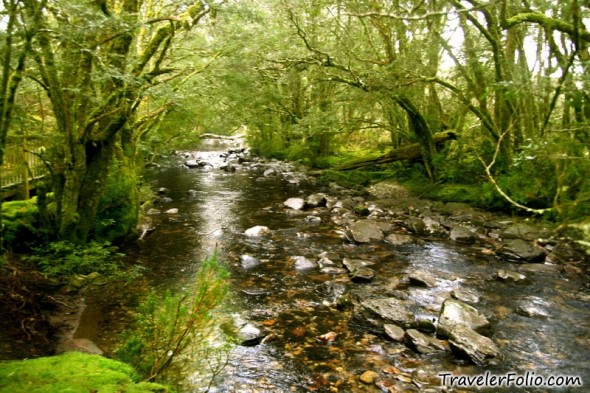 Buttongrass plains are ubiquitous at Cradle Mountain and unique to Tasmania. This type of vegetation may be the most flammable in the world. However, I think being surrounded by buttongrass plains is just lovely!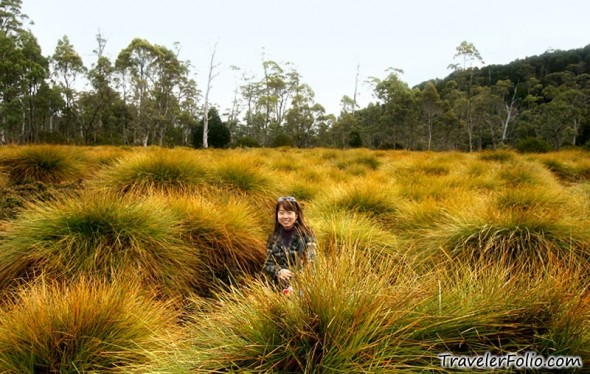 The estimated time to complete the Forest walk is 20 mins; yet we explored the forest for an hour, totally immersed in this enchanting walk even though it was drizzling. My most memorable walk ever!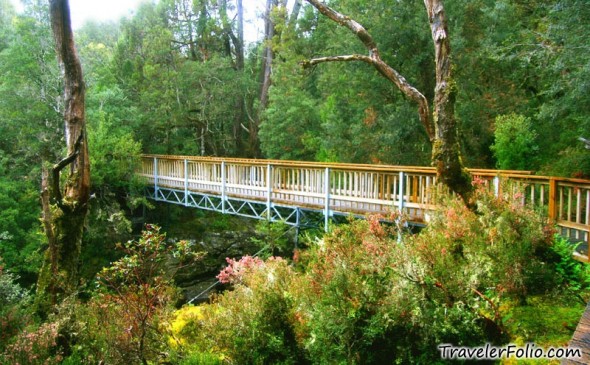 After a day of bushwalking, nothing can beat the cosy ambience of the Highland Restaurant at Cradle Mountain Lodge sets in the pristine Cradle forest, overlooking a mirror-like lake.
A large wood burning fireplace to warm up the chilly evening.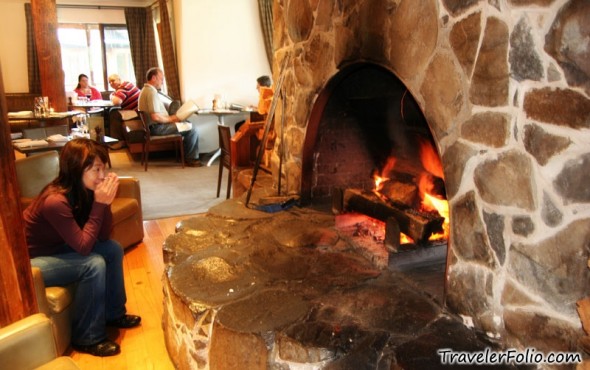 The restaurant serves delicious Tasmanian cuisine and wines.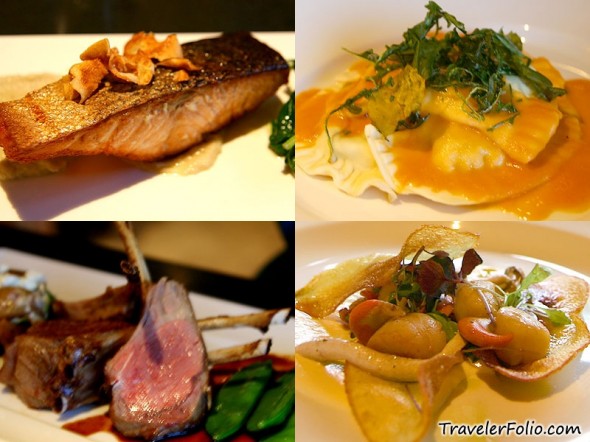 There is a lovely walk-in wine cellar at the basement of the restaurant.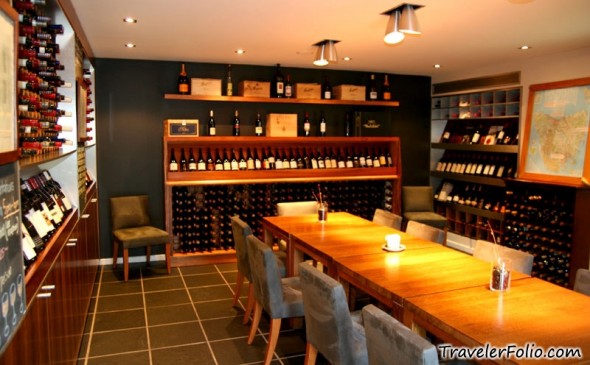 Do not turn in to bed that early yet at the park! The Cradle Mountain-Lake St. Clair National Park is home to an abundance of native wildlife and many of those like the wombats, wallabies, possums and Tasmanian devils that are nocturnal animals actively foraging for food at night. A popular way to see these creatures in their nocturnal environment is an evening wildlife spotlight tour, operated by Cradle Mountain Lodge, Cradle Mountain Chateau and McDermotts Coaches.
We hopped on to Mcdermotts Company 4-wheel-drive coach – Cradle Mountain Explorer, and together with our experienced and passionate guide, we set off to the wild to have a night with the animals, which is uniquely Tasmania!
It was drizzling and we were told that the nocturnal animals might not be out in the rain. However, we spotted lot of Tasmanian marsupials like the wombats, wallabies and pademelons.
A pademelon with her joey!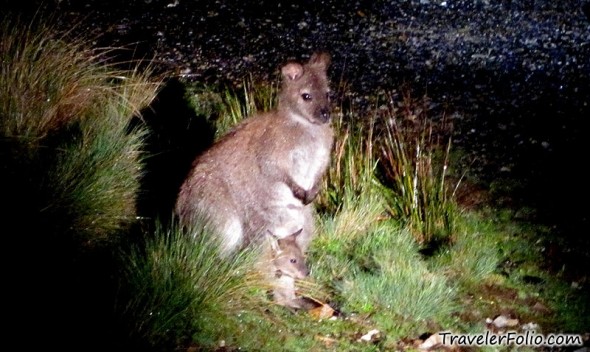 We learned that the slow-moving wombat protects itself from the predator with its toughened rear hide composed of cartilage that acts as a shield. Its rear is so tough that it can even crush the predator!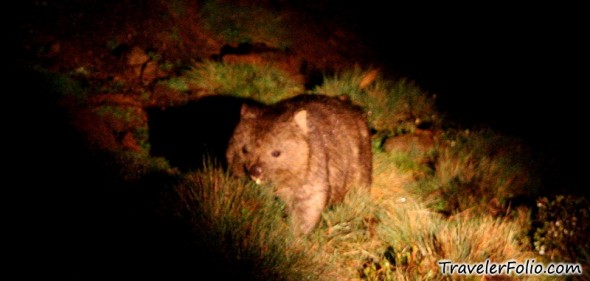 The night spotlight tour can pick you up at your accommodation at dusk. An adult ticket costs A$25. For more information, visit www.mcdermotts.com.au or ask your hotel reception.
Exploring the wilderness is not enough; we want to stay in the wilderness! We put up a night in this rugged world heritage area at Cradle Mountain Wilderness Village. Set in the secluded temperate forest, the 4-star holiday village has 37 self-contained cottages that are architecturally designed with fully-equipped kitchen, television, heater and roofed balconies where you may come face to face with the little dwellers of the forest.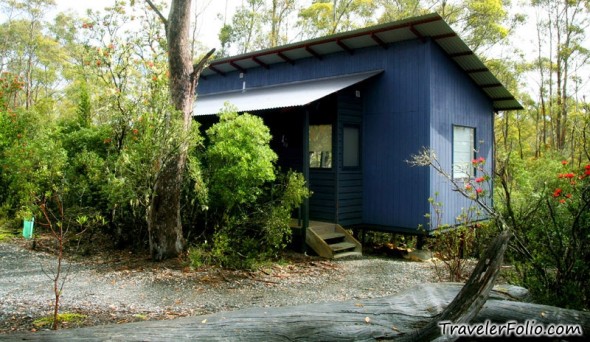 You will never feel like being enclosed in a small room; the glass panels open up the vista of the scenic forest. Our Premium Spa Cottage has a wood burning fireplace too.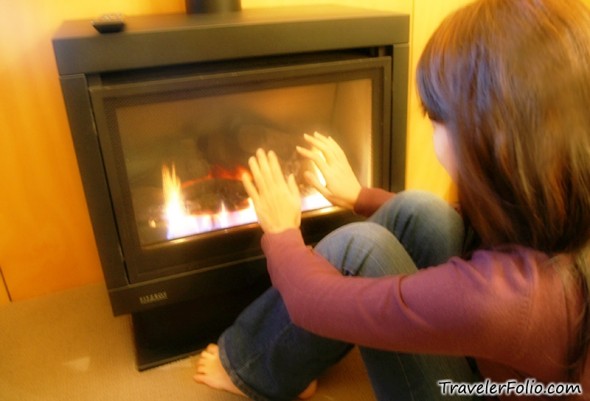 Address: Cradle Mountain Road, Cradle Mountain, Tasmania 7310.
Web: www.cradlevillage.com.au
Check out this blog again tomorrow. We are going to Stanley, a very lovely town in the North West!
Read previous post: Day 5 – Devonport to Cradle Mountain