Continued from our trip from Penang to Ipoh in Malaysia…
The Chinese have "ang bao" (red packet) and the Malay have "green bao" too! "Green-bao" literally means green packet that is used to contain money and is given out to kids (only?) during Hari Raya Puasa. It's quite amusing to see green packets with design like Ringgit dollar notes printed on them. Are you generous enough to buy those packets printed with RM100 design and really insert a RM100 note into the "green bao" for giveaway? I would be elated to receive one!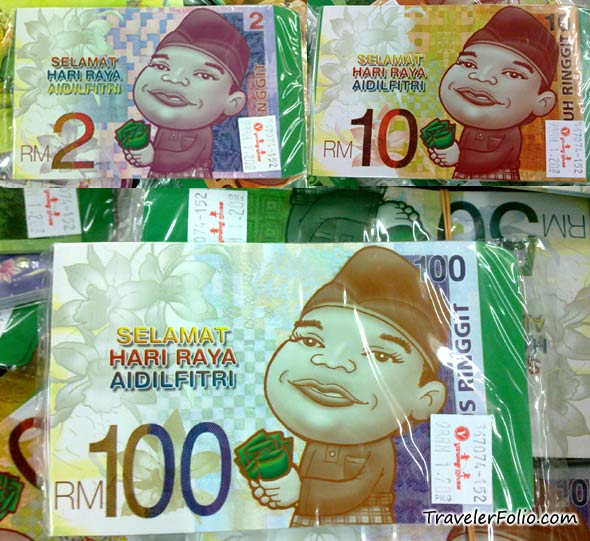 Located at Persiaran Bijeh Timah in Ipoh old town, Nam Heong coffee shop is the famous one among the locals and tourists. It's very hard to get a seat in this coffee shop which is always crowded even on weekdays. In fact, it was the first time we got a seat there! Previously, when we went to Nam Heong, the coffee was already sold out at 3pm+!
The aroma and taste of the foamy white coffee is good. You can order hot or iced white coffee, and I prefer it hot. In fact, Nam Heong is the distributor of "3-in-1 Ipoh Oldtown White Coffee" popularly sold in supermarkets. However, you can never compare the 3-in-1 pack with the white coffee serves in Nam Heong. To be frank, you can also find good white coffee in many other coffee shops in Ipoh. Just opposite Nam Heong is another one called Sin Yoon Loong coffee shop selling good white coffee and nice custards too.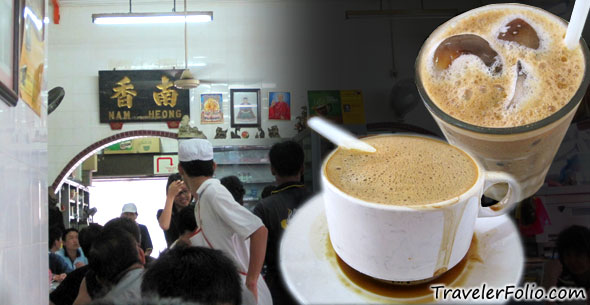 At Nam Heong, try the delectable dim sum, especially the egg tarts! The fried koay teow is quite good too.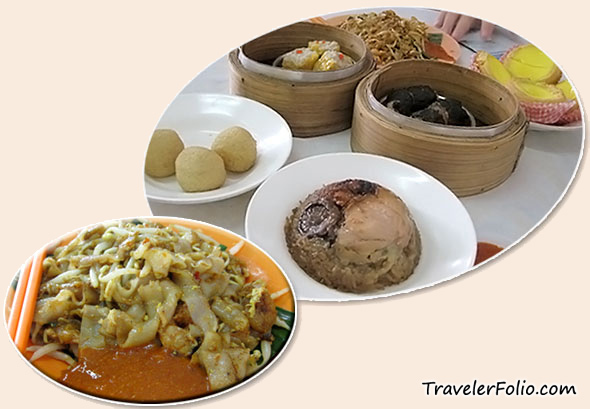 I thought we escaped the rain in Penang but the weather wasn't good in Ipoh on the first day of our stay. We were always dashing in the rain.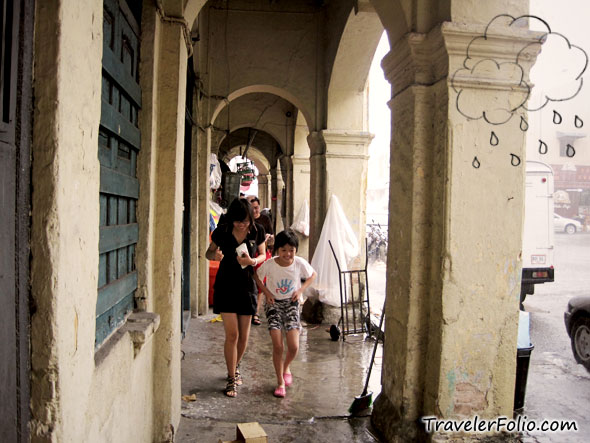 As a rule of thumb, be very patient if you want to try out the good food in Ipoh. I bet you definitely heard of Nga Choy Kai (芽菜鸡 | bean sprouts + steam chicken) if you are a foodie in Malaysia and Singapore. I guess most tourists will go to "Lou Wong" (老黄芽菜鸡) or "Ong Kee" that's opposite "Lou Wong". But the locals strongly recommend me to try these local delicacies at Kedai Kopi Kam Hor (literally means "Kam Hor" coffee shop) which is located just next to Woolley Food Centre at Jalan Canning Estate, 31400 Ipoh Garden.
The stall is manned by an elderly couple and they start business in the evening and may be off on every Tuesday. Be prepared to wait for at least half an hour to 45-min for all the food to be served on your table if there are only a few patrons around. As more tables were taken up, I overheard a man telling his friend that they would need to wait for an hour!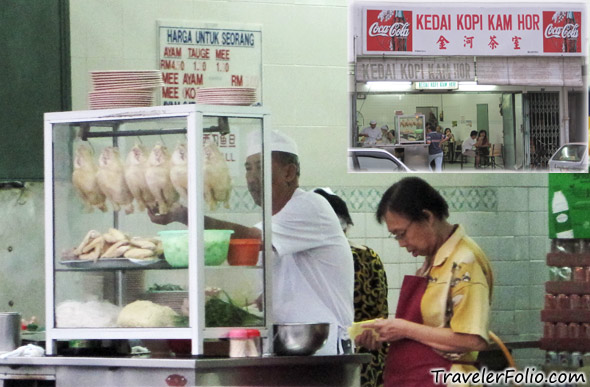 Sometimes, being patient does pay off. The smooth steam chicken and juicy bean sprouts are lip-smacking good and less oily than those serve in "Lou Wong" restaurant. It's a nice dinner that only cost RM17+ for a plate of bean sprouts, three plates of dried noodles, a plate of steam chicken portioned for two persons and a bowl of fishballs.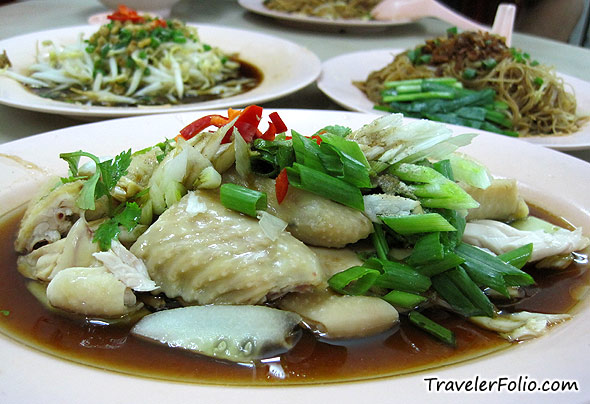 At Kedai Kopi Kam Hor, what I like most as compared to other Nga Choy Kai (aka Ayam Tauge) that I tried before in Ipoh is the dried Hor Fun (flat rice noodles) that is soaked in broth. The dish may look simple but the flavour and texture of the Hor Fun mixed with rice vermicelli and garnished with fried shallots and spring onion is just so right!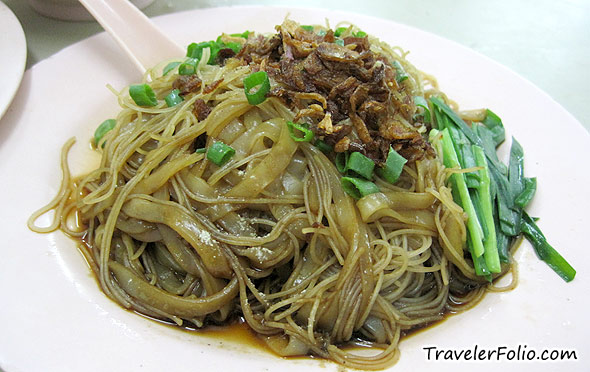 Want to taste some mouth-watering buns in Ipoh? Grab some from the stall named "Pau Langkap" at Golden Point Food Court at Lot 106885, Persiaran Bercham Selatan 20, Taman Bercham Jaya in Ipoh. They are famous for char siew (BBQ pork) buns and also offer a great variety of steam buns, of which many I've not tasted before. Like what? Some special ones like the fermented beancurd buns, er… I dunno how to translate from Cantonese to English anymore… LOL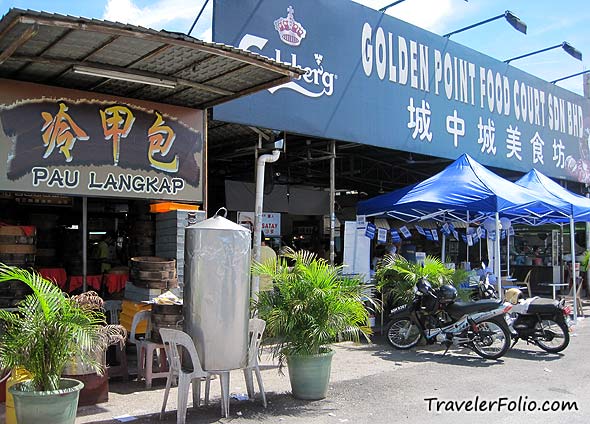 A typical scene of Ipoh surrounded with a range of limestone hills. You can read all my previous posts about Ipoh that cover on what to eat and see in Ipoh.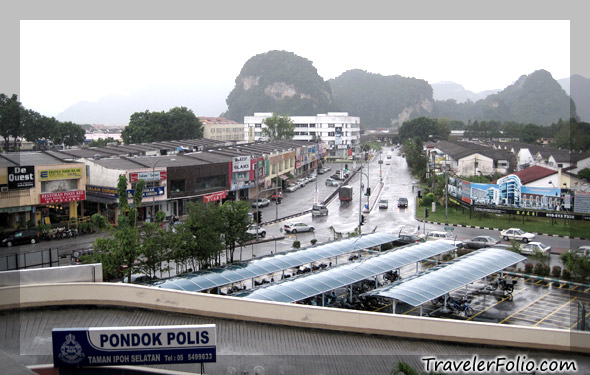 Next, a trip to Genting Highlands.