When you're in Ipoh-Malaysia, try some white coffee at Persiaran Bijeh Timah at the old town. You will not regret it! This traditional coffee shop is called "Sin Yoon Loong".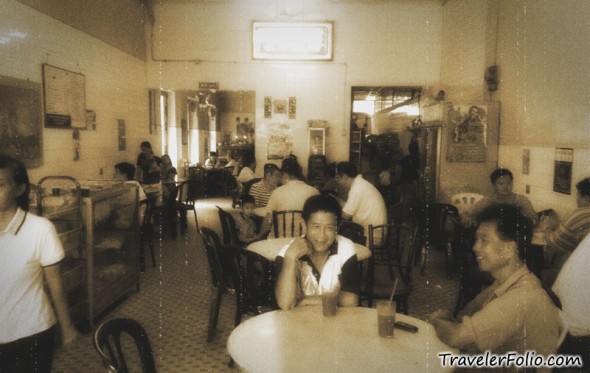 Order their famous pudding custard with caramel syrup. It's awesome! The bread toast is crisp and filled with kaya (coconut egg jam).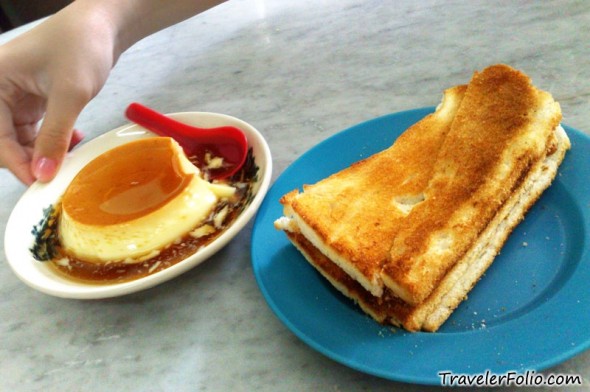 Opposite "Sin Yoon Loong" coffee shop is a more popular hangout – Nam Heong Old Town White Cafe. When we were there in the late afternoon, hot coffee was already sold out!
Ice white coffee, ice teh (milk tea), and hot white coffee to die for… !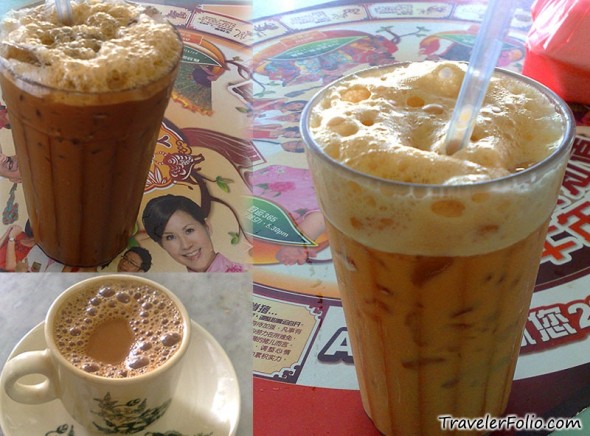 Been to Ipoh many times, but it was only recently that I finally got the chance to try the famous Lou Wong "Nga Choy Gai" (老黄芽菜鸡). Usually there are many patrons and it's hard to find seats. but this time, we went there around 4plus in the afternoon and had no problem getting a table.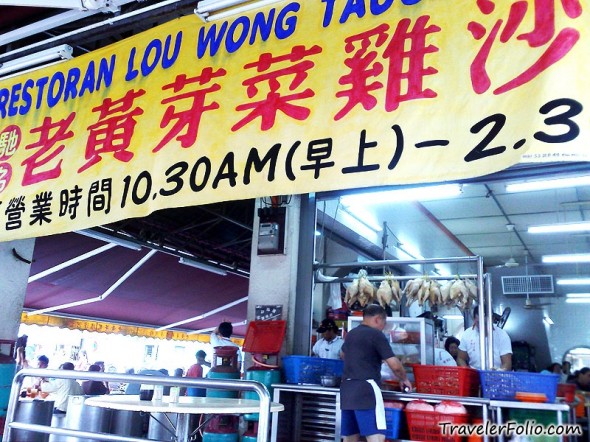 The famous Lou Wong steam chicken. Frankly speaking, the chicken is too oily and unhealthy! Look at the plate of oil! After having this set of chicken meal, our lips were very glossy! LOL!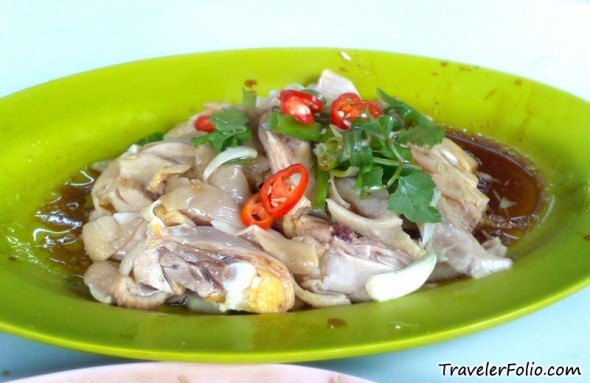 Ipoh's famous dish – "Nga Choy Gai" in Cantonese literally means beansprout chicken. This beansprout dish has too much pepper on it, so I didn't really like it too. The "kuetiau" (flat rice noodle) is good. However, our Singapore Hainanese chicken rice is still the best! Delicious and healthier! kekeke Anyway, this set of Nga Choy Gai costs RM20+.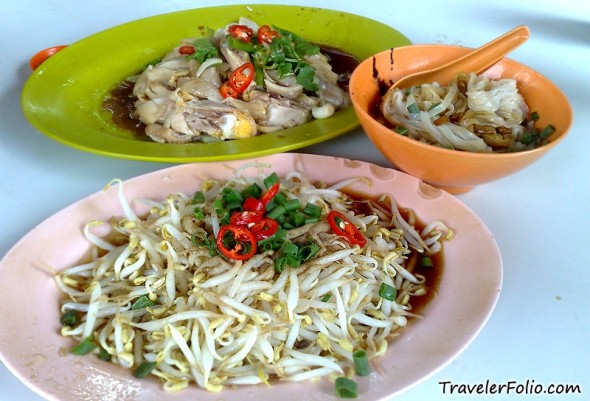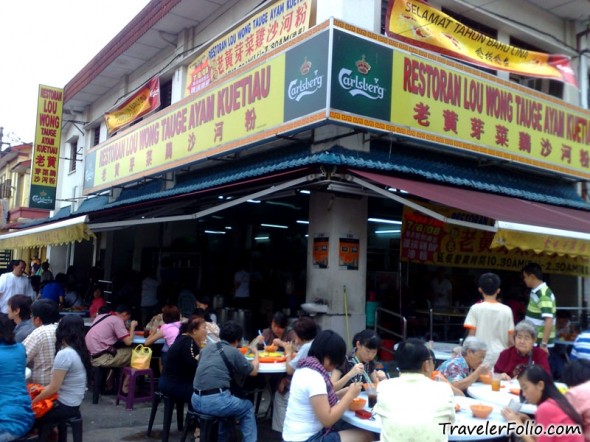 Some say Ong Kee (Tauge Ayam or beansprout + chicken) is better than Lou Wong. I think I tried Ong Kee many years ago when I first visited Ipoh. I didn't really like the tough texture of the chicken. Perhaps I prefer Singapore's version of steam chicken that is more meaty and tender. What do you think?
Update (13-Sep-09): I found better Nga Choy Gai (or Nga Choi Kai?) at Kedai Kopi Kam Hor at Ipoh Garden.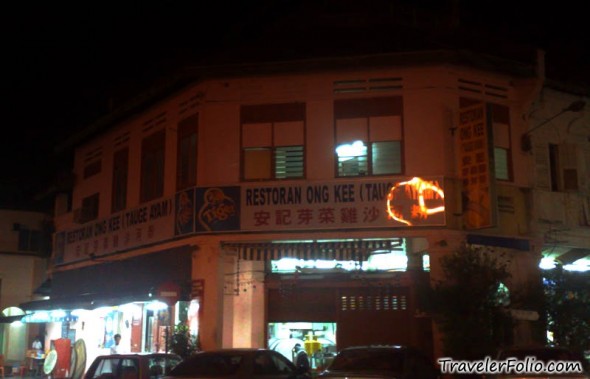 After the oily meal, we walked to a little stall selling bean curd. This "Funny Mountain" stall has been around for decades!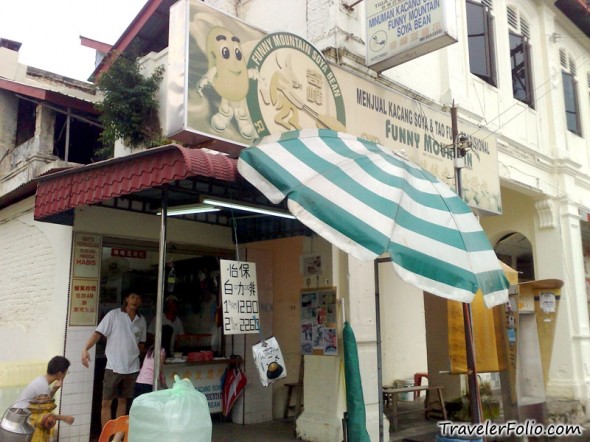 By the time we were there in the evening, the bean curd was almost sold out. The man at the stall told us many people took photos of the wooden barrel that contains the tasty bean curd. Well, I did see some newspaper clippings hanging on the wall at their stall! I wonder how much they make a day by selling bean curd. It's worth eating.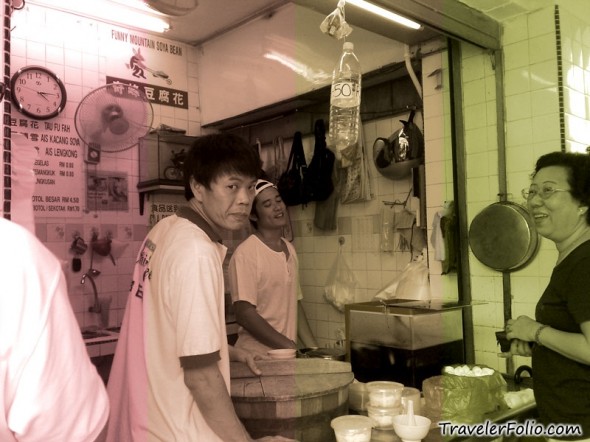 Sizzling steamboat? Rows of sticks with meat/veg are arranged nicely for you to pick and choose. Then dip the meat (they called it "lok lok") into the boiling soup and cook it yourself. Your food is never cold this way. However, we didn't try any lok lok from this mobile stall so no comment on their food.