I was invited to be one of the six privileged bloggers to participate in Sony's "Make me the W ambassador" Facebook competition but unfortunately, I was out of town thus missed this chance. However, the representative is so nice to let me try out the latest Sony VAIO W mini notebook once I returned to Singapore. I thought if I only got this little lappy with me, I won't need to carry a 3kg heavy laptop throughout my 12-day tour in Malaysia.
It's easy to hook up to free Internet access in cafes and restaurants nowadays in Singapore. I was trying out this small yet sturdy Sony VAIO W mini notebook at a cafe over a cuppa that bore my blog name… haa gotcha it's photoshopped. 😛 I'm impressed that the system starts up quickly and my heavy travel blog loads well on it. As you can see in the screenshot below, this mini notebook has a wide-screen format that allows us to view full-width webpages without side-scrolling which can be pretty annoying for the eyes. The quality of graphic is superb and suddenly I felt that my not-so-nice photos on my blog seemed magically sharper on this 10-inch screen!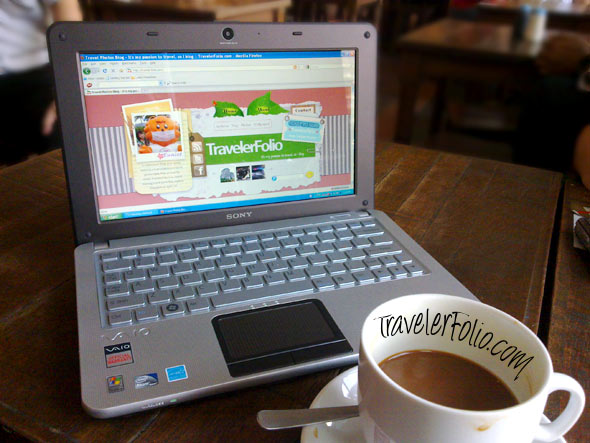 Having a mini notebook is certainly a great complement to my current lifestyle as I can bring it along wherever I go since it's merely 1.19kg with battery. Just turn on the notebook, surf the web, get updated with the most current news, check important emails, play online games, upload photos when I'm in overseas to ease up the memory card storage in the camera and catch up with friends online, and it doesn't stop here with all the advantages that a net-savvy person can think of.
Killing time with the mini notebook while queuing up for good offers at Comex 2009 at Suntec, Singapore's biggest IT & consumer technology exhibition.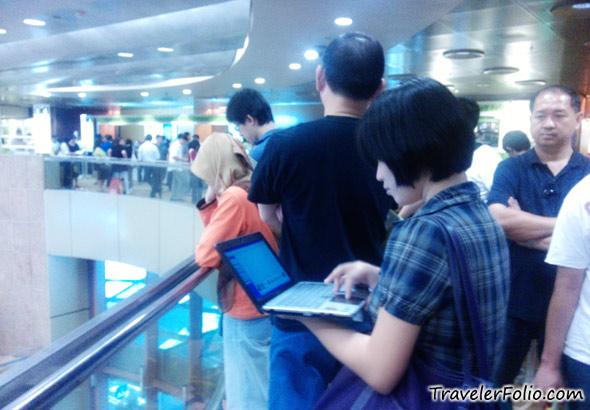 Apart from all the good things about having a mini notebook, it's also about STYLE nowadays, isn't it? I have both thumbs up for Sony VAIO W mini notebooks that come with delicious colours of brown, pink and white. I WANT ONE!!!