After all that adrenaline rush with sand dune quad biking, sandboarding, horse riding, paragliding, Harley Davidson ride and surfboarding in the past three days of our HTC EVO 3D Sydney Escapade, we headed to Hunter Valley for a relaxing day.
Hunter Valley Gardens Village
A 2-hour drive north from the bustling Sydney city centre will land you in the lush green rolling countryside of the Hunter Valley, a tourist hotspot in New South Wales and Australia's famous wine-growing region. We made our way to Hunter Valley Gardens for a walk around the enchanting Gardens and Village that spanned over 60-acre.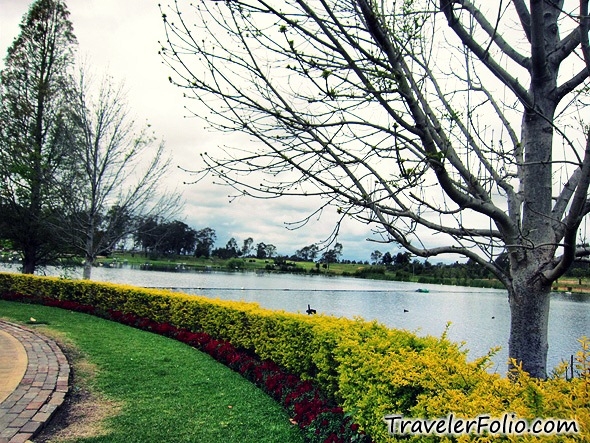 A scenic attraction for families and friends, the Hunter Valley Gardens is more than just trees and flowers. There are ten themed landscaped gardens of fantasy and cultures. An inviting place for everyone, the Village is lined with specialty boutiques, restaurants, galleries and a Chapel.
To tour around the themed Gardens, visitors can choose a guided group walking tour that lasts for an hour or a 25-min train tour with a full commentary about the Gardens. We opted for the train tour. I was pretty amazed at the fascinating larger-than-life characters as the train entered the Story Book Garden.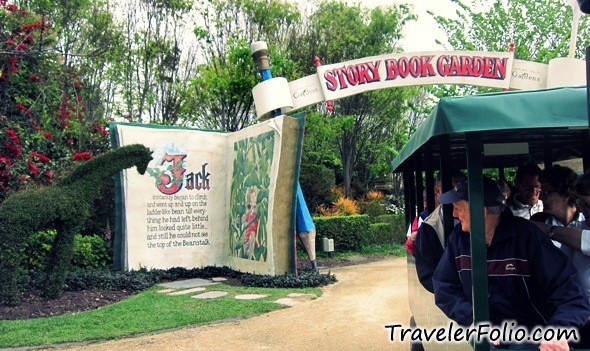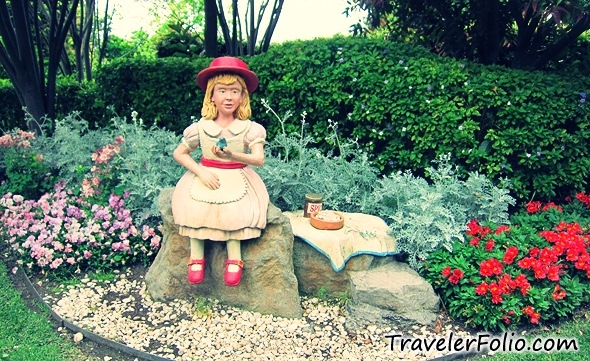 For a while, it was fairy tales came alive as we were greeted by Alice in Wonderland at the tea party, Jack and Jill, and Humpty Dumpty with all his King's men and horses.
A stack of giant storybooks. I would faint if those were my course books.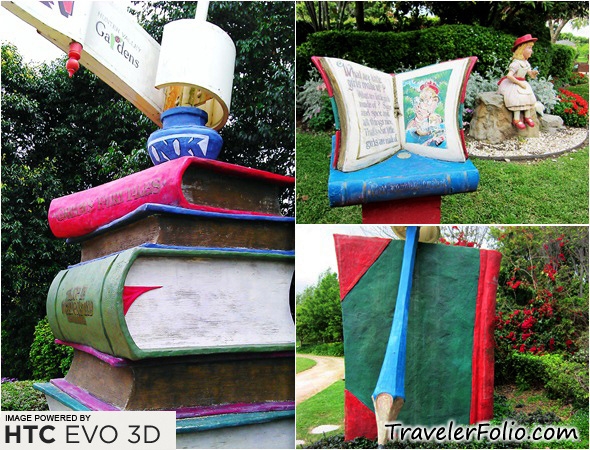 Humpty Dumpty sitting on the wall.
The beautiful Hunter Valley Gardens Chapel by the picturesque lake side.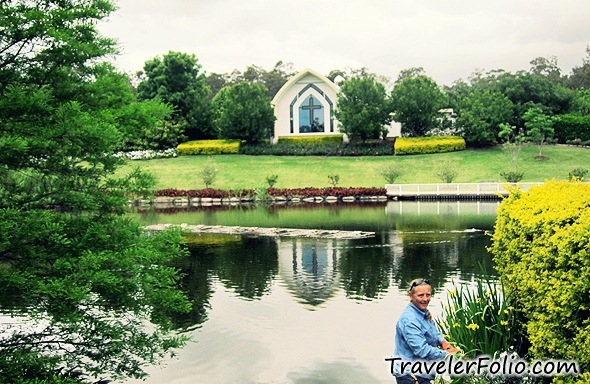 The Oriental Garden that combines Japanese and Korean gardenscapes with lovely water lillies and irises beautifying the ponds.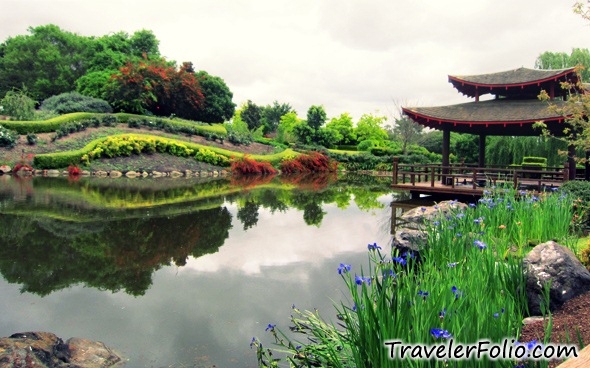 A rotunda by the lake.
Always love this type of flowers.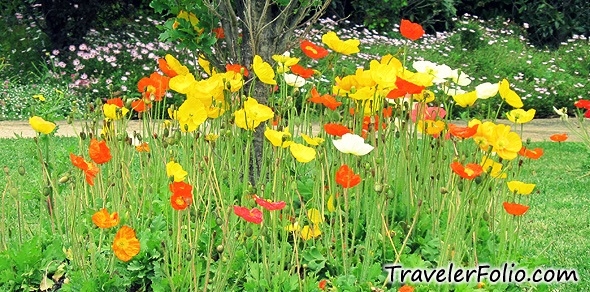 The gardens are home to a myriad of vivid flowers, shrubs and trees.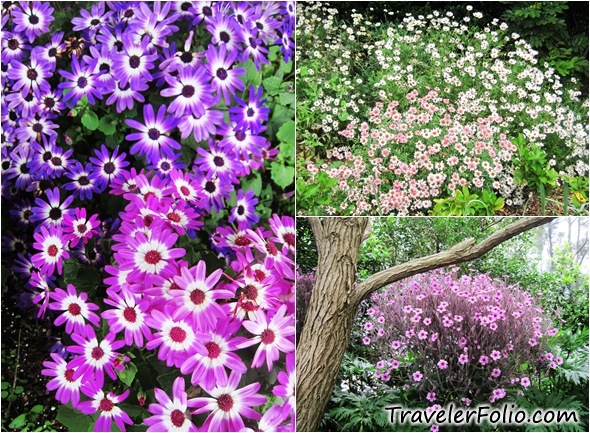 Beautiful gardenscape
The Village is lined with specialty boutiques, restaurants and galleries. Look at the extraordinary big wine bottle.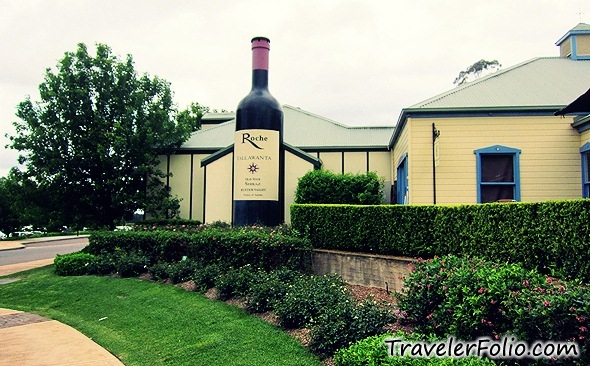 One of the gift shops at the Village with lots of Golliwog plush toys.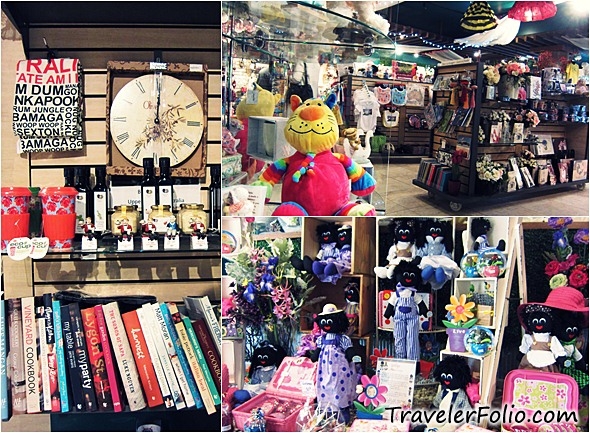 Welcome metal signs for garden.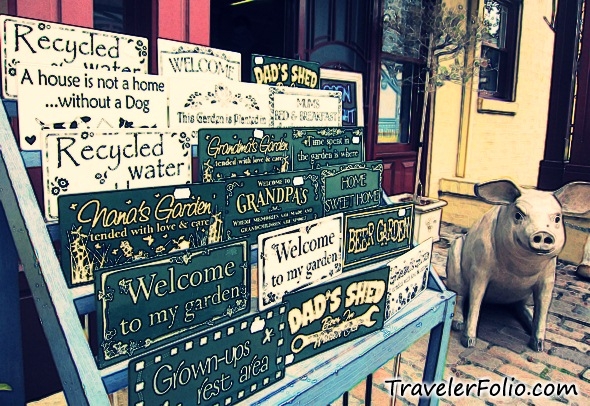 Hunter Valley Gardens Village Visitor Info
2090 Broke Road, Pokolbin
Tel: +61 2 4998 4000
Web: www.hvg.com.au
Winery-hopping
Hunter Valley is one of Australia's famous grape-growing region with over 100 wineries and cellar doors. Here you can do winery-hopping for wine and beer tasting, and attend wine appreciation classes. Be surrounded by vast area of vineyards and dramatic hills sweeping across the horizon.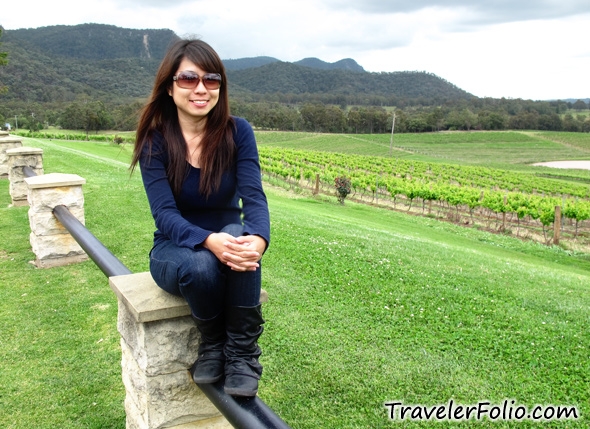 A nice shot taken by Duglass, our favourite Sydney guide!
Audrey Wilkinson Vineyard
After a morning jaunt at the Hunter Valley Gardens Village, we drove to the nearby Audrey Wilkinson Vineyard for wine-tasting and lunch.
Audrey Wilkinson is rated as the Top 10 Cellar Doors in Australia by Gourmet Traveller Wine. Located atop the hill, the precinct has a picturesque surroundings of the Brokenback Mountain Ranges, a sight to behold while appreciating award-winning wines.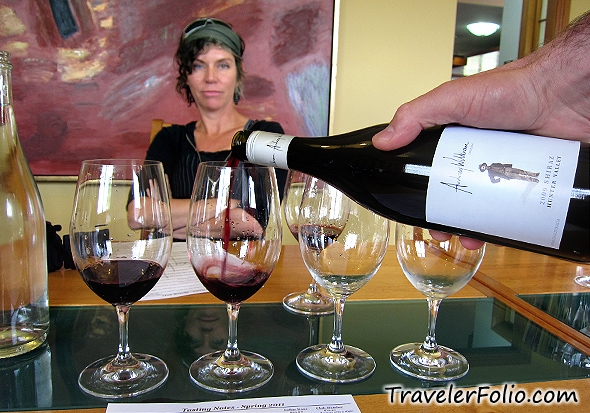 It seems like I began to appreciate wine and my alcohol tolerant level has improved after some "training" overseas! Of course, there's still plenty of room for improvement.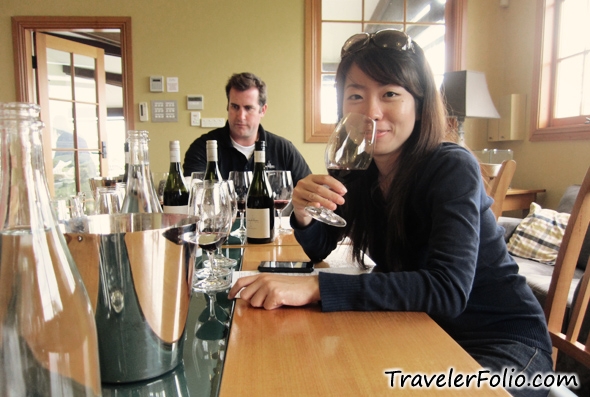 Some of Audrey Wilkinson wines that we tasted. Both Alvin and I love the signature rose wine – Audrey Series Rosé 2009. The fruity wine is very smooth and easy to drink even for non-alcoholic drinker like Alvin. It's a perfect match for dessert and you know I'm a dessert fanatic. Each of us grabbed a bottle back to Singapore.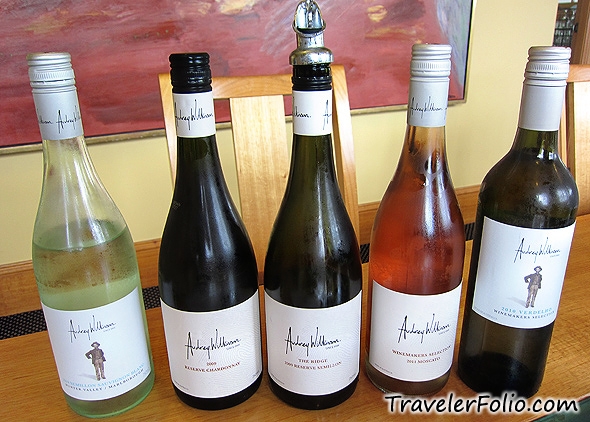 A toast with the connoisseur of Audrey Wilkinson.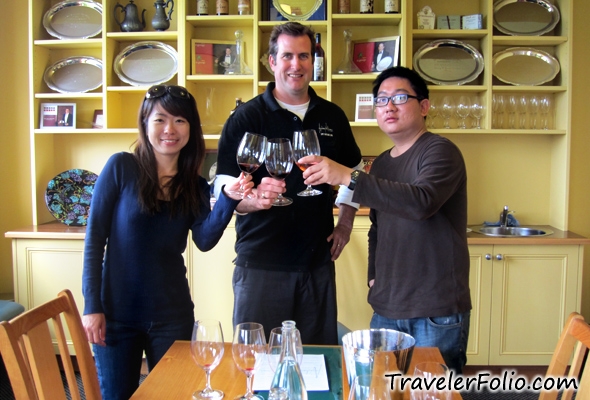 Much to our delight, we were led to a table spread with cheese platter, mouthwatering wraps, salads and cheesecake from the Hunter Valley Smelly Cheese Shop, after our wine-tasting session at Audrey Wilkinson.
I loved the cheesecake so much that I couldn't remember how many slices I had. I bet that's how I gained 3-kg with all the irresistible delicacies I had during the 8-day Sydney trip. The wraps filled with salmon and ham were soft and very tasty too.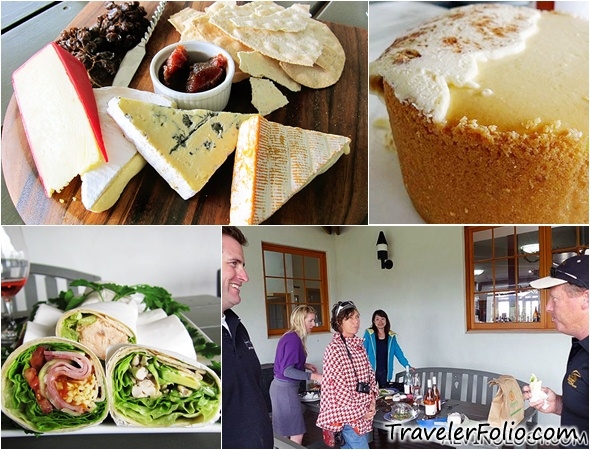 Helicopter scenic tour
For a memorable and unique experience, do the winery-hopping in style like we did! A pilot from Slattery Helicopter Charter landed at a field nearby to pick us up after lunch at Audrey Wilkinson to visit another vineyard. We felt so pampered!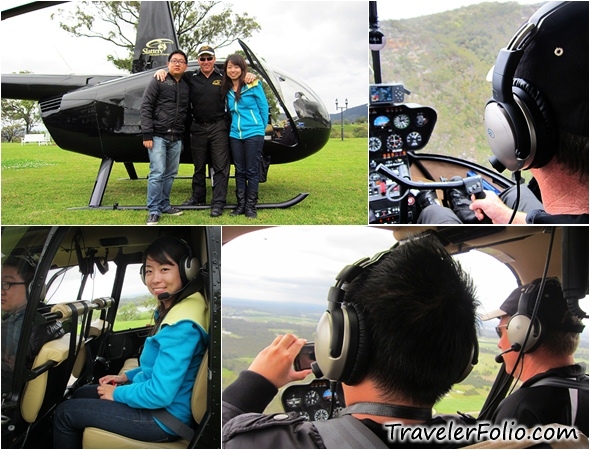 A lovely view of the Hunter Valley Gardens Village from the helicopter.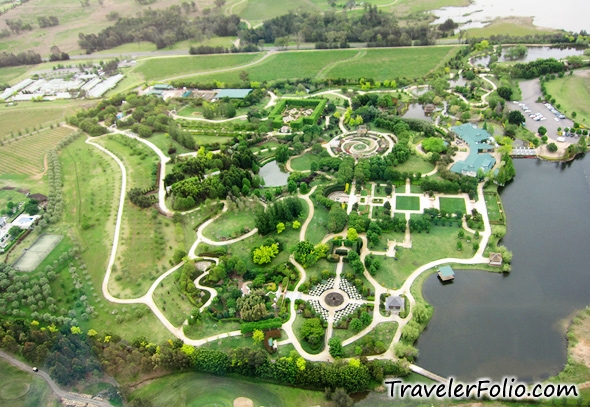 A bird's-eye view from our helicopter flight.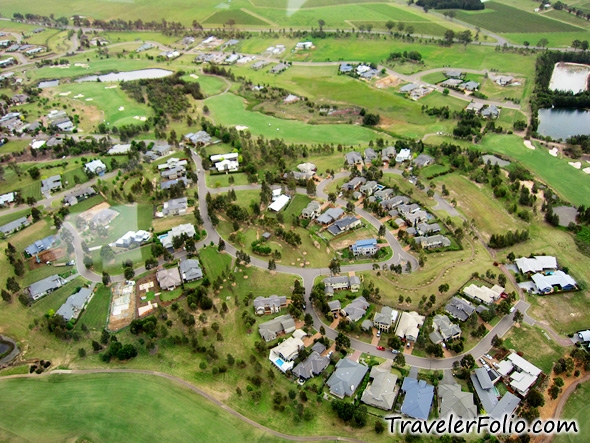 A breathtaking aerial view of verdant green and lakes at Hunter Valley.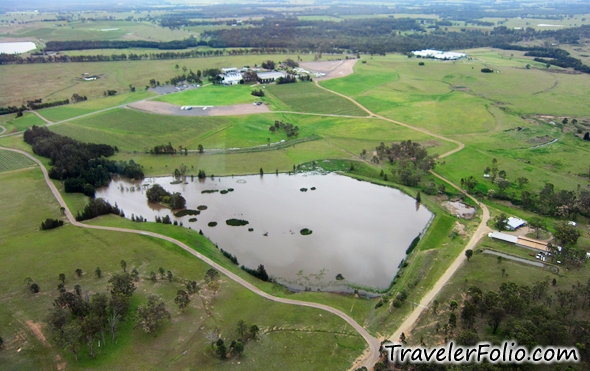 Hunter Resort
The helicopter ride landed us at Hunter Resort, Pokolbin's only boutique brewery and a country inn surrounded by shiraz vineyards in the heart of the Hunter Valley Wine Country. We were cordially welcomed by the passionate General Manager to visit the Bluetongue Brewery Cafe for beer tasting.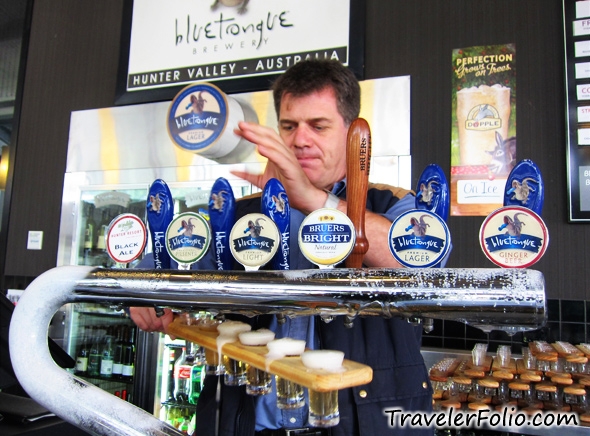 A must-try at the Bluetongue Brewery Cafe, the Beer Tasting Paddle serves a few types of beer, each with an interesting note of ginger, chocolate and even seafood. According to the GM, the food that we were thinking of at the moment would determine the taste of the beer. How true!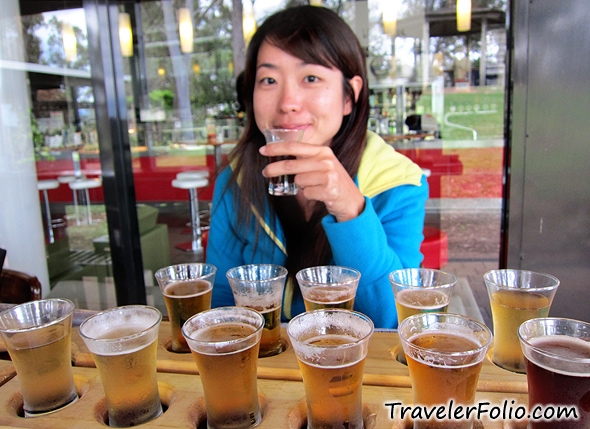 San Martino Restaurant that serves authentic Italian food and an extensive wine list from the wine bar.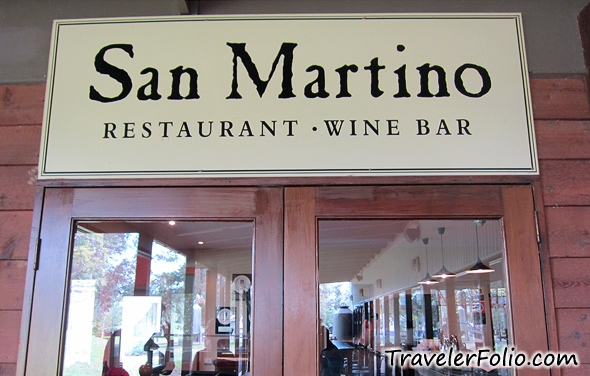 For wine appreciation classes, join the Cellamaster at the Hunter Wine Theatre to understand more about the Hunter's wine heritage that's Australia's oldest wine area, the process of winemaking, the "structure" of wine such as the importance of the colour, smell and taste.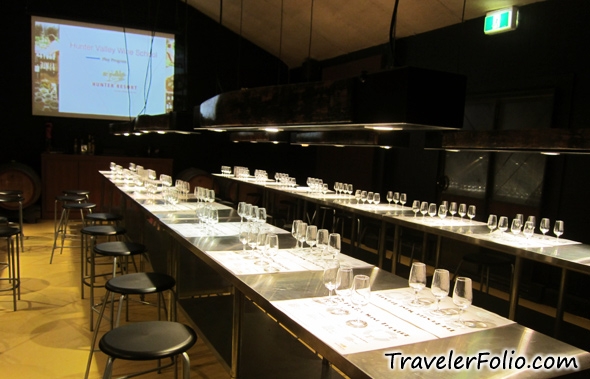 The professional Cellarmaster who shared with us about the different types of wines, how to appreciate them and food pairing with wine.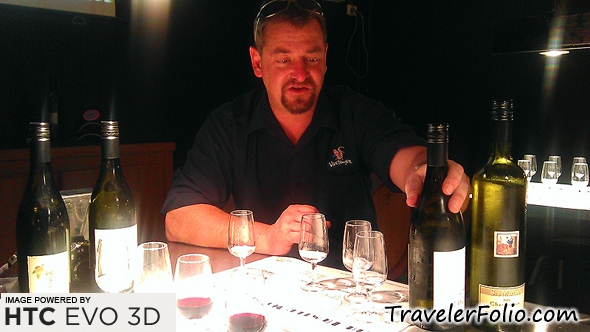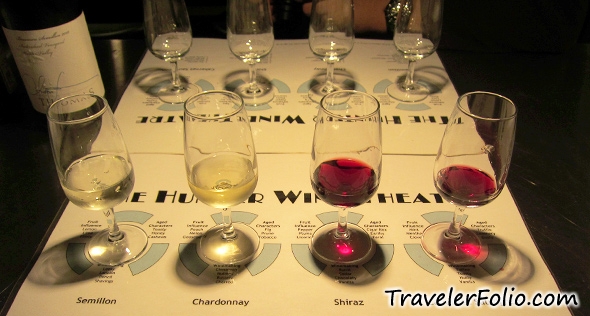 The Hunter Resort offers 4-star accommodation suitable for families, groups, couples and individuals in the laid back countryside of Hunter Valley region. Not only you get to appreciate a wide range of wines and beers, the resort also features a horse riding venue, pool, spa and other facilities.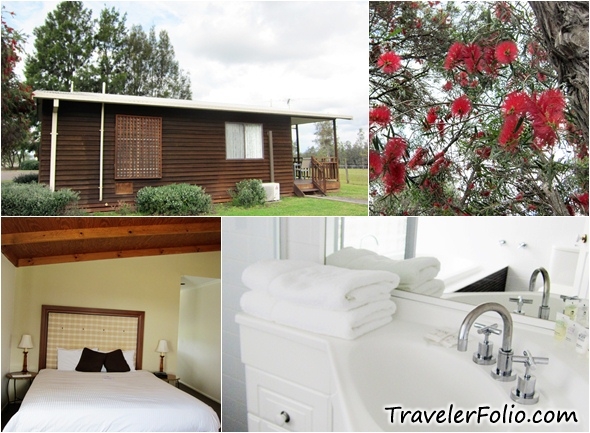 Before we left Hunter Valley, we dropped by the Smelly Cheese Shop for tea-break (actually, it's cappuccino-break for me!). For cheese lovers, you get to sample different types of cheese in the shop. A wide selection of local delicatessen products can be found on the shelves and I bought my favourite organic muesli back home.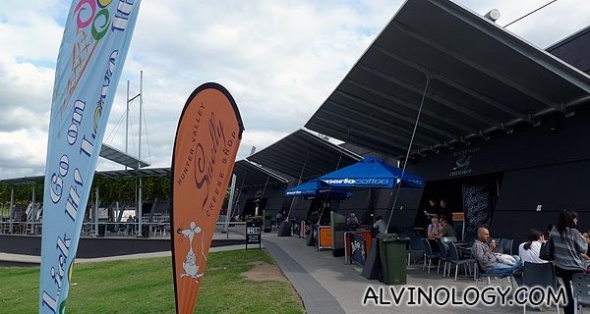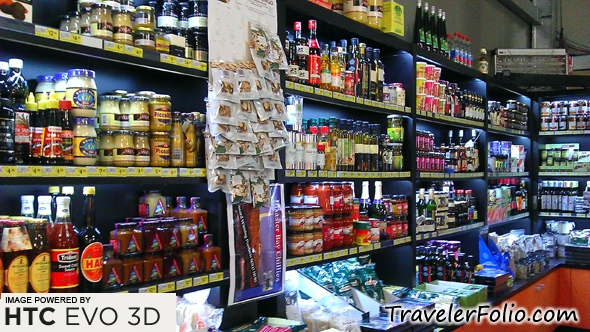 Stay tuned for more updates on our HTC Sydney Escapade! In the meantime, check out Asiaone microsite (http://creative.asiaone.com/2011/IA/htc_IA111006/vote.html) to pick your favourite photos taken by Willy, Alvin and I, cast your vote and win HTC EVO 3D phones worth S$895 each!