After quad biking and sandboarding on the first day of our Sydney escapade with HTC EVO 3D, hosted by Destination New South Wales, we experienced horse riding along the pristine coastline in Port Stephens with Sahara Trails Horse Riding & Farmstays.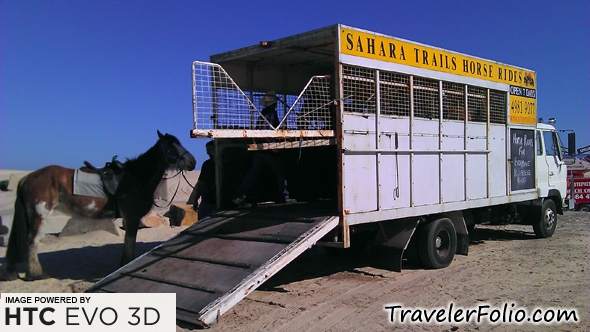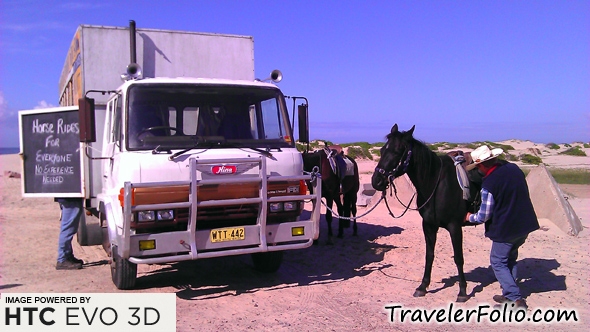 Horse Riding
My first horse riding experience was at the Singapore Zoo, the sit-and-pose shot for kids. The second ride – I was saddled on the horseback for a merry-go-round with a guide leading it in Bintan, Indonesia.
The most recent horse riding experience at Port Stephens in Sydney was exhilarating! Allen, the owner of Sahara Trails Horse Riding & Farmstays, trains the horses that we rode on and taught us how to handle our horses when we were saddled. I was a little tensed as this was the first time I was on a horse without a guide leading it by the rope. What if this mind-of-its-own suddenly started galloping and I fell off from the horseback?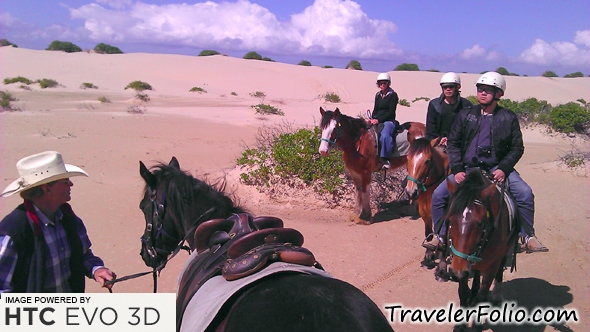 Allen instructed us on how to pull the lead rope without hurting our horses and said "Woah" while pulling the rope to stop the horse. And that gentle kick on the horse's flank to make it turn left or right. Most importantly, do not force the horse too hard to do what it doesn't want to do. Well, I think I was way too gentle to my greedy horse, whose name is Luke, as many times Luke just walked away to chew on the grass and it ignored me when I tried to pull it away.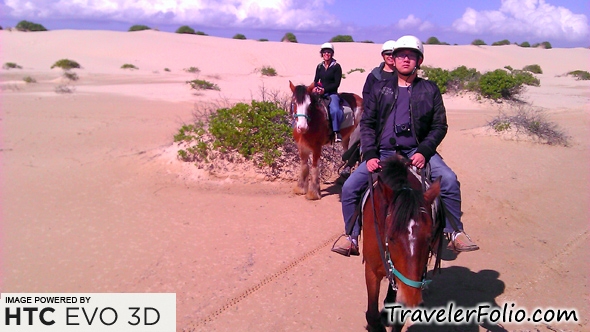 We started off riding at a slow pace to build up our confidence. The docile horses simply followed Allen who was also riding and leading the way. The weather was perfect with clear blue sky and cool sea breeze. After a short while, I was more relaxed, soaking up the scenic atmosphere while safely saddled on the back of Luke.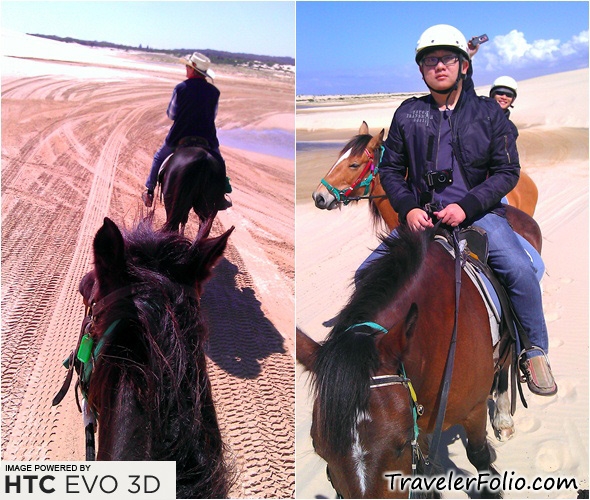 Allen let loose and asked if we would like to trot on our horses. It seems so carefree for an experienced horse rider but we were having a hard time trying to post the trot, that's, to rise out of the saddle seat as the horse takes a stride while trotting, in a way to smooth out the jolts.
Allen and Duglass, our Sydney guide, were galloping on their horses. We are still beginners so galloping on horseback is not allowed.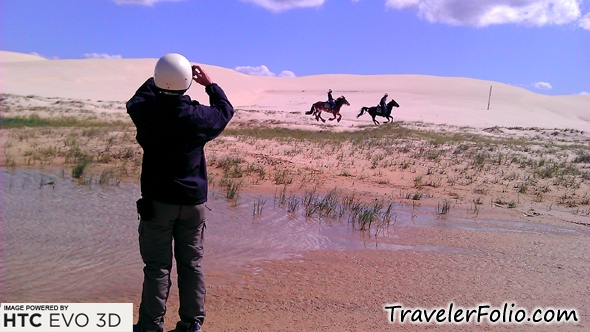 Happy posers on horsebacks.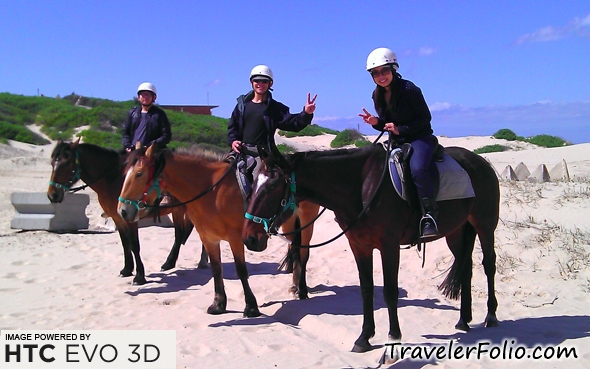 Luke and I.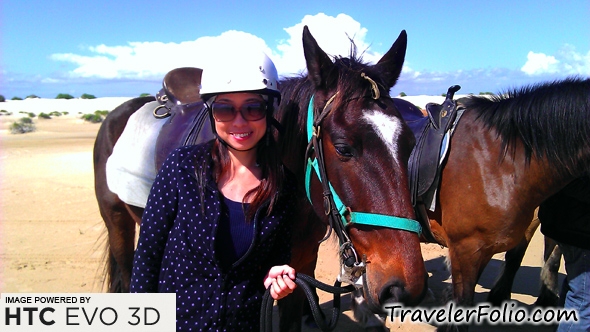 A pose with Allen.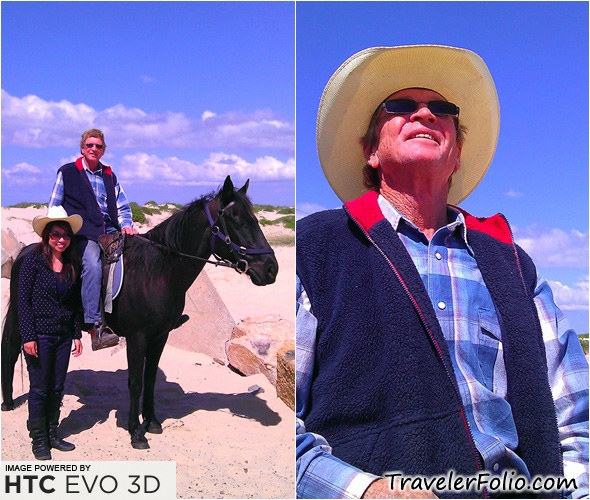 Another pose with the very tall guide from Sahara Trails Horse Riding & Farmstays.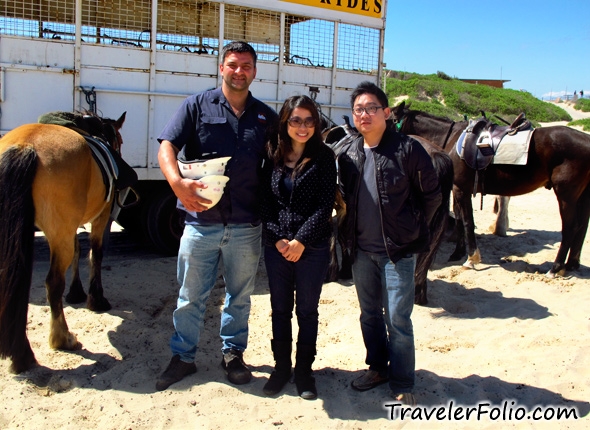 Parasailing
After we had attempted horse riding, we were gamed for parasailing at Nelson Bay with Port Stephens Parasailing. We were ferried into the sea, all geared up ready for parasailing – my first time! I wanted to do it alone but I was too "light" for this activity so Alvin had to pair up with me to add weight!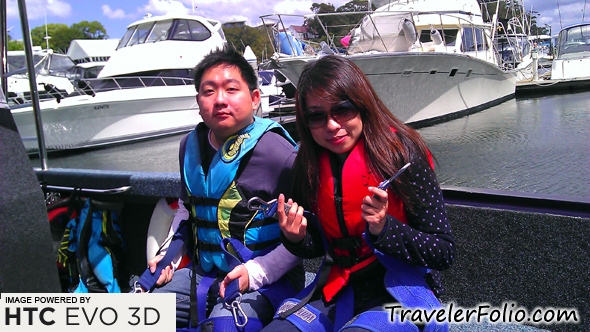 Soaring like a bird across Nelson Bay, or it's more like I was a human kite! Quite a nice experience to fly above the sea, high up in the sky.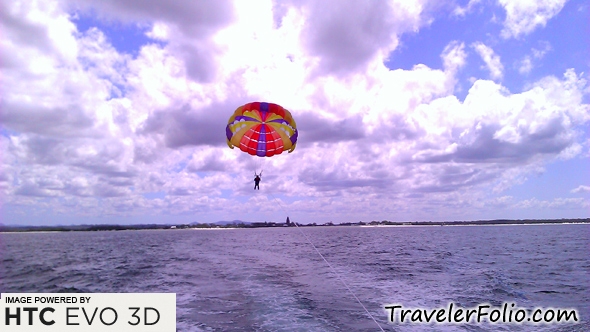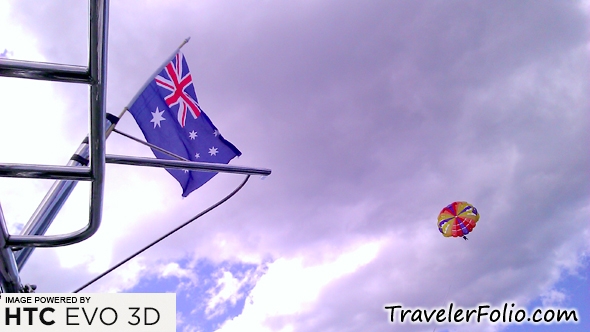 I took a 3D video of Willy using HTC EVO 3D when he was parasailing. Willy is "light-weighted" so it took a while for the coxswain to try to pull him back as he drifted to the side of the boat. The coxswain played a prank on Willy by dipping him into the icy cold water. Nonetheless, Willy came all prepared with waterproof clothing but he did let out a little cry. LOL
Turn off the 3D feature on Youtube if your system does not support 3D video.

Mirror reflection of white fluffy clouds in the azure sky and the boats at Nelson Bay.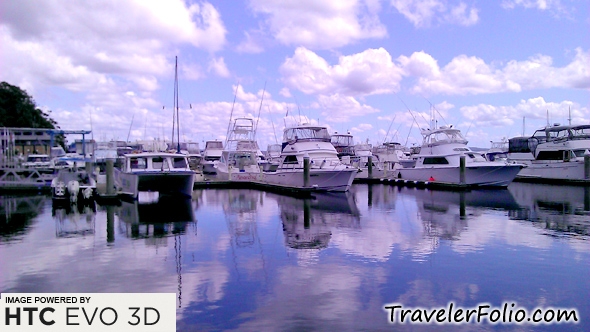 Dolphin Watching
Who doesn't like dolphins? They are so cute and lively. Before we departed Port Stephens, we went for dolphin watching with Moonshadow Cruises.
An hour before the cruise set off for dolphins, we had lunch on board the cruise ship that served decent international food.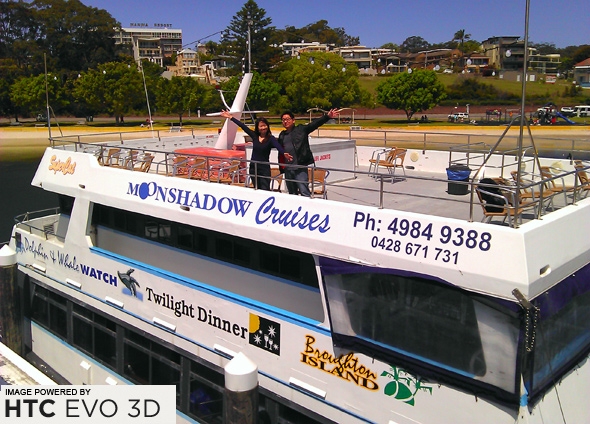 I love dolphins. They are fascinating and curious creatures that like to swim near boats and divers. Just a few weeks ago, I was diving with wild dolphins in the Red Sea in Eilat, Israel. On a few occasions, the dolphins glided gracefully in the water right in front of my eyes.
Up close and personal with dolphins on board the cruise ship.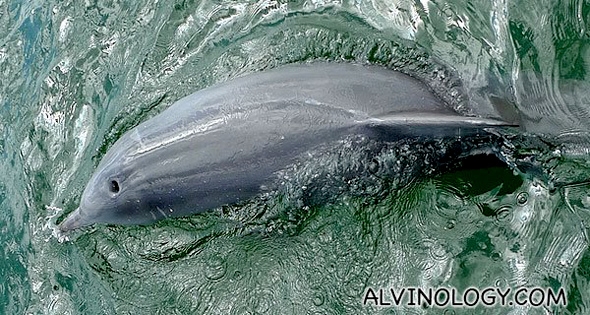 A pose for HTC EVO 3D at Nelson Bay on the cruise ship.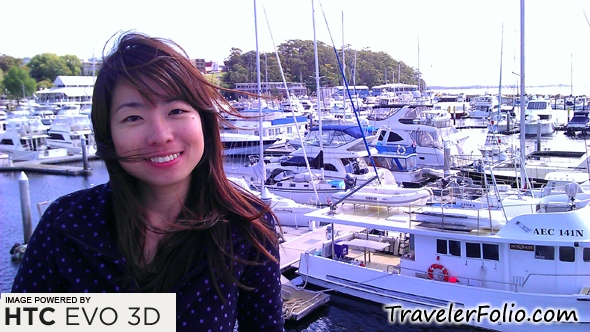 A jump shot at Nelson Bay, Port Stephens before we left for Sydney city centre.
Stay tuned for more updates on our escapade to Sydney!
Read all posts on Sydney escapade.