Located at a mere 7km east of the bustling Sydney city centre,  Bondi beach is a well-known venue for sea sports such as surfboard riding and swimming, sunbathing as well as beach volley. It hosted the 2000 Summer Olympics Beach Volleyball competition.
Sunrise @ Bondi
Together with Willy, Alvin and Duglass (our lovely Sydney guide), we left the hotel as early as 5:30am to catch the sunrise at Bondi Beach. I was extremely "hardworking" to get up so early for sunrise. Usually, I only watch sunrise through the window of the flight!
It was pretty chilly when the sky was still dark and we were waiting for that golden moment.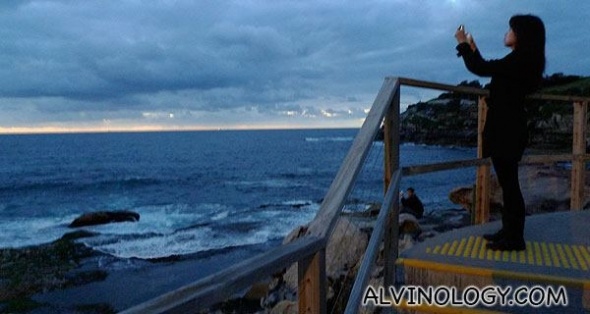 The gorgeous sunrise across the horizon as seen from Bondi Beach. There wasn't a crowd yet at the popular tourist spot so we could enjoy the serenity of the surroundings only to be filled with the therapeutic sound of the lapping waves. It definitely pays off for sacrificing some sleep to embrace Mother Nature at her best.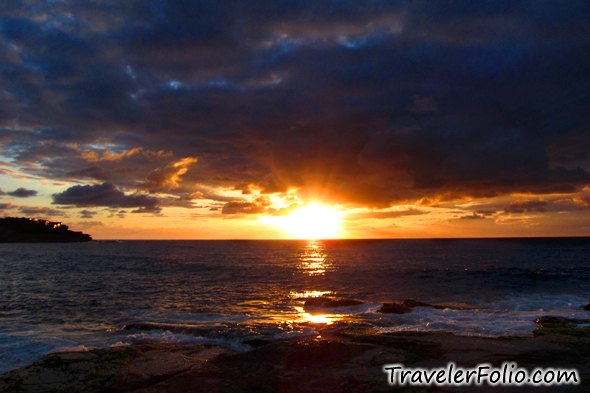 Waves crashing endlessly against the rocks along the shore.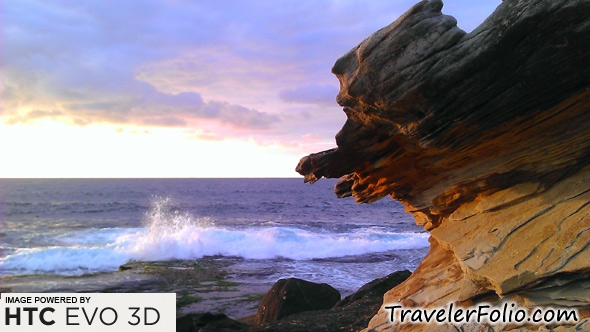 I very much enjoyed the coastal walk from Bondi Beach to Bronte Beach. It threw me pleasant surprises of the changing sceneries along the stretch of winding paths. Many people were jogging in the gentle sea breeze after sunrise.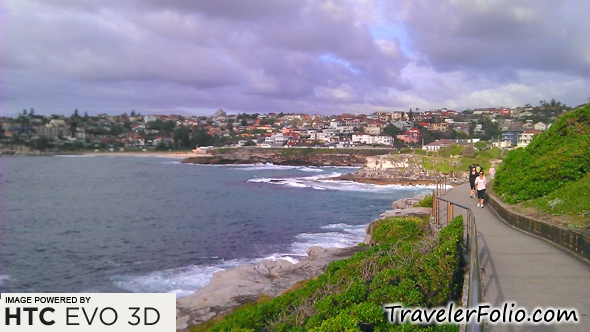 Duglass, our guide, was also appreciating the beautiful coastal scenery and snapping away.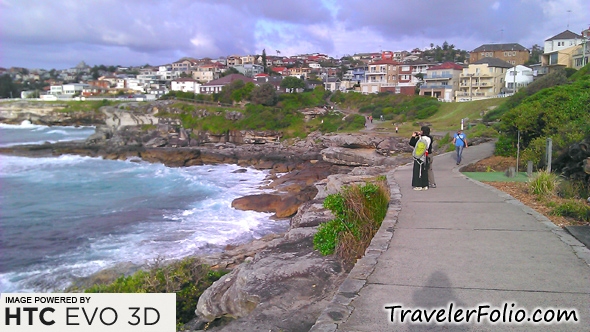 A snapshot taken by HTC EVO 3D along Bondi Beach.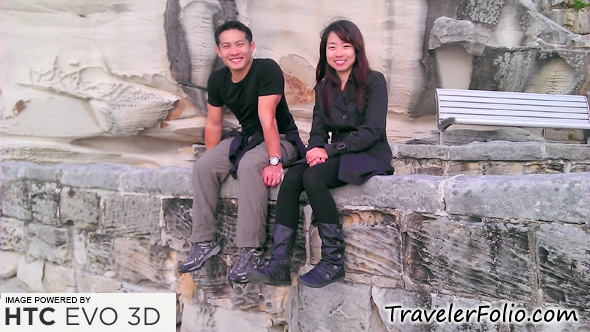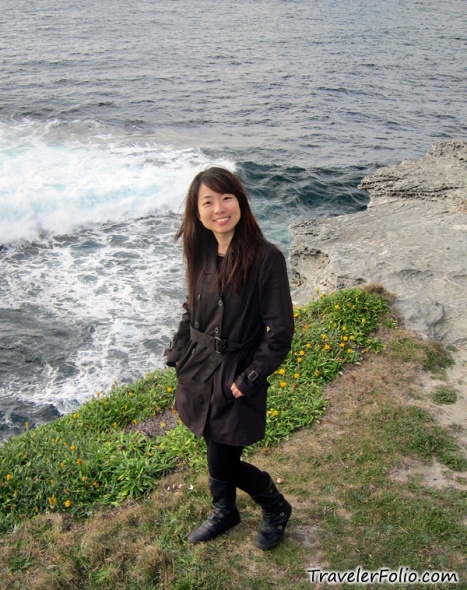 With Duglass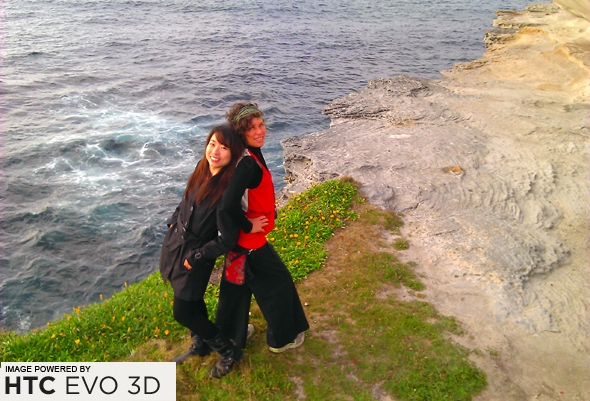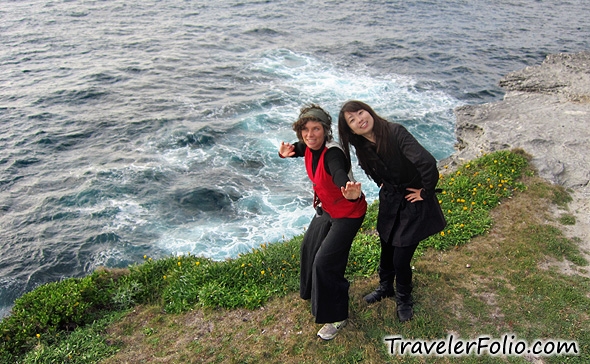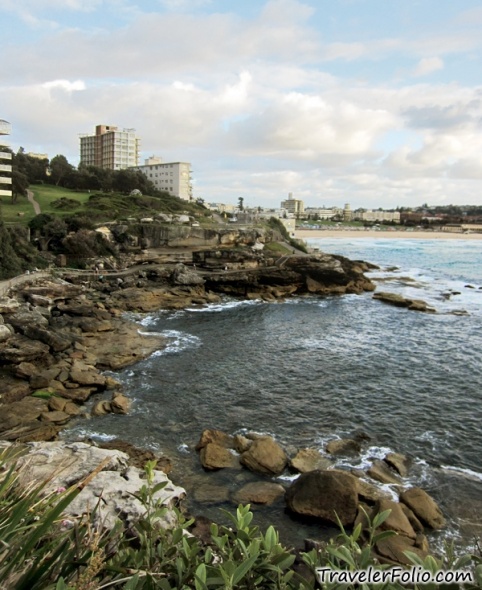 Pretty coastal flowers.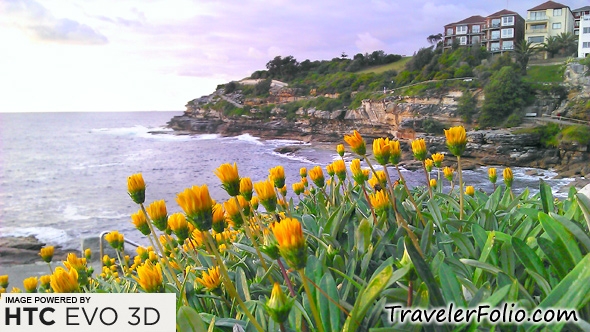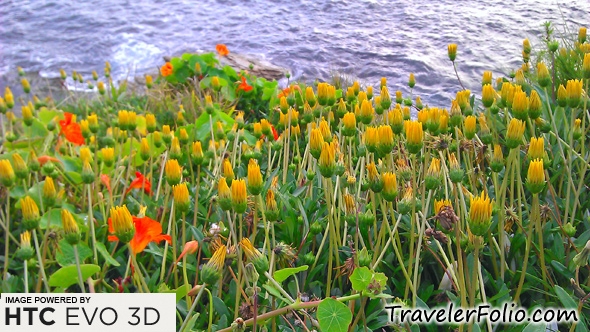 At the end of the morning jaunt, we popped in Swell Restaurant for a scrumptious breakfast at Bronte Beach. This restaurant is very popular among the locals and they serve very good breakfast.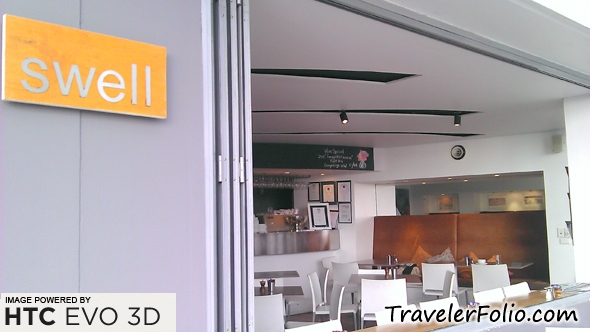 Look at this super appetizing breakfast with poached eggs, hams and cheese. Eggs Benedict is highly recommended at Swell Restaurant. I like it.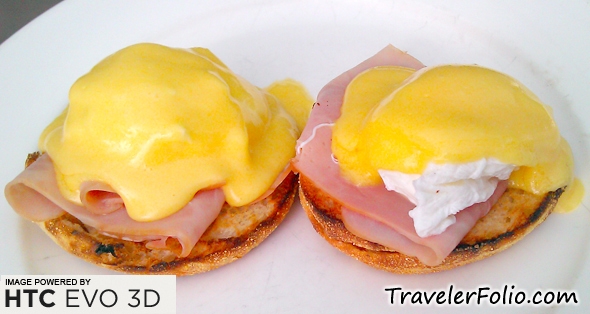 My favourite dose of cappuccino.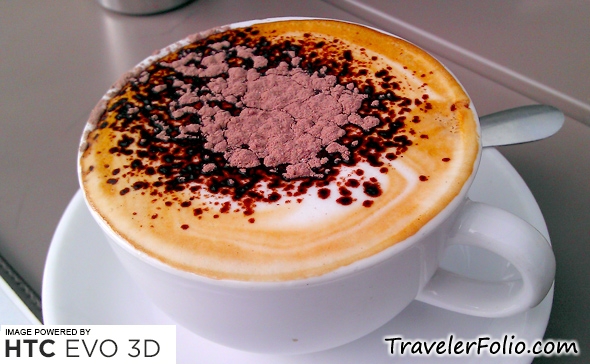 Duglass's free range poached eggs. I was busy "stealing" my friends breakfast. It was yummy!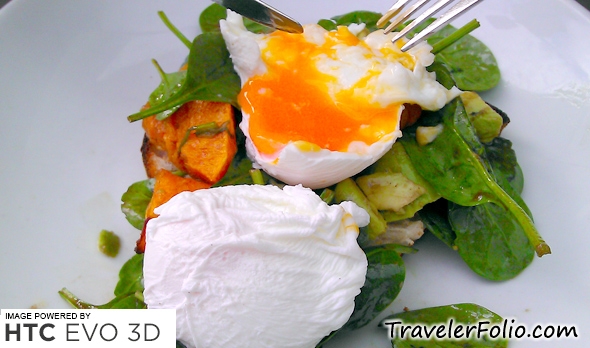 I like Willy's pancake breakfast the most! I didn't snatch his breakfast. He offered me a slice in return for my Eggs Benedict. The pancakes were done with a slightly burnt flavour, fluffy and melt in the mouth. Pancakelicious!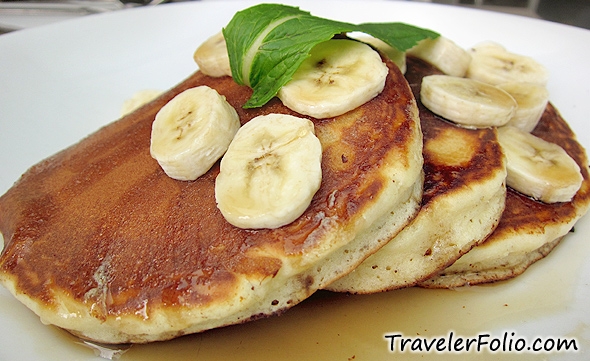 Harley Davidson Bike Tour
I didn't steal a shot of this Harley Davidson biker. He posed it for us. We were going for a Harley tour around Bondi with Sydney HOG Chapter. Sounds cool yeah? Willy, Alvin and I would pillion ride on one of the Harley for a joy ride.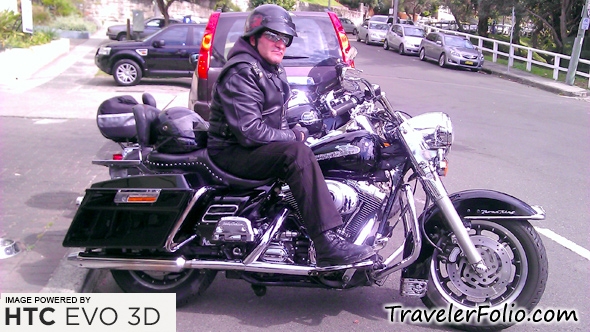 I think the guys chickened out when they saw this skull mask biker who wore a badge with "hell rider" on it. So Willy asked me to ride on the skull mask's bike.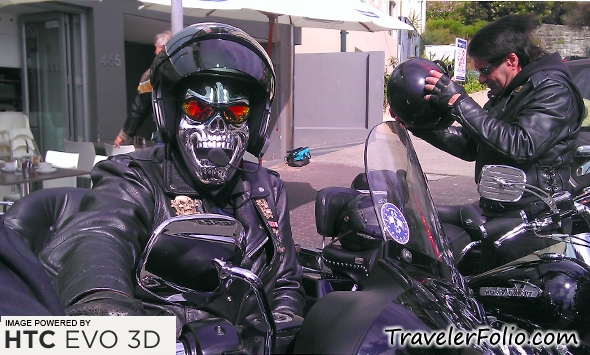 Wait, I had to put on the leather jacket. Have to look cool before riding on a Harley.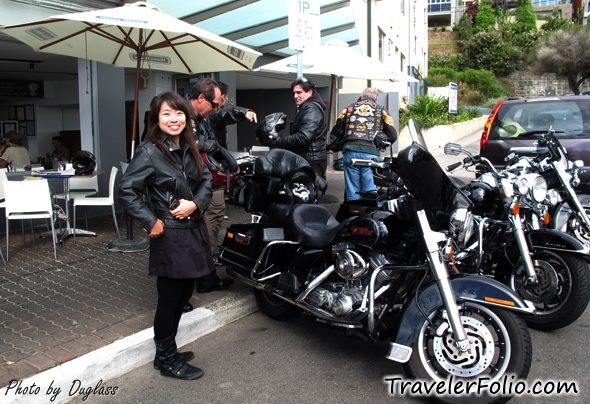 Act cool again.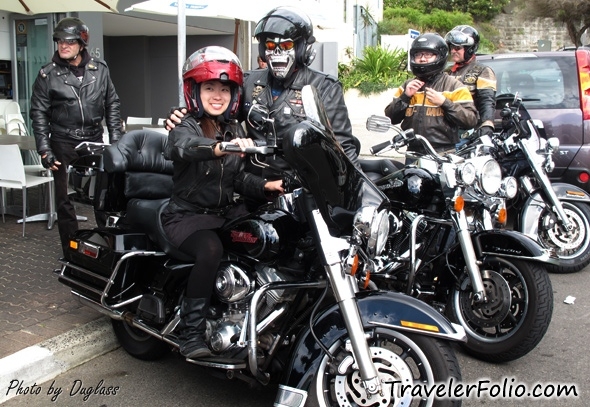 Posers on Harley Davidson. Actually, I wanted to put on that skull mask … After taking enough of "cool" shots, vroom-vroom off we rode around the coastal area ostentatiously, catching the attention of friendly onlookers and stopping by monuments and scenic look-out point at the coast. A jolly way of sightseeing around the city in style!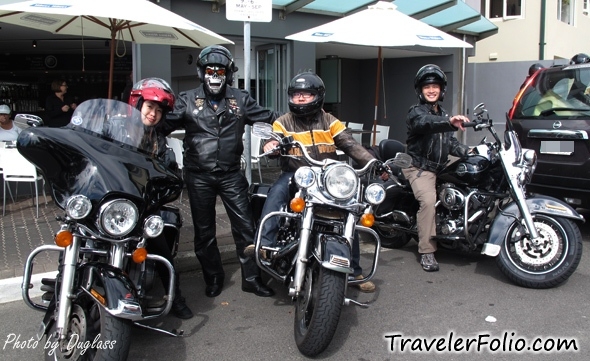 The cool-looking Harley dudes with flashy jackets.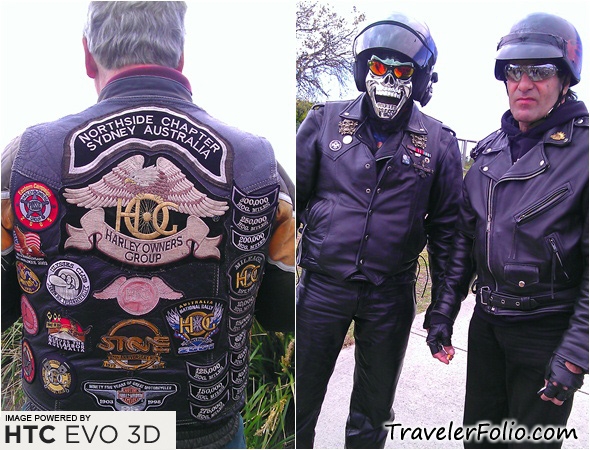 Willy and Alvin's Harley rider.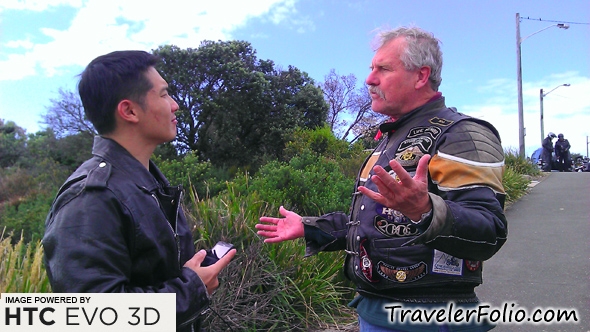 Our Harley Davidson expedition ended at noon and we took on the next challenge – surfboarding in the COLD waters!
Let's Go Surfing!
For tropical breeds like us, I thought it was insanely crazy to learn surfing in the icy cold waters. Duglass reassured us that we would be in wet suits to keep us warm and once we started surfboarding, we won't feel cold. She was right.
Willy, Alvin and I had zero experience in surfboarding. Our dedicated surf coach, a Tahitian from Let's Go Surfing, was very friendly and patience while conducting the introductory lesson, giving us extra attention to boost our confidence and make sure that we enjoyed the learning process.
Image courtesy of Let's Go Surfing.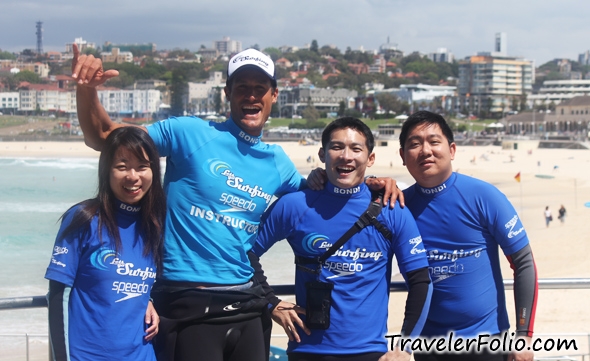 We were learning how to position and balance ourselves correctly on the surfboard after our first attempt on surfboarding. I only managed to surf in the paddling position at the end of our short introductory lesson. It wasn't easy for me as I don't have the arm strength to push myself up and stand on the surfboard to ride the waves.
Image courtesy of Let's Go Surfing.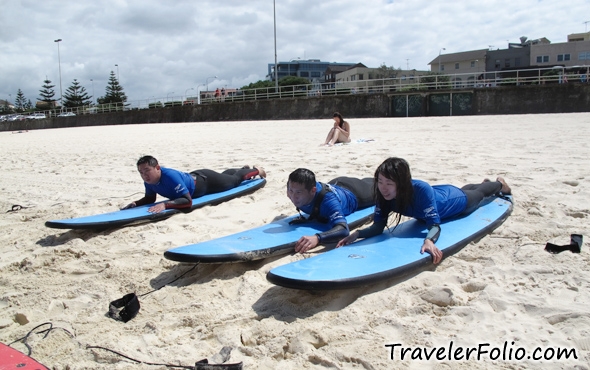 A loser shot of me waiting for the surf coach to carry the surfboard further out into the sea and guide me before I could lay on the surfboard just before the waves returned and then I paddled back to the shore.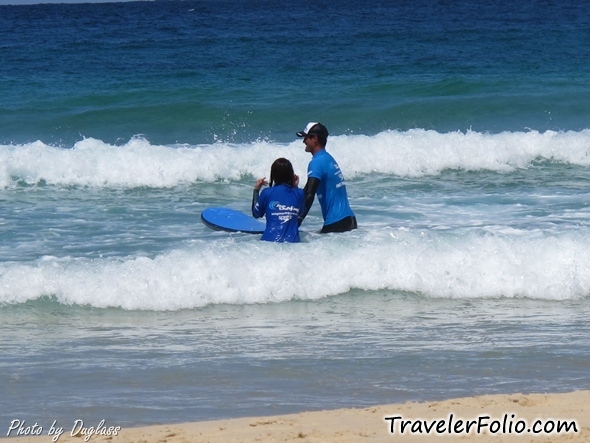 A great work-out for us after all that extra calories intake by just carrying that big surfboard out into the sea against the crashing waves. We were all drained out at the end of the lesson. Willy was the best performed learner as he managed to stand on the surfboard and ride the waves briefly before crashing onto me! Nonetheless, it's an unforgettable experience to learn surfing with Let's Go Surfing at the world famous Bondi Beach in Sydney.
Image courtesy of Let's Go Surfing.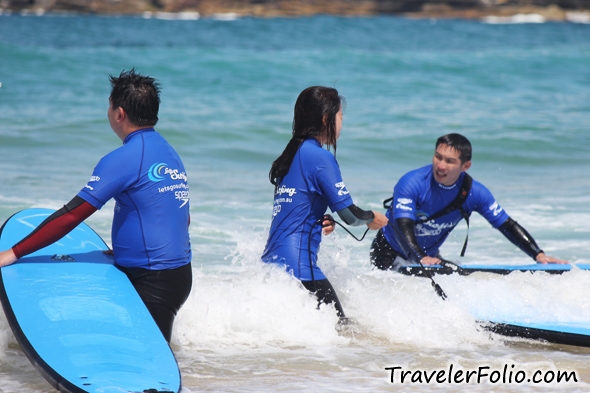 Posers looking good with surfboards at Bondi Beach!
Image courtesy of Let's Go Surfing.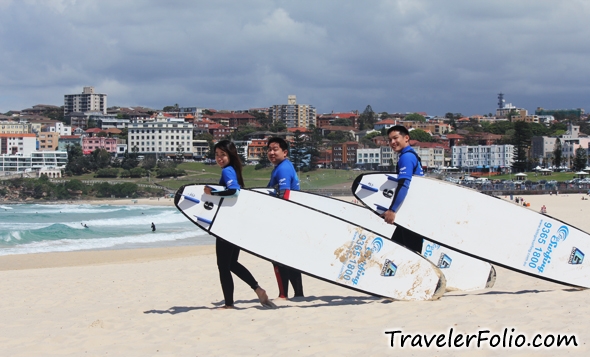 Lunch at Bondi Icebergs Dining Room and Bar not only offers fresh seafood but an uninterrupted view of Bondi Beach in an elegant ambience. Countless celebrities have patronized this establishment as well. We had lunch with Laura from Destination New South Wales who came to Bondi to meet us.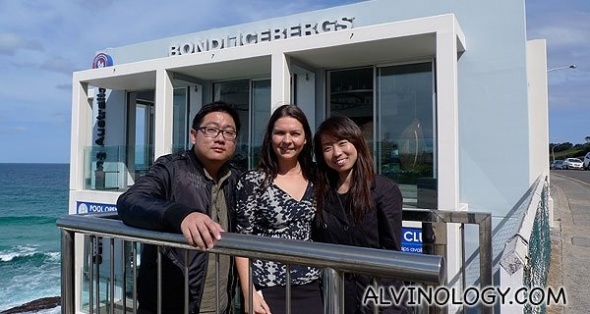 My dish of tasty Steamed Spanner Crab soup.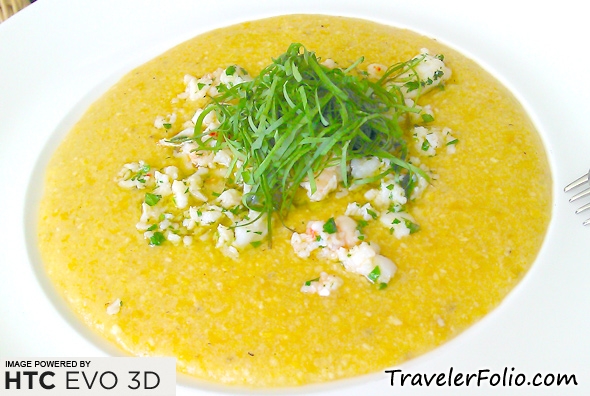 Well-seasoned seafood combo with succulent prawns, fish and clams for Duglass.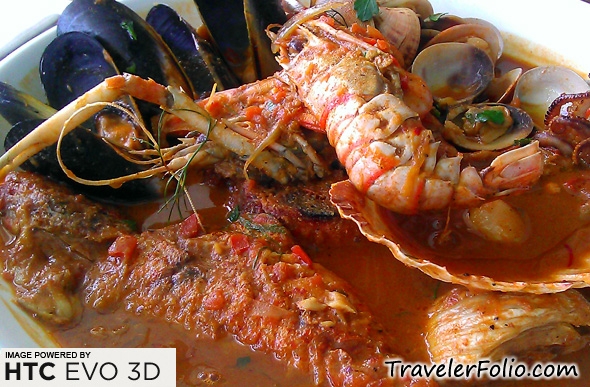 Grilled Ocean Trout still retaining its moisture sealed with seafood freshness.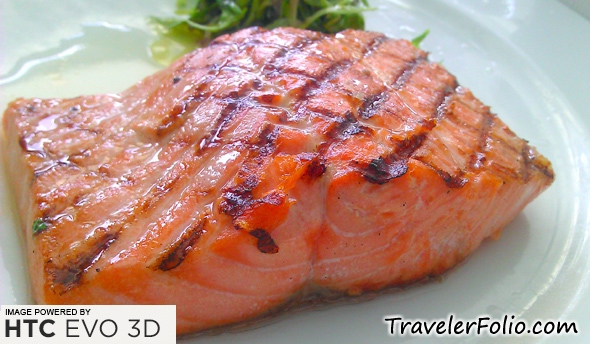 Stay tuned for more updates on Sydney city attractions! In the meantime, check out Asiaone microsite (http://creative.asiaone.com/2011/IA/htc_IA111006/vote.html) to pick your favourite photos taken by Willy, Alvin and I, cast your vote and win HTC EVO 3D phones worth S$895 each!