I thought I would take a longer "travel" break after jetting from Singapore to Melbourne, and four days later to Israel, then 10 days later to China for another 10 days in September. But the travel bug was still lurking around so when I received an invitation to Sydney with HTC EVO 3D, hosted by Destination New South Wales, I went for it. Check out the official website of HTC Sydney Escapade hosted on AsiaOne.
With the company of Willy Foo, a professional photographer and Alvin Lim, a popular lifestyle blogger, our Sydney escapade with HTC EVO 3D set off after midnight on 18 October via Singapore Airlines Airbus A380 – the world's largest passenger airliner.
Left: Alvin, Eunice (me) and Willy at Changi Airport Terminal 3 departure hall.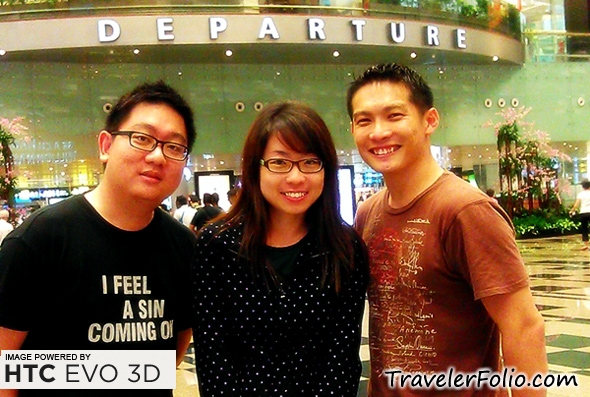 Singapore Airlines A380
On board SQ A380. As usual, the flight experience with Singapore Airlines has been very pleasant. The double-decker widebody aircraft has a generous seat pitch of 32″ and features the latest in-flight entertainment. It boasts more stability during flight and is quieter too as compared to other aircraft types.
Appetizing in-flight meal on SQ from Singapore to Sydney. I was trying out the HTC EVO 3D smartphone camera and I think it could take some reasonable good shots under low light condition on the plane.
The flight journey from Singapore to Sydney takes about 7.5-hour. Now until 1 April 2012 , Sydney is 3-hour ahead of Singapore due to +1 hour of daylight saving. It was already noon when we arrived in Sydney.
Duglass, our Australian tour guide from Destination New South Wales, was already at the airport to welcome us. To stay connected for the 8-day trip in Sydney (well, you know it's Facebook, Twitter and social media stuff!), we purchased the local SIM card at the airport.
Port Stephens
We were on a self-drive trip and rented a car from Hertz. Straight from the airport, Duglass drove us to Port Stephens, a favourite destination for tourists and locals alike in Sydney, with sun drenched beaches and pristine waters popular for aqua activities including dolphin and whale watching.
Quad Biking
I was a little groggy after the overnight flight from Singapore to Sydney. When I learnt that we were not heading to the hotel yet but going for some sand dune adventures on quad bike, I wondered how I was going to handle that!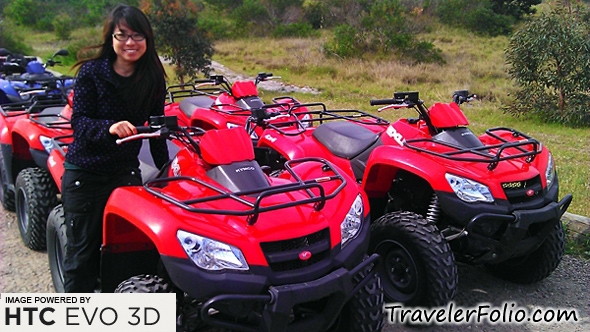 Before we even started the engine, bloggers like us really love to pose for some "glamour shots" to look cool. Alvin and I were really just posers. It was his first time riding on quad bike and my second time but I couldn't recall how to control this iron baby. Anyhow, we just showed hand signs.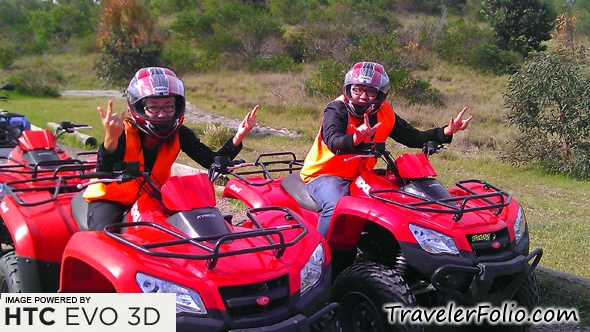 Looking cool, yeah!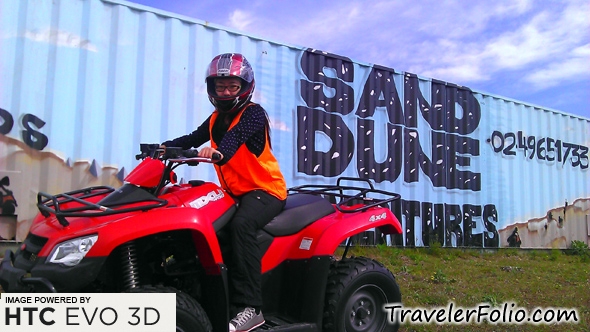 Back to serious business. Boss Andrew from Sand Dune Adventures was giving us instructions on how to handle the quad bike. It really sounds simple. He turned on the engine and adjusted the gear for us. We just need to know how to accelerate and brake. Most importantly, we have to ride in a single file, one after another on the same path to avoid collision.
After a short ride, we rode into the sand dunes. I've never seen anything like this before. The sand is so fine like milk powder. The sky along the horizon was so blue. I felt a great sense of freedom on my quad bike. Nothing seems to be stopping me from going anywhere on the smooth ride across the sand dunes …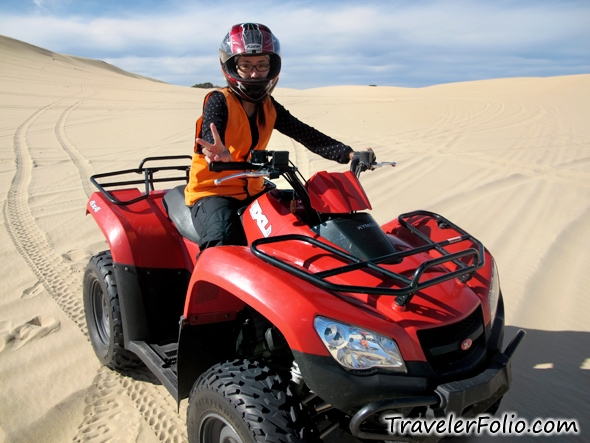 So, sometimes I wandered off the path and got "lectured" by the instructor for "reckless riding". Have fun and be safe.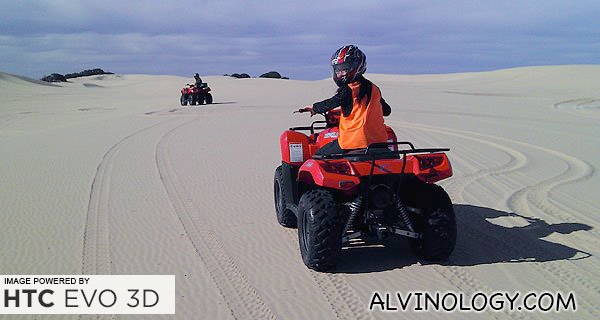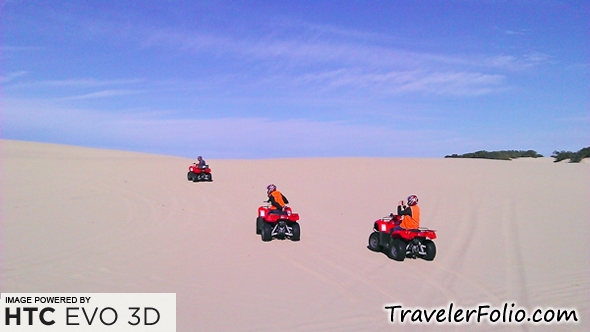 Some of these shots remind me of the wallpapers I used to download in the past. On a clear blue day, you can really snap some cool shots with long shadows casting on the sand dunes.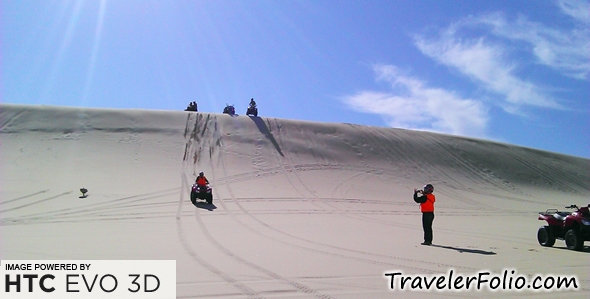 Andrew and his shadow on top of a sand dune.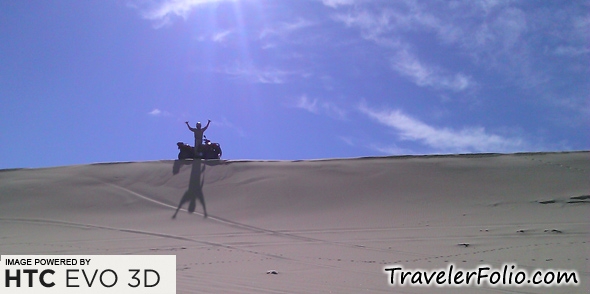 Rolling down the sand dune. That's one of my favourite rides. Just relax and roll down the slope without accelerating, and be brave as it won't hurt.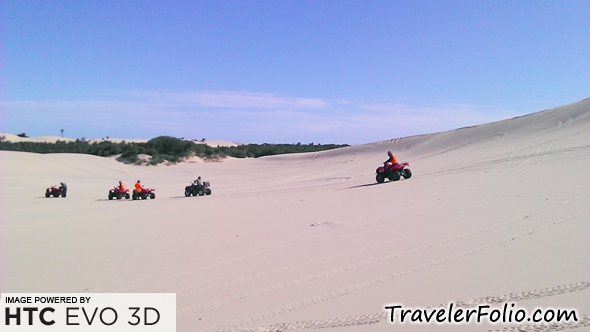 I was enjoying the sweeping views of sand dunes surrounding me.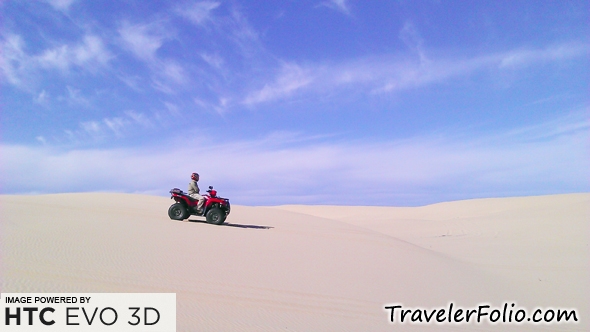 This is the more challenging slope. It is steeper than what is shown on this photo. We had to rev up and speed all the way up the steep dune at one go. And I did it!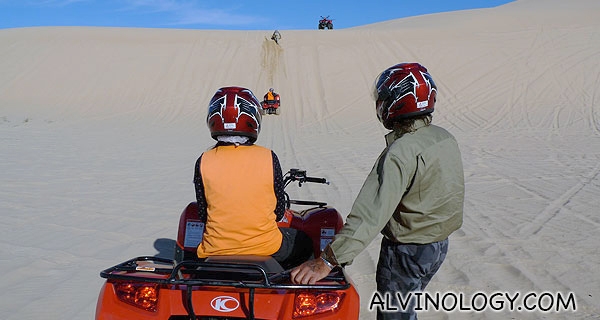 Sandboarding
I've only heard of snowboarding and know nuts about sandboarding. We rode up to a steep dune to experience sandboarding. Tell you man, I loved it! This is your playground slide. Sit on the board, push yourself down the slope and use your fingers to drag in the sand to control the speed.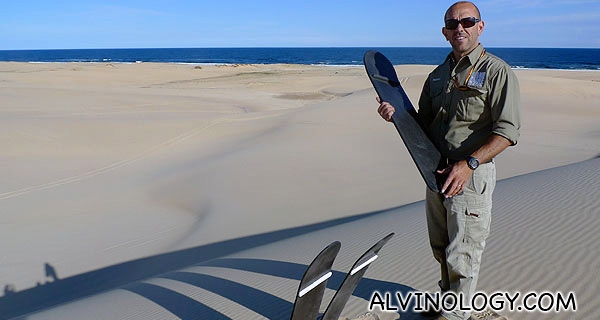 Be prepared to let sand get into your pockets, shoes and all over your body. It doesn't matter as the sand is very fine it's easy to shake off. I had some in my mouth too, 'cos I crashed!
Video of Willy, Alvin and I in the sandboarding race.

Willy and I feeling a sense of achievement after the adrenaline rush activities with quad biking and sandboarding. You could tell that we were still charged up after the night flight and jet lag. So fun!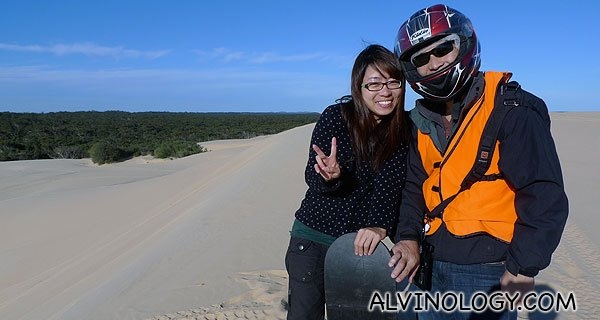 4-Wheel-Drive Tour
Next, we were driven around on a 4WD tour with Andrew along the rugged coastline to catch a glimpse of the 53,000 tonnes MV Sygna shipwreck that used to be a Norwegian bulk carrier on Stockton Beach in Port Stephens. The iconic landmark has been grounded in that area after a major storm since 26 May 1974.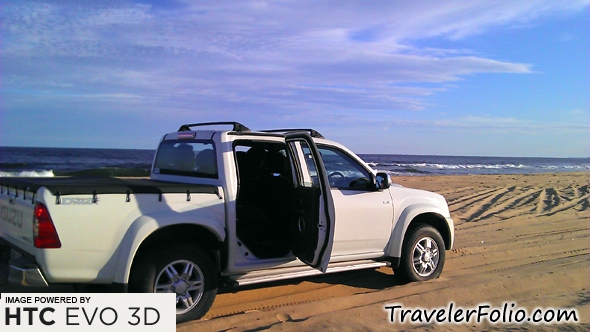 The shipwreck, MV Sygna, at a distance.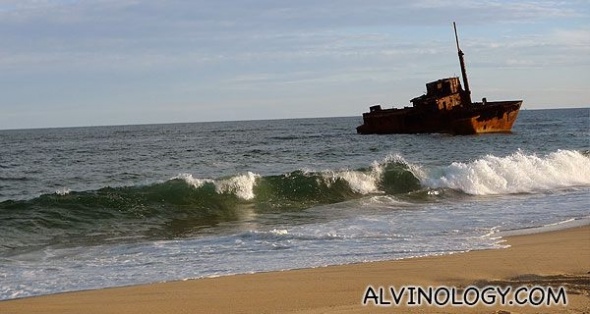 I was intrigued by the midden deposits at the coastal area. The domestic wastes are dumps like animal bones, shells and other materials left by the aborigines some thousands of years ago. We were told to respect the land as they could be burial sites and not to step on these precious evidence that bear testimony to past human occupation in that area.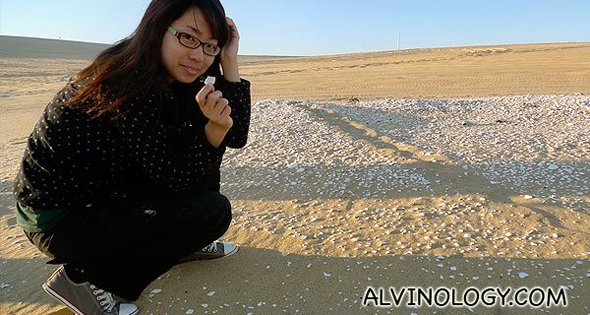 Andrew dug a hole in the sand near a waterhole before we drove along the coast. He said that water collected in the ground near the waterhole is even cleaner than our drinkable tap water due to natural filtration. I was taking a video of Willy and Andrew using HTC EVO 3D. Willy took a sip of the water and said it tasted sweet.
A group photo with the very professional and hospitable guides from Sand Dune Adventures.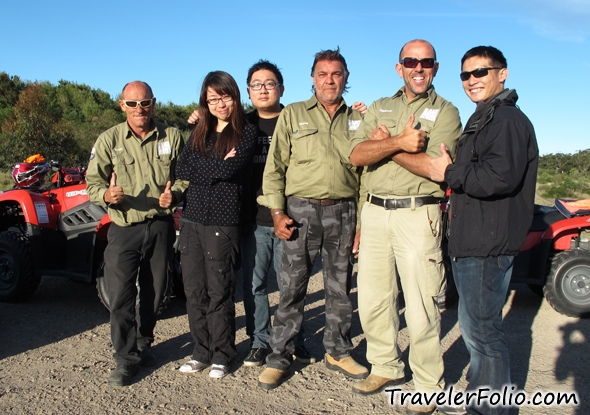 We put up a night at Oaks Pacific Blue Resort that's nestled between Nelson Bay and Salamander Bay. My room has direct access to the pool but it was too late for a dip and we were exhausted. The room is conveniently appointed with a small pantry, entertainment system and internet connection. It's clean and comfortable for a good night rest.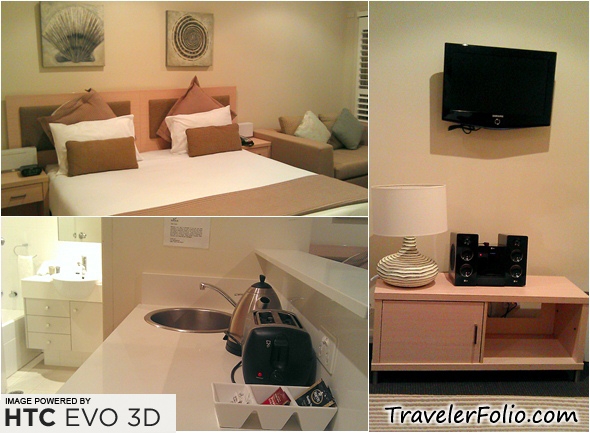 At the resort restaurant, we had a good seafood dinner with fried calamari, tomato bruschetta and baked fish. The delectable dishes are as good as the photos. *self-praise*. Or at least they make my stomach growl now!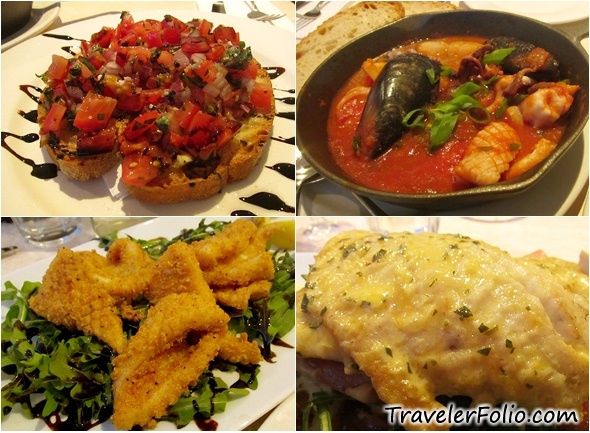 Upcoming: We were out for horse riding, parasailing and dolphin watching the following day. Stay tuned!