Tuesday, 5 Feb 08
We waited at the bus terminal for a relative to fetch us. There were some men smoking at the terminal, "treating" us "breakfast" with choking cigarette smell. I learnt that our lungs go through detoxification from 3:00am to 5:00am, and these people could still smoke at this hour, it's really bad.
Always eager to taste the authentic Ipoh food. Had brunch at Xin Dong Qu (新东区) Kopitiam. There are a few stalls with good food: Hakka Mee stall, Curry Mee stall (the one with longer queue), Popiah stall, Wonton Mee stall, Hokkien Mee stall and "Chao Fun" stall.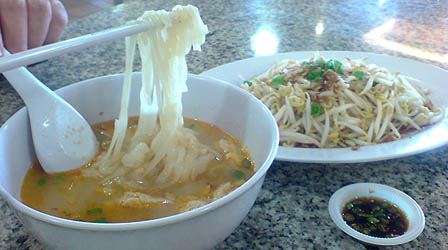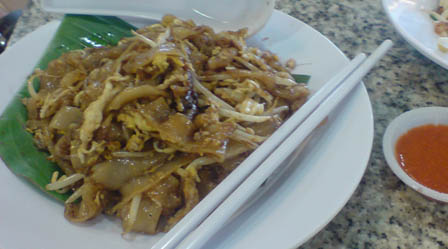 Ipoh is famous for its food, particularly "Sar Hor Fun"( 沙河粉)– flat white rice noodle served in soup with shredded chicken meat and prawns; "Hor Hee"(河喜) served with fish cakes; "Nga Choi Kai" (芽菜鸡)– chicken with stout and juicy beansprouts; "Hakka Mee" (客家面)and "Hiong Piah" (香饼)– flaky and crisp biscuits filled of smooth, thick and sticky sugar syrup.

I love Ipoh rice noodle for its soft and silky texture attributed to the local water. Even the yellow noodle is nicer and not so much alkaline in it.
Pointers:
The Singapore version of "Ipoh Hor Fun" is the Ipoh version of "Chicken Hor Fun"; and "Penang laksa" is the Malaysian version of "Asam Laksa".
Jacky ordered Mee Jawa (yellow noodles with gravy like mee rebus but it's lighter) for me and I think the taste was quite plain, not better than the Mee Jawa at the Malay stall at New Hollywood which is beside the Hollywood Kopitiam. The coffee was very nice but the Lou Han Guo drink was too sweet.
We went to The Store. I couldn't find anything nice there but I bought 2 Daniel Hechter collar T-shirts for the guys, each T-shirt cost around S$15.
At home, we watched Singapore homemade movie 881. It's not my kind of movie, probably because I don't understand Hokkien well. We went out to find good food again, after watching the movie half-way.
Eat, eat and eat. After all, the hype about Ipoh is food!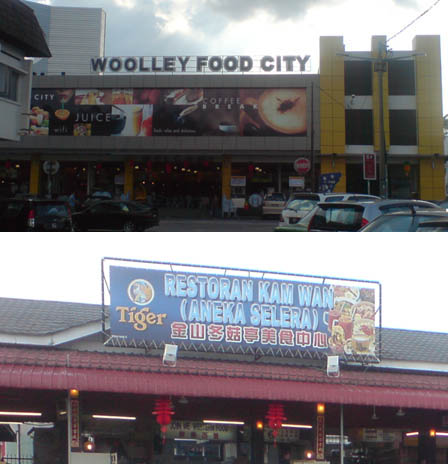 We had our dinner at Woolly Food City. This was the first time we were there after it was renovated. Next to Woolley Food City is also another popular food centre known as "Dong Ku Teng"(冬菇亭;Restoran Kam Wan).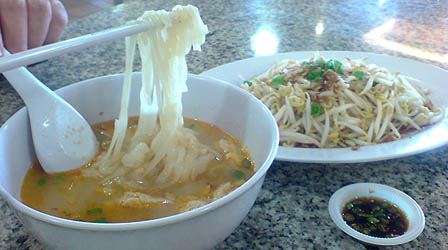 I ordered shredded Chicken Hor Fun (flat rice noodles) and a dish of bean sprouts. Green chilli padi are usually served instead of red chilli padi, and they are as hot as the red ones.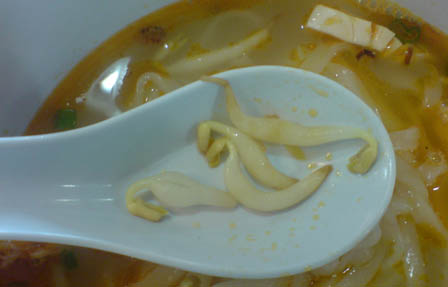 Trust me, Ipoh bean sprouts are one of a kind – they are shorter, stouter and juicier! The Ipoh folks have been saying that it is due to the water from the limestone hills surrounding Ipoh that produces such juicy bean sprouts and delicious food. It is known that Ipoh has one of the cleanest and clearest water supplies in Malaysia, as the source is from the waterfalls in the nearby Tanjung Rambutan.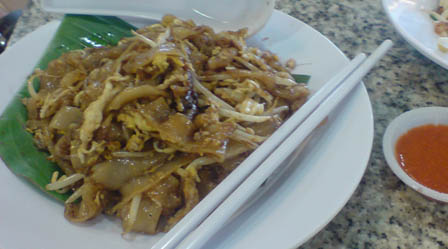 Jacky also ordered his favourite dish – Fried Kuay Teow (flat rice noodles).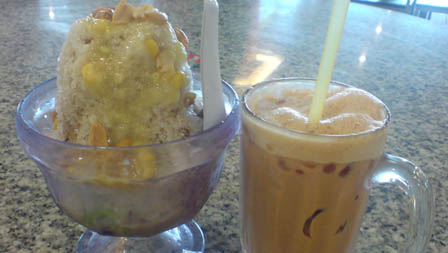 ABC (a mixture of peanuts, beans and jelly with ice and syrup) and Iced Teh (iced milk tea). Think it's not common to get peanuts in ice kachang in Singapore. But this ABC tasted so good with the crunchy nuts; and the Iced Teh was just right too.