Let's start off with a video compilation of our photos taken from Universal Studios Singapore!
How to go to the Universal Studios at Resorts World Sentosa?
There are many ways to get there. Perhaps the two more popular choices are as follows:
By Sentosa Express from Vivocity (MRT station: HarbourFront)

You can take the Sentosa Express from Vivocity shopping mall (Level 3, near Food Republic main entrance). Alight at the first station – Waterfront Station and walk to Universal Studios. A ticket costs S$3 and this already includes the admission to Sentosa. You can buy the ticket at the sales counter or pay by Ezlink card. When leaving Sentosa by monorail, there will be no fee charged.
By Bus from Vivocity
Board/ Alight at the bus stop outside Vivocity. It costs S$2 and there will be no fee charged upon leaving Sentosa.
Entrance fees to Universal Studios
One-Day Pass Peak/Off-Peak (Adult S$72/$66, Child S$52/$48, Senior S$36/$32). There are also Two-Day and Annual Passes. If the park is crowded, get the Express Pass to join the express queues! (Additional S$30 for Off-Peak /$48 for Peak /$68 for Super Peak)
The opening hours of Universal Studios Singapore runs from 9am to 6pm. We were already at the theme park around 9am, eagerly exploring the rides and attractions!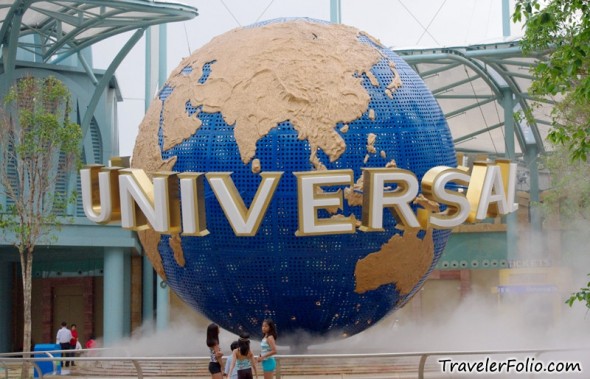 Universal Studios Singapore consists of 7 themed areas: The Lost World, Far Far Away, Madagascar, Ancient Egypt, Sci-Fi City, Hollywood and New York.
Upon entering, we chose the right path to start the day at the theme park!
Sci-Fi City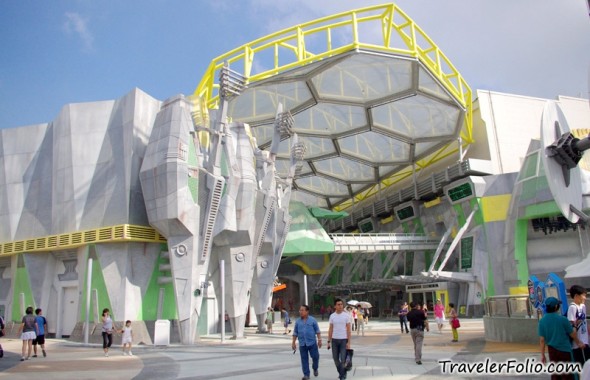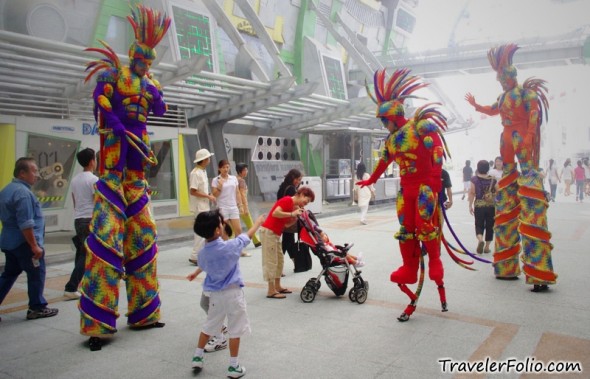 I think the most exciting ride at the theme park is Battlestar Galactica CYLON (blue track) at Sci-Fi City. The red track is for Battlestar Galactica HUMAN; as the name suggests, it's more for "human", so it's relatively a "milder" ride as compared to CYLON! Both are dueling coasters, which means the two roller coasters will narrowly avoid collisions as they twists and turns!
I guess the majority of us who love the excitement of coaster ride will madly dive into the queue for our first ride in the park. Be forewarned: Try not to take both roller coaster rides consecutively without a short break. We did that to the Dueling Dragons at Universal Studios Orlando and ended up feeling nausea and taking a longer break! In fact, my bro strained his neck after taking CYLON, his first ride and last ride of the day!
Nonetheless, open your eyes big big with hands up in the air and scream your lungs out throughout the wild ride!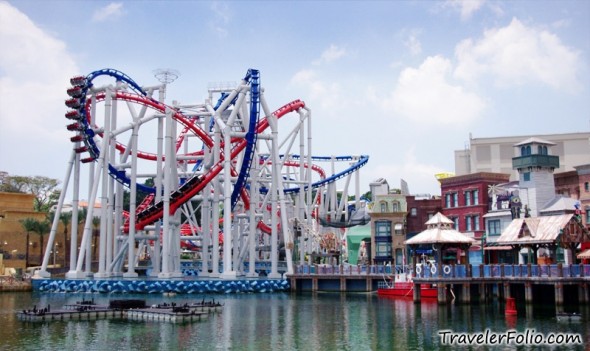 Accelerator is about mad spinning, and I'm not into it!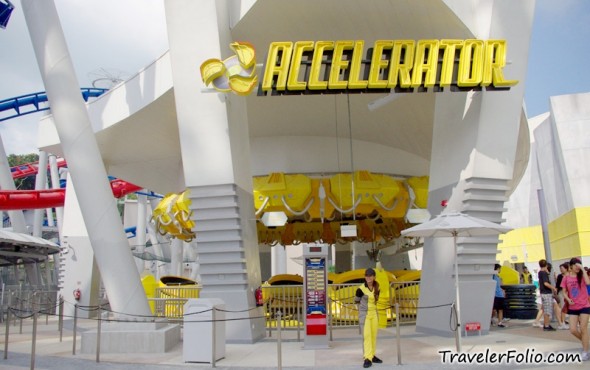 Ancient Egypt
Step into the golden era of ancient Egypt, with huge Egyptian statues looming high over you.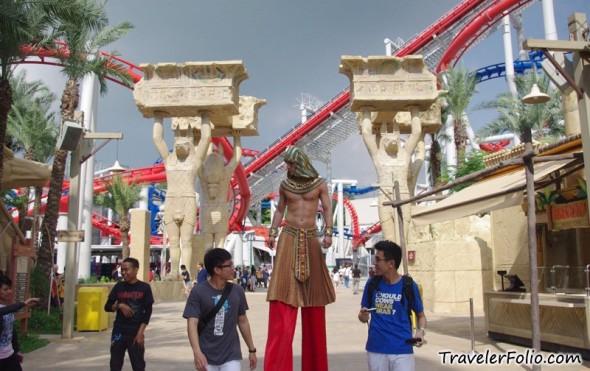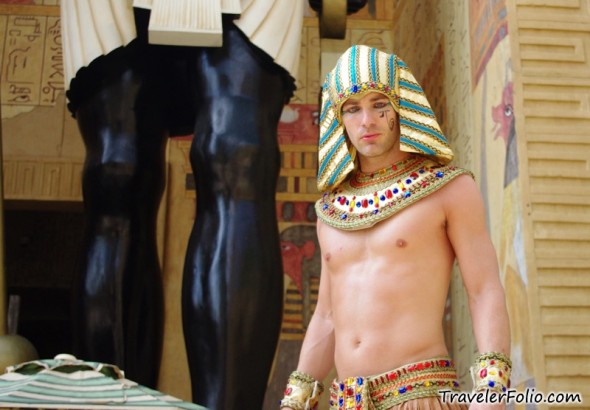 The giant Egyptian guards!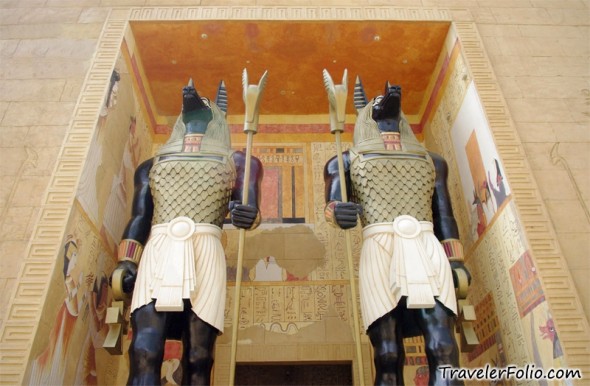 The Egyptian obelisk.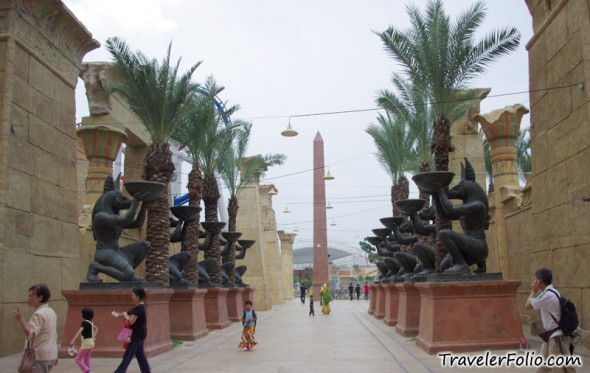 We took the high-speed thrill ride at Revenge of the Mummy. Another exhilarating ride through sharp bends and sudden reverse in the darkness, only to be greeted by fiery fireballs, warrior mummies and other evil-ish stuff!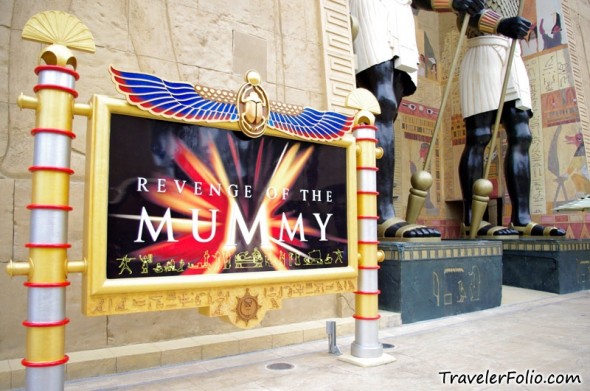 Another attraction at Ancient Egypt is Treasure Hunters which I didn't come across. I think it's a kiddy ride.
There are lockers near the rides for you to keep your belongings before taking the rides. NOTE: each locker is free to use for 30mins, after that the charges are S$2-S$3 per 20-30 mins block onwards, capped at $20 per day. You may want to change locker after each ride.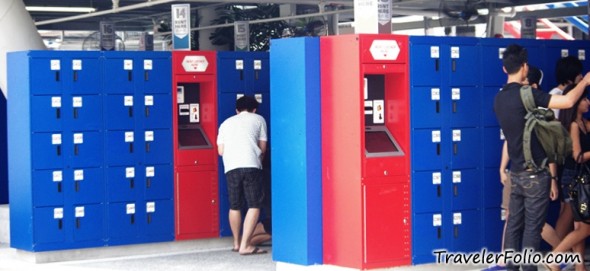 The Lost World
The Lost World features two themed areas: WaterWorld and Jurassic Park.
Catch the sensational 'live' water show with daring stunts and real explosions. It brings the silver screen to life! Check the schedules for the "WaterWorld" show.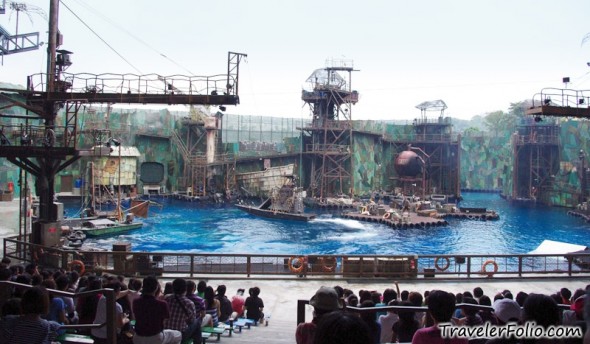 The Hero and the Beauty.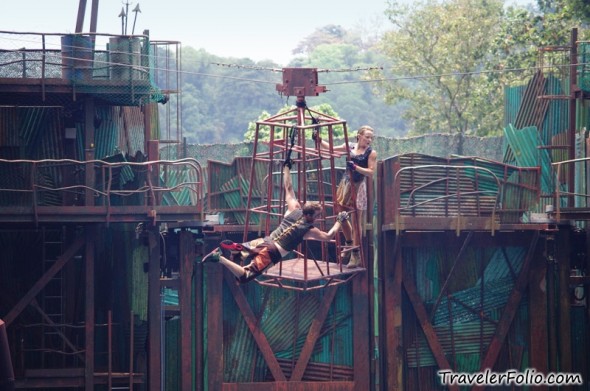 Nice grip! And a jump with style!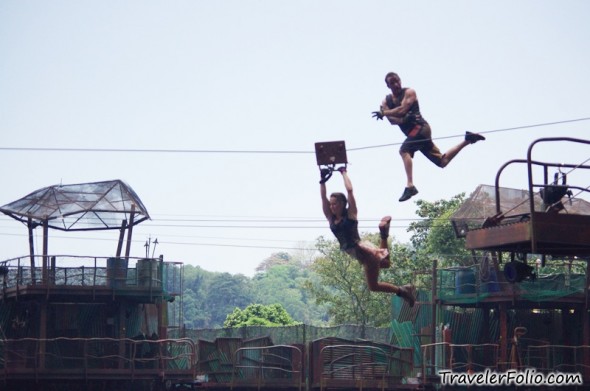 Obviously, this baldy is the villain with a blind eye.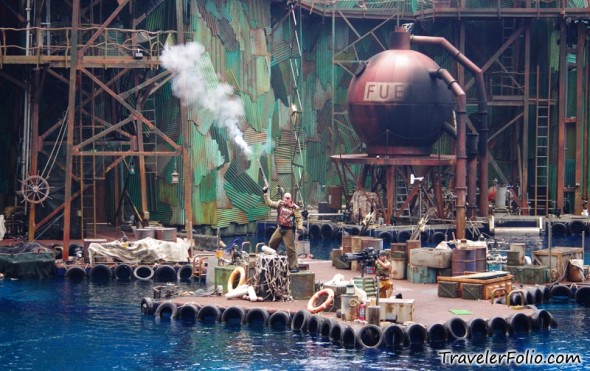 Lot of gun-firing scenes throughout the show, with stunt men riding on motor boats and splashing water to the first few rows of spectators. Nearing the end of the show, a small plane (prop) caught fire and fell onto the water, followed by a series of explosions. Awesome show!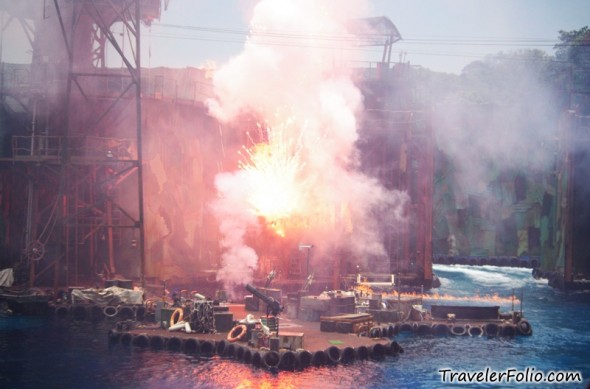 Attractions at Jurassic Park – Rapids Adventure (where you will be tossed and get wet!), Canopy Flyer (gently glide high above and get a bird's eye view of the surroundings), Amber Rock Climb and Dino Soaring (kiddy ride).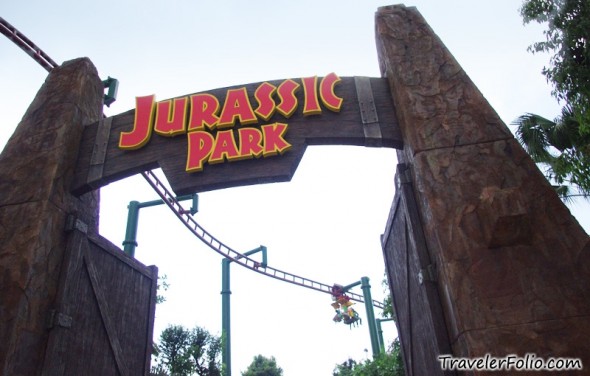 Embark on "an adventure 65 millions years in the making"… with prehistoric dinosaurs.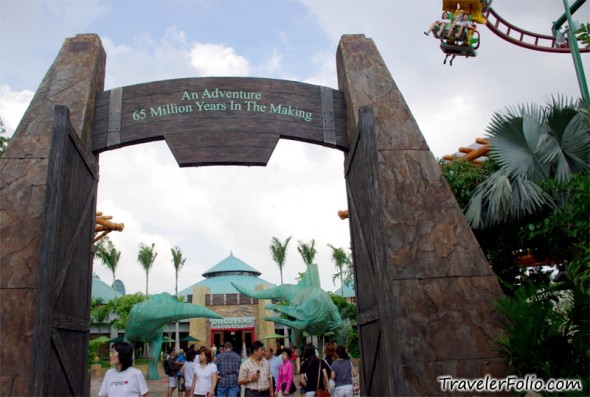 Cute restroom signs.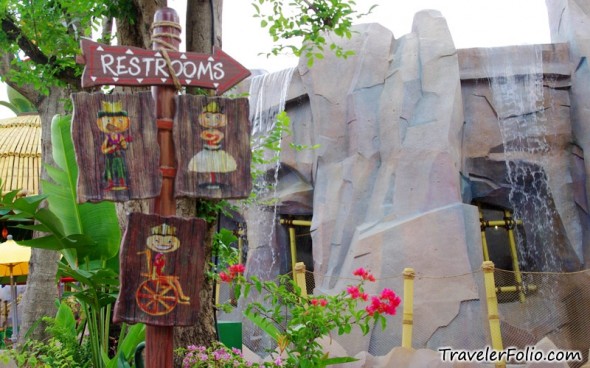 Universal Studios water fountain.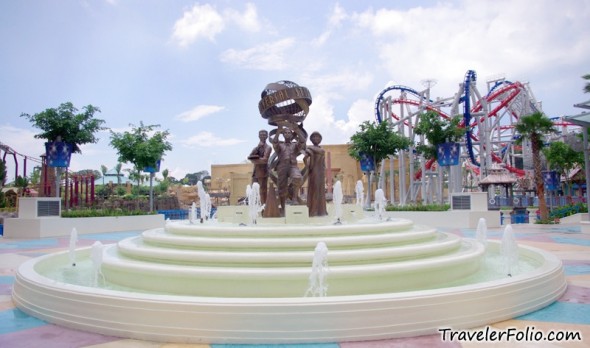 New York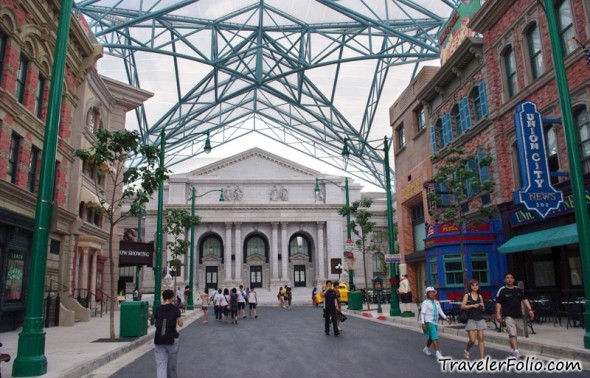 World Premiere at Broadway, New York City. Perhaps it wasn't open during the sneak preview.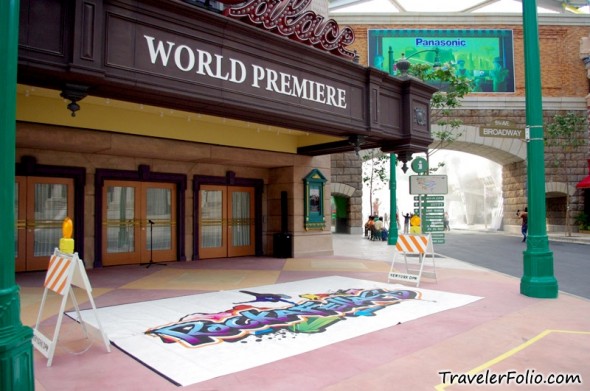 Continue on Universal Studios Singapore [part 2] !