I thought I was a little crazy to go back in eight months. My folks were already worried when I told them I was going Israel last Sept, 2011. To many back at home, that part of the Middle East wasn't safe.
When I like something, I'd share it enthusiastically to people around me. I'm an extrovert in that sense. I met Wendy after the Israel trip last year and we chatted a lot about the country (or I talked too much). She told me she wanted to visit South Africa with her friends. I said we could go Israel together too.
A couple of months later, I almost forgot about revisiting Israel any time soon as I still went for few media trips to visit other countries; from one of the world's northernmost cities – Helsinki, to one of the southernmost islands in the world – Tasmania.
Then one day, Wendy SMS-ed me and said, "Let's go Israel. I've already told my friends I'm not going South Africa. Don't fly me 'aeroplane' (empty promise)!" Oops!! Sounds like a promise made earlier?!
To Tel Aviv …
What followed next was to buy air tickets to Israel. There is no direct flight from Singapore. So, we took a flight to Bangkok (2hrs) for transit to Tel Aviv (~12hr). Tips: If you are not with any tour group, to avoid mad rush/ unforeseeable circumstances, allow a few hours at the transit airport before the flight to Tel Aviv.
That night, Keren took a taxi from the northernmost city of Israel, Nahariya, to Haifa and a train to the airport in Tel Aviv, excited to meet us but got very worried as she had waited for us for more than two hours due to a slight delay of our flight and long queues to clear Customs and Immigration.
Now you see us in 'pyjamas' with no make-up at Ben Gurion Int'l Airport. After a long journey (2 flights + transit time) that took us almost 22-hour, we arrived in Tel Aviv. We were very blessed to have Keren, a friend whom I met on my first Israel trip, to plan a full itinerary for my two friends and I.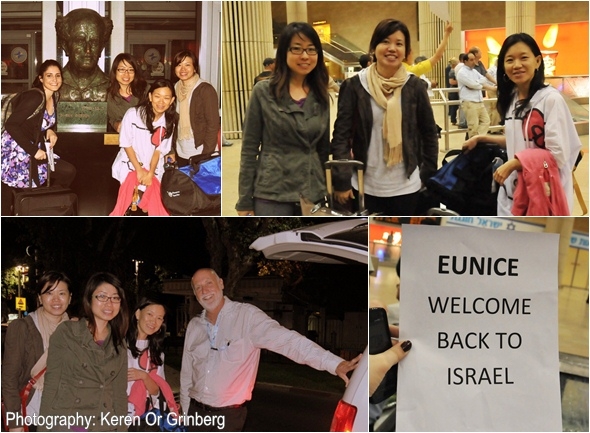 We insisted Keren not to pick us at the airport as it would be too much of a hassle since we only arrived in Tel Aviv at night. She was so caring and helpful that she even arranged a friend, Mr Roni Gilo, who is a professional guide to pick us from the airport. We felt quite bad as he also waited long for our arrival and he had to tour lead a group in the morning at 7.
Our huge luggages fitted in nicely into Roni's nice big car and we were comfortably driven to The Rothschild boutique hotel in the heart of Tel Aviv. I could tell Roni is a very passionate guide even though he was only with us for an hour. Along the way to the hotel, he made a little detour to some attractions and quaint alleys to share about Tel Aviv, the city that never sleeps! And we had a little present for him too – Sunnyhills Gourmet Pineapple Cakes we brought all the way from Singapore! 🙂
When I told Keren I wanted to return to Israel again with two friends this May for 13 days, hoping that she could give me some suggestions on the trip, she agreed to help me more than I thought!
A student from Technion, our friend here is still in her early twenties yet very mature, smart, brave and streetwise! We have a lot to learn from her! We were amazed at how she could plan a very detailed itinerary within two months before we came. I didn't expect that she really wanted us to see the best of Israel.
Because of Keren's arrangements, we had the privilege to meet notable and interesting personalities like artist Ilana Goor; journalist, actor and owner of "made in TLV" souvenir shop – Yuval Abramovitch; the makers of Moroccan Oil and Gamila Secret and the dancers of Mayumana. She also managed to get us invitations to the White City Music Festival in Tel Aviv and the two days festival that celebrated Technion 100 years!
Keren and I were chilling at the beach front in Narihaya. The beautiful northernmost city of Israel is Keren's hometown. It's near Israel-Lebanon border. Who could imagine that this relaxing part of the country was in the war zone in 2006?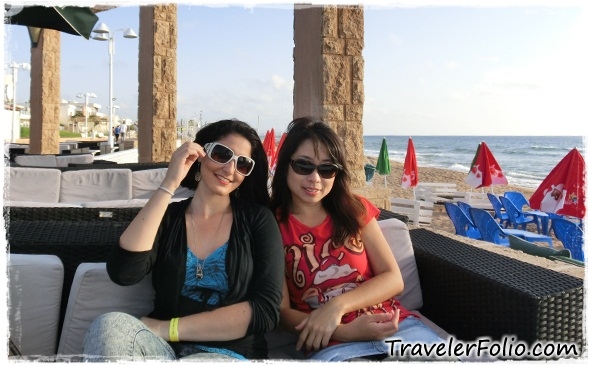 We are thankful to Keren for arranging such a wonderful trip! Now we just hope that she hasn't missed too much of coursework!
The Rothschild Luxury Residences & Suites
Located on Rothschild Boulevard, a prestigious venue in the heart of Tel Aviv, this boutique hotel accommodated us for 4 nights to snuggle in cosy Egyptian cotton linens at one of the luxury Residence Suites. We all agreed that it felt like home to relax and recharge after a big day out in the 'City that never sleeps'!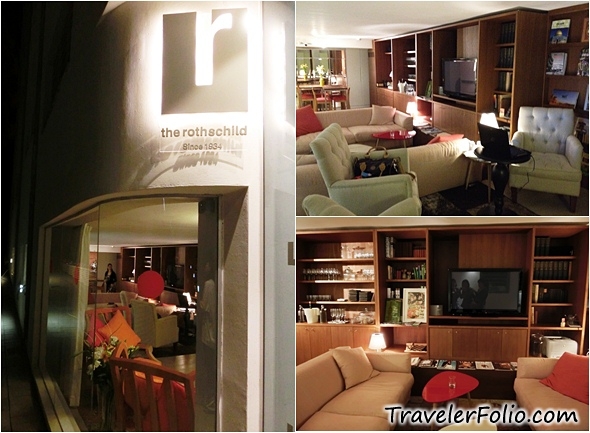 After a long journey to Tel Aviv, we were all looking forward to have a good night rest before the first day of the leg in Israel. Nothing beats a comfortable stay at the boutique hotel that could offer almost anything that calmed our tired nerves.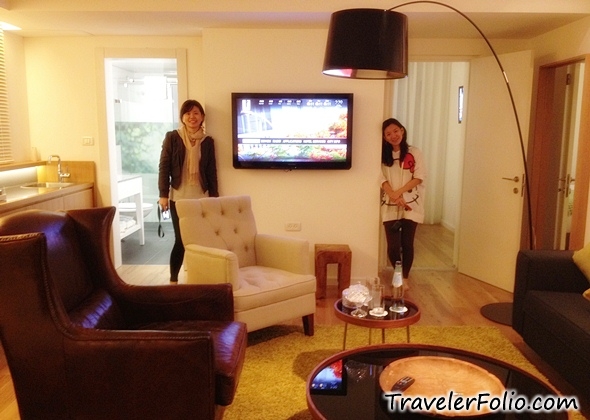 Contemporary designed with modern fittings and L'Occitane bathroom amenities, the spacious living room of the Residence Suite comes with a 42″ flat-screen HD TV, a Minibar with Espresso machine, coffee and tea facilities, a working station with printer, scanner & fax machine and cushy chairs and sofa. Not forgetting the complimentary high speed Wi-Fi that kept us connected!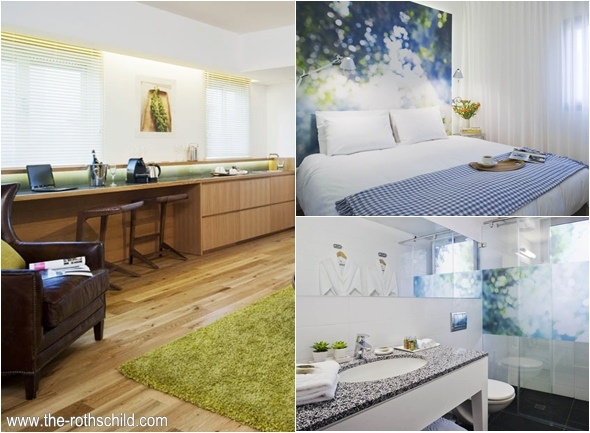 The Rothschild
71 Rothschild Boulevard, Tel Aviv
972-3-6290555
www.the-rothschild.com
On the first day, our guide, Mr Or Rein, met us at the hotel and showed us around the Rothschild Boulevard on foot. The location of The Rothschild boutique hotel is definitely a plus point. The Rothschild Boulevard is the main road of the lively business district flanked with restaurants, cafes and retail outlets.
Rent a bicycle to enjoy the city sights and sound.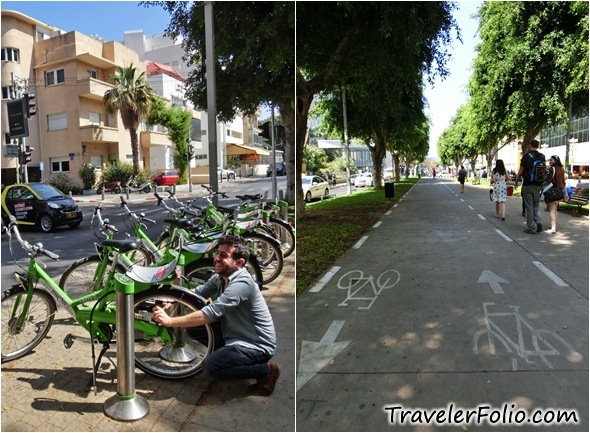 Rothschild Boulevard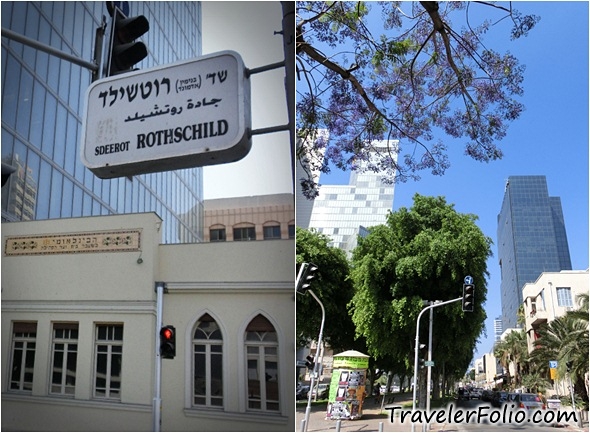 Walk down the boulevard and bring your attention to Bauhaus style buildings from the 1930s by German Jewish architects. Also known as the White City, Tel Aviv is a young and attractive city, very happening with events and festivals all year round! It was inscribed on the List of World Cultural Heritage Sites as "an outstanding example of new town planning and architecture in the early 20th century".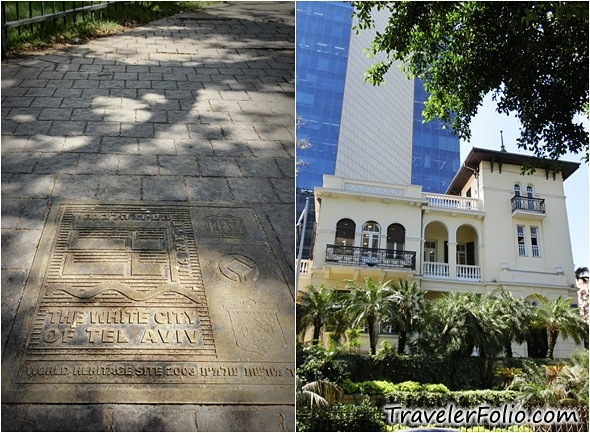 At the Founders Square. The prominent memorial on Rothschild Boulevard was built in commemoration to the founders of Tel Aviv.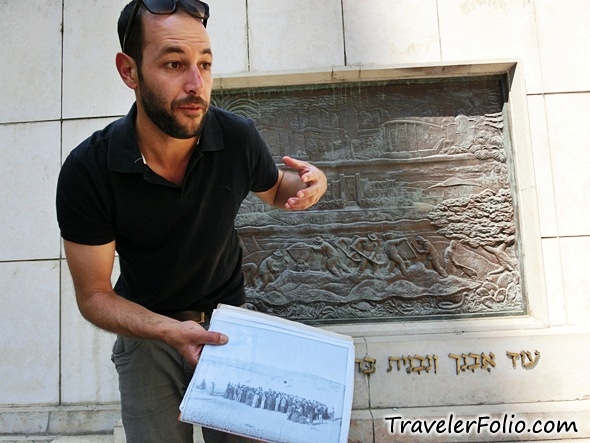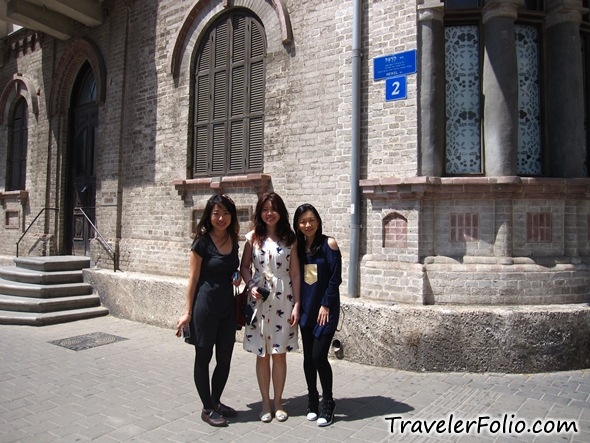 We continued walking into other alleys to explore the nooks and corners.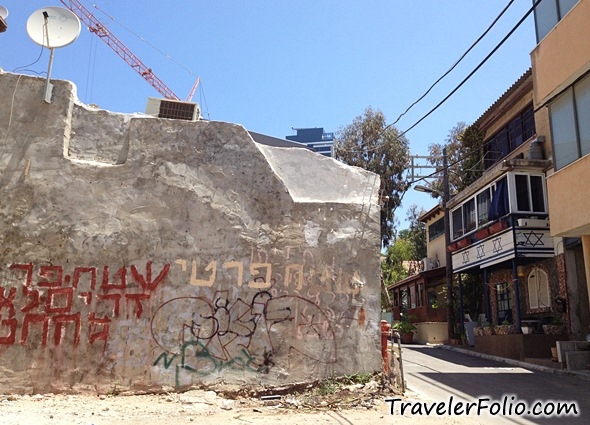 Tel Aviv is like an open air art gallery! This wall is artistically decorated with broken porcelain pieces of different colours and designs. Don't you dare to brush yourself against it!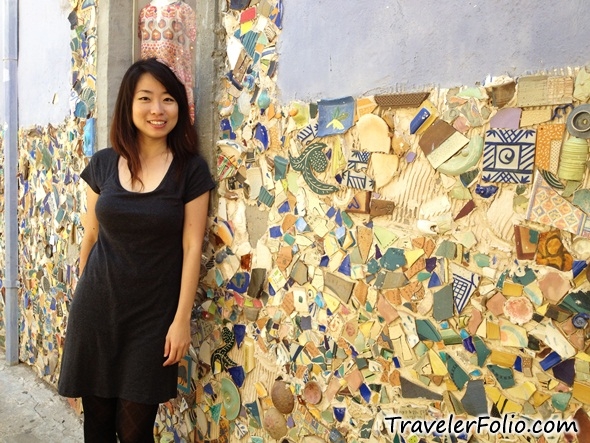 The Hamsa amulet is believed to defence against the evil eye.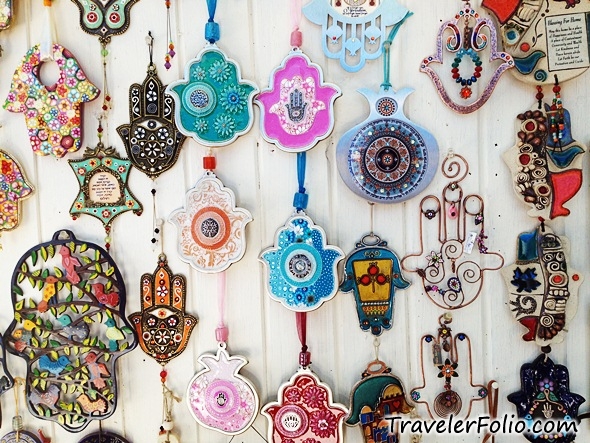 One of the historic buildings in the city.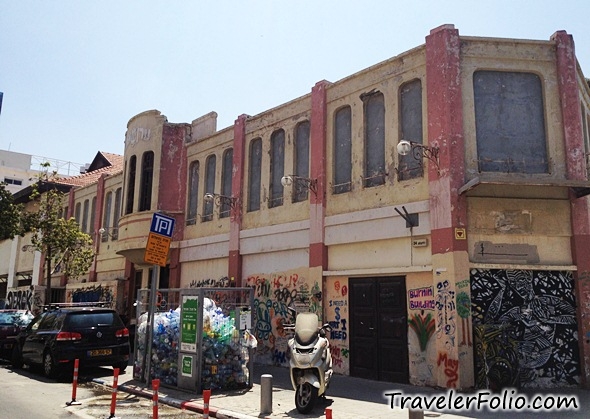 Matka Museum
You can't miss this museum. The outer wall of the building is decorated with colourful paddles. We were surprised to see this kind of decoration and wondered what it was all about. Of course, Matka Museum is one of its kind in Israel!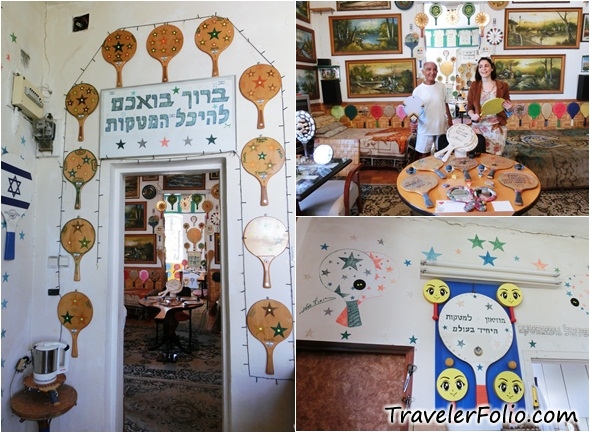 Let's meet Amnon, the Israeli Champion Player of 'Ping Pong'! Oh… not exactly, my Israeli friend couldn't translate the name of this game from Hebrew to English. It's a popular beach activity in Israel involving two players standing at a few metres away from each other, holding a paddle bigger than a 'Ping Pong' paddle and hit a small rubber ball to and forth until it drops.
Amnon's house is also the 'Matka' Museum. He could hardly speak English but we could feel his passion of the game. He proudly showed us around the museum where we were amazed to see so many paddles of different designs adorning the walls. Some paddles are highly prized!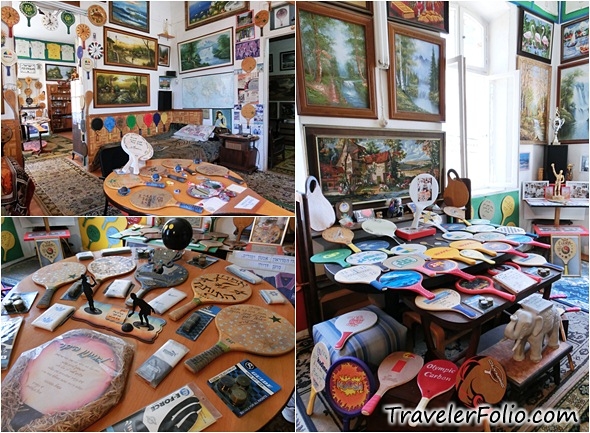 I held one of the most expensive paddles and tried hitting the rubber ball without letting it fall. That's not as easy as I thought!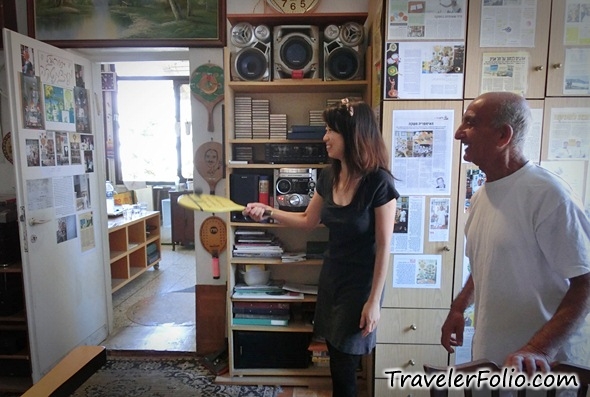 Paddles come in a wide selection of designs and qualities.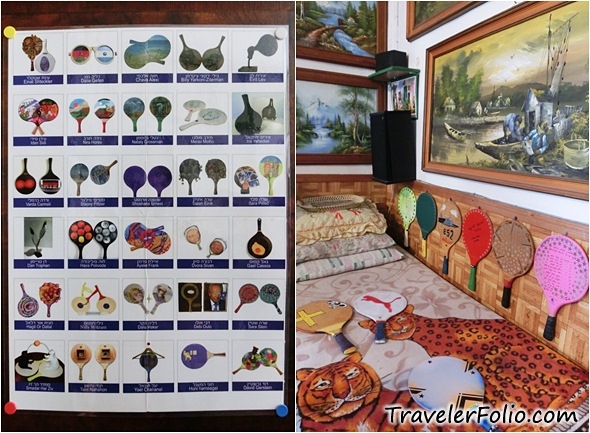 Amnon is very friendly. He made a lot of friends from all over the world who visited his museum at Shabazy 61,Tel Aviv. It was Or Rein who brought us to the museum that's pretty close to Rothschild Boulevard as we walked from there.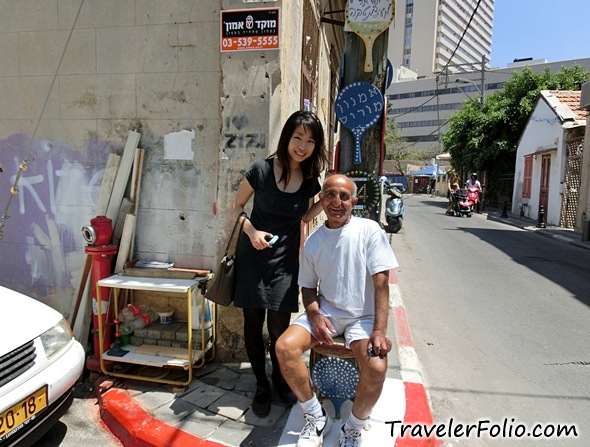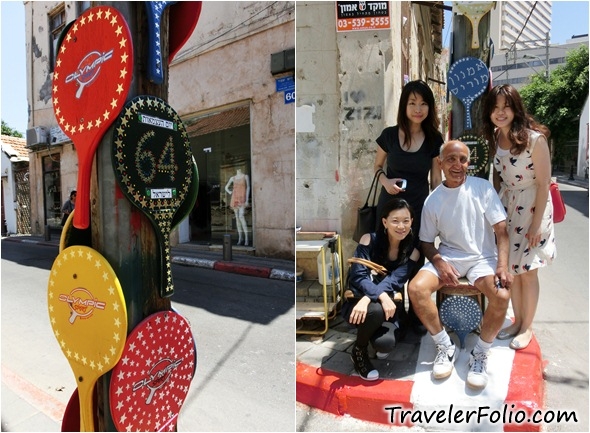 There's still so much to share about Tel Aviv! Stay tuned for updates!
Read all posts on Israel.