What an inspiring session we had with Ziggy! Who would think that a piece of land with willows and gorse infested scrubs could be carved out into one of the best inland fish farms in Australia? In fact, the Pyka family believes in environmentally friendly methods of farming. They are the first for creating a wetland that acts as a natural biofilter to purify the water for the fish farm. 41º south Salmon Farm is now one of the most eco-friendly fish farms in Australia.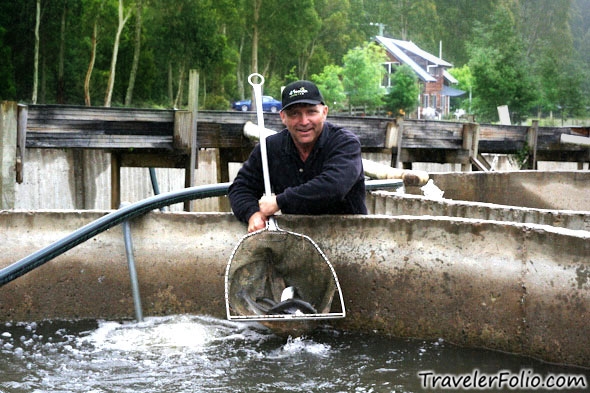 Salmon tasting – The Pyka family uses an old European recipe to smoke salmon. Visitors get free tastings of the hot and cold smoked salmons and what I can say is, the delicacies are aromatic and delicious! Of course! Their smoked salmon products are award winners!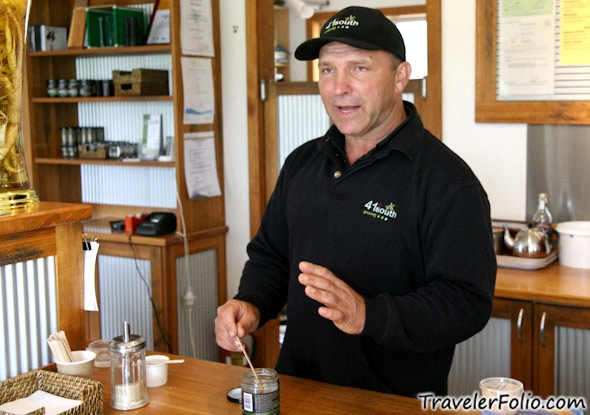 Vacuum-packed baby salmons.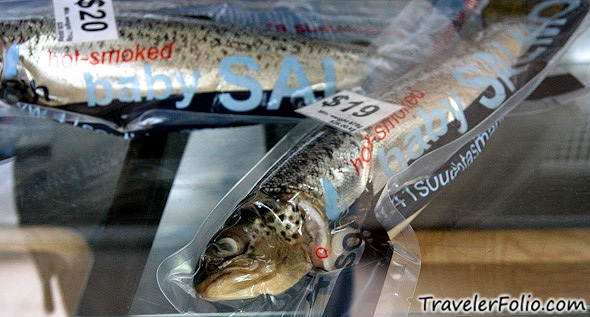 Usually when we think of ginseng, we think of China and Korea in the Northern Hemisphere regions that grow ginseng. Do you know that Tasmania is climatically ideal for cultivating Korean and American ginseng too? At a perfect latitudinal location of 41º south in Deloraine, Ziggy and his wife Angelika have been experimenting and developing a ginseng farm for many years.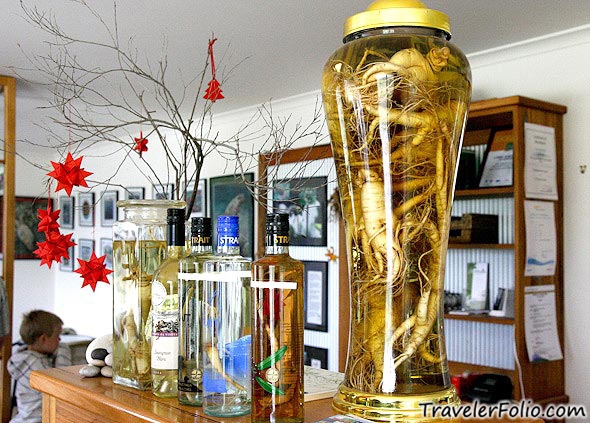 The pioneer Deloraine grower envisions that "Tasmania could become a premium ginseng producer with potential to service niche markets in Australia and overseas." The 41º south Ginseng Farm harvested its first research crop recently after more than 10 years of R&D. No chemicals are used and the ginseng plants develop very high levels of ginsenosides that are the active ingredient in the root.
At the visitor centre, you can purchase Tasmanian Ginseng Spice, Tasmanian Leatherwood Ginseng Honey (leatherwood honey can only be found in Tasmania and the honey is from Blue Hills that is available at NTUC supermarkets in Singapore), and other unique products from 41º south Salmon & Ginseng Farm.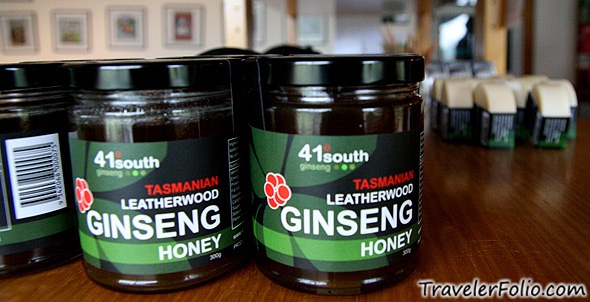 The eco-friendly fish farm and wetland area are important habitats for the native animals, birds and plants. The Pykas believe in "using the environment" but not polluting it.
Lovely reflection on the pond.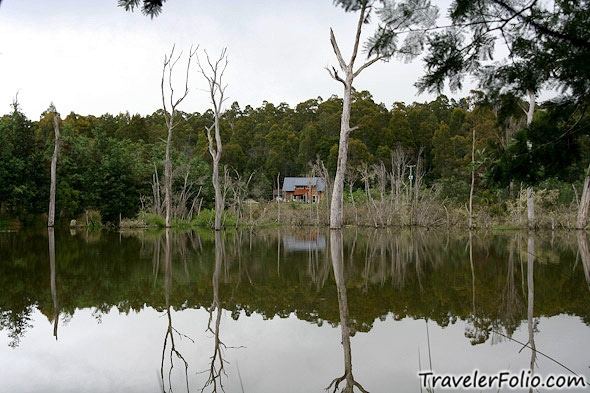 Entrance is FREE! Booking is required for guided tour.
Address of 41º south Aquaculture:
323 Montana Road, Deloraine TAS 7304
Web: www.41southtasmania.com/
You can't miss this one. You will see many colourful cows. Ashgrove Cheese is conveniently located on the Bass Highway, 4km north of Elizabeth Town.

Ashgrove cheese and Tasmanian gourmet food shop offers FREE sampling of a variety of handmade Tasmanian cheeses. The superior traditional English country cheeses, such as Cheddar and Lancashire, are produced by the Bennett family. Besides, you can learn about how cheese is made through the viewing windows.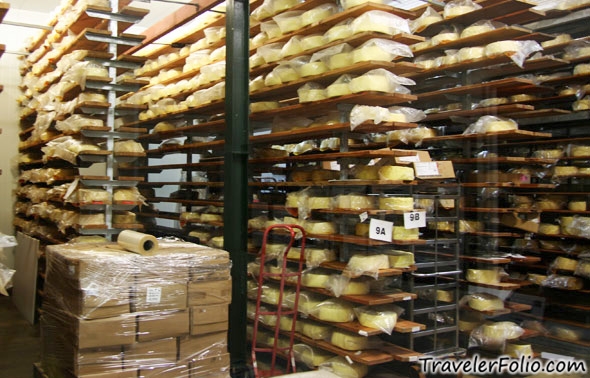 The cheese producer is Australia's premier producer of award winning Cheddar style cheeses. They handcraft authentic cheeses on the farm in Tasmania.
I am not a cheese person but I love ALL the flavours of the cheese samples! They even have the wild wasabi cheese. That's one of my favourites!

Entrance is FREE!
Address of Ashgrove Cheese: 6173 Bass Highway (A1), Elizabeth Town TAS 7304
Web: www.ashgrovecheese.com.au/
A short run further up the Bass Highway is House of Anvers Chocolate Factory. Igor Van Gerwen came to Australia from Belgium in 1989 and established the House of Anvers that specializes in handmade Belgian chocolates. He has found the Tasmanian cream and butter have the richest flavours in the world. To guarantee the high quality of his products, he continuously source for the finest ingredients and Anvers Confectionery has won numerous awards over the years.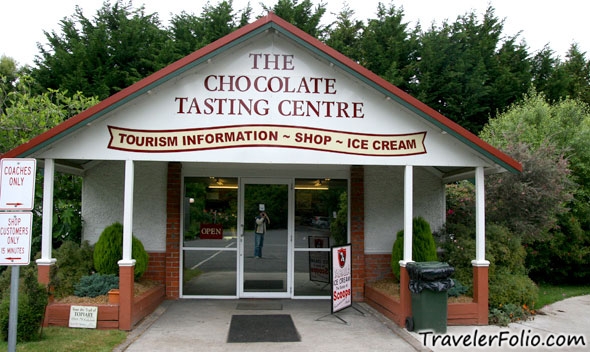 Just tasted lot of quality cheese products at Ashgrove and then it was chocolate time at Anvers. What an easy way to expand the waistline!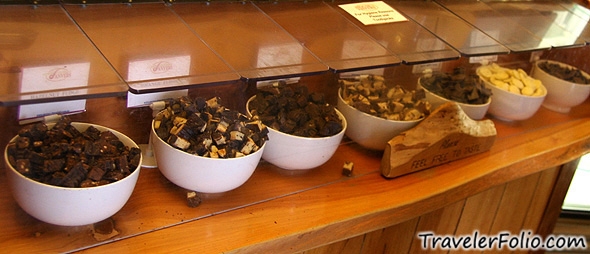 The Chocolate Tasting Centre is not only showcasing Anvers chocolate products, you can try the FREE samples and browse through a wide selection of Tasmanian products.

The House of Anver also features a museum displaying moulds used for chocolate making.

Best of all, the entrance to the House of Anver is FREE!
Address of House of Anvers: 9025 Bass Highway, Latrobe, Tasmania 7307
Next, we headed up to Devonport on the North Coast. Devonport is a major Tasmanian city and a home port to Spirits of Tasmania I & II, the ferries that travel from Melbourne to Devonport, Tasmania.
We put up a night in a deluxe spa room at Quality Hotel Gateway. The room has an awesome view of the Spirit of Tasmania!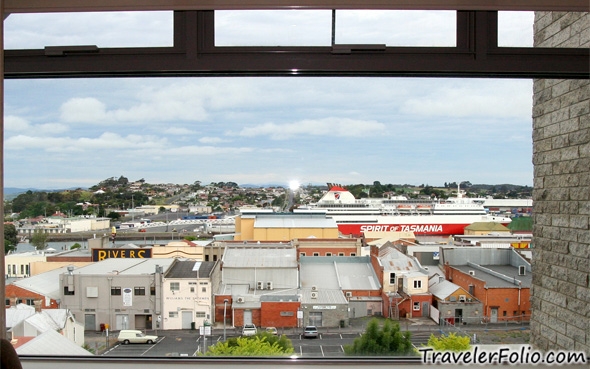 Hotel Gateway is centrally located and close to shops, beaches, and Bass Strait ferry terminal. It's only 10 mins away from Devonport Airport and provides the gateway to the famous Cradle Mountain. We would be going to the mountain region the next day!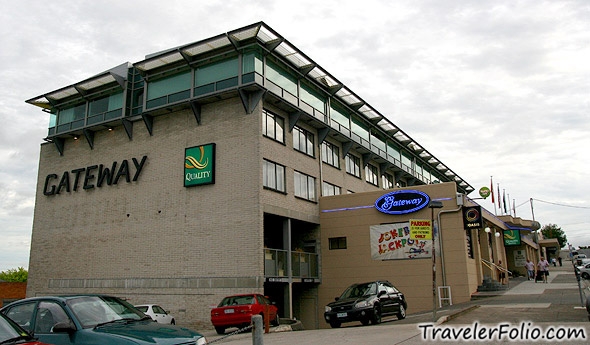 Indulging in a sumptuous dinner at the nearby Twist Café, Shop 1/5 Rooke Street, Devonport.

Western style roast pork that tastes like "char siew" (Chinese BBQ pork) and freshly grilled ocean trout that's moist, tender and crisp on the skin.

Next, we are going to explore Cradle Mountain – Lake St Clair National Park!
Read previous post: Day 4 – Leaving Hobart