It's never a boring drive in Tasmania. The island is so compact that there is always something interesting to explore along the way to another attraction.
Driving time from Devonport to Sheffield is about 30 mins. Sheffield is a quiet rural township known for its hand-painted colourful murals depicting local stories of the pioneers, special occasions and the past. The 'town of murals' is drenched in more than 50 large-scale murals that are so life-like that you might think you have just entered into their world.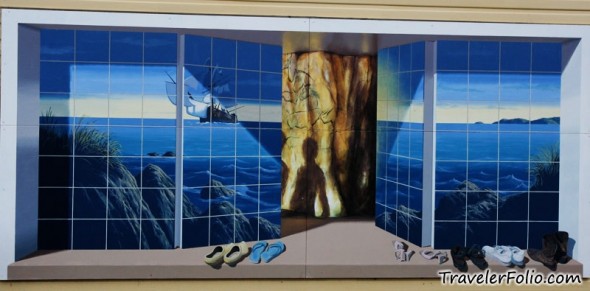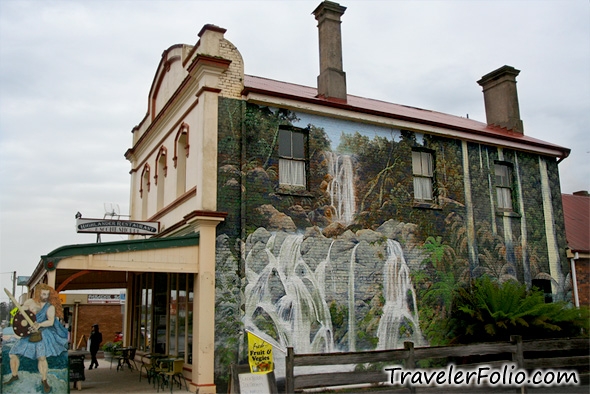 This part of Tasmania is simply a big outdoor art gallery with intricate masterpieces adorning the townscapes, giving us an insight of how the artists feel through pictorial form.
The mural paintings are so realistic that I could virtually climb the ladder and pat the dog!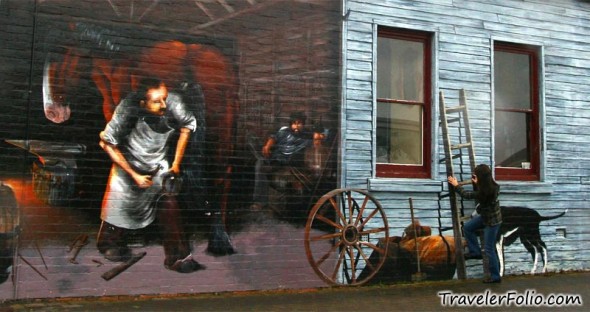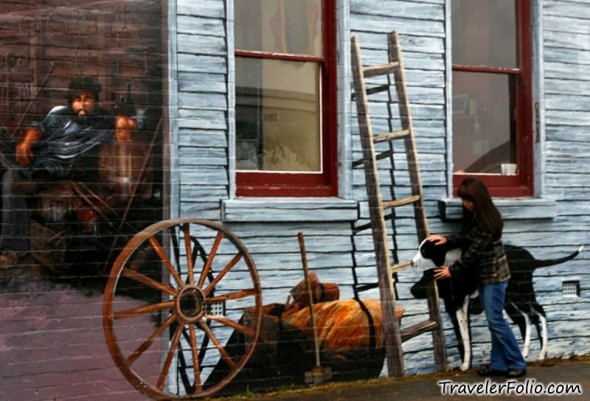 This mural was painted by Eason Chan (陈奕迅), the famous Hong Kong artiste who hosted the travel program "Last Paradise" in Tasmania.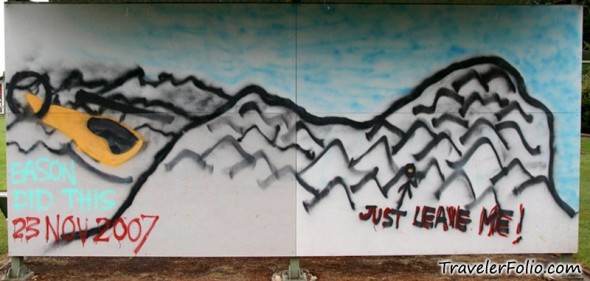 "Creation of man" – looks like something bad has happened and it's got to be fixed.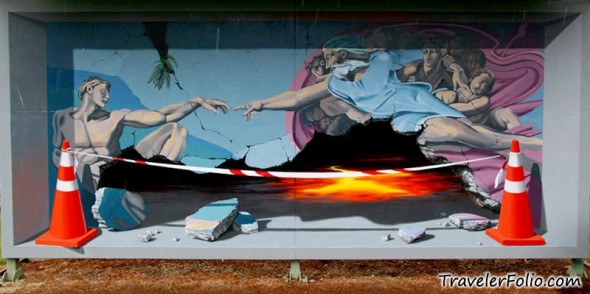 Just another 15 mins drive from Sheffield along the scenic route to Cradle Mountain, there lies a Promise Land where you could wander around and get lost in Tasmazia! With a complex of eight mazes, Tasmazia is the home to the biggest maze complex in the world.
Get ready to be a-MAZE-d!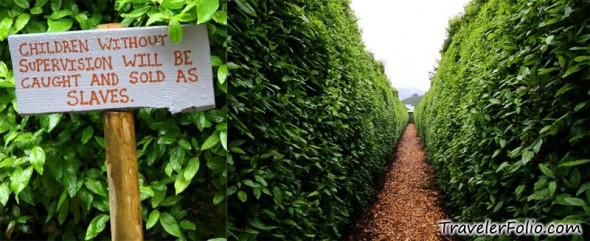 In Tasmazia, you may wander off into the whimsical Village of Lower Crackpot that is built to 1/5th scale for "little people". The colourful miniature village is fun to hop around and certainly very photogenic!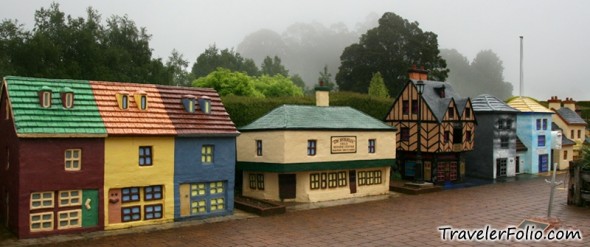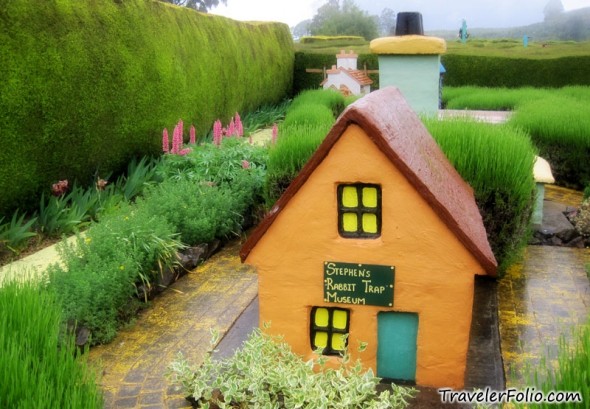 The mini village is very compact too! You can find a church, hospital, museum, sub-station, childcare centre and even the world's smallest world heritage area!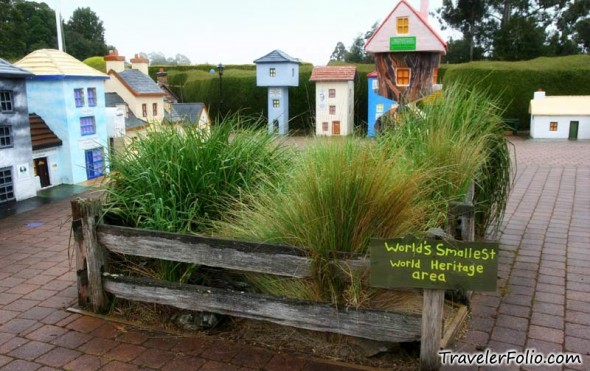 Tasmazia also features a lavender farm, Cubby Town, Three Bears Cottage, a pancake parlour and a gift shop selling funny stuff.
Where on earth is Tasmazia?
500 Staverton Road, Promised Land, Tasmania 7306
Web: www.tasmazia.com.au
Our ultimate destination for the day is the astounding World Heritage Listed Cradle Mountain – Lake St Clair National Park, which is merely less than 1-hour drive away from Tasmazia. Basically, grocery choices are limited in the mountain wilderness area and food is not available in the national park at Cradle Mountain, so it's recommended that we stock up groceries at Launceston, Devonport, Deloraine or Sheffield.
The winding road to Cradle Valley is narrow and slow but it's pretty easy to navigate. We had a sumptuous lunch at the 4-star Cradle Mountain Chateau. Look at the spread of yummylicious food!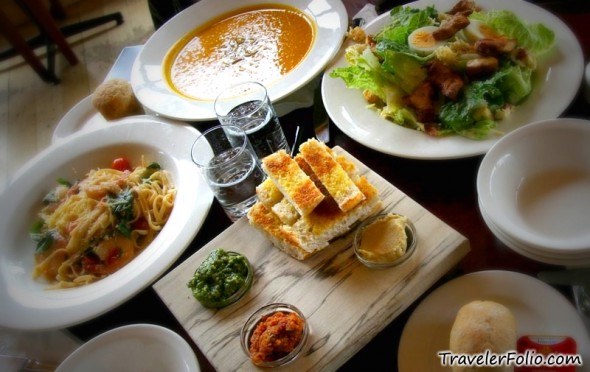 Situated within the premises of Cradle Mountain Chateau, The Wilderness Gallery exhibits environmental photography of nature and landscape by well-known photographers.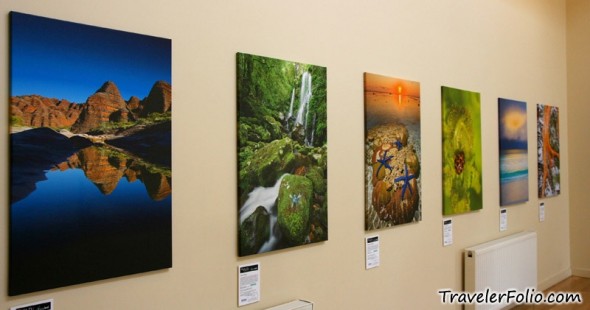 This abstract one features a travel blogger from Singapore …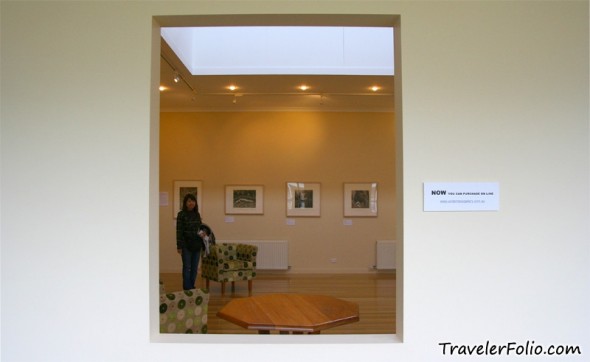 Address of Cradle Mountain Chateau / The Wilderness Gallery: Cradle Mountain Road, Cradle Mountain, Tasmania 7306
Web: www.cradlemountainchateau.com.au/
Drop by the Cradle Mountain Visitor Information Centre with interpretive displays about the vegetation, wildlife and history of the park; to get the park passes, bushwalking information, up-to-date weather forecasts as alpine weather changes rapidly and remember to register yourself as the "walker" to notify the centre of your departure and return time.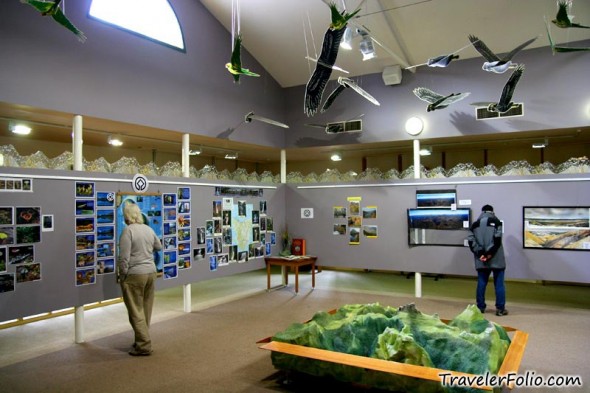 If you do not wish to drive from the information centre to Dove Lake, this is where the regular shuttle buses depart from. We chose to drive and after parking our car at Dove Lake, at last, we were walking in World Heritage Area with the majestic Cradle Mountain looming!
Read next post: Day 5 – We explore the lovely Cradle Mountain National Park!