Royal Caribbean Int'l is not just a brand synonymous with luxury cruising; it has revolutionised the cruise experience with themed areas that include action-packed activities such as rock-climbing, shopping galore, entertainment theatre, casino, restaurants and lounges.
Touted as the Nation of Why Not where innovations and ideas can be achieved, the cruise line received numerous travel awards with the most recent ones from TTG Asia Travel Awards as the Best Cruise Operator and Forbes Traveler.com Awards as the Best Onboard Entertainment & Best Family Cruises.
With all the ravings about the impeccable service, fun-filled activities and gastronomy onboard, who won't look forward to a cruise holiday with Royal Caribbean? Thank goodness I was picked as one of the 10 OMY finalists to embark on a 5 days 4 nights Isles of Southeast Asia Cruise aboard Legend of the Seas (owned by Royal Caribbean) and stopover at Port Klang in Kuala Lumpur, Malaysia and Phuket, Thailand. It was a whole new travel experience for me as I had not been on a cruise holiday before.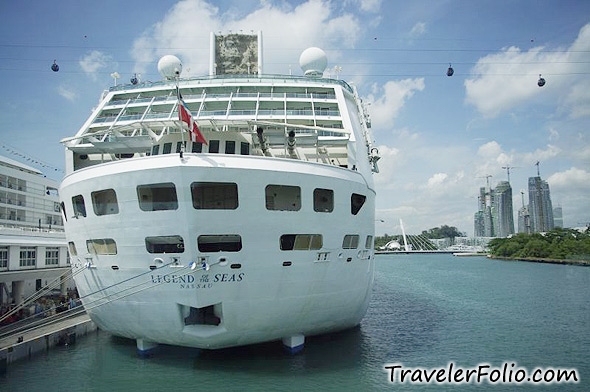 Tips before you depart for the cruise:

– Just like we usually check-in online before our flight, it works the same for the Royal Caribbean cruise. Go to www.royalcaribbean.com to complete the online check-in process and print out the SetSail Pass. This will save a lot of time when you check in at the counter at the cruise centre.

– All prices quoted onboard are in US dollar. Remember to fill in your credit card details when you check-in online. Purchases made onboard will be charged at your Sea Pass only. At the end of the cruise, you settle the total expenses with the same credit card that is registered when you check-in online. Of course if you prefer to foot the bill with cash, it's fine too.
Let the Legend begins…
Legend of the Seas was scheduled to depart at 5pm from Singapore Cruise Centre but we could access our staterooms from 1pm onwards. As early as 10:30am, we met up with other bloggers, OMY crew and Royal Caribbean personnels at the Singapore Cruise Centre at HarbourFront to check in our baggage and collect the Sea Pass card that is used as a form of identification when we enter/leave the cruise ship and the immigration check points in Malaysia and Thailand. The Sea Pass card also serves as the key card to the stateroom.
Boy I'm like writing a diary now in chronological order… but don't worry, you won't read stuff like waking up at 6am, brush teeth, have breakfast, watch TV, eat and sleep…
By the time we went aboard the cruise ship just before noon, Windjammer attracted us like a huge magnet and we stay put at the cafe for the smorgasbord of lip-smacking food and dessert. The food bloggers were particularly trigger-happy and I was pretty much influenced by them and started snapping at what appeared to be food art.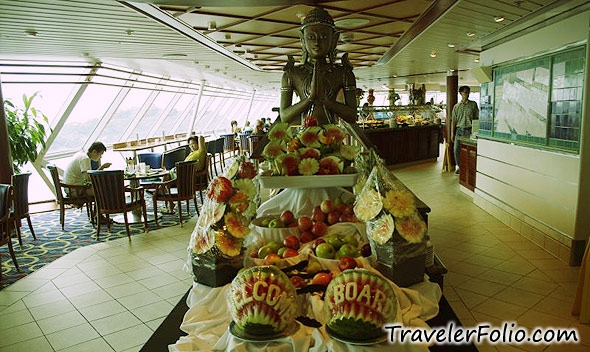 Windjammer Cafe serves buffet style breakfast, lunch and dinner. Be there early during mealtime as it can be crowded and hard to find seats.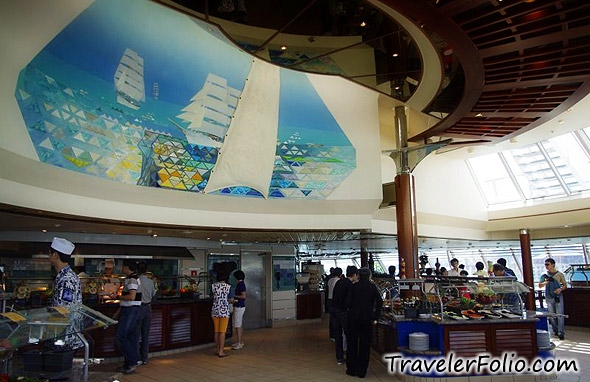 My dessert-not-enough syndrome resurfaced again at Windjammer Cafe.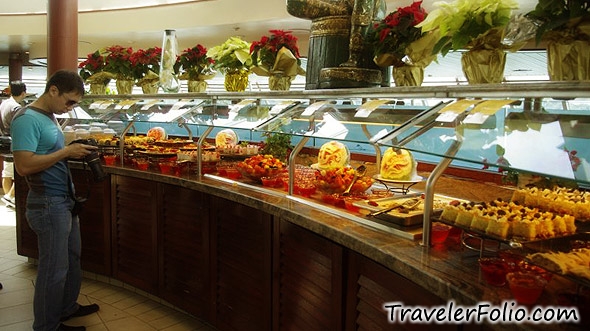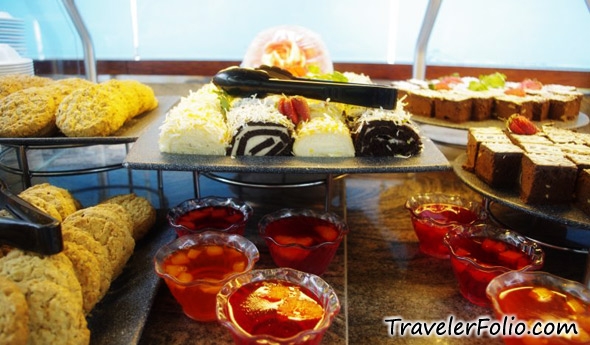 Frankly, we were spoilt for choice; I have not tried this ham and cheese sandwich yet.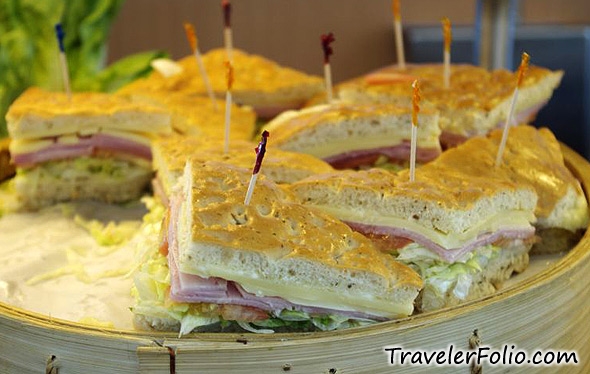 For 4 nights, I shared room with Catherine – the high profile yet humble food blogger behind Camemberu. The "Happy Anniversary" printout wasn't for us! I saw it on someone's door and just found out recently that one of my Facebook friends actually stayed in this room. The couple was celebrating their wedding anniversary on the cruise!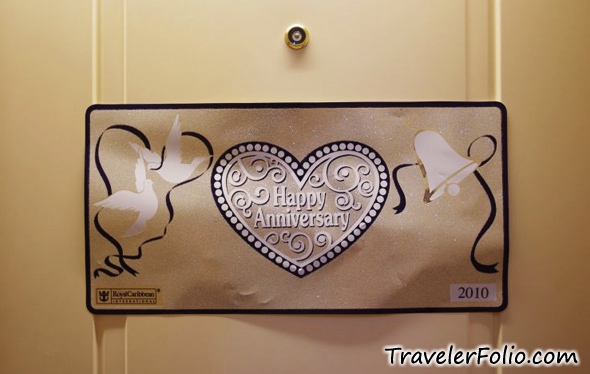 We had an ocean view stateroom on Deck 6! The stateroom comes with twin beds, a bathroom with shower, vanity area, hairdryer, sitting area with sofa and basic entertainment system that includes a television, radio and telephone. Though the room is small, it's clean and the beds are very comfortable. I could sleep really well throughout the nights on the cruise.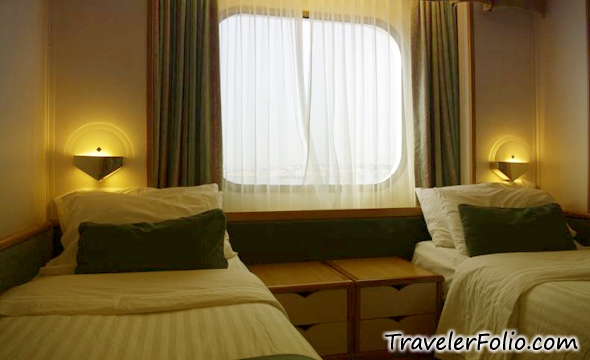 The bathroom and vanity area. Only soap and shampoo are provided in our type of stateroom.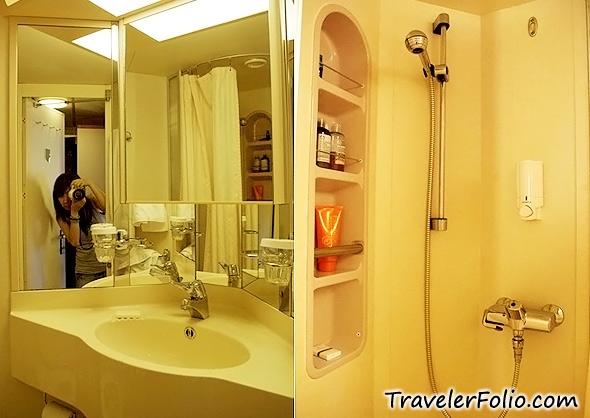 Just before Legend of the Seas sailed out, we had to join in the muster drill that was conducted by the crew to prepare us for evacuation in case of an emergency on the ship. We were taught how to use the life vests and escape via the designated routes.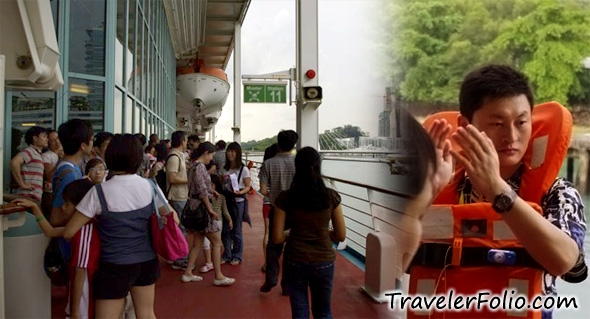 After the muster drill in the hot weather, it was time to chill as the cruise ship finally sailed out of the harbour.
We were all making our own ice cream cones with this on-tap ice-cream machine.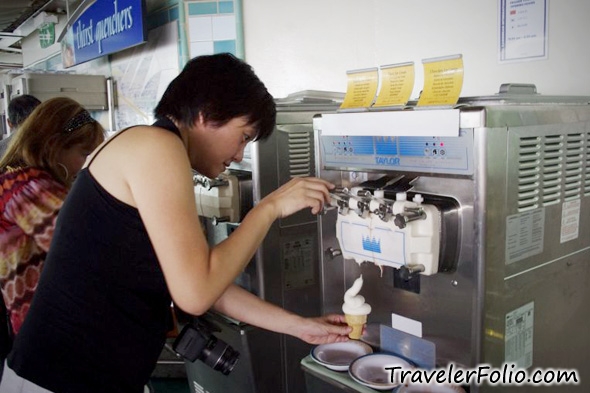 I heard that Yee Leong is good in people portrait. No wonder we all looked so happy even with simple indulgence like eating ice-cream. There must be something about Yee Leong from I walk. I snap. I blog.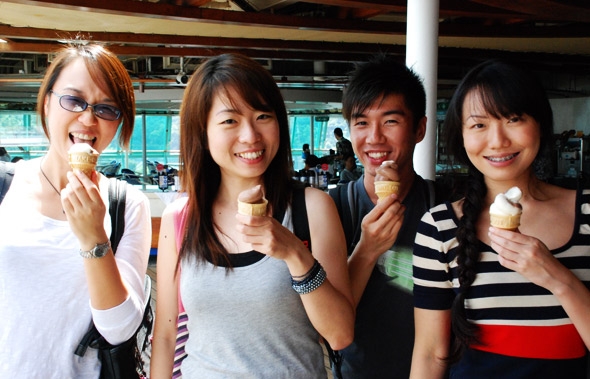 Photo evidence of Ming Choy – OMY videographer – working during our cruise holiday….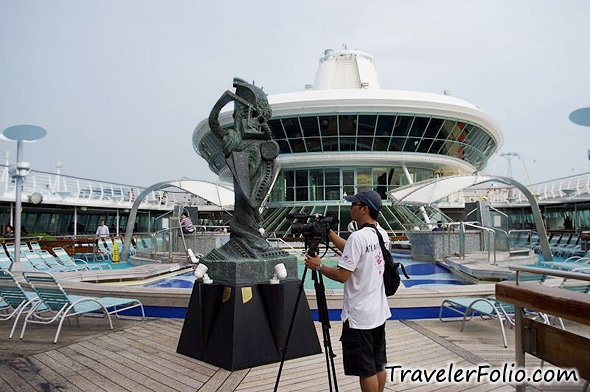 By this time of the evening, we were cruising along the Malacca Strait. The next Port of Call was Port Klang in Kuala Lumpur (KL), the capital city of Malaysia. It was scheduled to arrive at 7am the following day and my itinerary included sightseeing at the Independence Square and the Petronas Twin Towers.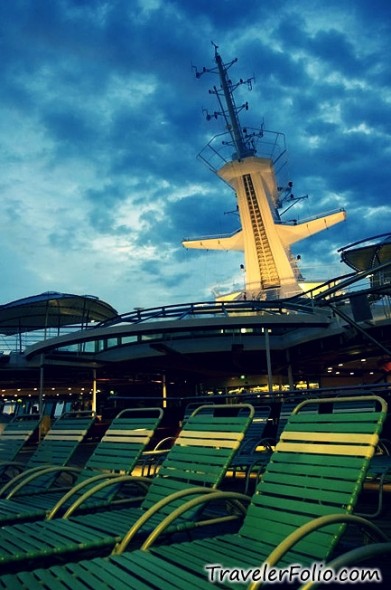 The first day of our cruise was like a "warm-up" day for our stomach! We were back in Windjammer again to check out the food and desserts just before dinner time. In fact, we were supposed to meet up with the rest of the team at Romeo & Juliet Dining Room for dinner. So when a friend saw us indulging again, she seemed shocked and worried that we won't make it to Romeo & Juliet. Chill, we simply love to "experiment" food. LOL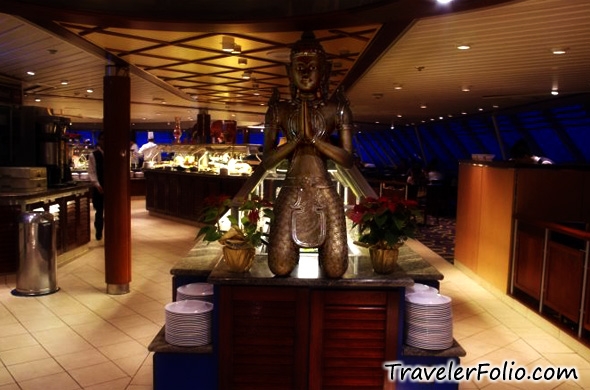 "Experiment" food = more food pics. Sometimes we use our eyes to "eat"!
Here we are, the elegant Romeo & Juliet Dining Room that can hold up to 1,050 diners. You can also dine in here for breakfast, lunch and dinner. Each table is assigned with a waiter and assistant waiter so you can expect quality service and feel pampered while waiting to be served.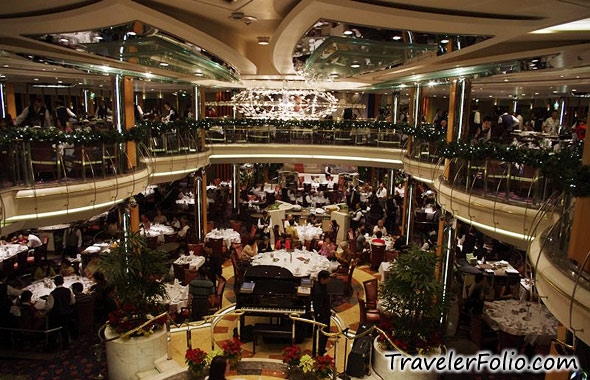 Keropokman was served by our favourite assistant waiter – DongBiao. People from other tables must be thinking that we were from a photography society. We just couldn't resist firing shots even at someone picking up a bread. I guess Keropokman could be a little intimidated at first since he hardly (or ever?) shows his face on blogs! Anyway, you will now see more of Keropokman all over the web. LOL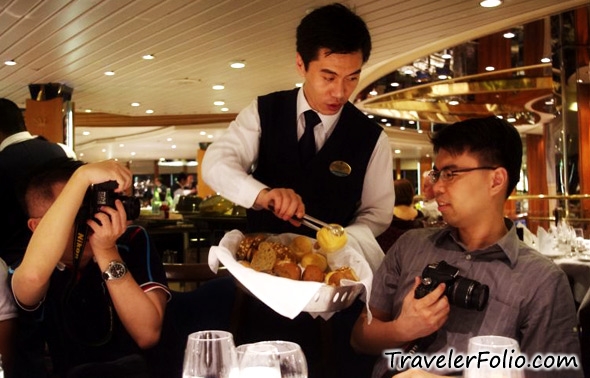 More food pics! Inspired to be a food blogger under the influence of many food bloggers around me during the trip!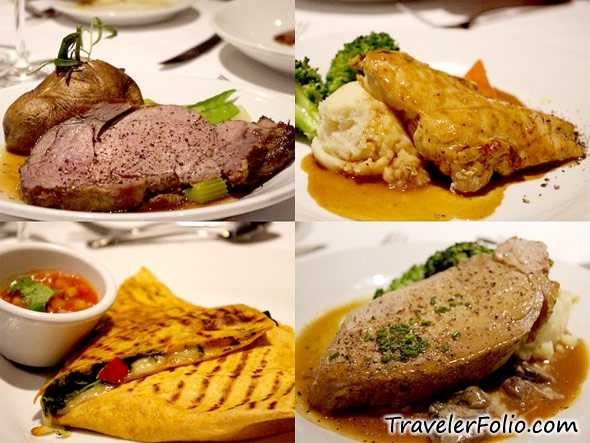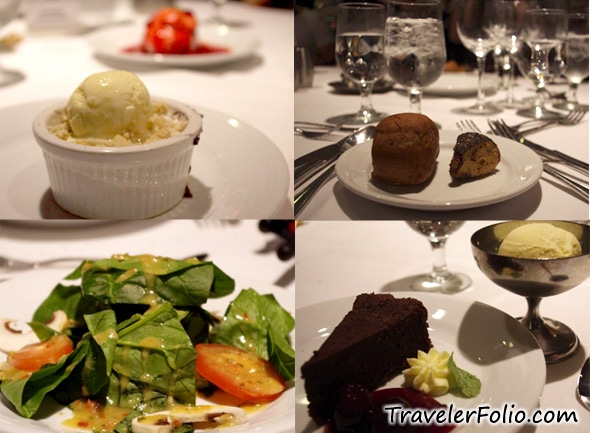 That's Entertainment Theater Lounge. Yes, it's "That's". The night never sleeps on the cruise. After dinner, don't turn in to bed yet. Pop by the theater lounge for a 30-min to 1-hr show with performers singing, dancing and doing stunts.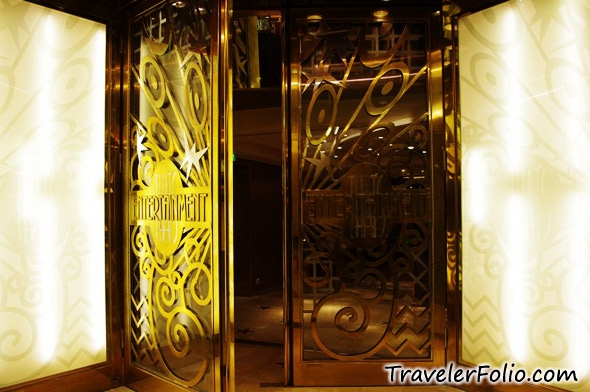 The multi-talented David DiMuzio was the main entertainer of the night at the theatre. Not only that he is a skillful juggler, he can sing very well. He can sing 《月亮代表我的心》and 《童话》better than many Chinese singers! I bet he has melted many girls' hearts with his songs. And he does look a bit like David Beckham, with a better voice.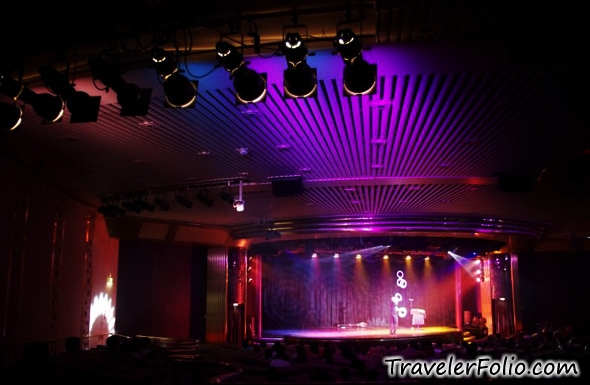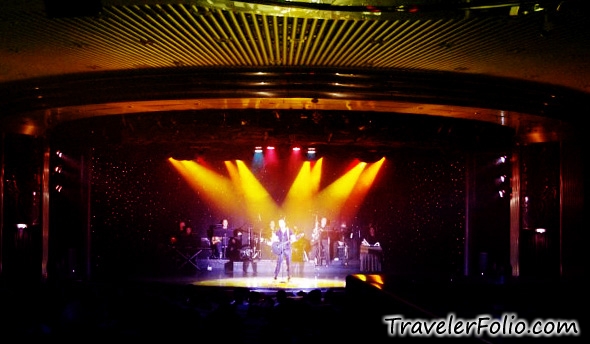 Stealing a shot of Darren shooting the sleepy bloggers. We had to wake up early the following day for our KL trip scheduled at 8am.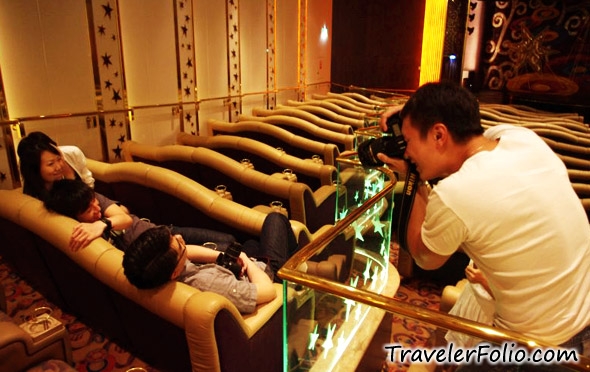 Read Legend of the Seas Day 2.