We took a domestic flight from Tel Aviv to the southernmost city of Israel, Eilat – a popular resort city built on the shores of a spectacular gulf at the northern tip of the Red Sea, a holiday destination that blooms in the Southern Negev Desert.
Aerial photos of Eilat. The domestic airport is conveniently located right-smack at the city centre.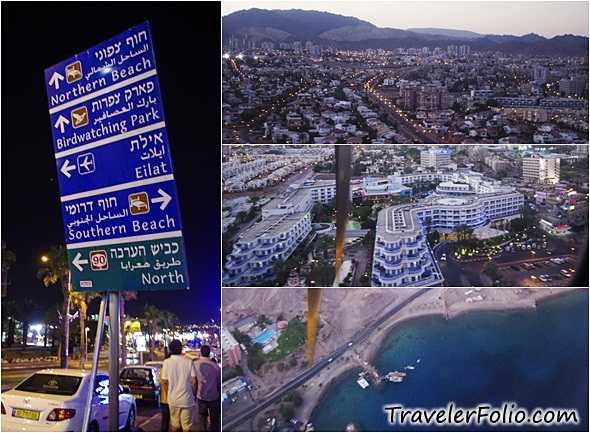 The city centre of Eilat.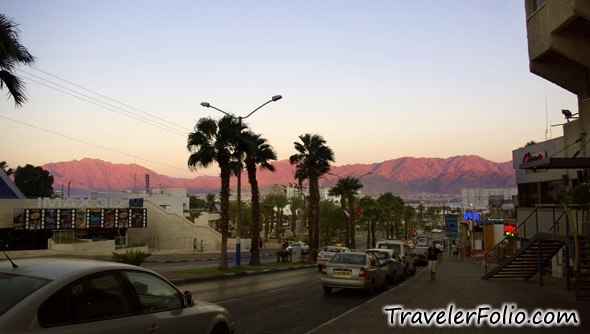 Mayor of Eilat
We were honoured to be given the opportunity to meet the Mayor of Eilat, Mr Meir Itzchak Halevi. Although he speaks little English, he is sincere, warm and welcoming. We were each presented a book titled "60 Years … Eilat" from the Mayor. The book has many beautiful images that illustrates the history of Eilat and the accomplishments achieved in a short period of time.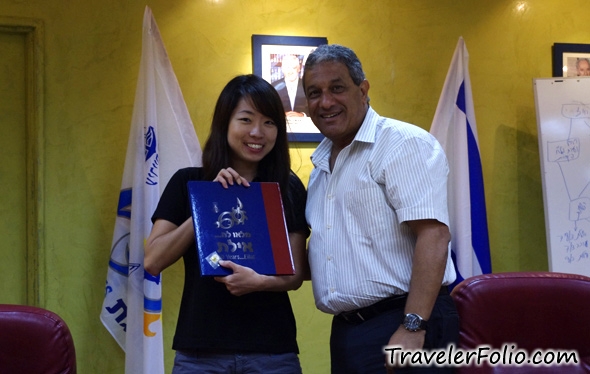 The Once in a Lifetime 2.0 international bloggers together with the Mayor of Eilat, Mr Meir Itzchak Halevi at his office.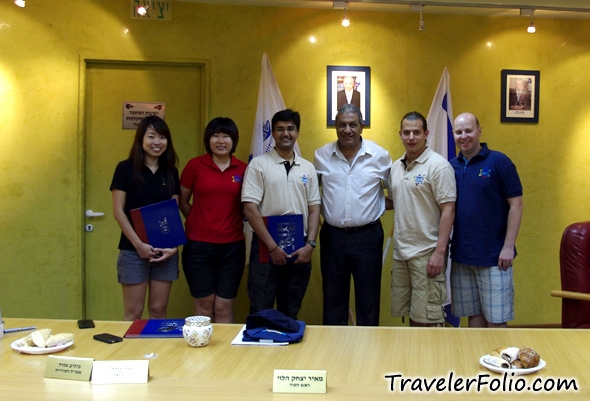 Things to Do in Eilat
Known as the 'Red Sea Riviera', Eilat is one of the most popular dive destinations along the northernmost coast of the Gulf of Aqaba.
Excellent water visibility, shallow reefs and abundance of marine life with one of the most diverse varieties of tropical endemic species in the world make for excellent Red Sea reef exploration. In fact, the Red Sea is one of the world's saltiest life-sustaining seas as a result of very low air humidity and high rate of evaporation due to the heat in the region.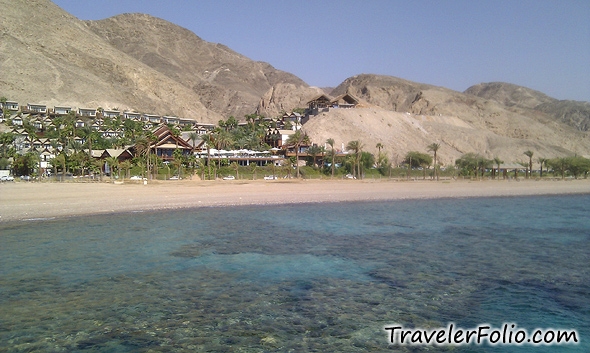 According to Biblical account, the Red Sea ('Sea of Reeds' in Hebrew translation) was the crossing path of the escaping Israelites from ancient Egypt.
Cruising the Red Sea
As we cruised along the breathtaking coast of Eilat, we could see Egypt, Saudi Arabia and Jordan in the horizon.
It's amazing how close these countries are to Eilat. Once, I overheard a hotel guest responded in disbelief to the receptionist that Jordan is only a few kilometres away.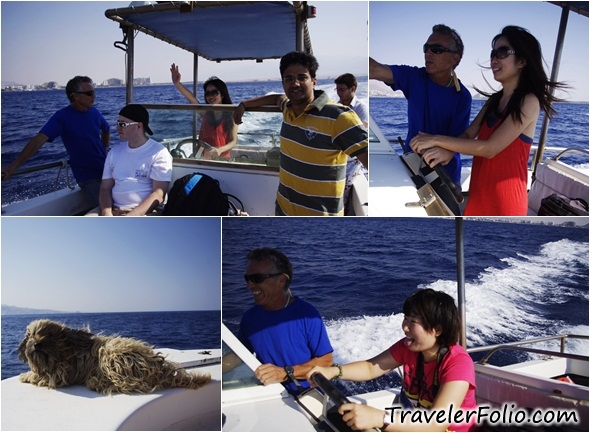 Every pooch has his day!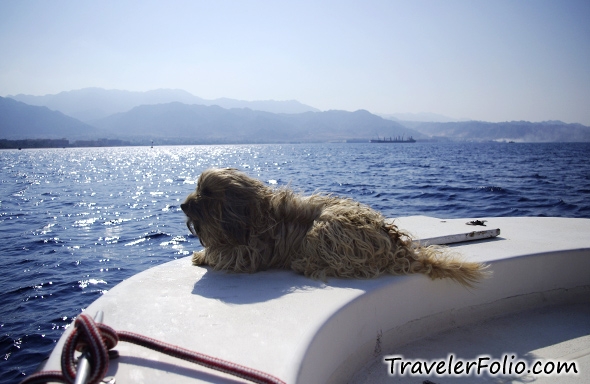 We tried so hard to get this little friend to look at the camera but it was just oblivious!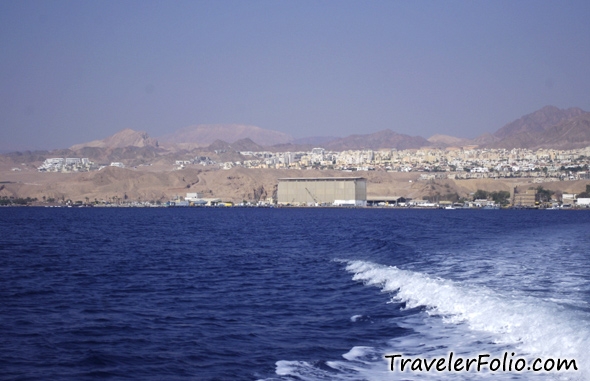 Luxury hotels and boats along the shorelines of Eilat resort city.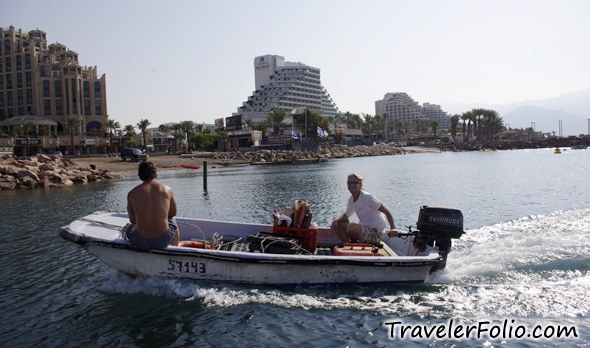 Coral World Underwater Observatory Marine Park
If you don't wish to get wet, you can still submerge yourself 6-metre under the water surface and enter the heart of the enchanting Red Sea only to be surrounded and mesmerized by a myriad of colourful tropical fish and natural coral reefs in the open sea through big panoramic windows of the large circular underwater observatory. There are big pools for sharks, rays, sea turtles and other endemic marine life as well as a huge reef tank displaying beautiful coral fish.
The tower features an aerial observation deck where visitors can soak in the surrounding views of Israel-Jordan-Egypt-Saudi Arabia borders.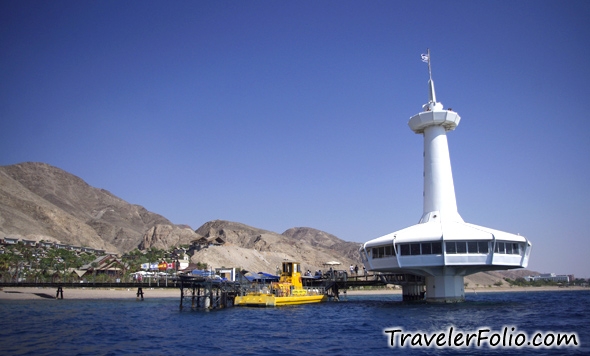 The underwater observatories.
The boardwalk provides a window into the underwater world at the Marine Park.
Feeding frenzy! See the diver hand-feed sharks, rays and other fishes in the huge tank.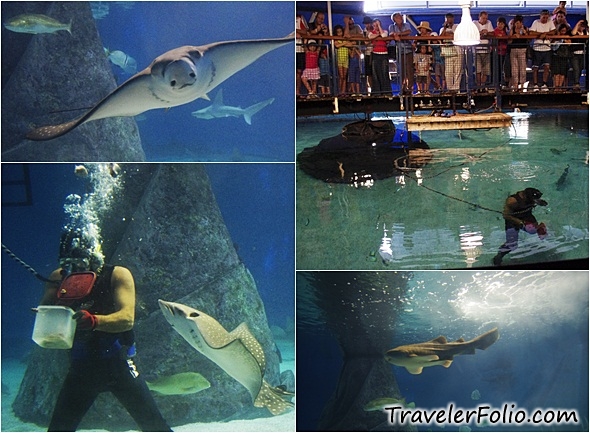 More visitor info on Coral World Eilat website: http://www.coralworld.com/eilat/eng/index.htm
Dolphin Reef Eilat
I dived with a group of bottlenose dolphins in the Red Sea! They were so curious and sociable, they swam playfully around us and we could hear their sounds too!
In the natural habitat at the ecological site of Dolphin Reef Eilat, the dolphins are at their own free will to decide whether to interact with us. It seems like the dolphins are really friendly and a close bond has already created between them and the visitors.
This is the first dive of my life! We joined the introduction dive with a private guide for each participant. Before the dive, we attended a safety briefing about how to use the equipment, underwater hand signals for communication and the rules of behaviour towards the wild dolphins, eg. we do not touch them!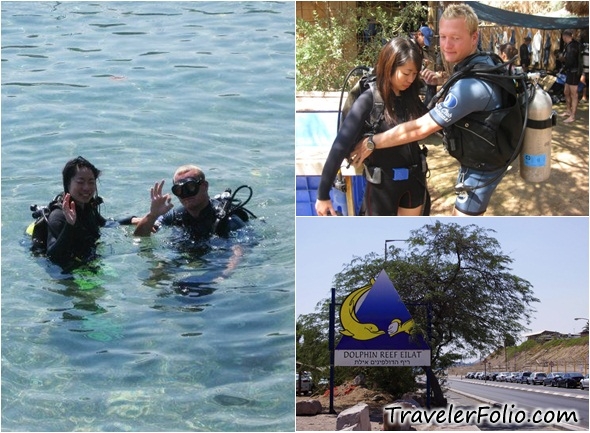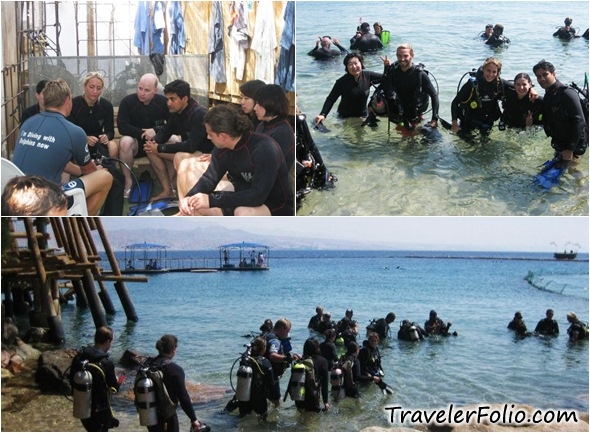 My First Dive
I was pretty nervous during the first 10-min of the dive as I couldn't coordinate well with the breathing apparatus and got a little panicky when water got into my mask and my ears couldn't unblocked as we dived deeper into the sea. I even wanted to resurface again! Fortunately, the guide understood my problems and reassured that I would be fine. After a while, I began to breathe smoothly and balance well enough underwater and I could dive to the seabed with the guide.
It was a memory-etching experience to be surrounded by an abundance of marine life and swim with wild dolphins in the Red Sea!
At Dolphin Reef, you can also try out the relaxation pools nestled in a lush botanical garden. It's pure therapeutic awesomeness with an instructor personally giving you a taste of relaxation techniques while you are drifting on floats in the musical pool. There is a pool saturated with salt where we can float naturally like we did in the Dead Sea, a pool with sea water, the other with fresh water.
Dolphin Reef Eilat website: http://www.dolphinreef.co.il/
Massiv Eilat Nature Reserve – Amram's Pillars
This is the ride of a lifetime! On our last day in Eilat, we joined the reputable Desert Eco Tours operator that took us on an exhilarating jeep ride into Massiv Eilat Nature Reserve.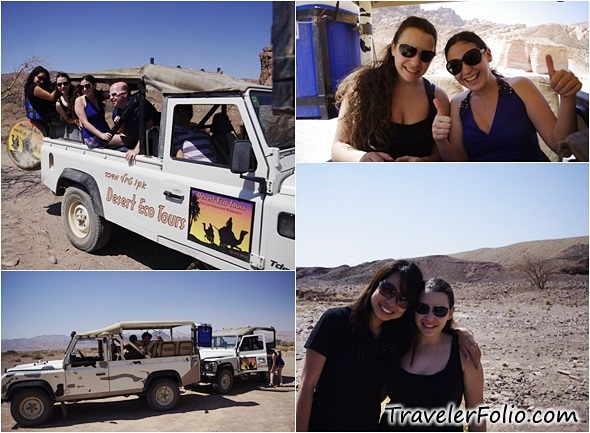 Apart from jeep tours, there were people riding on ATVs. Some were hiking. The desert climate of Eilat is hot and dry during summers and it should have exceeded 40C when we were there. Don't forget your sun block. But I guess everyone of us had a nice tan after the trip!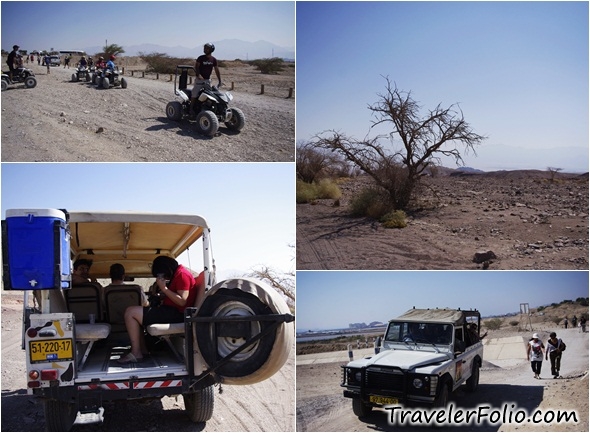 Happy poser.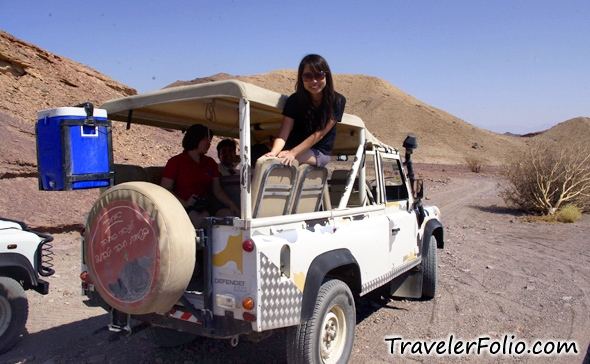 The ten of us took two jeeps driven by experienced guides from Desert Eco Tours who showed us around the nature reserve. Occasionally, we stopped off and hiked a bit to immerse ourselves in the sound of desert silence.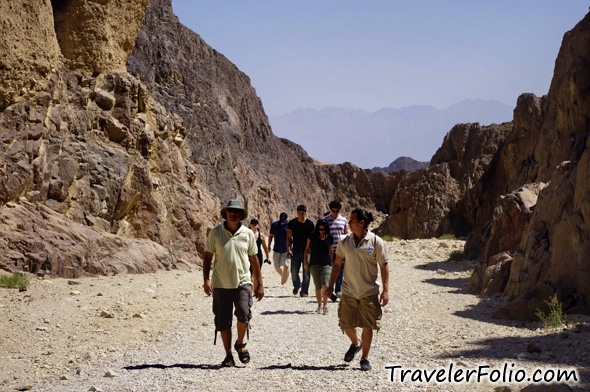 We were taken off the beaten track into the dramatic desert landscapes of colourful sandstone cliffs, limestone rock formations and granite mountains in the Southern Negev Desert.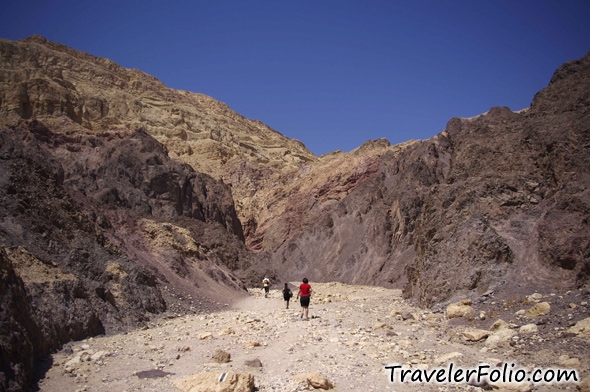 You can have the desert all by yourself! There was no one around except our group.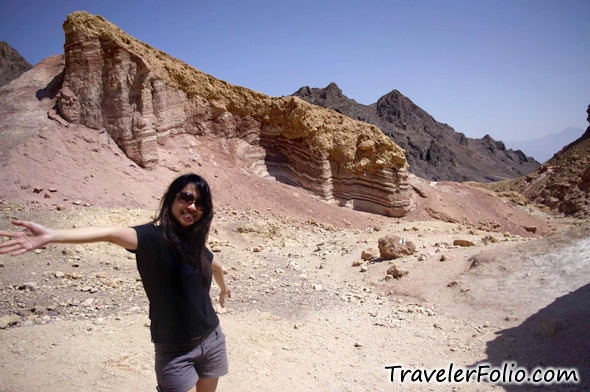 The highlight of the desert tour is the Amram Pillars. The towering Nubian sandstone columns are the masterpieces of Mother Nature. And you thought they were some sculptures.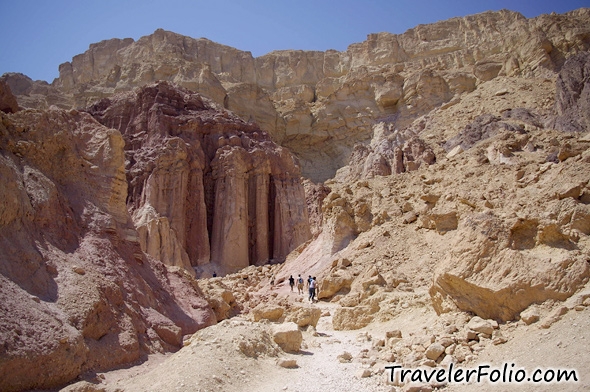 Plenty of cam-whoring opportunities here!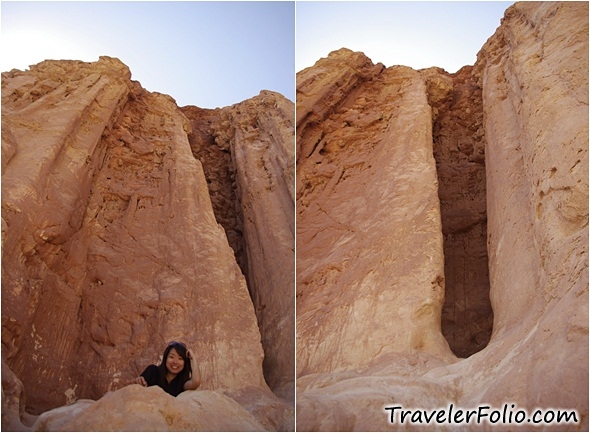 The sandstone is smooth like a slide.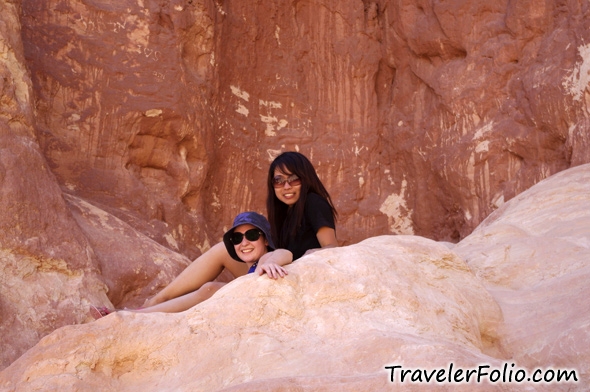 If one day you run out of pose ideas, learn from them. #LikeaBoss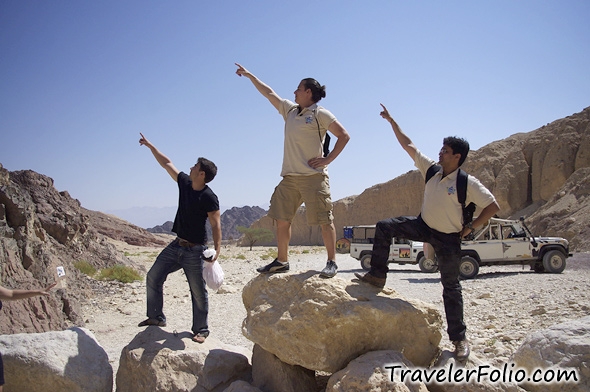 We tried. #Fail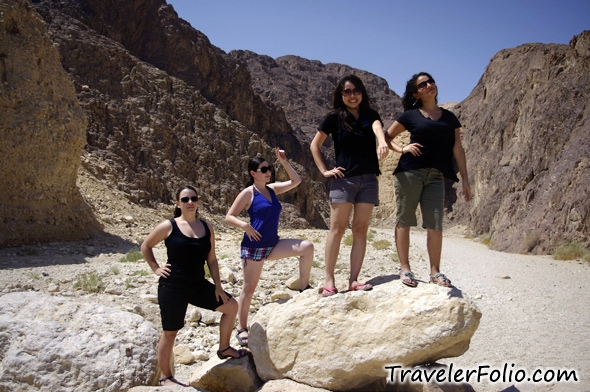 Relaxing and more cam-whoring in the desert.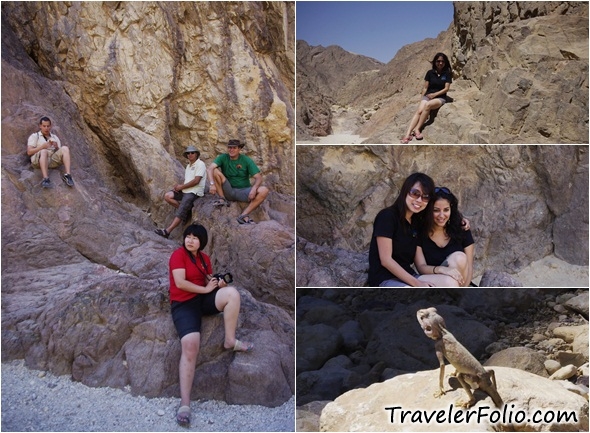 Drink more water. There's a water tank attached to the jeep.
For a unique desert tour experience in the region, check out Desert Eco Tours website: http://www.desertecotours.com/English/index.asp
Eilat Museum
To better understand the past, present and future development of Eilat, head down to Eilat Museum in the city centre that showcases exhibits from the area's liberation in 1949 to the natural environment surrounding the city.
Address: Junction of Derech Arava and Derech Yotam, Eilat
Email: museum@eilat.muni.il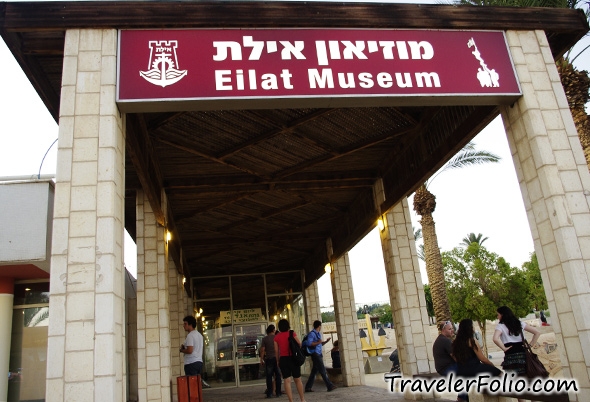 Where to EAT in EilAT?
We only had two days in the resort city to sniff out good food and it's not difficult to find some that offer international cuisines. These are the two popular ones to dine with families and friends in a cozy ambience.
Ginger Asian Kitchen and Bar
This chic restaurant serves a variety of Thai and Japanese food to satiate your cravings. Big K, the Indian blogger, was served vegetarian food and they were yummy! Joyce and I couldn't stop eyeing on his plates and we stole quite a bit of them. But we taught Big K how to use chopsticks to make up for it!
Ginger is located at the city centre. Check out the website for more info: http://www.gingereilat.com/
El Gaucho Eilat
A gourmet paradise for meat lovers, the restaurant evokes the rustic charm of South-American village house built of bricks and heavy wood at the entrance to the resort city of Eilat. The flagship branch in Israel has been serving quality grilled meats and steaks prepared by real Gauchos for over 15 years. For dinner, I had a plate of well-seasoned grilled fish of firm and moist texture under that crisp skin.
Take a peek at the menu here http://www.elgaucho.rest-e.co.il/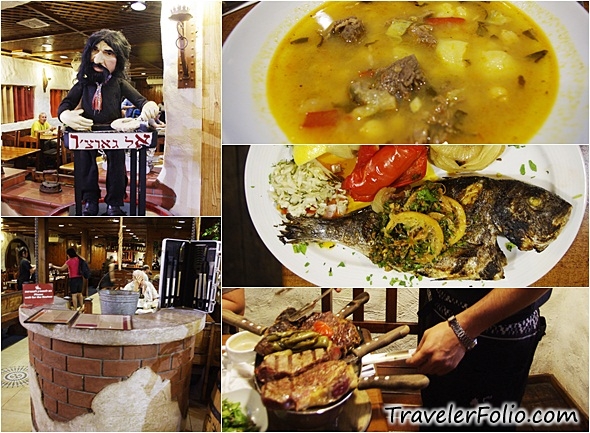 Nightlife in Eilat
After the sun goes down, the city continues to shine with fun-filled activities and entertainments.
Yaniv Fire Ball
For those seeking adrenaline rush, take on the Yaniv Fire Ball reverse bungee and get thrown high up into the air! Do it before dinner though… Securely seated in the 'Fire Ball', we were fired up to 80 metres high and rotated countless time. It wasn't as scary as I thought. Don't close your eyes when you are high up as the night scene of Eilat is mesmerizing!
We received a DVD of our 'fearless' experience on the Yaniv Fire Ball as a souvenir.
Address: Dereh peamei hashalom No. 20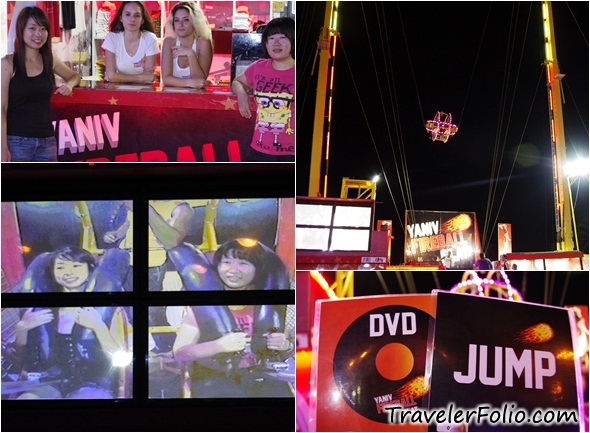 Three Monkeys Pub
The Three Monkeys Pub is touted as one of the biggest and best pubs on the promenade in Eilat. It's a busy pub for drinking and dancing with live bands. Inside the pub, there are tables near the dance floor as well as a section less crowded for a nice gathering with friends. Beers and cocktails are very affordable too. Expect an international crowd.
See no evil, hear no evil, speak no evil.
Address: Promenade North Beach, 27888 Eilat.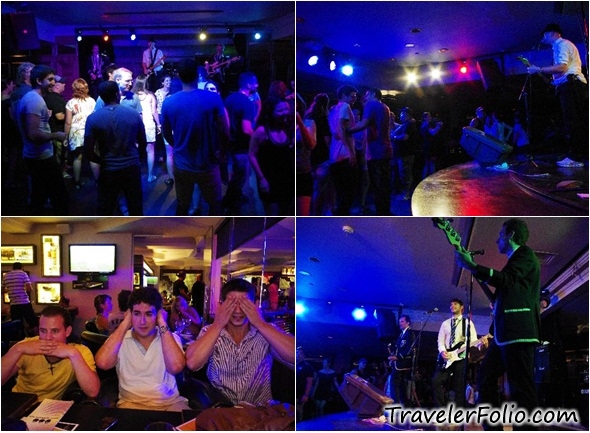 Bears Pub
We love the Bears pub tees! It has Hebrew written all over and when I wear it in Singapore, no one knows what it's all about. So, it's very unique! (-_-)V
The Bears Pub is more local and most of the songs are Israeli. Hookahs are available at the pub. It's a relaxed and friendly chill-out place tucked away from tourist spots.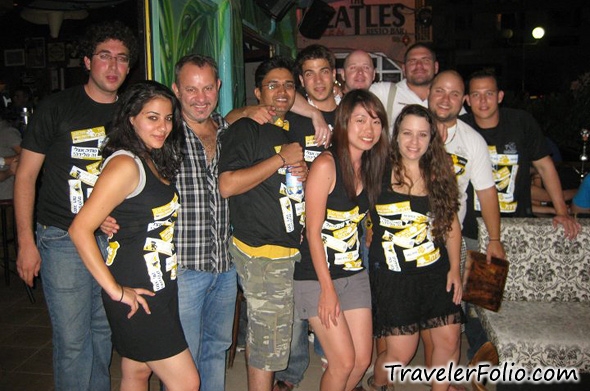 Where to stay in Eilat
If you are planning for a trip to Eilat, consider staying over at Nova Like Hotel. I had a suite with the size of a studio apartment all by myself to snuggle in for late night sleeps after all the fun at the pubs. There is a large outdoor swimming pool and dining room that serves rich Israeli breakfast.
Conveniently located, the hotel is close by to many bars and nightclubs, shopping and the gorgeous Red Sea beaches are merely 10-min walk away. The airport is within walking distance to the hotel as well! In fact, we walked from the airport to the hotel (approx. 15mins).
Nova Like Hotel website: http://www.atlas.co.il/nova-hotel-eilat/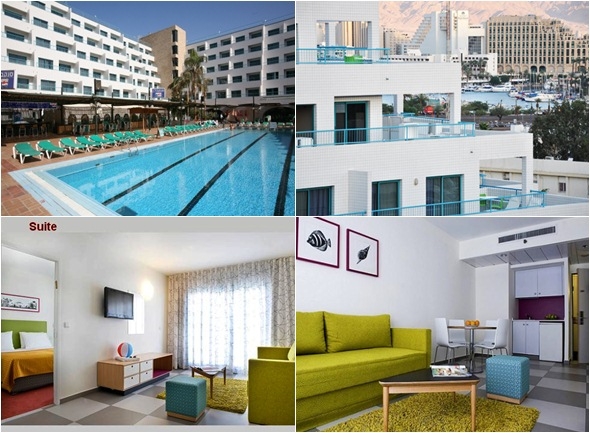 The mesmerizing sunset in Eilat.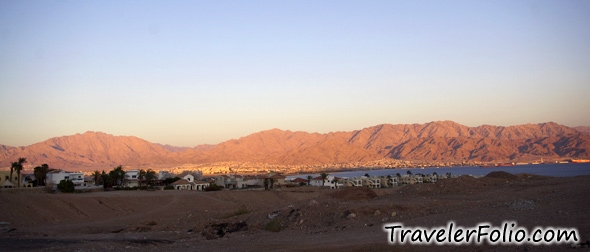 Read all posts on Once in a Lifetime 2.0 Israel trip. Stay tuned for more updates!