Around 71% of the Earth's surface is covered by ocean. Three billion years prior to the movement of animal and plant life on land, life within the ocean had already evolved. We are really lucky to have the chance to see those amazingly beautiful fishes and exotic marine creatures from the underwater world in aquariums like Qianhu Fish Farm in Singapore.
These shy aquarium habitants are popular pet fish commonly known as Discus. They have brilliant colours on their "discus" body and are a genus of freshwater cichlid.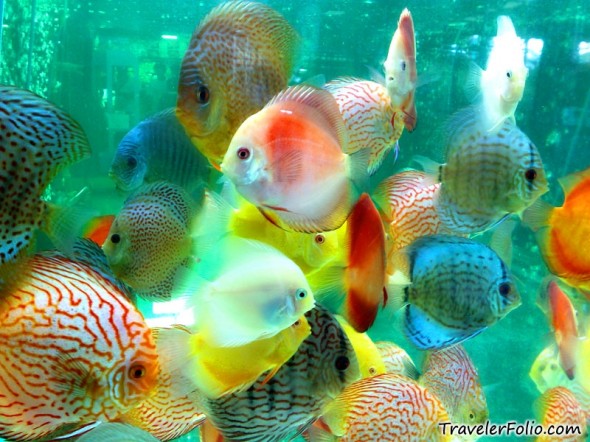 With such impressive colours on their bodies, it makes discus the ideal ornamental fish.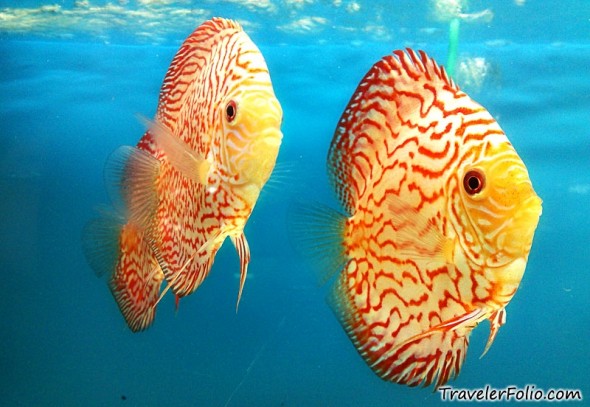 Pardon me but this Arowana is a freak! I have never seen anything like this before. As you can see, it has a hunchback and the body is distorted. This species is one of a kind and is not for sale in this fish farm.

Look at this golden arowana or dragonfish. It's donated by Chow Yun Fatt (周润发), one of the most famous Hong Kong actors in Asia. Fyi, his wife is Singaporean. This freshwater bony fish is also not for sale.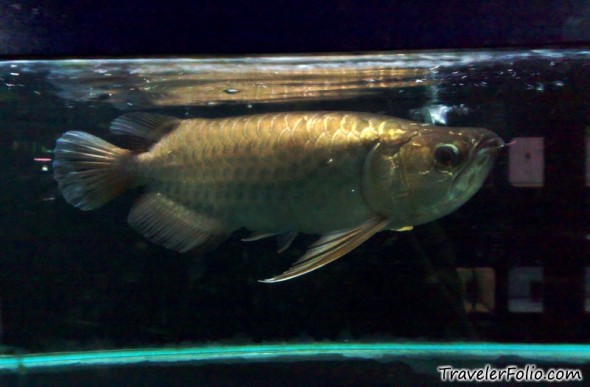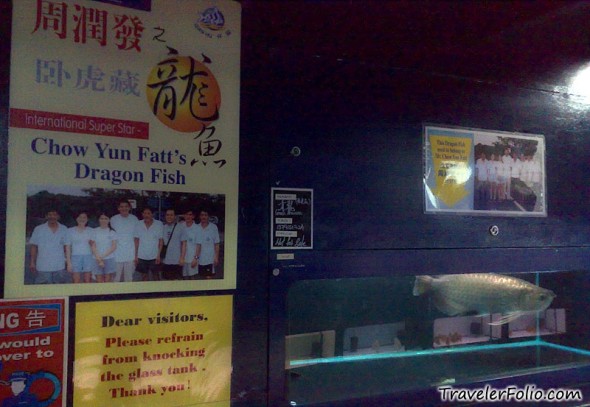 These spotted stingrays are active creatures easy to keep in the fish tank. However, they have poisonous stingers on their tails. Whenever I see a stingray, I crave for BBQ stingray with sambal chilli. @_@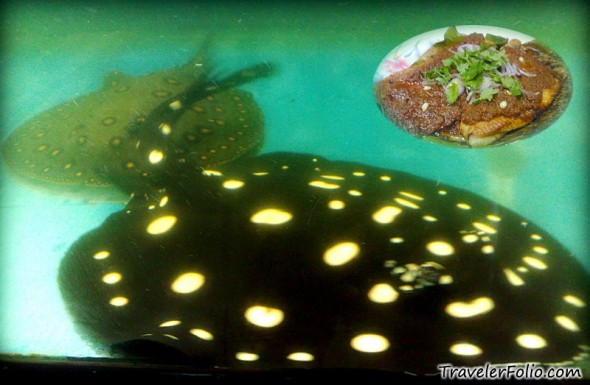 The eyes of the stingrays are on top of their bodies but their mouths are on the undersides, therefore, they cannot see their prey. Like the sharks, they use smell and electro-receptors to find food.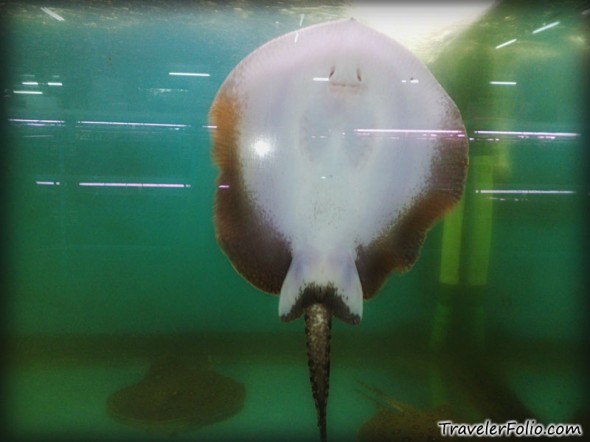 These are young rainbow crabs or patriot crabs. They may look cute but they have an aggressive nature and are known to be cannibalistic and will consume smaller crabs.
I suppose these are yellow snails since they are yellowish. @_@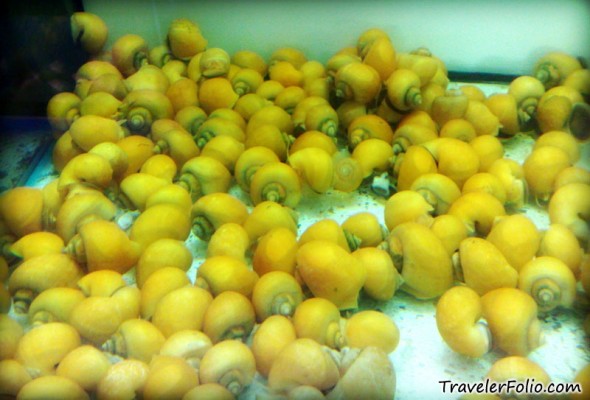 In the far east, it's believed that keeping a flowerhorn or Luo Han as a pet fish can bring good fortune in business and gambling. The bigger the hump of the Luo han, the more valuable it is 'cos it symbolizes luck. Even the distinctive markings on each sides of a Luo han can be interpreted as lucky numbers for lotteries. Thus, I had been staring at this Luo Han for a while but no luck. XD
However, there was a huge oversupply of Luo Han in 2003 due to the aftermath of "Luo Han mania", especially in Southeast Asia. And some Luo Han were dumped in the wild, causing havoc in the ecosystem.

Goldfish is one of the most commonly kept aquarium fish and pond fish since thousands of years ago.

These I call "transparent fish"!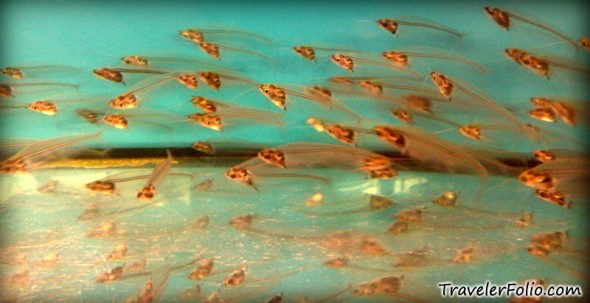 Look at the right picture! At first I thought the fish looked kinda ugly with red spots on them. OMG now then I realised those red pigments on the fish bodies are Chinese characters! I saw "Xi" (喜 = Happiness) and "Fa" (发 | Fortune)! Can you see them?

Er… what is this fish species?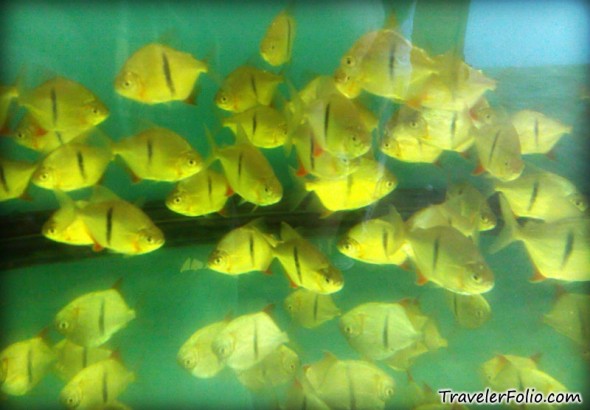 Carps?

These must be crystal red shrimps and they are graded according to the colour and distribution of the markings on their bodies.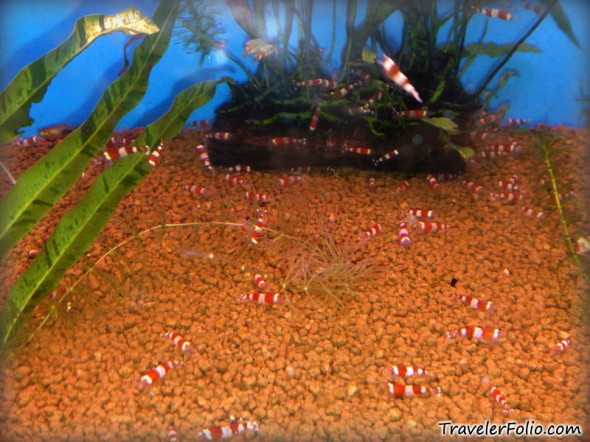 Rows of fish tanks rearing hundreds of fish species and other exotic sea creatures. If I were to take all photos of them, I guess I could create a fish blog!!! XD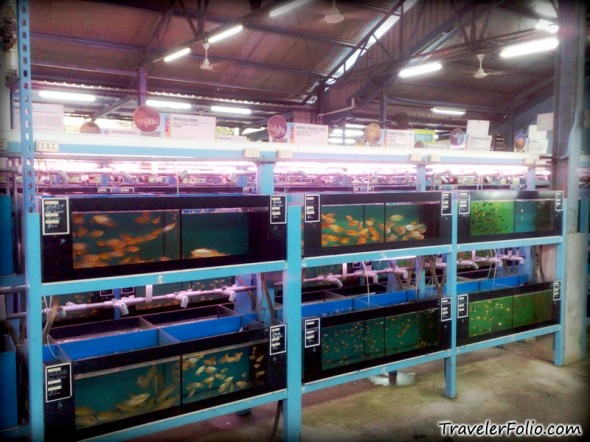 Qian Hu Fish Farm is a major ornamental fish exporter in Singapore. It's located at No. 71, Jalan Lekar, Sungei Tengah, Singapore. Admission is free. The closest MRT station is Choa Chu Kang Station. There is free shuttle bus service on Sat, Sun and public holiday from Choa Chu Kang and Boon Lay MRT stations.
If you love exotic marine life, come join the voyage to the Underwater World on Sentosa.
Read The Largest Aquarium in South East Asia – CTY @Penang, Malaysia
Please "Like" Travelerfolio Facebook