Thanks to Royal Caribbean and OMY, I had a once-in-a-life-time very memorable voyage aboard Legend of the Seas. Simply put, we had a blast!
Throughout the 5 days 4 nights cruise adventure, every day was chock full of activities. From strangers, we became kakis aka buddies, took loads of photos, wined and dined, went on shore excursions together in Kuala Lumpur and Phuket, chilled out (literally freezing cold!) at the deck in the middle of the night scaring each other with ghost stories and had so much fun together.
Here is a list of activities during my cruise holiday with Royal Caribbean:
Day 1: Legend of the Seas
Day 2: Kuala Lumpur city tour
Day 3: Elephant ride & Phuket island tour
Day 4: Activities aboard
Day 5: Back home with fond memories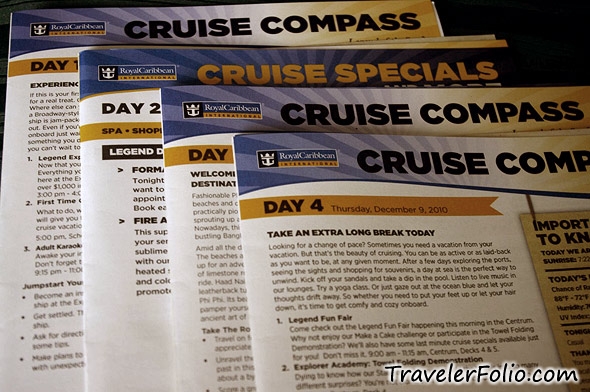 Here are the random photos taken during some activities on Legend of the Seas for your vicarious viewing pleasure!
Rockwall climbing. I made it to the top to ring the bell via the EASIEST route can! Lesson 101: Stay focused and keep going! Do not look up to worry about how far you still need to climb. Do not look down to scare yourself!
Jack, the professional OMY videographer behind the scene.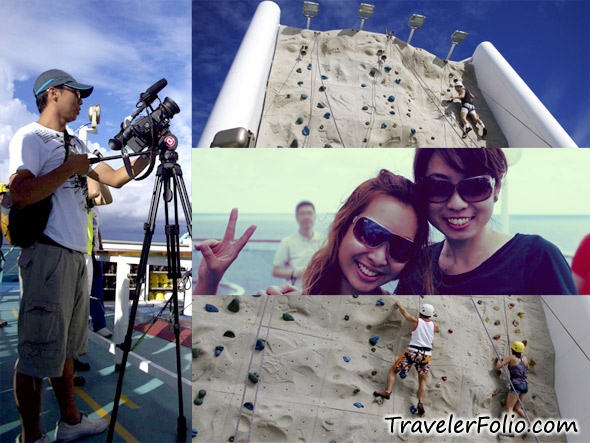 Here are some interesting personalities to introduce!
Darren – Celebrate lah! That's his tagline. He acted in "Growing Up" as Ah Guan, one of the favourite characters in the drama series on Channel 5 many years ago. He holds one of the most impressive resumes I've ever seen (thanks to Alvin for the "WikiLeaks"). Now I'm following the repeated series on weekends just to catch him on TV!
Estelle, the chica in red, is chatty and very friendly. With her around, it can't be that you make no friend. She is popularly known as the "bikini girl" among us. Probably it all started because of me. OK, I own up now!! Inadvertently, during our half day cruise tour before I won this 5D4N cruise holiday, I took a photo of her stripping down into sexy bikini with Alvin smiling in the background, and uploaded it to Facebook to tease Alvin.
Muiee, the babe at the top right, is also a travel blogger who blogs in Chinese. She has travelled to many countries and I bet her favourite among all is Japan! She seems to know everything about Japan.
Bottom left: Alvin is the CEO of Alvinology and our guardian from OMY. Need I say more? He is your No. 1 friendly neighbourhood blogger. A multi-talented geek with a subtle smile. Don't play play.
Bottom right: Yiliang is one of the few who can take awesome people portraits. He blogs in Chinese and can write so well that he has published a few books! He speaks on radio FM100.3 at times. A very insightful person.
Bottom middle (like a chairwoman): Well, that's me. Darren should be seated in my position but I was too lazy to give up my seat to him for this group photo after all the food indulgence. To know more about me, read my shameless blog promotion.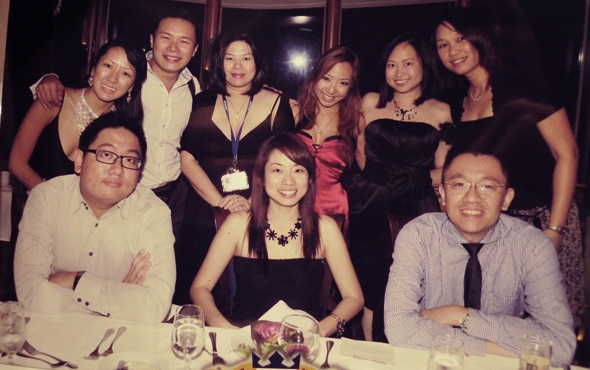 I forgot who took this photo and left my watermark here. Oops! Muiee, you took this shot? Anyway, the lady on my left is the popular food blogger behind CAMEMBERU. It was wonderful to have her as my stateroom mate for 4 nights as she is very easy-going and we can chat almost anything under the sky. And I wish I can write as well as her!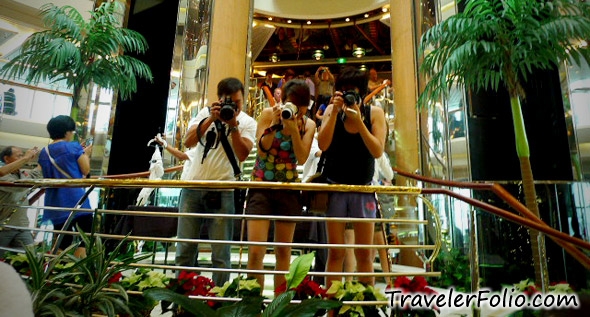 Folding towels can be fun when you know how to fold towel animals. On the fourth day of the cruise, one of the many interesting activities onboard was to teach us how to magically transform towels into cute critters.
In this photo, the guy holding a towel is none other than Keropok Man. Because of his nickname, I crave for crackers and bought a few packets recently. He is Mr Nice Guy. Like Calvin, the youngest blogger among all, Keropok Man writes a food blog.
Cherie is the girl-next-door who is charming, brainy and can bake well! Besides, she is an artiste who acted in dramas and variety programmes. I want to catch her on TV soon!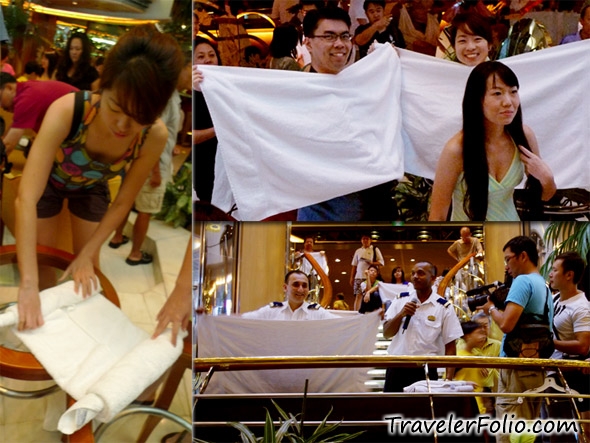 Bow of the ship. A vast view of the sea as seen from the bridge.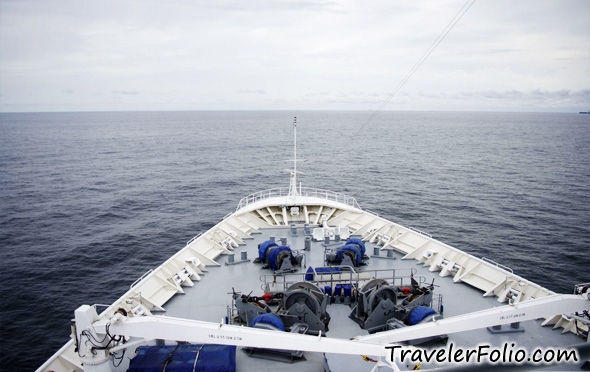 We had the privilege to visit the bridge and take photo with Captain Sverre Ryan (right). We even went overboard and wore the Captain's cap.
CaptainFolio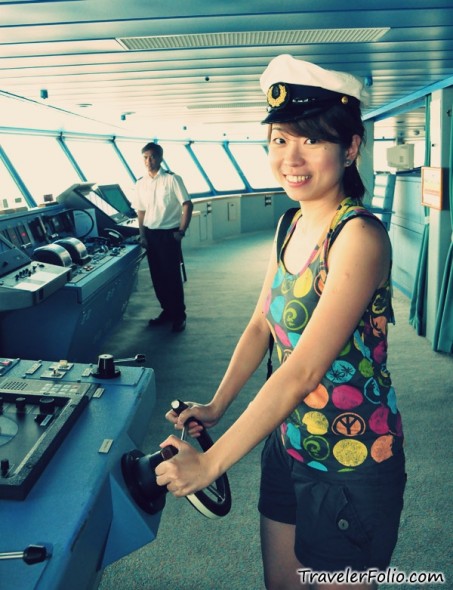 We also had the chance to visit the kitchen of the cruise ship and learnt about the day-to-day activities such as food planning, preparation, cooking, etc. Now we know why the smorgasbord of food served in Windjammer Cafe and Romeo & Juliet Dining Room are consistently good and fresh.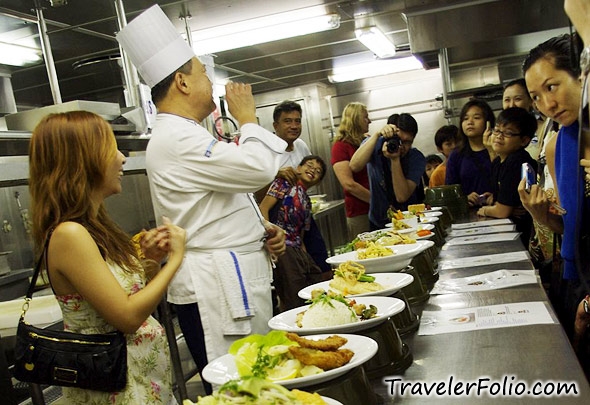 Finger licking good food.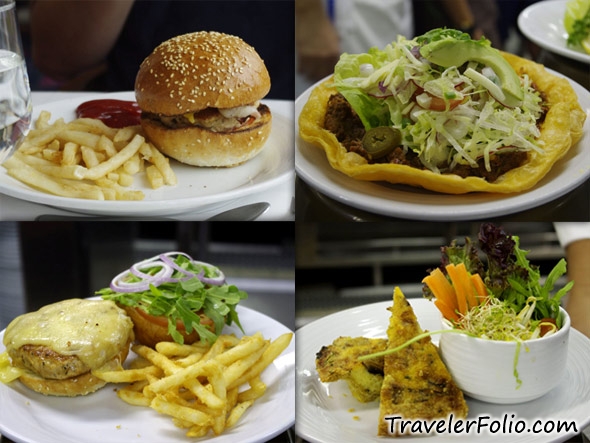 Lip-smacking good!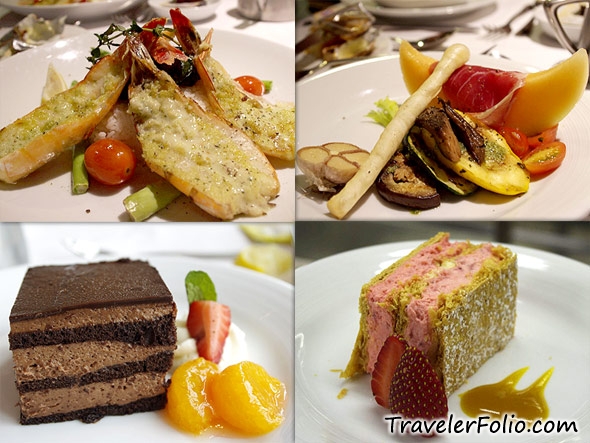 The chefs were busy preparing food yet they posed for us with a warm smile.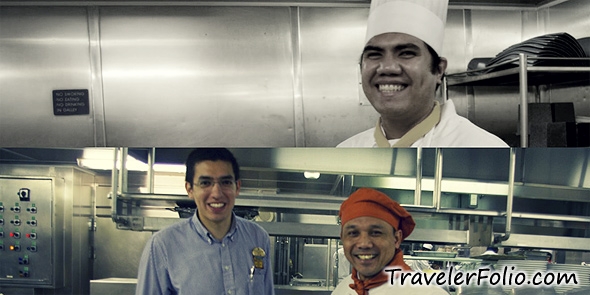 Video making in process…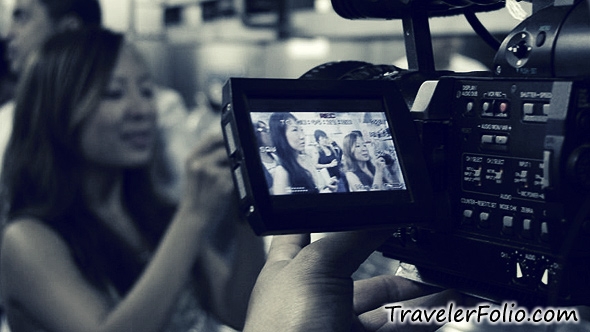 On the last night of cruise at Romeo & Juliet Dining Room, the chefs and team bid us farewell with songs.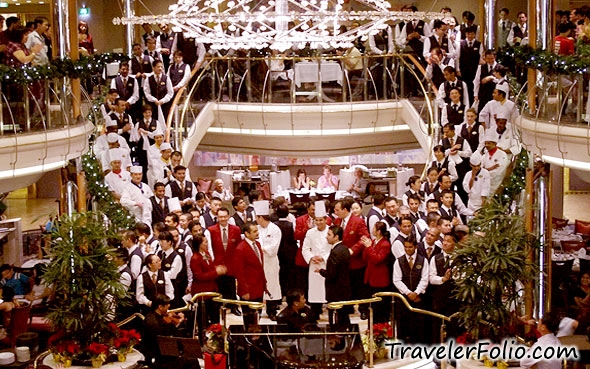 Legend of the Seas at night.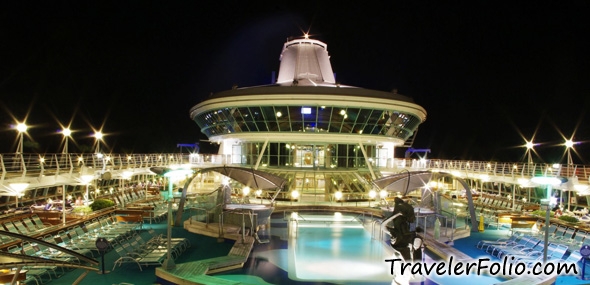 Hope you enjoyed following my cruise adventure with Royal Caribbean's Legend of the Seas.