For many Singaporeans, Hong Kong (香港) is one of the favourite destinations for first-time travellers by air. The reasons are:
Firstly, many of us watch Hong Kong movies, serial dramas, entertainments, listen to cantopops since very young, so apparently, many would love to see the city one day. And of course, a big reason for I am a Cantonese!
Secondly, Hong Kong is not too near, yet not too far away from Singapore by approximately 3.5hrs of flight journey. Many Singaporeans usually visit Hong Kong for about four to five days, perfectly right for a short retreat.
Thirdly, Hong Kong is also about food and shopping, just like Singapore! And generally, Singaporeans love to eat and shop!
Same goes with me, Hong Kong is the very first country for the very first time I was on board a plane. The city is easy and safe to travel around. In fact, both of us toured around Hong Kong on our own, and we enjoyed ourselves very much. We simply love the Cantonese Dim Sum, deserts, roasted meats, locally made Portugese egg tarts and many more! During that time, I used SLR camera… hmm… unless I were to scan all the photos one by one… and I wouldn't do that!! Fortunately, I got some digital photos taken by my parents who visited Hong Kong this April, the period when the first typhoon in 2008, typhoon Neoguri, slammed into southern China!

Ocean Park Hong Kong (香港海洋公园) is ranked the 7th most popular amusement park in the world by Forbes in 2006. Based on the theme park attendance report in 2007, Ocean Park even has more visitors than Hong Kong Disneyland!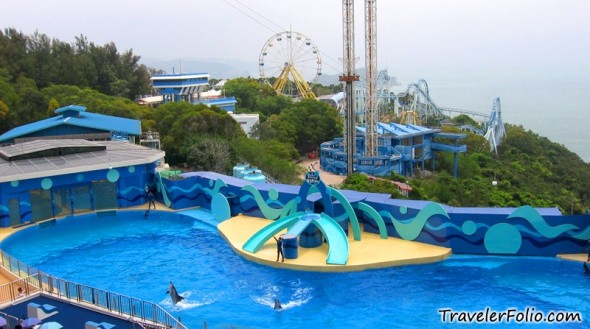 The real panda is sleeping, the fake pandas are watching you… Want to see lots of lively pandas in Sichuan Giant Panda Sancturary?

Colourful young performers out to entertain visitors…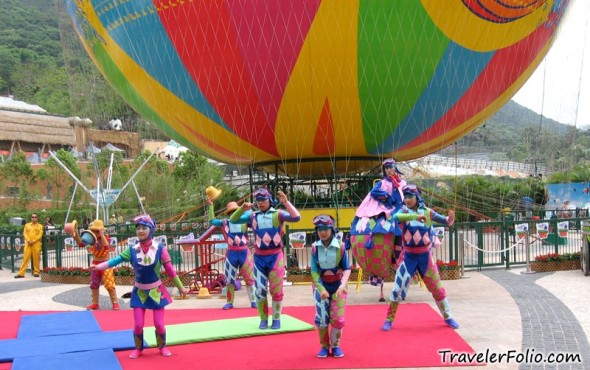 Victoria's Peak (太平山) is Hong Kong's most conspicuous landmark and the highest point overlooking Kowloon and Hong Kong island.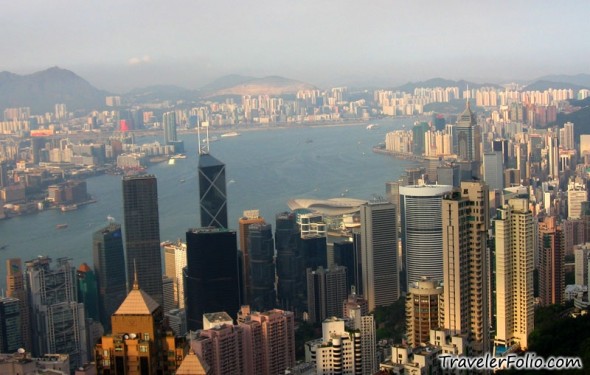 An overcast day on Victoria Peak in April, and the very next day tyhoon Neoguri, the first of its kind in 2008, approached Western Guangdong, giving off a no. 3 strong wind signal! It's said to be the earliest arrival of a typhoon since 1949! No wonder people have been saying that it's a disastrous year for the 2008 Olympic host!
Apparently, typhoon Neoguri struck at the areas that my parents just departed. Once, they were fortunate enough to catch the last ferry from Southern China just before the strong wind approached and the port closed for the day, with hundreds of unhappy passengers stranded at the port! The last ferry that my parents boarded was practically tossing and bobbing in the rough sea. According them, the no.3 wind storm was so strong that they felt like they could be blown away! They had to put up a strong resistance to walk against the wind. What an experience!
Photo depicts strong winds at a harbour in Southern China, April 18 2008 ~ source taken from Xinhua news.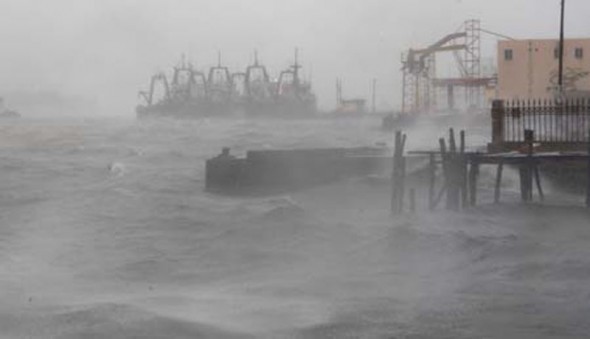 Update on Lantau island (June 2010): https://travelerfolio.com/lantau-island-tian-tan-big-buddha/
Lantau Island (烂头 | lantau literally means "ragged head" | 大屿山) is the largest island in Hong Kong. Tian Tan Buddha (天坛大佛) situated in Lantau island is the world's tallest outdoor seated bronze Buddha.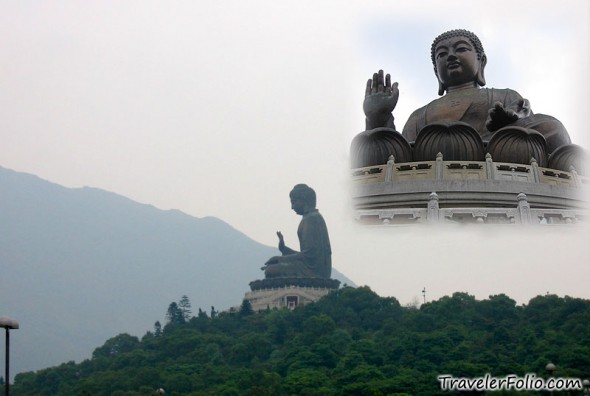 Tian Tan Buddha is also one of the five large Buddha statues in China. It's a popular tourist attraction.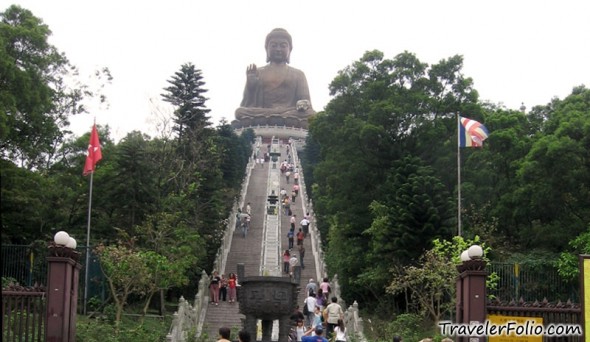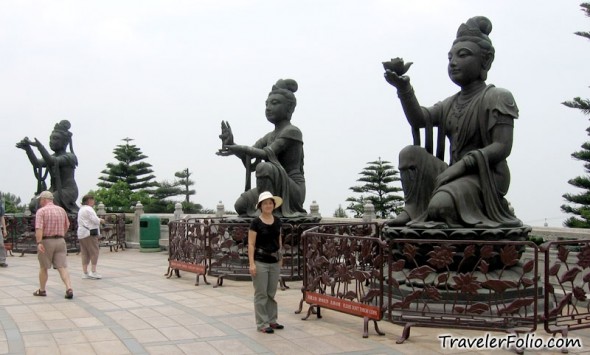 River cruising.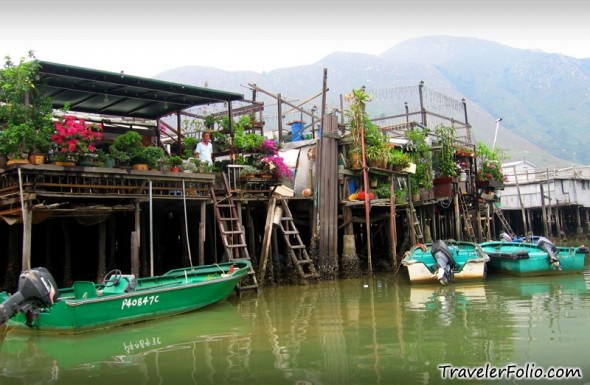 You shoot me, I shoot you!
Let's move on to mainland China. This beautiful waterfall is located in Knight Valley, OCT East resort in Shenzhen, Guangdong province. OCT East resort has three themeparks and Knight Valley is a newly opened park in 2008.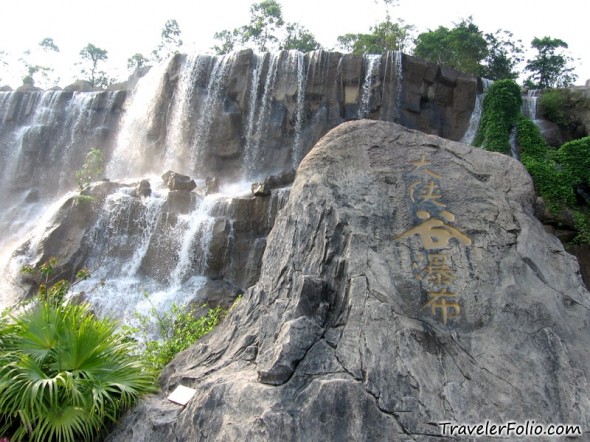 Big pumpkins! Never seen such big ones in my life before, although I have seen many giant pumpkins photos from the U.S.A during the autumn season.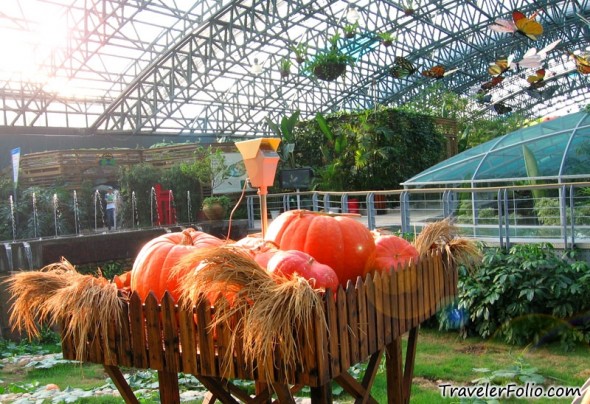 This little pumpkin reminds me of Cinderella's horse carriage, just before it was turned into one!
What are those little red houses? For butterflies?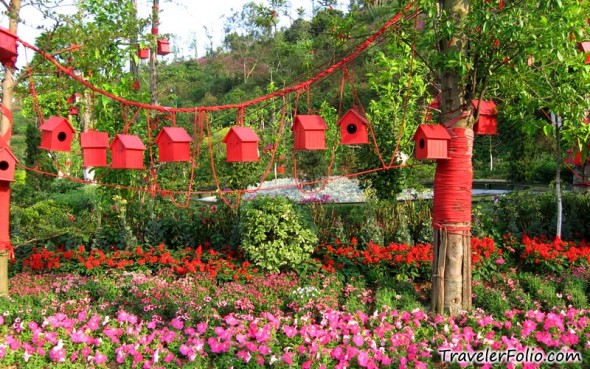 This is the coolest toy of the day! This aircraft carrier Minsk (明思克號航母) is a decommissioned relic of the Soviet era. She was first bought by a Chinese company for scrap metal, but was then sold to an entertainment firm which turned it into a tourist attraction. However, this firm declared bankrupt last year, but fortunately, the military theme park continues to stay in business in Shenzhen.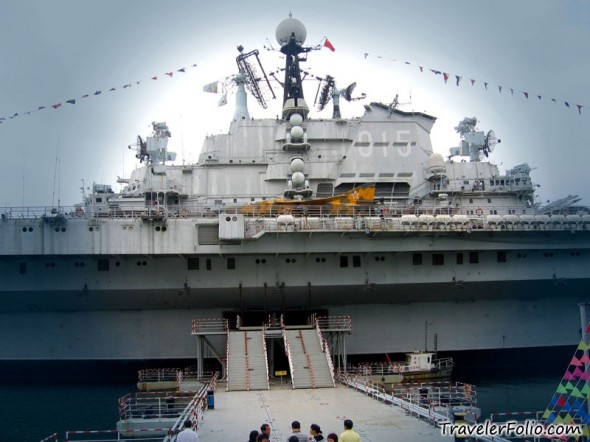 It's all about wartime at Minsk World.

Surprised to see ladies in smart navy uniforms!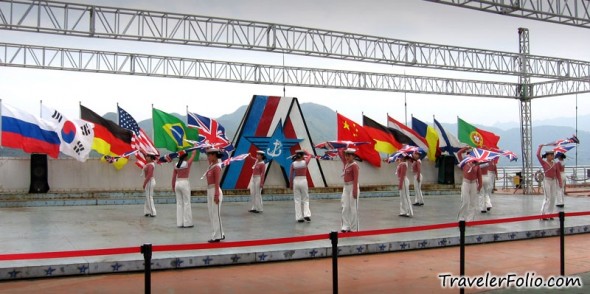 See photos of Waterfalls in China | Sichuan Giant Panda Sanctuary