Do you love watching Disney cartoons? Have you been to any Disney theme parks before? Children love Disneyland and adults simply love to re-live their childhood dreams… Disneyland is the "Happiest Place on Earth". Below is a list of Disney resorts around the world in Paris-France, Tokyo-Japan, Hong Kong-China, Orlando-Florida and Anaheim-California.
I have only been to Walt Disney World resort in Orlando, and it is the most visited and largest recreational resort in the world. Taken this photo with Cinderella Castle in the background during July 2007. Other Disney resorts around the world may have Sleeping Beauty Castle instead of Cinderella Castle.
Apart from all the stunning fireworks that we all have seen recently from the Beijing Olympic Ceremonies on TV, the firework display emanated from the Cinderella Castle in Orlando is the best that I have ever seen! For the moment, it was like living in a fairyland full of fantasies.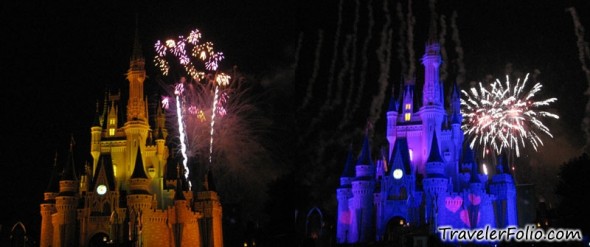 Some of you might have seen this cute photo before. The one who looks like a Minnie Mouse is Kelly. XD. She was very inspired to go Disneyland after looking at all my beautiful photos/videos taken from Walt Disney World Resort in Orlando. So, she packed her luggage and flew to Tokyo Disney Resort months later during December 2007. That is another Cinderella Castle in Tokyo Disney Resort.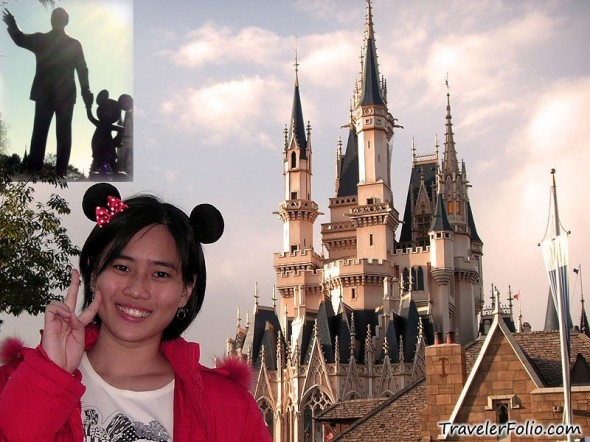 Celebrating Christmas in Tokyo Disney with Disney cartoon characters like Goofy, Donald Duck, Minnie…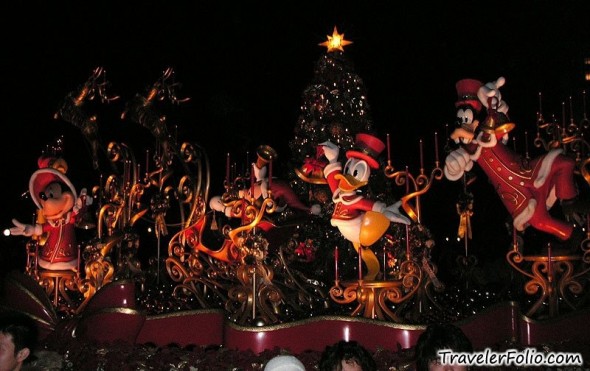 Jasper visited the Disneyland Resort in Anaheim, California, a place that I missed when I was only touring the eastern part of U.S.A. This is the Sleeping Beauty Castle (not Cinderella Castle) taken by Jasper. The castle seems smaller than Cinderella Castle in Orlando. Am I right, Jasper?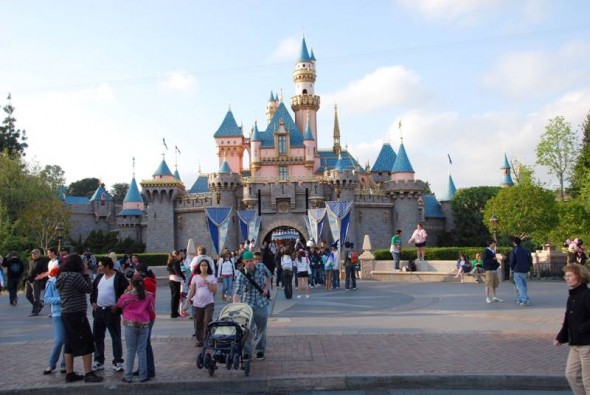 Disneyland Resort in California has two theme parks, the Disneyland Park and Disney's California Adventure. Another "very inviting" photo taken from Disney's California Adventure Park by Jasper.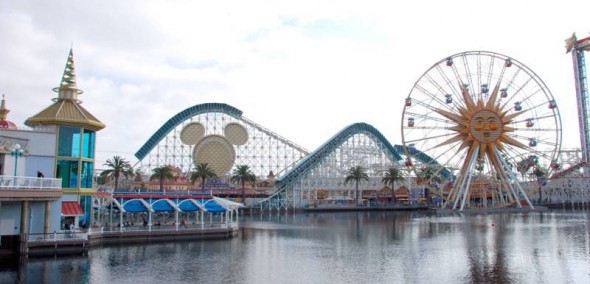 Look at Mickey's costume, you will know he is in Hong Kong Disneyland park! And he is showing us the Sleeping Beauty Castle. Hong Kong Disneyland is the smallest Disneyland park among the rest and so far, it has fallen short of meeting its targeted visitorship figures and has received numerous negative feedbacks from its visitors. My friend who had visited this Disneyland before told me that it is just an average theme park and one can finish all the rides within a day.
I have not been to Hong Kong Disneyland before. Have you? What is your feedback on this Disney park?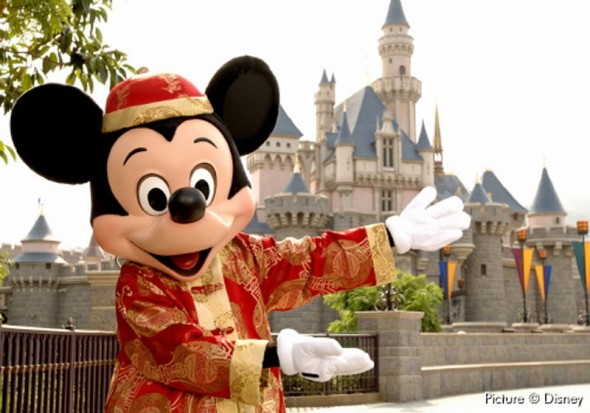 A typical railway station in Disneyland, taken by Jasper. How envious I am on Jasper that he got the opportunities to visit both the Disney Parks in Hong Kong and California! More photos from Hong Kong Disneyland by Jasper.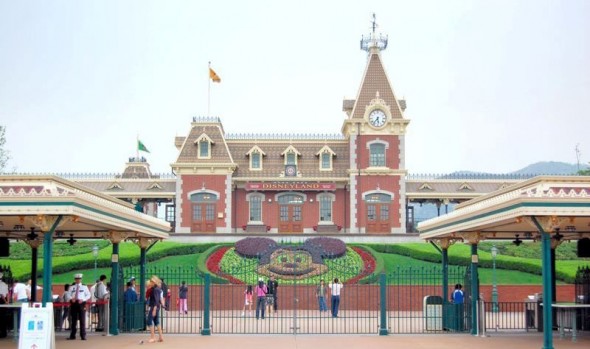 A train with windows shaped like a Mickey's head in Hong Kong Disneyland, taken by Jasper.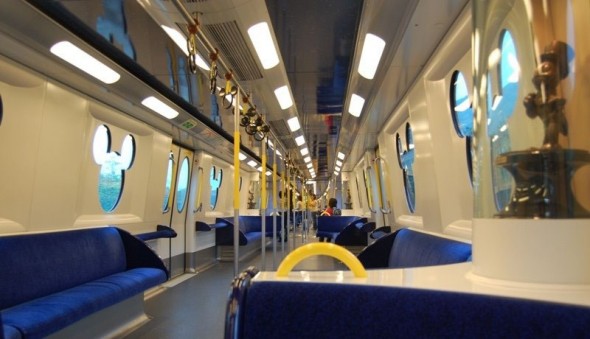 Who is so blessed to take a bite on this Mickey Mouse cheesecake?!! Jasper, did you?!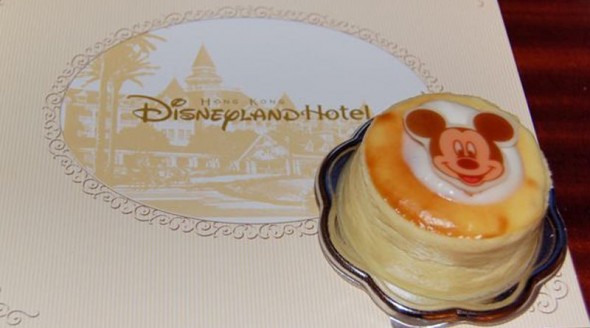 Disneyland Resort Paris, with the Sleeping Beauty Castle. Though I toured around Paris, I didn't visit this Disneyland, with the thought that the best Disney parks are in the U.S.A and due to time constraint, I skipped this one.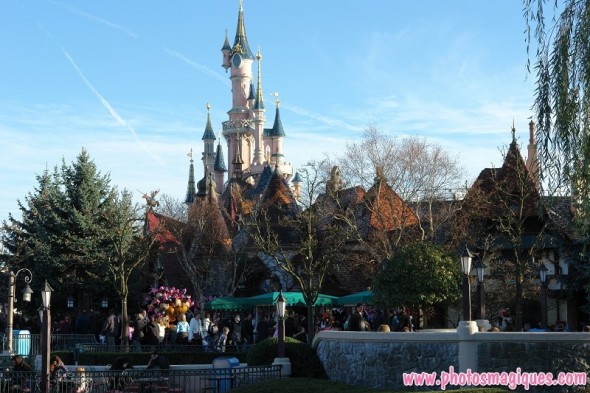 Have you been to any Disney Parks before? Share with us your experiences in the comment box!
:ooo:
Read posts on Walt Disney World | Tokyo Disneyland