Look at the long queue all the way from the town centre to Tung Chung Cable Car Terminal (東涌). It was a Monday morning so we didn't expect to see so many visitors going to Lantau island (大屿山). The ticketing counters only open at 10:00 am on weekdays; luckily we were already in the line around 9:30 am. Set off early to the cable car terminal for shorter queues!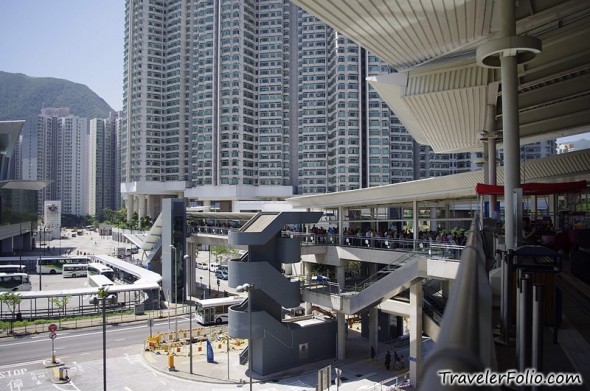 Basically, there are two types of cable cars: the Standard cabin and Crystal cabin that features glass bottom floor. We bought a pair of Standard cabin (round trip) tickets at HK$107/pax… and followed another QUEUE again to take the cable car to Ngong Ping Cable Car Terminal for the main attraction of Lantau island – Tian Tan Big Buddha (天壇大佛), one of the five giant Buddha statues in China. I've seen the world's largest giant Buddha in China too. Check out Leshan giant Buddha.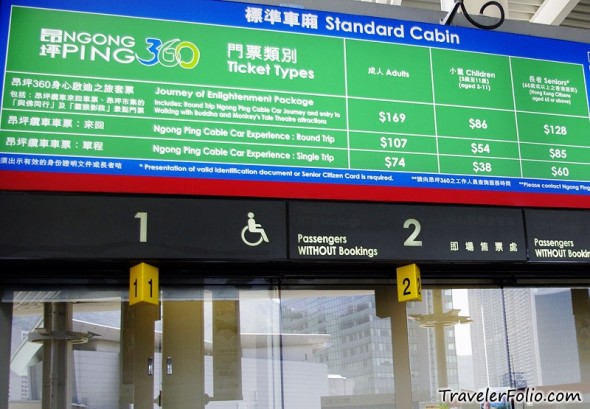 Enjoy a 25-min scenic ride from Tung Chung Cable Car Terminal to Ngong Ping Cable Car Terminal. While gliding across Tung Chung Bay, you will catch glimpses of Hong Kong International Airport on Chek Lap Kok island. It is one of the largest and busiest airports in the world.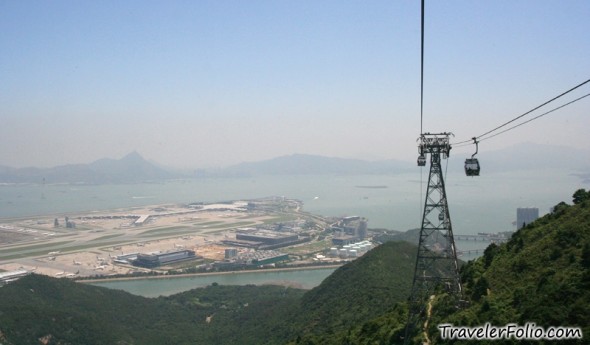 A distant view of Hong Kong Int'l Airport from our cable car. The shot was taken using a 200mm zoom lens.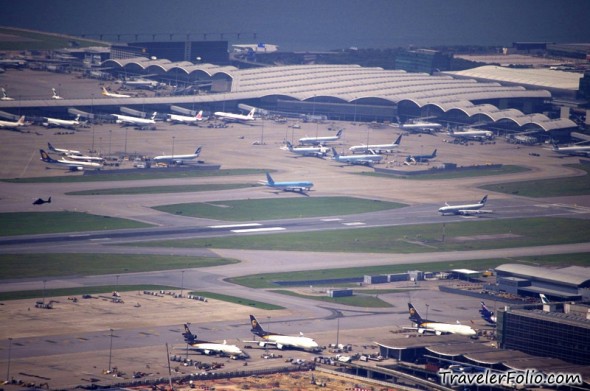 Ngong Ping 360 (昂坪360) cable cars.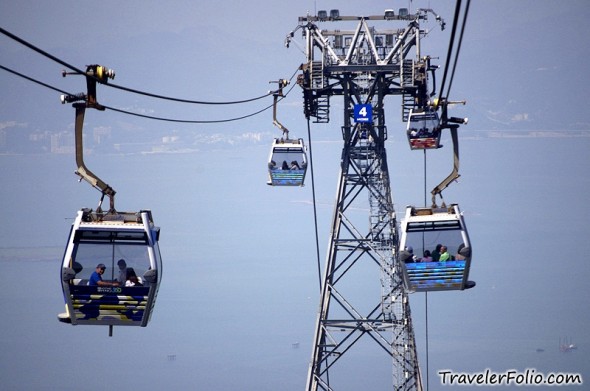 While we can choose the easy way up to Ngong Ping Plateau via cable car, the tough ones can venture out on the 70-km Lantau Trail that weaves through the lush green forests of the island. It's a strenuous hike that crosses over two of the highest summits on Lantau island. A Cantonese folk in our cable car even exclaimed that there are many snakes along the trail.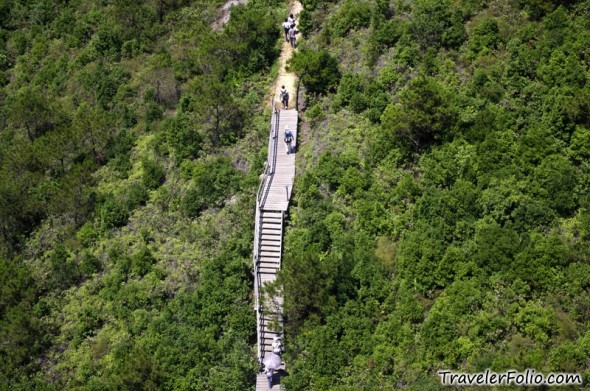 The ever-changing 360-degree panoramic view will keep you entertained throughout the 25-min cable car ride. Watch out for the waterfalls below you!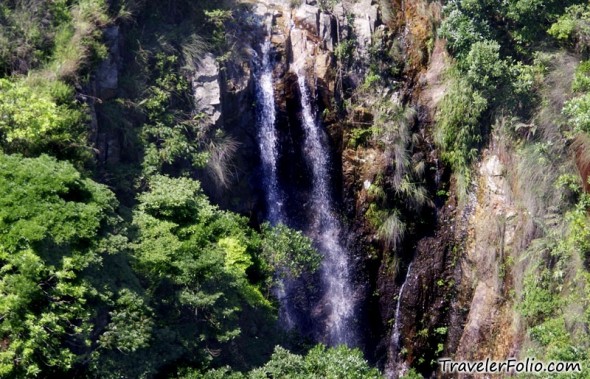 Soon, the magnificent gigantic Tian Tan Buddha statue looms into sight.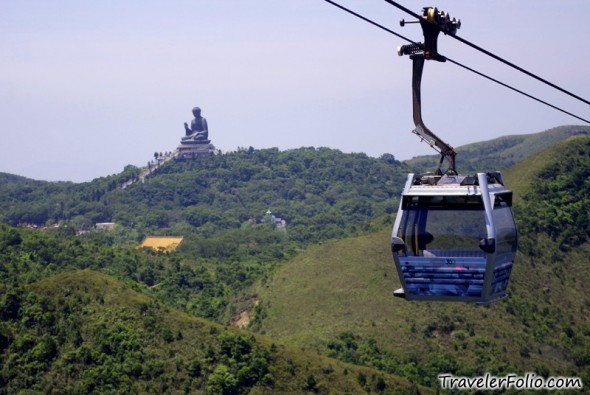 It's amazing how they built the world's largest outdoor bronze Buddha statue seated on the plateau.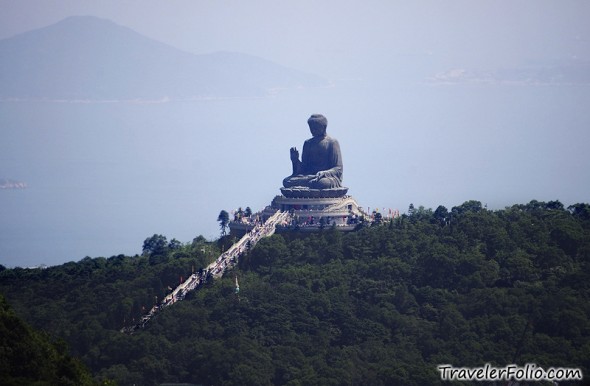 Ngong Ping Village is just a few mins walk from Ngong Ping Cable Car Terminal. There are some attractions in this cultural themed village: Walking with Buddha (multimedia attraction), Monkey's Tale Theatre and Ngong Ping Tea House. You can also have your lunch/snacks in this village. There is Starbucks too.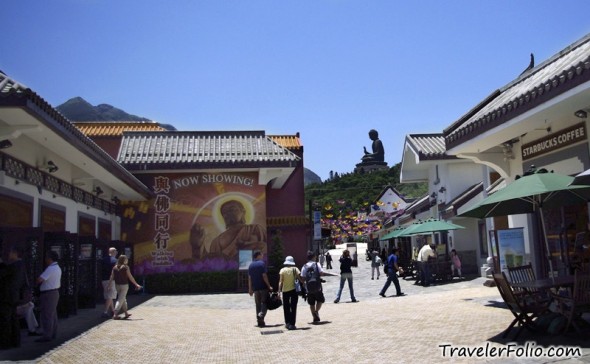 But hang on, if you want to try vegetarian food, walk further down to the popular vegetarian restaurant at Po Lin Monastery. You need to buy your meal ticket at the counter near the restaurant entrance. Basically, there are two sets of meal to choose: ordinary (HK$60/pax) or "deluxe" meal (HK$100/pax). This ticket also includes admission to the three halls right below the Tian Tan Buddha statue.
Our not-so-deluxe vegetarian meal for two persons. It comes with a pot of Chinese tea, 2 big deep fried spring rolls, lot of veggies, corns, mushrooms and soup… and a big pot of rice! :X This spread of dishes cost us around S$20 (HK$60 x 2). My rating for this lunch: 3.5/5. Quite a good meal for a hungry stomach!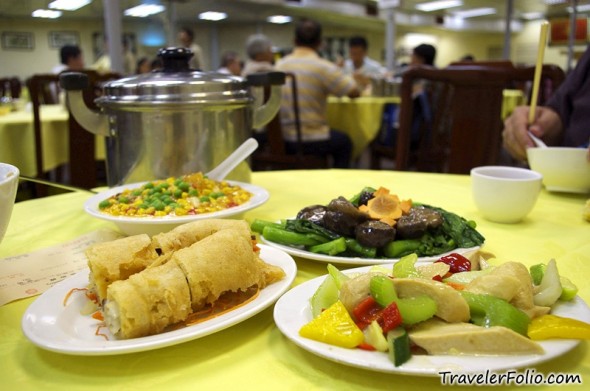 Po Lin Monastery is located near Tian Tan Buddha.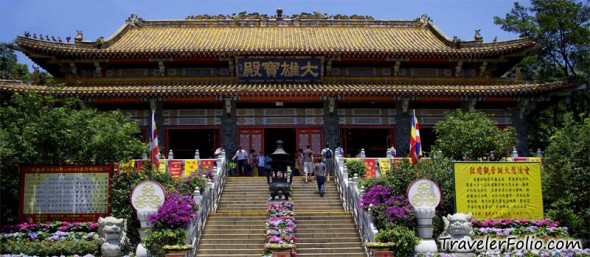 Colourful prayer flags.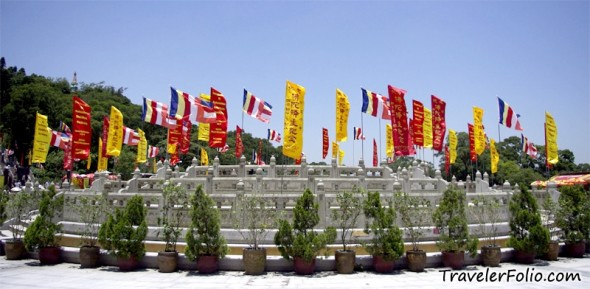 Tian Tan Buddha overlooks Po Lin Monastery.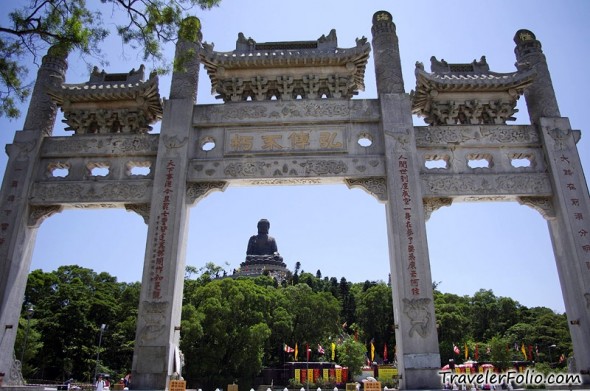 To reach the Buddha statue, we have to climb 268 steps up the long flight of stairs. Still not too bad. It's definitely worth the climb as the view from the top is simply awesome. Access to Tian Tan Buddha is free.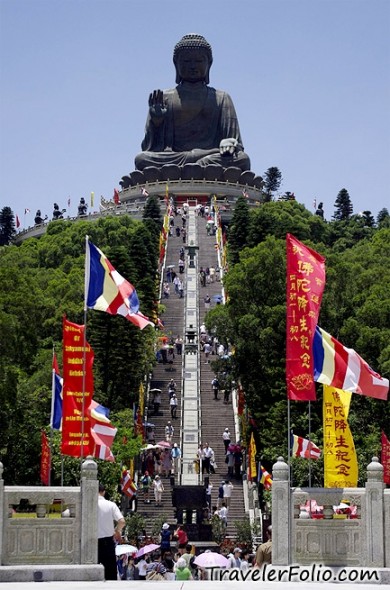 The giant bronze Tian Tan Buddha is seated with folded legs on the lotus throne. His raised right hand symbolises the removal of affliction and his left hand is a gesture of giving. The 34-metre tall Buddha statue was completed in 1993.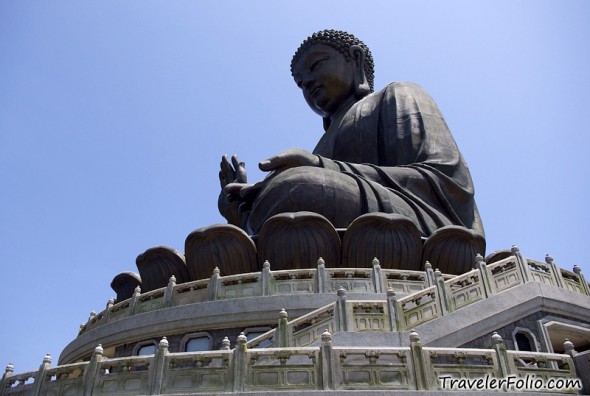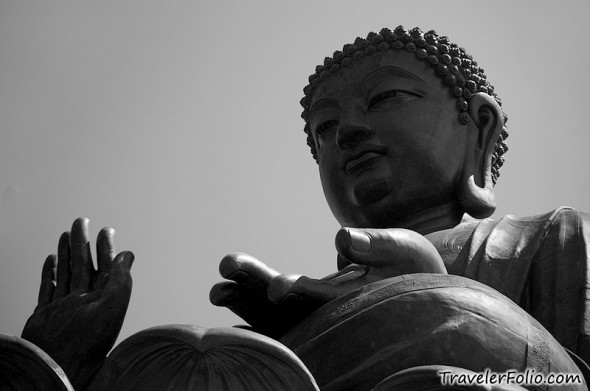 "The Offering of the Six Devas" surrounding Tian Tan Buddha.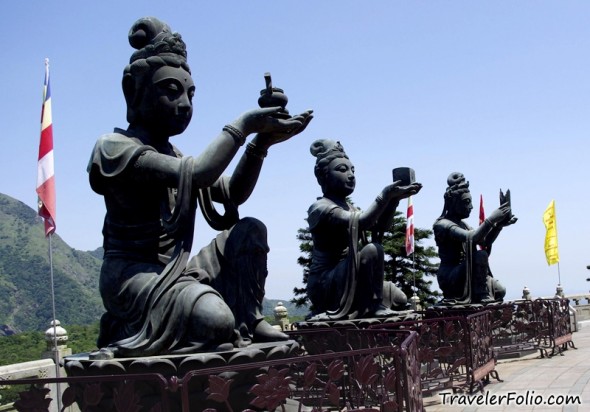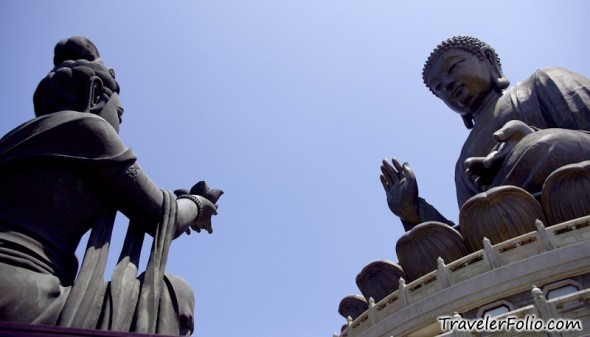 A close-up view of the Tian Tan Buddha statue using a 200mm zoom lens.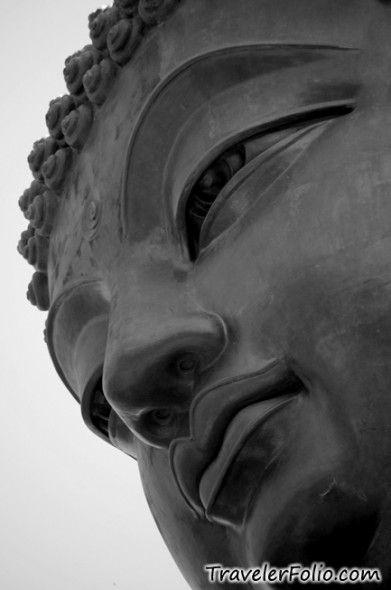 Look at the pair of eyes!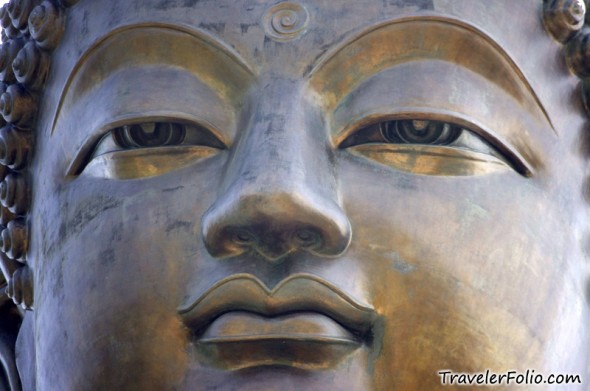 An impressive view of the surrounding islands and South China Sea as seen from the platform after climbing 268 steps!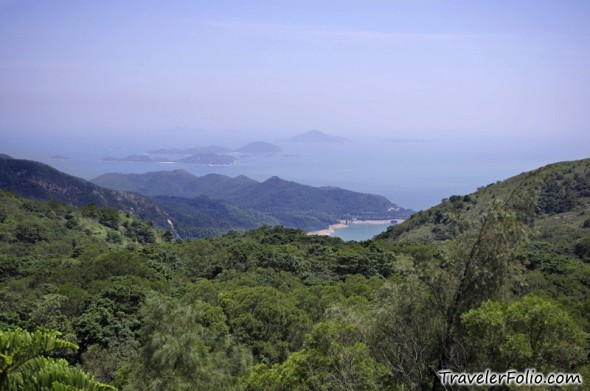 What a great day with clear blue skies! A view of the giant Buddha as seen from afar. It took us half a day quick tour around Po Lin Monastery and Tian Tan Buddha in Ngong Ping on Lantau island.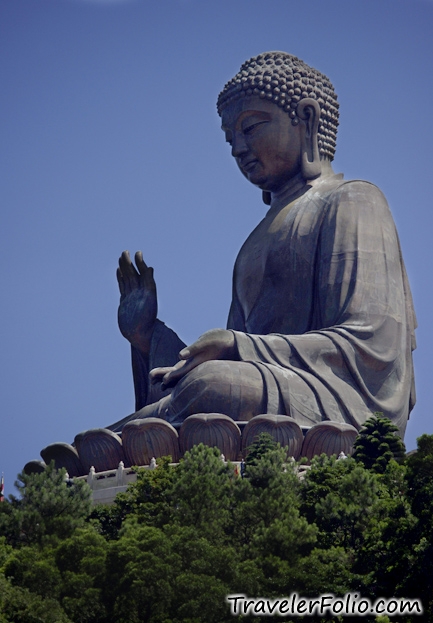 The cable car will take you back to Tung Chung Cable Car Terminal. If you need retail therapy, head down to Citygate Outlets (premium outlets) near Tung Chung MTR Station for your favourite designer brands at bargain prices.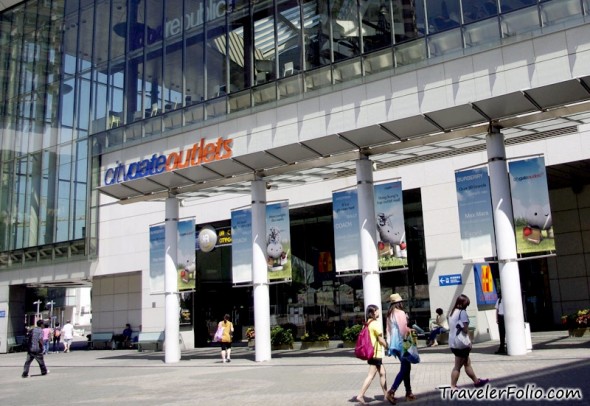 How to go to Tian Tan Buddha at Ngong Ping, Lantau island? (Via cable car.)
By MTR: Alight at Tung Chung Station (東涌) and get out from Exit B for a short walk to Tung Chung Cable Car Terminal.
Operating hours of Ngong Ping 360 cable car service: 10:00 am – 6:00 pm on weekdays; 9:00 am – 6:30 pm on weekends & public holidays.
Want to go Cheung Chau 長洲?