The Past and Present of Bugis Street
The Old Bugis Street; as most would know painted a picture of Western tourists and seamen thronging the street; a coterie of sexily-dressed transvestites was the main tourist attraction while peddlers travelled on foot with push carts that served cheap eats and trinkets.
Those were the heydays when Bugis Street was internationally renowned as a must-visit nightspot for tourists back in 1950s to 1970s before the crackdown of notorious and sleazy activities in the area. Eventually, the old street had to be demolished to give way for the redevelopment and modernisation of Singapore in the mid-eighties.
In the 21st century, the modern Bugis Street is pulsating with life and beaming with pride.
It has seen better days after an image overhaul – it's the largest street shopping location in Singapore boosted with over 600 concept shops and expected to house 800 shops by end 2010!
The Largest Street Shopping Location in Singapore
Opens daily from 11 am to 10 pm, the bustling street is filled with tourists and locals alike weaving through shops after shops. Here you can test your bargaining skills and shop at discounted prices for items such as printed tees for $6 a piece or $10 for two pieces. You can pick up stylish blouses from $10 and trendy handbags that range from $10 to $15.
Enter the "Prince Street" and "Princess Street" and you'll find themed sections designed for men and ladies. Pick your fancy at the second level from a range of a la mode styles from chic accessories, party dresses, hip streetwear, elegant shoes and gorgeous wigs to beauty and manicure services. Cheris Boutique is a hit with locals and tourists for its quality Korean-made dresses and tops that are sold from $20 onwards.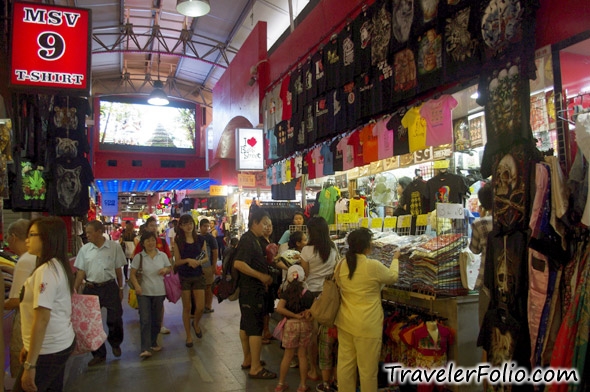 Unlike some high-end souvenir shops, here you can find all kinds of Singapore souvenirs such as the Merlion t-shirts priced at S$10 for 3 pieces, Merlion ornaments like fridge magnets that cost $10 for 4 items, orchid paper weights from S$10 and orchid pendants from as low as S$3 each.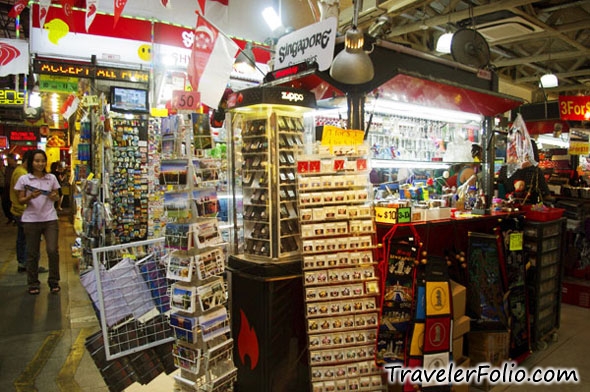 There is a wide selection of sweet and savoury snacks such as curry puffs, pancakes, fishballs, egg tarts, waffles, dumplings, toasted bread, chicken cutlets, tempura, prawn fritters and the list goes on just to suit everyone's taste buds. The famous traditional fluffy pancakes are freshly made with red bean, peanut as well as durian fillings.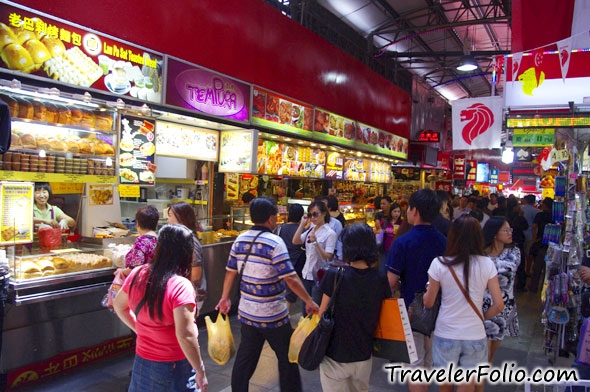 At the other end of Bugis Street, stalls are laden with tropical fruits that are popular among the locals such as bananas, coconuts, mango and rambutans. Here you will see rows of brownish-green thorny fruits on the shelves.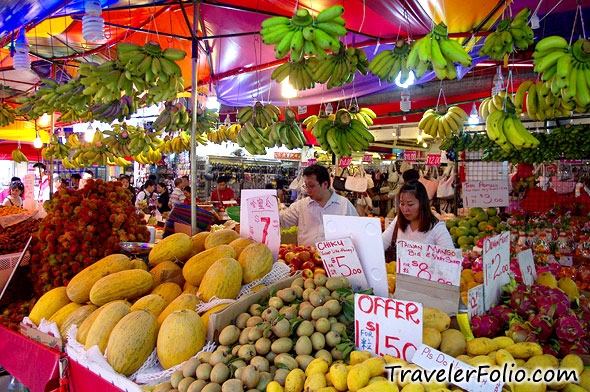 The King of Fruits
One man's meat is another man's poison. Durian – Love it or hate it. Some dislike the penetrating odour of durian and describe the taste of the yellowish custard-like flesh as gooey onions and rotten meat. Others simply love the distinctive aroma of durian and affectionately endeared it as the King of all fruits!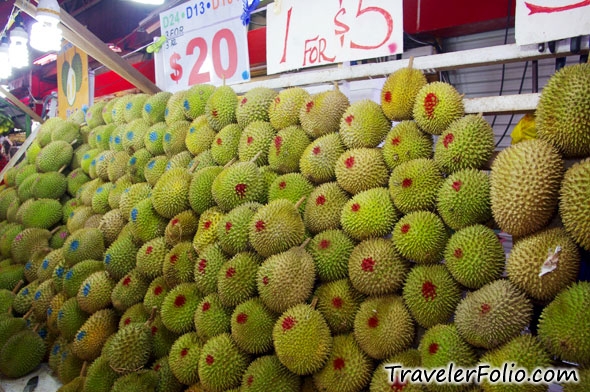 Many Singaporeans love durian. It is not uncommon to find durian stalls in Singapore displaying a smorgasbord of different durian cultivars to pick and choose. Prices can range from S$2 to S$20 for a durian that typically weighs 1kg to 3kg. Usually, the popular names like bitter-sweet D24 and Musang King cost more; the nameless ones are the cheapest.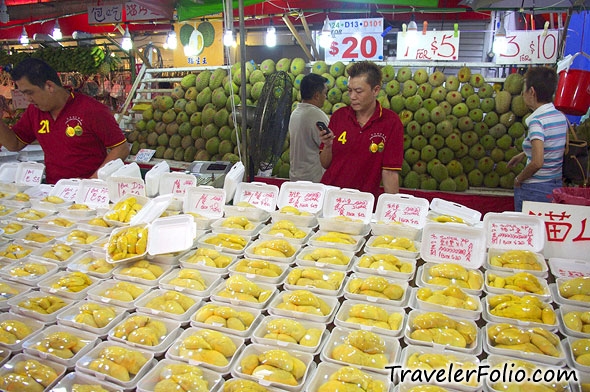 Singapore Visitors Centre @ Bugis Street.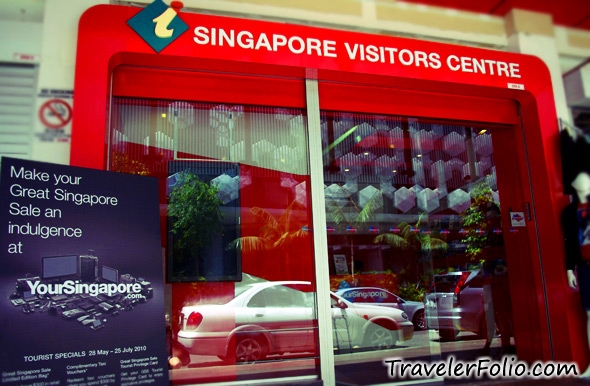 Shopping
Bugis Street is a stone's throw away to many other popular attractions and shopping malls. Across the street is Bugis Junction, a jam-packed with various trendy stores of any kind as well as cafes and restaurants. Perched above Bugis MRT Station, the mall has glass-covered walkways and Straits Chinese-style shophouse facades that exude a nostalgic charm. For the hip and funky, check out 77th Street on the 3rd level – a homegrown trendsetter retailing the latest streetwear fashion and accessories.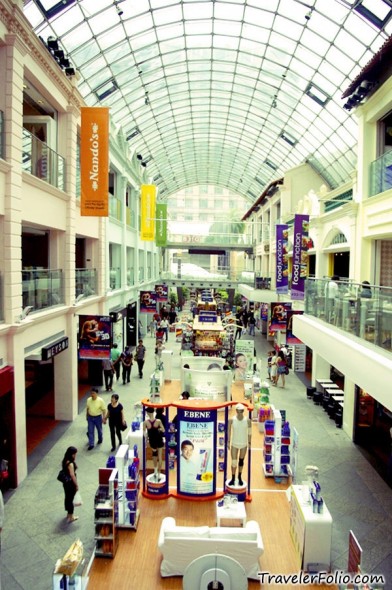 Another new development is Iluma featuring the latest state-of-art shopping mall next to Bugis Street. When night falls, the Crystal Mesh façade dynamically expresses itself like mini-Tokyo blinking. Other than its dining and entertainment options, there are over 40 fashion boutiques. If you are an anime aficionado, pop by Otaku House on the 3rd level and check out its unique selection of anime swords, cosplay costumes, anime figures and many other interesting finds.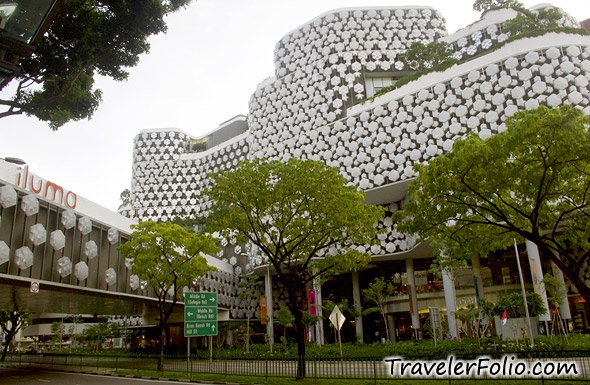 Attractions
Walk a little further down to Waterloo Street and you immerse into crowds of devotees thronging Kwan Im Thong Hood Cho Temple. Established since 1884, the Goddess of Mercy temple is one of the oldest Buddhist temples in Singapore with a fine temple courtyard architecture that reflects the popular craftsmanship in the late 19th century. As you enter the temple, the sound of clanking cans fill the incensed air. Some devotees are seeking for divine answers and shaking cans that contain Qian or divining bamboo sticks until a stick pops out from the can. Each bamboo stick is numbered and that serves as a reference to the divine interpretations that can be found in the booklets and slips provided in the temple. The interpretations are translated in English for tourists too!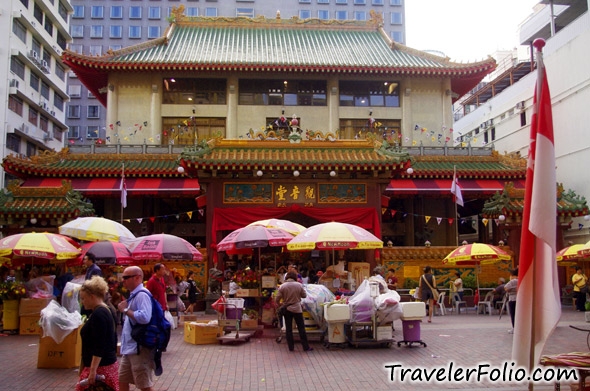 Along the same street near Kwan Im Thong Hood Cho Temple, another historic temple just celebrated her 140th year anniversary. Built in 1870, Sri Krishnan Temple is decorated with intricate, colourful sculptures at the entrance. Many Chinese devotees from Kwan Im Thong Hood Cho Temple light joss sticks at this Hindu temple.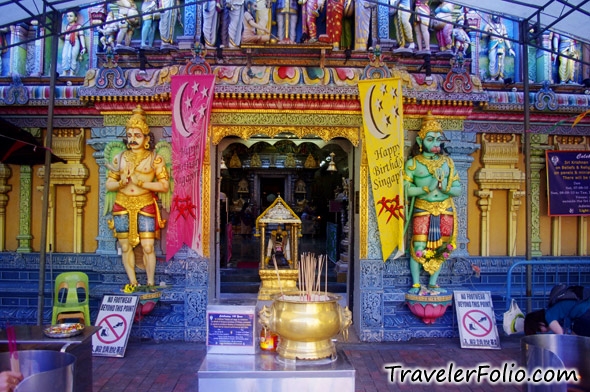 Singapore – Johore, Malaysia
By Bus
A stone's throw away from Bugis Street is Queen Street Bus Terminal or Ban San Bus Terminal, the transportation hub for tourists and locals to Johor Bahru (J.B), the most southern tip of Malaysia peninsula closest to Singapore.
You can commute from Singapore to Johor Bahru for as little as $1.80 by hopping into SBS bus number 170. The downside is the journey will make numerous alighting and boarding stops along the way and takes about 40 minutes to reach the Singapore checkpoint.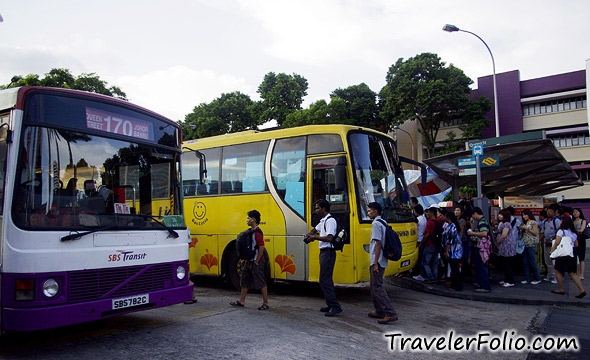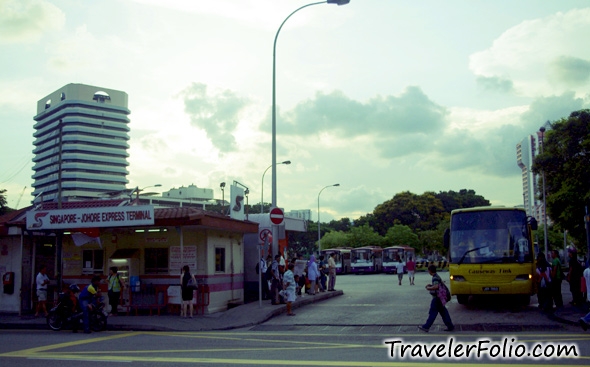 Alternatively, Causeway Link (CW2) bus offers non-stop journey from Queen Street Bus Terminal to the Causeway. Adult fare costs $2.40 while child fare is $1.20.
By Taxi
If you prefer, you can opt for a taxi at Ban San Street next to the bus terminal. A trip to Johor taxi stand costs S$40 per vehicle or S$10 per person for share-a-cab.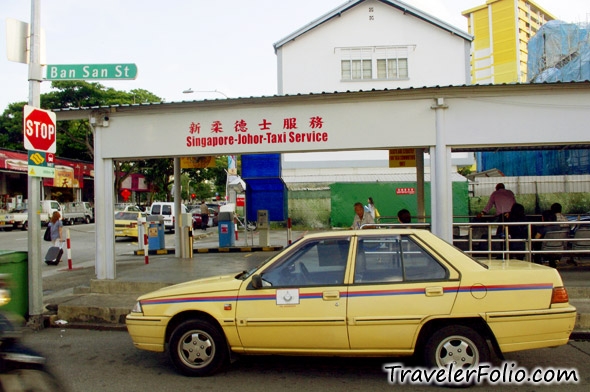 Getting to Bugis Street
By MRT
Alight at Bugis Station (EW12). Turn right towards Bugis Village Exit. Bugis Street is just across the street.
By Bus
SBS Transit: 7, 12, 62, 80, 175, 197
SMRT Buses: 190, 61, 851, 960, 980, NR7
Alight in front of Bugis Street along Victoria Street.
This article was published in Travelog Singapore on Oct 2010.