While waiting for my buddy, I loitered around Bugis Junction (a shopping mall in Singapore) last Friday when I thought I saw a familiar face of a blogger. I knew he works in London and he is back in Malaysia during this period, and he will visit Singapore too. To confirm, I stalked behind him, just wanted to see if it was really him. Mind you, this is the first time I became a stalker! LOL!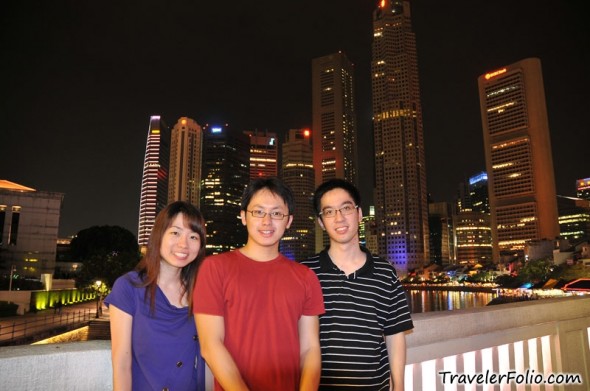 Background: Raffles Place and Boat Quay.
So, I approached him and asked if he is Cheewei (in red T-shirt). Bingo! In fact, he thought he saw me too, with my trademark specs. LOL! We met up the next day with his friend (in black stripe) and toured around the city for some nice photo shots. Cheewei has a photography blog, with professionally taken photos. If you could remember, I blogged about his site before.
**Remember Cheewei's face. Maybe one day you might spot him on the street too! XD