Contest Update
Good News! The Prize for "Win a Holiday in Bintan" is now upgraded to Nirwana Resort Hotel Deluxe room plus a pair of Spa vouchers to pamper yourselves! Quick, join the contest now before it ends on 31 May 2011!

How to join? Click on I want a Holiday in Bintan!
A perfect weekend escape from the fast-moving city life in Singapore, it's of little wonder why spa parlors flourish over here in Bintan island, providing comfort and rejuvenation to urban dwellers seeking for a peace of mind and relaxation.
Aroma Day Spa
For pure indulgence, the world-class Aroma Day Spa offers a pampering and relaxation experience with unparalleled personal attention. Nestled in Kampoeng Lagoi Leisure Village where you can shop and dine, the traditional Javanese spa parlor uses Taman Sari spa products that are based on traditional beauty recipes from the Javanese royalty.
Coupled with fragrance oils, aromatic incense sticks, massage lotion and soft music, the ambience in Aroma Day Spa is purposefully set to unwind the mind and relax the soul, giving you the reason to skip out of the bustling city life and slip back into tranquility. Committed to achieve the highest quality standards, the professional therapists are highly trained by Taman Sari spa trainers to ensure a unique spa experience with health benefits for the discerning spa lovers.
There are many types of spa treatments at Aroma Day Spa. The signature treatments are the 45-minute Foot Reflexology basic detox, the 135-minute Aroma Refreshing Package and the 90-minute Aromatherapy Stone Massage with warm and smooth basalt stones to improve blood circulation and boost metabolism.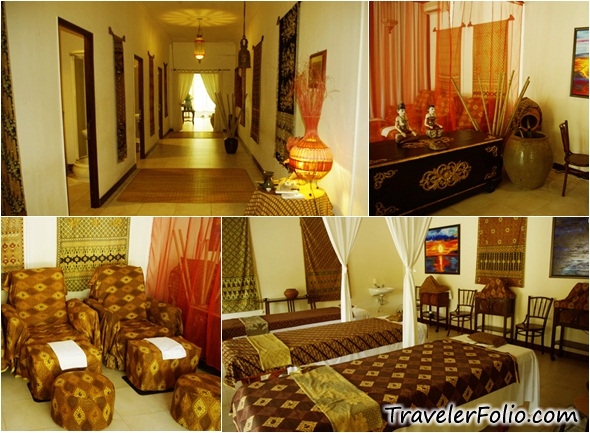 Body Scrub and Massage
Our pick? We both relished total relaxation together in the 100-minute De-stress Package with body scrub and massage. A wide range of essential oils and scrubs are available on the Spa menu for selection based on your needs. We picked the South Sea Mineral Salt Detox for powerful exfoliation to scrub away the dead skin (plenty!) and impurities. As for body massage, we can mix the essential oils so I combined the rose and sandalwood essential oils and that is effective for calming the nerves and body, to rejuvenate and recharge the senses.
Starting with body scrub, the professional therapist conducts a full body scrub during the session. Using the mineral salt, the scrub removes dead skins and provides a gentle exfoliation for a healthy skin glow, while improving blood circulation, leaving the body moisturized and invigorated. A bathtub is appointed in the spa room for shower after the body scrub.
The next treatment is massage, nourishing the body to waken your beauty from within! The therapist would apply essential oils on the body gently and ask if the person would like the massage strength to be medium or heavy. Caringly, my therapist often checked on me if I was feeling good with the spa treatment. The real thing was I felt so relaxed and pampered. Such luxurious spa is further delighted with complimentary Jamu drink at the end of the session.
Cafe Tempo
Just a level above Aroma Day Spa, you may want to check out Café Tempo. We dropped by the chill out place to try the signature drink – Diabolo Mint. As the name suggests, it has a minty flavour and is very refreshing. Open 4 pm till 1 am daily, there will be live band performance every Saturday night.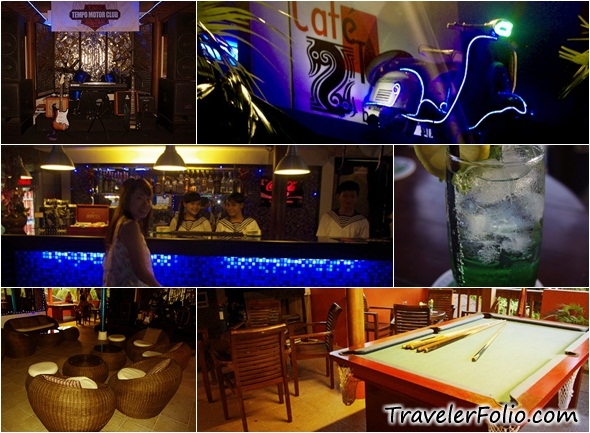 How to get to Aroma Day Spa
If you sign up for a spa package with Aroma Day Spa, a two-way transport is provided. The transport will pick you up from your resort and drop you at Aroma Day Spa. Click on Aroma Day Spa for more information and reservation.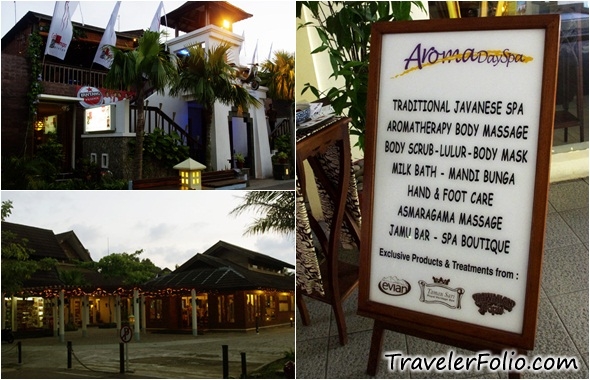 Pasar Oleh Oleh
Tips: From Aroma Day Spa, you can cross over the road to Pasar Oleh Oleh, Bintan Resorts' very own market place where you can hunt for local Indonesian delicacies such as keropok (crackers), dried seafood and kueh lapis (layered cake) that cost only about half the price of those sold in Singapore.
As an integral part of the cultural heritage of Indonesia, batik apparel and items make a good gift. Here, you can also find a substantial range of colourful sarongs, batik shirts and drapes, perfect for beach wear. Angklung (musical instrument made of bamboo tubes) and Indonesian style wood carvings are some unique finds as well.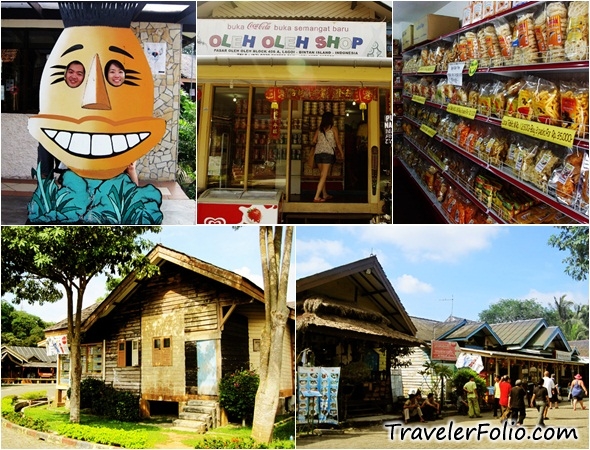 Do pop in Bintan Resorts Souvenirs shop at Pasar Oleh Oleh. A lovely range of batik bags and stationery, colourful print t-shirts, towels, keychains, plush toys are among other good quality souvenirs to bring home.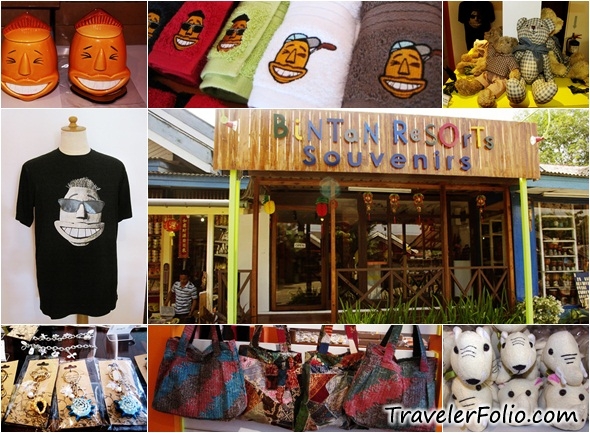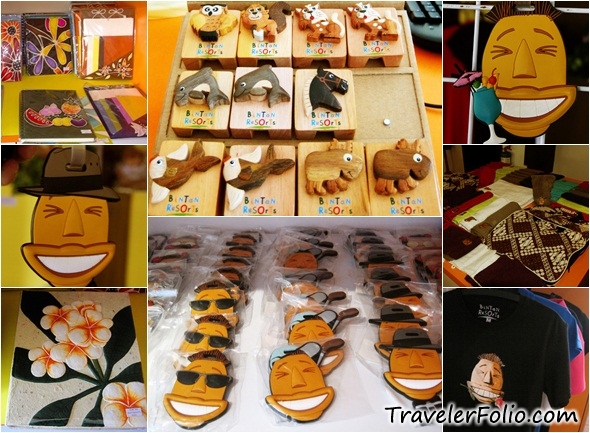 You can also walk in to find out more about the day tours conducted by Bintan Resorts Cakrawala (BRC tours) at the Bintan Office located at the entrance of Pasar Oleh Oleh. Of course, BRC tour reservations can be made at your resort. More on BRC website (We booked the popular Bintan Mangrove Night Tour with BRC Tours; I'll blog about it.)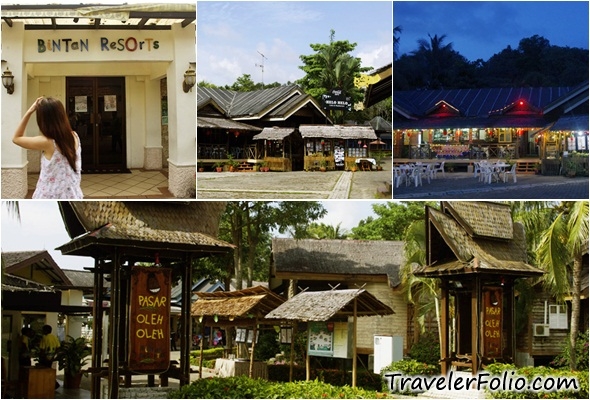 Day Pass to Pasar Oleh Oleh
With a Day Pass, you get unlimited shuttle bus rides at S$5 (Adult) and S$3 (Child) to Pasar Oleh Oleh. You can purchase the Day Pass at your resort. These are the stops where you can catch the shuttle bus service: Mayang Sari, Nirwana Beach Club, Nirwana Resort, Angsana Resort, Ferry Terminal and Kampoeng Lagoi.
Tips: If you sign up for a spa package at Aroma Day Spa, a two-way transport is provided for your spa appointment and you can visit Pasar Oleh Oleh that is just opposite Aroma Day Spa, without the need to buy the Day Pass.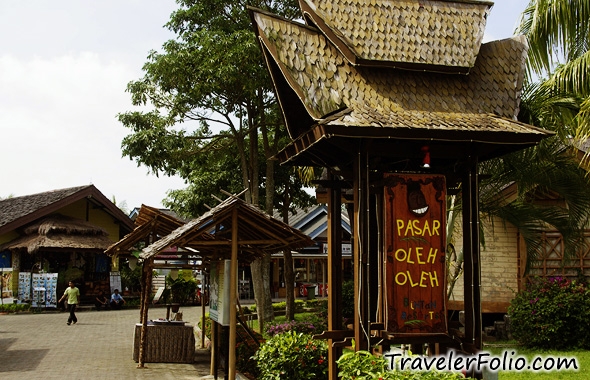 More updates on our 3D2N holiday in Bintan pretty soon!
Read all blog posts on Bintan holiday.