Think of a holiday, an escapade from the daily hustle and bustle. An island destination with fine powdery sand, crystal clear turquoise water and pristine beaches where the sun greets you warmly.
Picture this.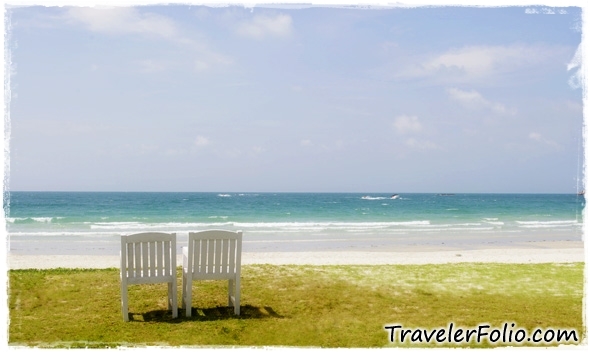 You don't have to wait for airfare promotions nor endure a long coach ride for a beach retreat. In less than an hour's ride from Singapore, the pace of busy urban life screeches to a halt as the ferry arrives at Bandar Bentan Ferry Terminal in Bintan.
A Holiday at Bintan Resorts
On the picturesque coast of the largest Riau island of Indonesia, relaxing beach front resorts hotels, restaurants and activity centres dotted the tropical shoreline facing the majestic South China Sea. Also known as Lagoi, Bintan Resorts cover the entire northern coast of Bintan with different styles of accommodation from rustic beachside chalets to family resort hotels and bungalows. For golfers, the unique golf destination boasts four designer golf courses nestled amidst the lush green rainforest without traffic noise and tall buildings looming in the distance.
While adrenaline junkies can try their hands on kayaking, jetskiing, wakeboarding, banana boat rides, go karting and ATV among others at the extensive sea sports facilities and activities centres, nature and heritage lovers can join discovery tours to meet the wildlife and indigenous folks. Discerning spa lovers will be spoilt for choice with a wide range of spa treatments follow by shopping and great dining experiences.
TravelerFolio partners with Bintan Resorts to invite our Facebook Fans to join a simple contest to win a 2D1N Bintan holiday + a pair of Spa vouchers!
How to win
Step 1: If you are not our Facebook Fan yet, click both the "Like" buttons to become one.
Step 2: Fill in the Bubble Contest and stand a chance to win a 2D1N Bintan holiday for two persons at Nirwana Resort Hotel Deluxe room and a pair of Spa vouchers. Inclusive of return ferry tickets and transfers.
Email to promotions@bintan-resorts.com with:
A: [your text] …. Example: [I wish I could stay here forever.]
B: [your text] …. Example: [I forgot my suntan lotion.]
Name:
Date of Birth: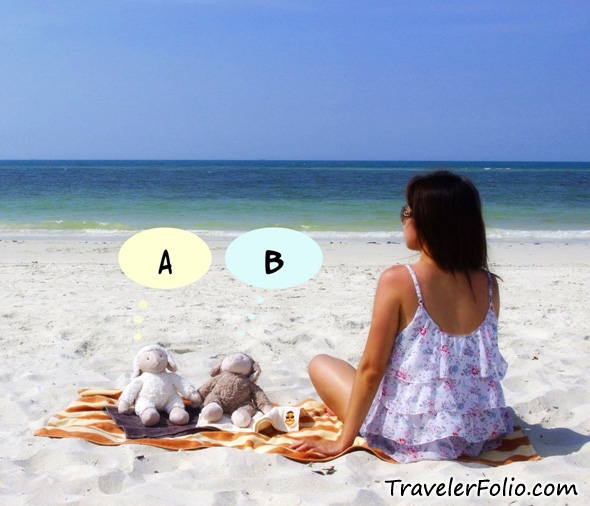 Contest ends on 31 May 2011 (2359 hours Singapore time). *Depart from Tanah Merah Ferry Terminal of Singapore.
You are encouraged to subscribe to TravelerFolio RSS / Facebook / Twitter for any upcoming giveaway.
Get your creative juices flowing!
How to go to Bintan Resorts
Daily ferries operate between Tanan Merah Ferry Terminal (Singapore) to Bandar Bentan Telani Ferry Terminal (Bintan).
Built by Damen Shipyards in Netherlands, Bintan Resort Ferries (BRF) provides safe and pleasant journey for holiday makers with four catamaran ferries that feature high tech navigation and engineering monitoring systems, and the capability to improve the stability in choppy seas for a smoother ride.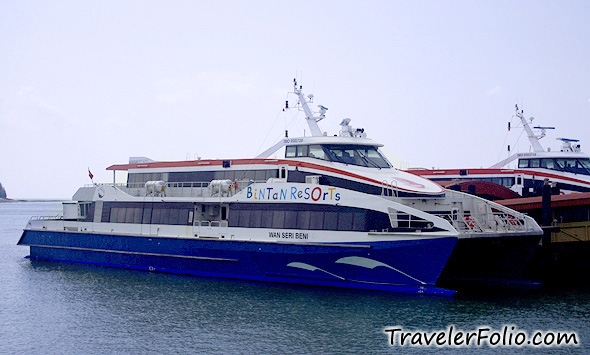 BRF offers two classes – Economy and Emerald. Out of 300 seats, 57 premium seats are allocated to the Emerald Class on the upper deck of each ferry. Skip the queue at the immigration and it makes clearance a breeze for Emerald Class passengers with dedicated check-in counter before heading for complimentary refreshments.
Only available at Bandar Bintan Telani Ferry Terminal at Bintan Resorts, Emerald Class passengers can enjoy the use of Bintan Executive Lounge while waiting for departure to Singapore.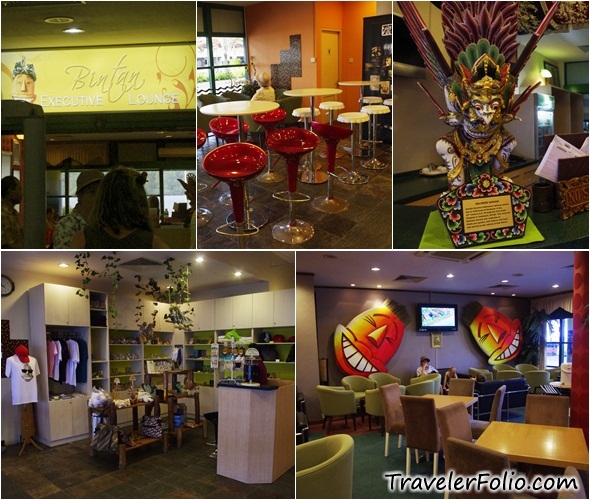 The Emerald Class experience on board
Very spacious and reclinable cushioned seats with extra legroom.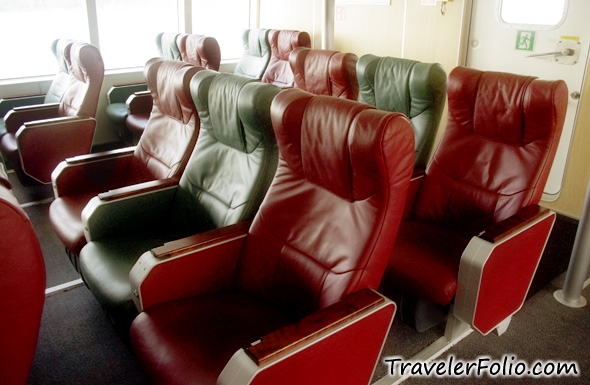 Friendly service attendants to serve the complimentary hot & cold beverages onboard.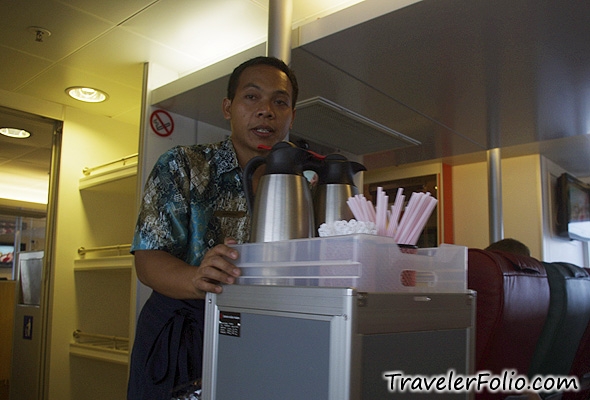 Enjoy the sea view in the breeze while sipping a cuppa on the open-deck at the rear of the new generation ferry (Wan Seri Beni and Wan Sendari are new generation ferries).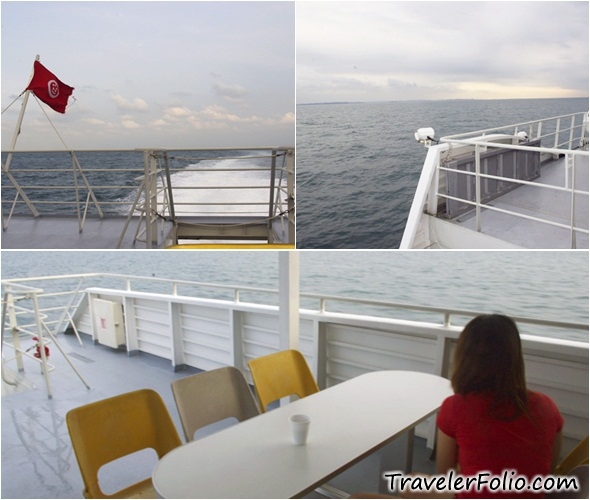 If you want to save abit, the Economy Class at the lower deck of the ferry also offers comfortable seats.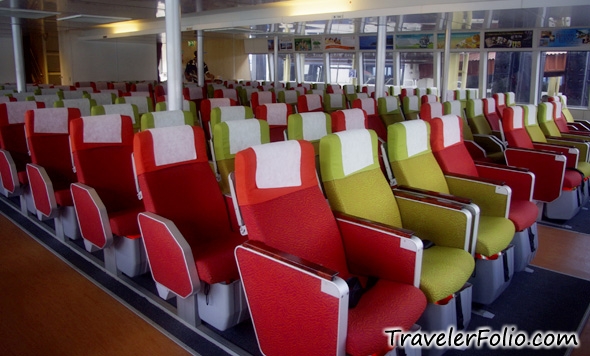 To check availability of ferry, click Bintan Resort Ferries for more info.
After a pleasant 45-min ferry ride from Singapore, we arrived in Bintan.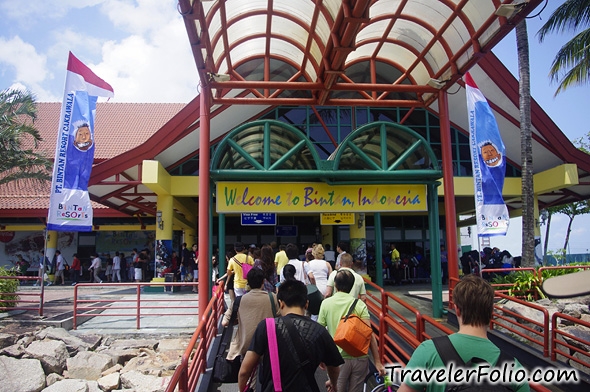 Follow us for more updates on our 3D2N stay in Bintan!