ZUJI has been a household name for online travel agency. They are like regular travel agents, but not the brick-and-mortar type of agency and you won't meet them physically. During the planning of our South Korea trip in August 2011, we tried out their service to book the air ticket online. It proves to be an easy-to-use travel tool. We managed to find the cheapest airfare and place our booking within 30 minutes. The layout of the website is easy to navigate and informative: the all-inclusive pricing is useful for price comparison at a glance, and before the final payment is made, the total summary page shows the breakdown of the airfare with additional tax and fees.
Nowadays, many like the flexibility to plan for their holiday at the comfort of home through the Internet, while doing own research at the same time without hard-selling travel agents. This is a very simple, safe and user-friendly platform even for those who are not very IT savvy and want to book a great promotional deal online.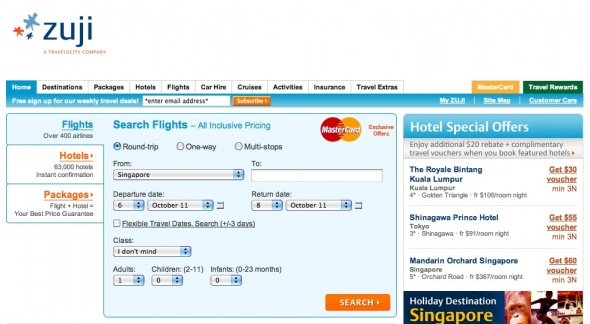 Zuji has a network of online travel sites in Australia, New Zealand, Hong Kong, India and Singapore, with a choice of more than 400 airlines, 60,000 hotels and thousands of car hire, activities, attractions as well as travel insurance. And sometimes, you can find the best travel deals exclusive to ZUJI. Remember to join Zuji Facebook Fan Page to get the latest travel deals.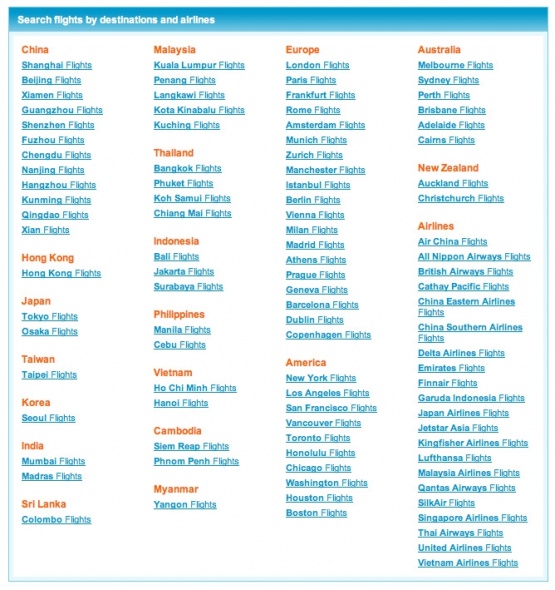 Searching for the best airfare is easy peasy with ZUJI's real-time search engine: just enter your place of departure and destination, and the dates of departure and return. The search engine, after searching through 400 airlines, will return a neat table showing the summary of the lowest airfare for your query. If you have flexible dates, you will also see the airfares for the dates before departure and after arrival. If you have a preference for certain airline, you can also change it on the sidebar conveniently.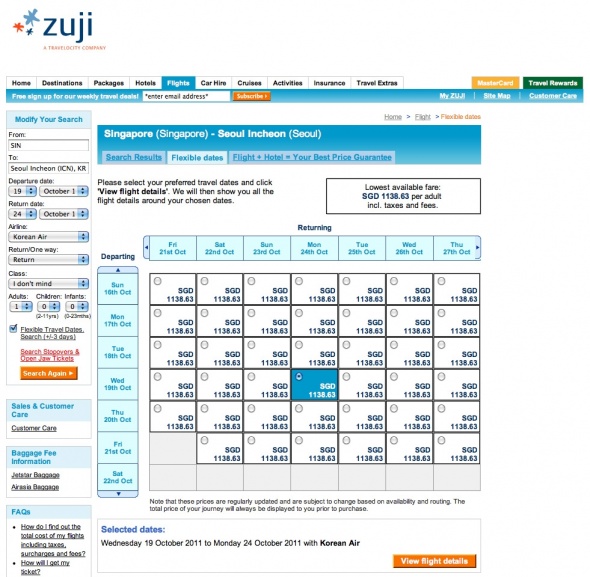 After the air ticket is booked, you can login to Zuji to see your reservation details. An e-ticket will be issued and with the e-ticket, you can do an online check-in before departure.
All in all, my experience with Zuji has been reasonably well without any hiccups. We will use it in the future!
Interestingly, the word 'ZUJI' is an English derivation of the Chinese/pinyin word for 'footprint'!
About ZUJI
In 2005, 2006, 2007, 2008 and again in 2009, ZUJI® was recognised as Asia Pacific's 'Best Online Travel Agent', as awarded by TTG travel magazines in Asia Pacific. ZUJI was also awarded as the 'Best Online Travel Agency' in 2007 by the Travel Weekly (Asia) Industry Awards. 'Condé Nast Traveler' magazine (March 08, US-edition) announced ZUJI as the 'Best Travel Website for flights in Asia'. ZUJI was conferred the 'Asia's Best Brand' by the first ever CMO Asia Awards 2010.
ZUJI gives travellers in Asia Pacific online access to real-time travel bookings for thousands of hotels and hundreds of airlines, as well as bringing cruises, car hire, attraction bookings, package tours and other inspirational travel offers, products and tools online.
Each ZUJI site is unique. ZUJI has teams and operates travel websites in: Singapore, Hong Kong, Australia, New Zealand ('Travelocity New Zealand), and India ('Travelocity India' and Travel Guru), as well as many 'Travel Partner Network' sites throughout Asia Pacific.
ZUJI is owned by Travelocity®, an international leader in online travel. Travelocity is owned by Sabre Holdings Corporation, a world leader in travel commerce.