Peer-to-peer rental space for short-term accommodation is a rather new concept in providing accommodation to travellers. Many have heard of it, however, more have not made use of such service. We had the opportunity to get an accommodation from Roomorama.com during our trip to Seoul, South Korea. In fact, one of the two founders, Jia En, is a Singaporean entrepreneur based in New York and just started their Singapore office in May this year to expand into the Asia Pacific region.
Roomorama website for booking quality accommodations.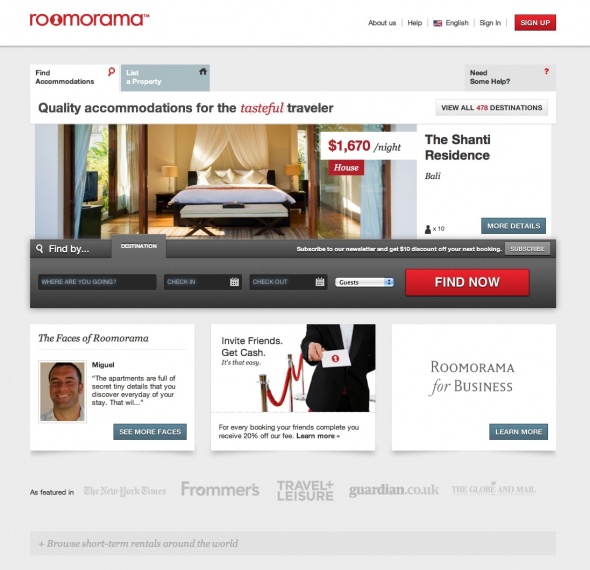 The concept is simple. Homeowners will list their properties for rent on Roomorama.com, and travellers will search for suitable accommodations from the listed properties, usually at a fraction of standard hotel rate. Both parties can communicate and interact with each other, and eventually, transact securely through Roomorama website once the booking/reservation is confirmed. Currently, Roomorama has properties listed on 478 destinations worldwide.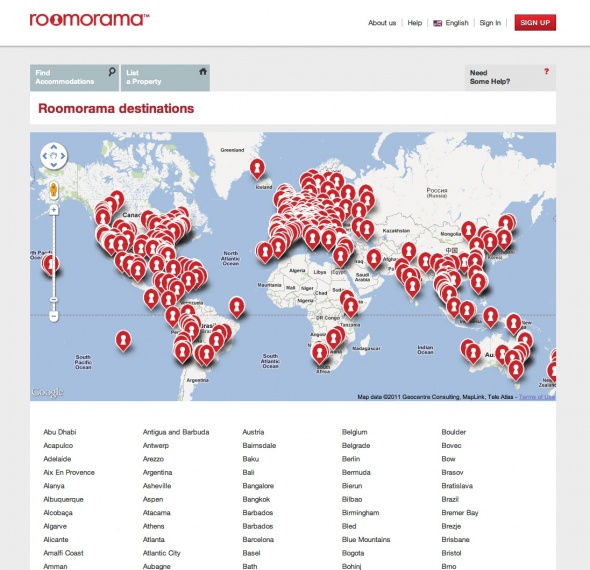 The listing of accommodations for Seoul shows prices range from US$12 to US$100 per night in various locations, including those near the city centre like Myeondong and DongDaeMun – hot locations for shopping! Those in the lower price range are suitable for backpackers. With a little more budget, you can find a good accommodation that is of mid-range to high-end, and that's still at a price lower than a standard room rate of a hotel.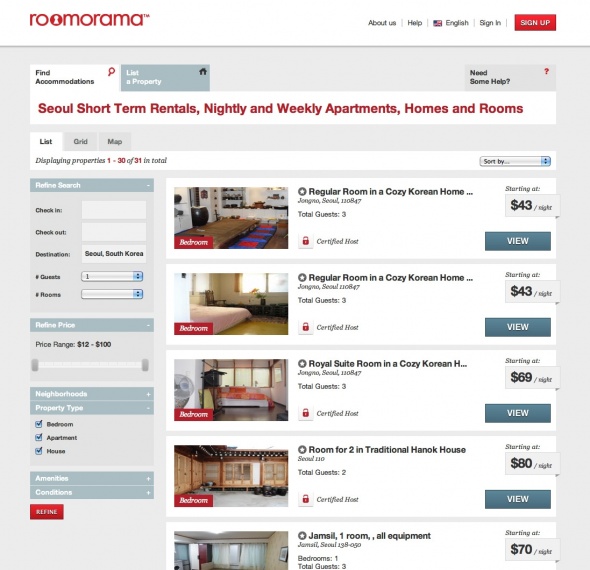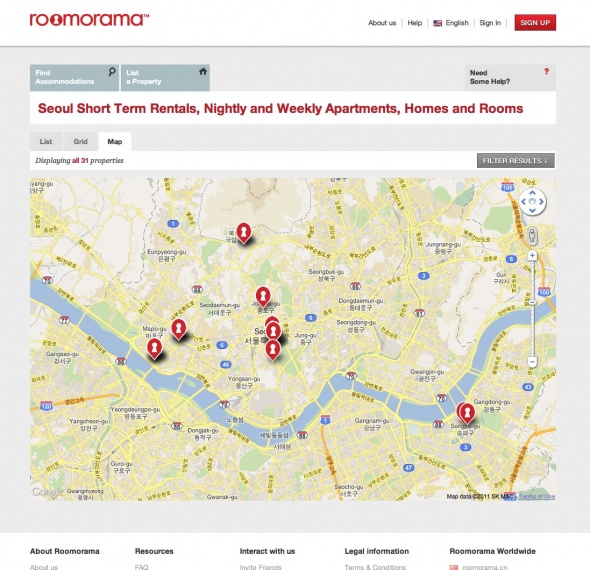 From Roomorama, we found a hanok, a traditional Korean house, a home stay located in the historic area of Anguk where many lovely hanoks and palaces are located within walking distance. It proves to be a unique experience of communal living, an unforgettable one!
Checkout the Roomorama website for details on how it works and some frequently asked questions. Some features that I find it useful are as follows: –
Your payment is secure. When you make a payment, you will receive a payment code from Roomorama. You will need to give the payment code to the host/homeowner upon your arrival. The fund will only be released to the host when they input the payment code into the system.
Look for an accommodation with a Certified Host. A Certified Host is verified to be a trustworthy member of the Roomorama community who has completed at least 3 stays with good reviews.
There are 3 types of listing on Roomorama: a house, an apartment or a bedroom. A house or an apartment is suitable for groups such a families, friends and corporates . As for the bedroom type, you might or might not be staying with the host/homeowner (do contact the host and ask questions about your preference before booking). If you can stay with the host and family, here is your chance to interact with the locals and learn more about their culture, tradition and lifestyle!
If you have any difficulties in locating an accommodation, contact Roomorama customer service. They are very responsive and professional.
When it comes to peer-to-peer rental, the first thing that comes to mind is low cost accommodation. Many do not regard their accommodation as part of the travel experience; tourists just need a place to rest after the long and tiring day out. For a change, browse through the list of accommodations on Roomorama.com and you will find a variety of accommodation styles suitable for families, honeymooners, budget travellers, friends, and any discerning traveller who is looking for a unique accommodation. Check out some of the current accommodations featured on Roomorama.com.
Villa Coralina, a house in Dominican Republic, from US$1,200 per night, 5 bedrooms, maximum 10 guests https://roomorama.com/short-term-rentals/rio-san-juan/house/18291
Casa Brio, an apartment in Bali, from US$750 per night, 4 bedrooms, maximum 8 guests https://roomorama.com/short-term-rentals/bali/apartment/19789
The Shanti Residence, a house in Bali, from US$1,670 per night, 5 bedrooms, maximum 10 guests https://roomorama.com/short-term-rentals/bali/house/19780
Oberon's Views, an apartment in Sydney, from A$221 per night, 3 bedrooms, maximum 6 guests https://roomorama.com/short-term-rentals/sydney/the-eastern-beaches/apartment/12875