Getting around Hong Kong
MTR (Mass Transit Railway)
In Singapore, we called it MRT. In Hong Kong it's MTR, the most convenient mode of transport in the densely populated cosmopolitan city. Check out the types of Day Pass for Tourist, Disneyland Resort Line, Tourist Cross-boundary and Airport Express Travel on the MTR official website.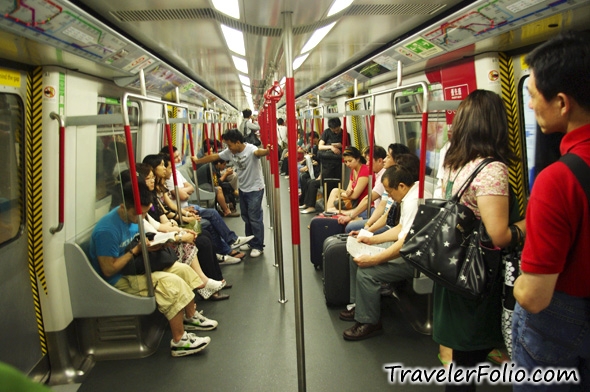 Wan Chai MTR station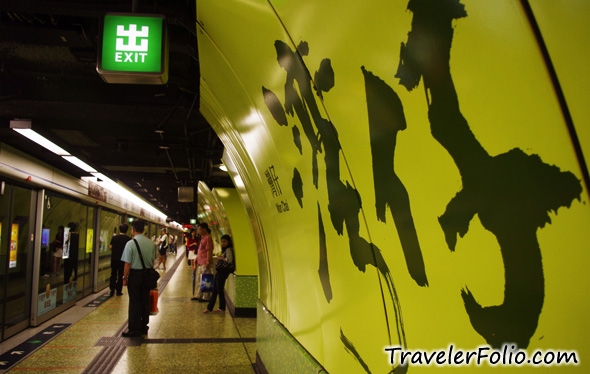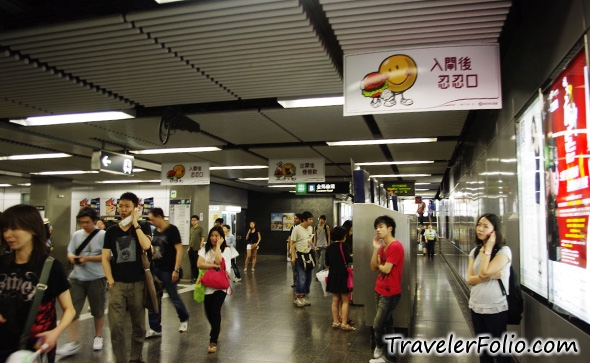 Cute cartoon signs in MTR stations that literally mean "no eating" and "walk slowly".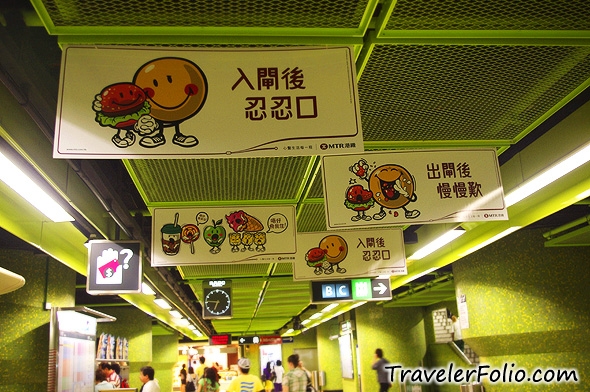 Hong Kong is very tourist friendly. The MTR map at the station is illustrated with places of interest for easy navigation and travel suggestions.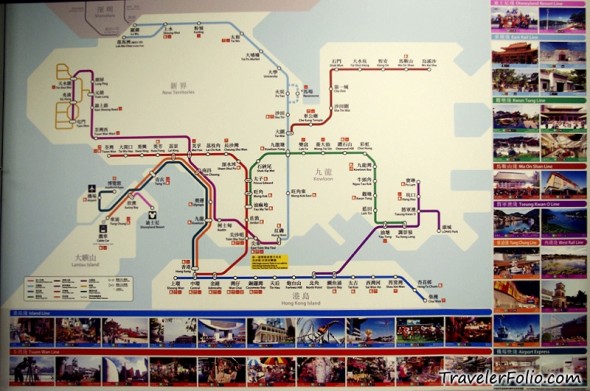 Trams (Hong Kong Island)
An interesting and inexpensive way for sightseeing on Hong Kong Island is to hop onto one of the colourful trams running on tracks that loop around the city centre. An Adult tram fare costs HK$2/- regardless of distance. More info on HK Trams.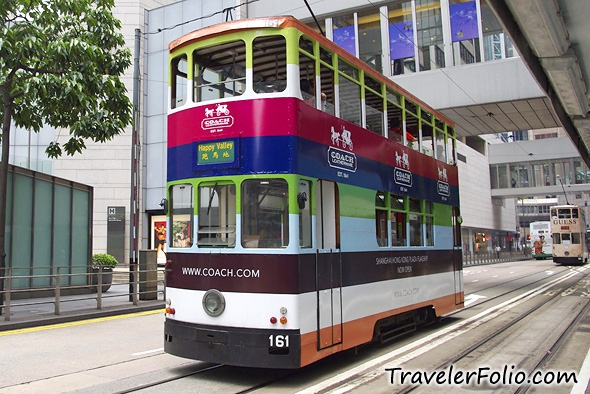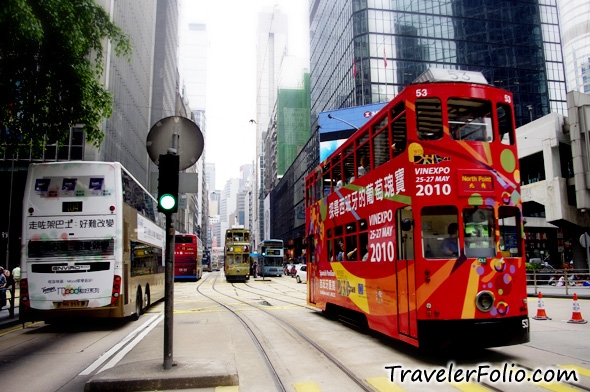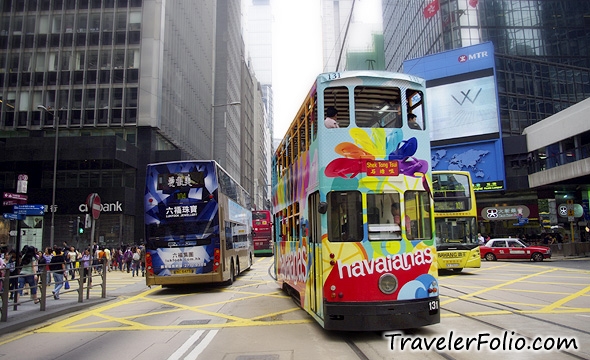 See how close the tracks are spaced apart each other. We were on the tram in the opposite direction.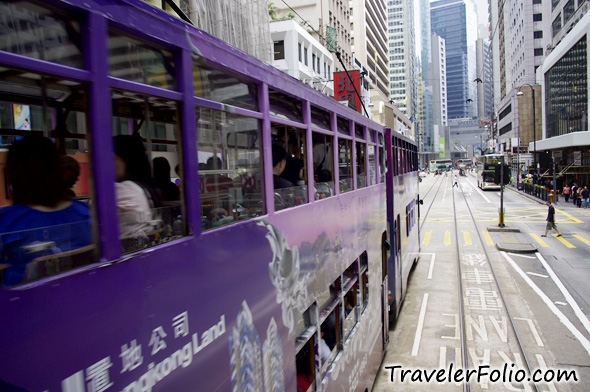 You get onto the tram from the back.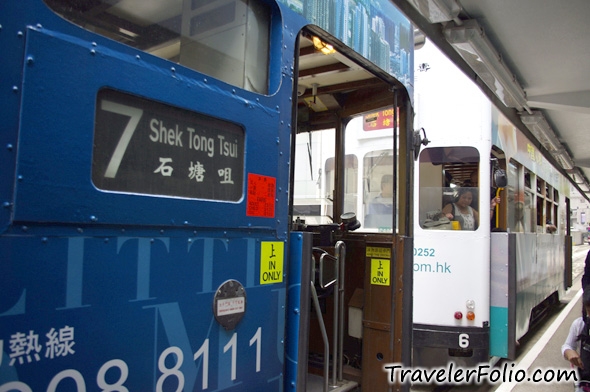 Public Buses
To search for the bus routes and fares, here are the official websites of the bus operators:
Citybus, NWFB and KMB.
More info from the Transport Department.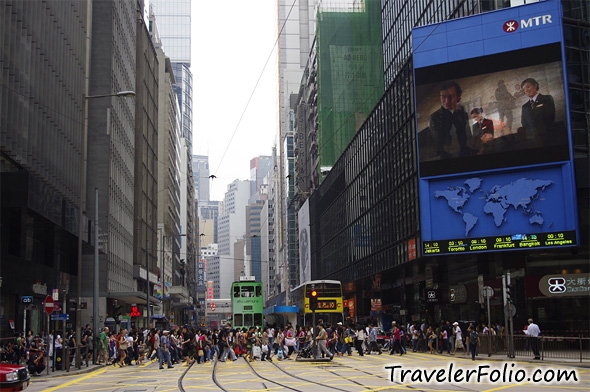 Trams, buses and cars all move along together.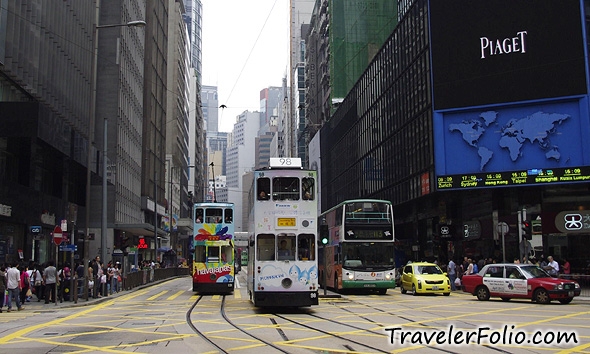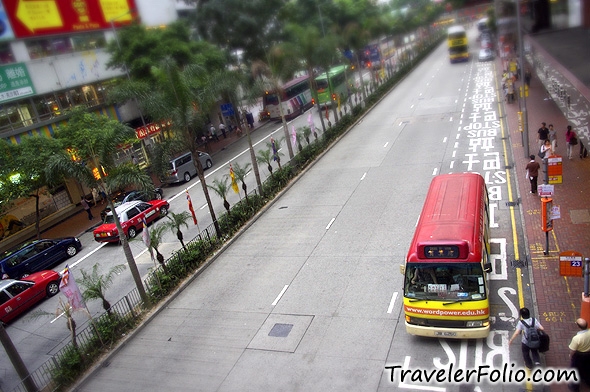 Ferries
The ferry ride from Star Ferry Terminal in Tsim Sha Tsui (TST) in Kowloon to Central on Hong Kong island is highly recommended for tourists. It's just a short ride but very authentic with the iconic city skyline in the horizon.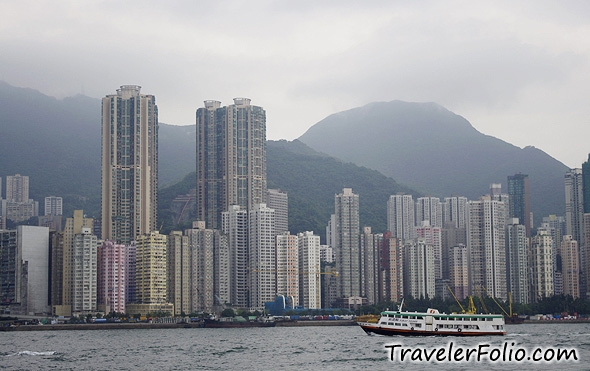 Taxis and … Walk!
There are plenty of shopping to do and great eateries around the nooks and corners.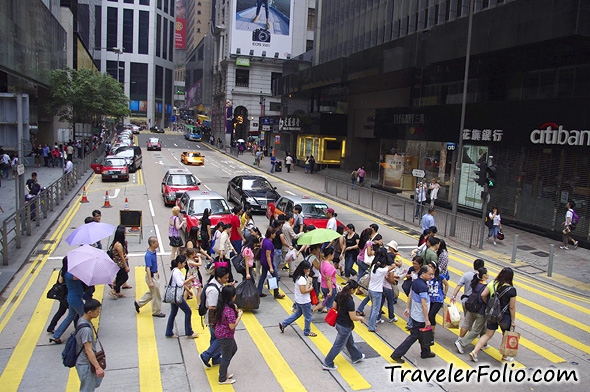 Popular Night Street Markets
Ladies' Market (女人街) at Mong Kok (旺角): Take the MRT to Mong Kok station. Follow the signs that direct you to the night market. It is opened since daytime but the crowds come at night.
Temple Street Market (廟街) at Yau Ma Tei (油麻地 aka Waterloo): Take the MTR to Yau Ma Tei station and follow the direction signs to the market. This market is close to a temple where there are Chinese palm readers, fortune tellers and street buskers. (My friend suggested MIDO Cafe on Temple Street – a very retro-Asian style cafe.)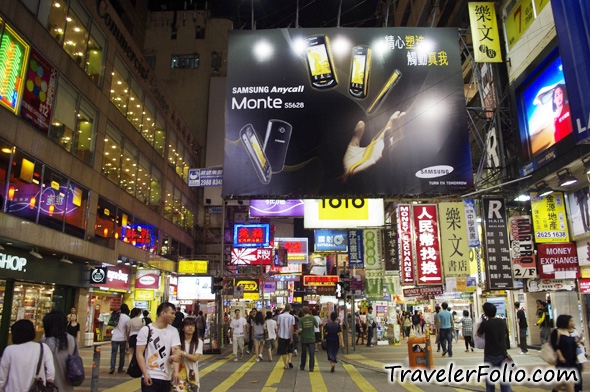 Lan Kwai Fong (蘭桂坊) is Hong Kong's well known clubbing area in the Central on Hong Kong Island. Take the MTR to Central station and Exit D to Lan Kwai Fong. Soho, the entertainment area with international restaurants and bars is closeby.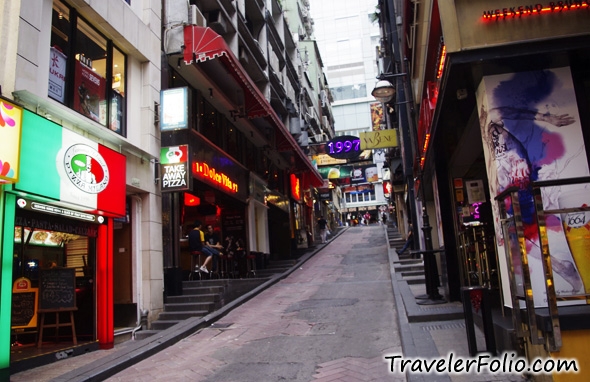 This slope is steeper than it seems here.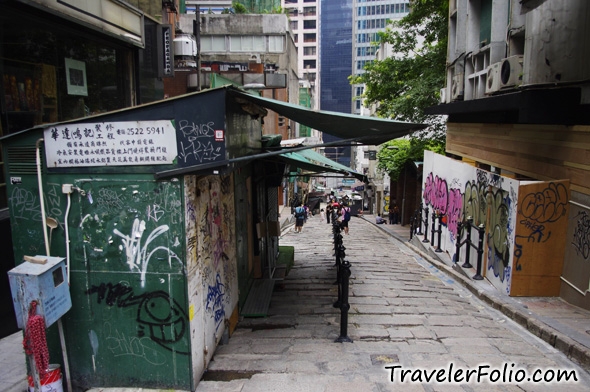 Graffiti on the wall.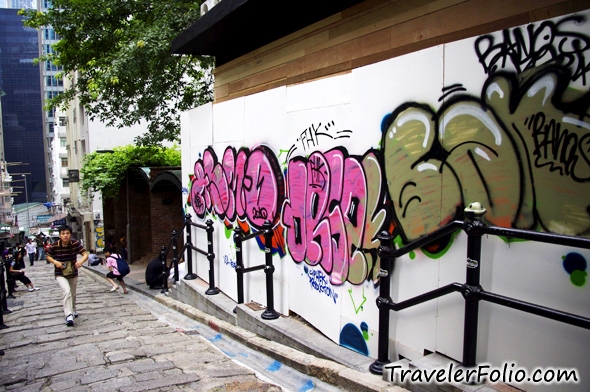 People playing football on the road that is closed (perhaps on weekends).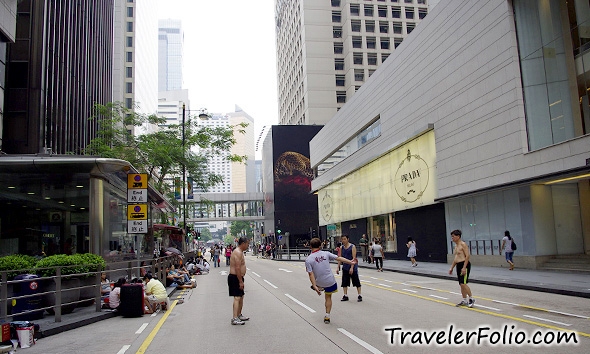 Creative little setup for gathering with friends!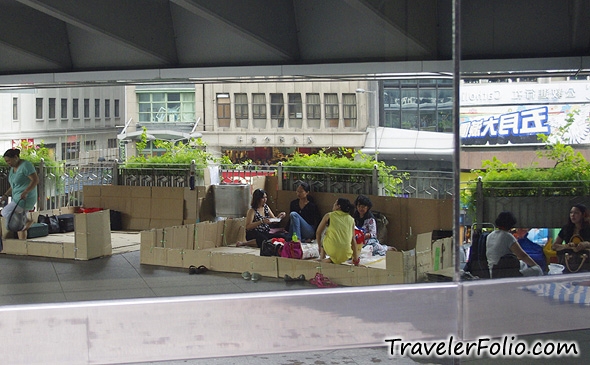 Fish signboard.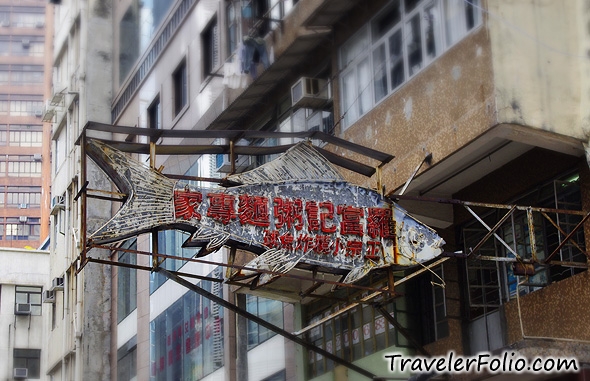 Housing with laundry on bamboo sticks outside the windows.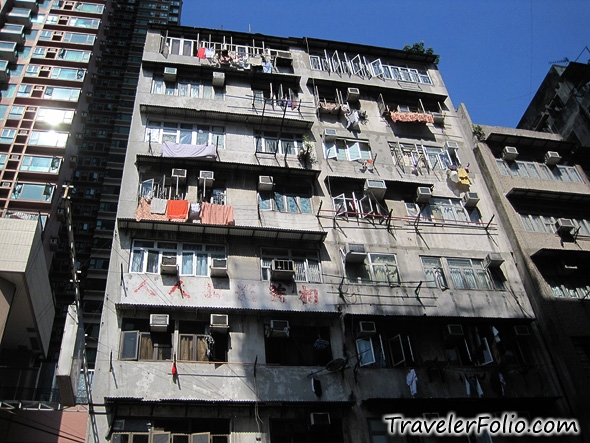 Interesting buildings at Kowloon.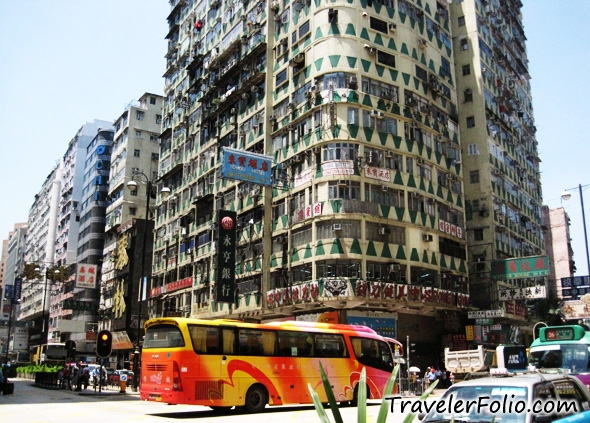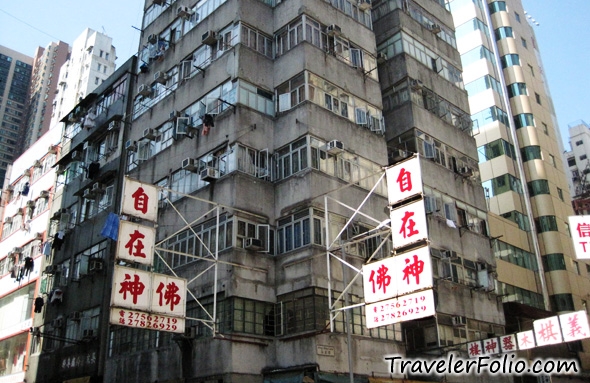 The city streets are lit up with neon signs as dusk falls.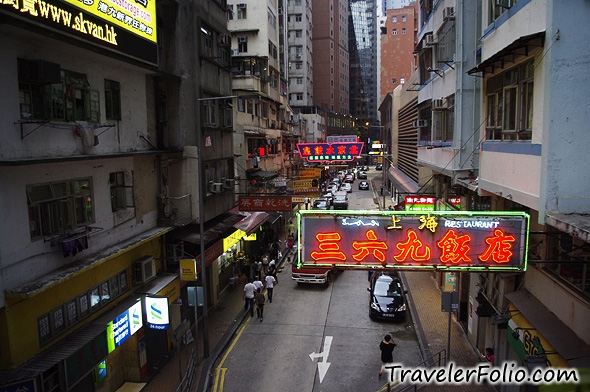 Mahjong is such common social activity in Hong Kong, even the bride plays Mahjong during the wedding banquet!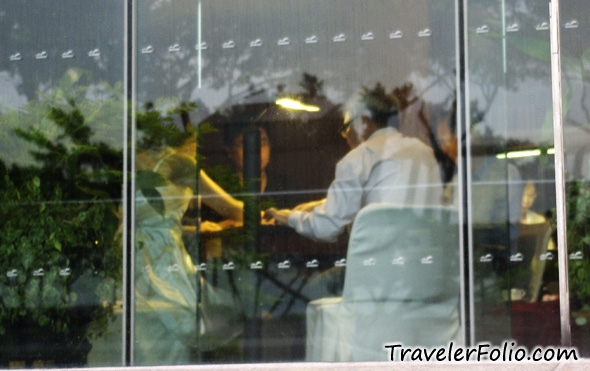 Mahjong centre.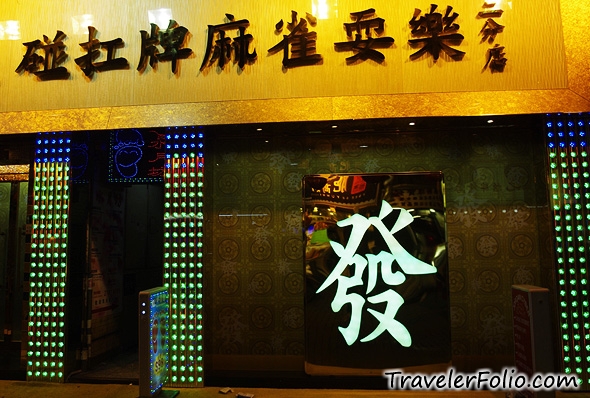 Hong Kong Police Force.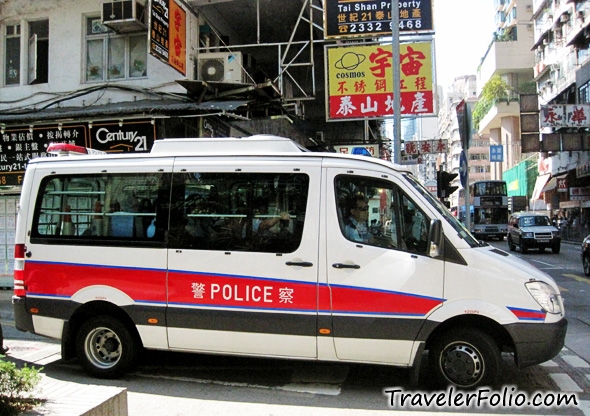 TVB! Too bad there was no celebrities in the minibus.
Read blog posts on Hong Kong delicacies and island hopping on Cheung Chau and Lantau island.