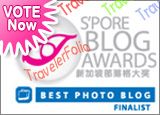 Voting finally ended, after rallying for votes for the whole month of July. Results will be announced at award presentation ceremony on 5 Sept 08. Whether I make it or not, I definitely owe you the result for S'PORE Blog Awards Contest! I will publish the result when the day comes! Thank you for your patience in casting your precious votes on me so regularly!
If you like this blog, Please vote for me NOW .
Voted before? Simply key in the same email and password to vote me again. A big THANK YOU !
MSN: travelerfolio@hotmail.com/
Yahoo Messenger: travelerfolio@yahoo.com
Please follow the print screens and steps below:
Step 1: Click –> Singapore Blog Awards – Best Photo Blog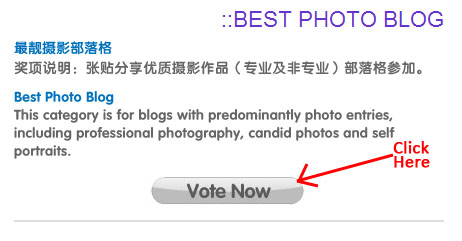 Step 2: You can still vote regardless of your nationality. (All nationalities)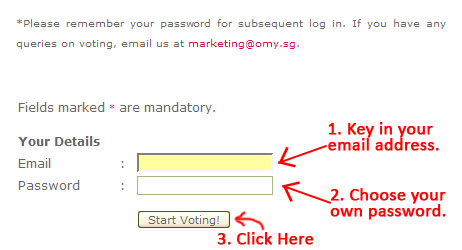 Step 3: Fill in your details.
3 lucky voters stand a chance to win trips to Thailand and Vietnam! Hope that you win!!
NOTE: I/C. No refers to Identity Card No. used in Singapore. If you are not a Singaporean, you can use any IDentity No (such as passport no, driving license no) to register. No worry, this is just to prevent repeated votes and to identify you if you win the lucky draw. All particulars are kept confidential.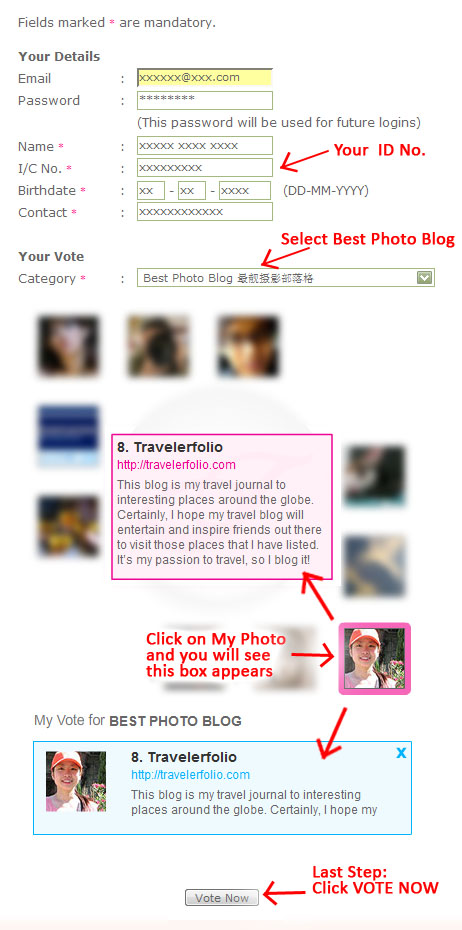 Please
vote

for me

everyday

, till 31 July.

Any difficulties that you face during voting for me, please leave your comment here, I will help. Don't give up on me!
A big

THANK YOU

!
~ ♥ Eunice ♥ ~