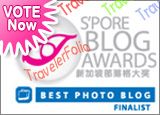 THANK YOU my dear supporters, for visiting Travelerfolio.com and casting your precious votes on me!
First, I want to Thank the following friends who go the extra miles by placing my Vote Button on their blogs and run the contest with me! Please visit their blogs, it's definitely worth your time! (Omy S'pore Blog Awards contest ends on 31 July)




































And not forgetting the rest of my dear friends who have been voting for me everyday –
A big THANK YOU!
Bridge ♥Jasper ♥Cheewei ♥Yenzz ♥WhiteYin ♥r1ooooo ♥DDschroeder ♥Budget Traveler ♥Aswani ♥Jihan ♥Bong ♥Danah ♥TNH ♥Jasmine ♥Shaxx ♥Paid Program Info ♥Webbie Stuffs ♥Jean ♥Blogscope ♥Jua ♥Blog Heaven ♥Cecile♥Fab ♥Terence ♥Miss Q ♥MarlyMS ♥Serene ♥Ana ♥Barbie ♥Piggy ♥Micah ♥Sweet Pinay ♥Dale ♥Maricel ♥MeiWah ♥Milet♥Tonymdy ♥Claire ♥CrotchetyOldMan ♥Craftymug ♥Kathryn ♥NatashaR ♥Wigwam ♥Delaney55 ♥emarketscout ♥Air Sick ♥Travel Wonders of the World ♥
…sorry if I have missed out your link here, just leave your URL in the comment box here. Thank you!