A Taiwanese food variety show recommended this Quan An Ngon restaurant, which is located somewhere in between Nguyen Du St and Han Thuyen St. The nearby attractions are Reunification Palace, Notre Dame Cathedral and Central Post Office, and we walked there after the meal in this restaurant.
So is the food nice here? I can't comment much as I only tried three dishes. I would say this restaurant is mostly visited by tourists, thus, I find that the dishes are not really up to value and the food was just average. Three such dishes and two ice coffee cost around 123,000 VND. Pretty plain.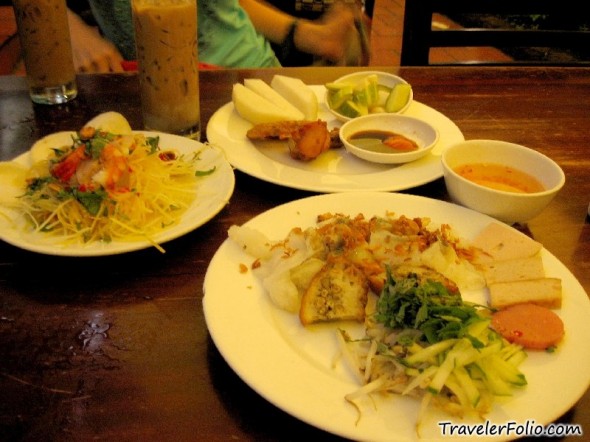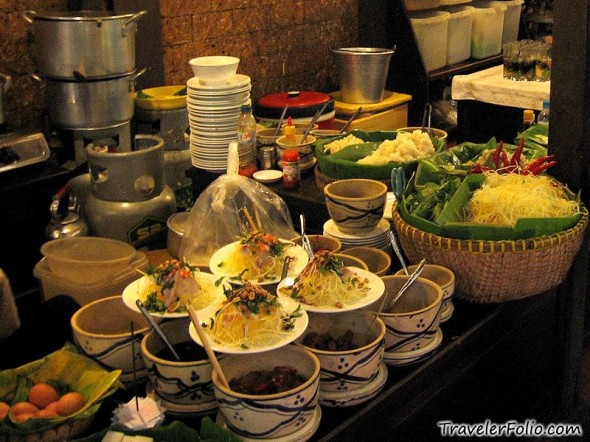 Making desserts.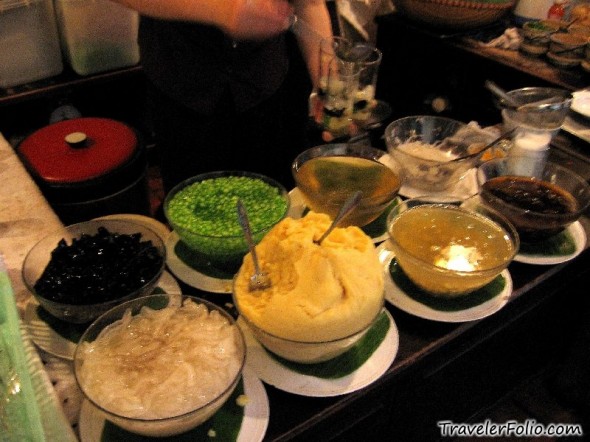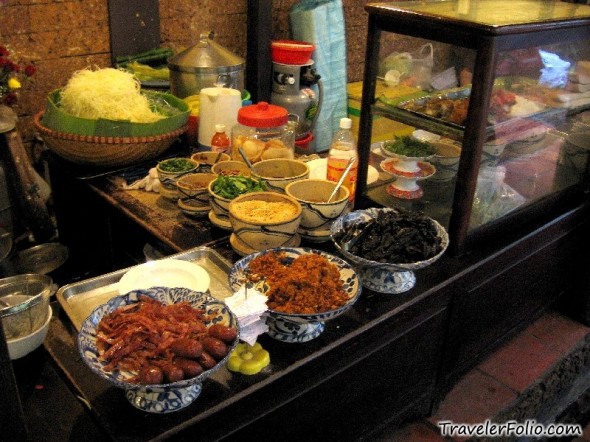 You will probably spot "Pho24" eateries located in many corners of the streets. This bowl of beef noodle, together with the raw vegetables, costs 38,000 VND. We realised that most dishes in Vietnam are not as hot as we expected. Probably because the noodles are not warmed up first before adding into the soup.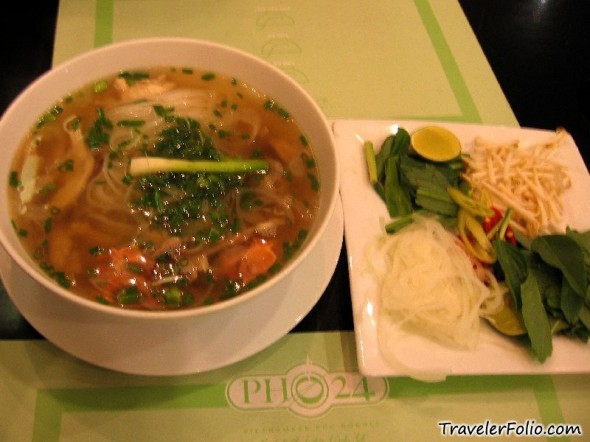 This big big pancake wrapped with vegetables, pork and prawns was tasty! Most Vietnamese food that we tried before tasted rather plain. But this one had a delicious taste of prawn paste. It cost 29,000 VND. This is a nice little cafe of 3-storeys that also serves wines, beers, cocktails and western food too. The cafe is located in La Vang Cafe located at 169 Bui Vien St. at District 1, Ho Chi Minh City, in the backpackers' area.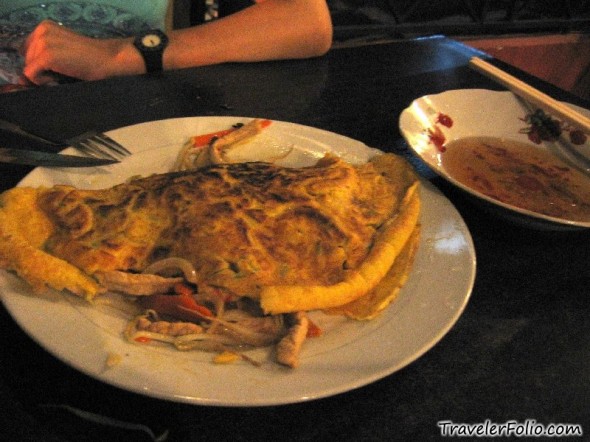 Vietnamese coffee – strong! But the downside of it when using such container to "drip" the coffee, is that the coffee turns cold after it has finished dripping! We had early dinner at Ngoc Suong Marina located at 19C Le Quy Don, HCMC. This is a middle-range restaurant too.
We expected the hot pot to be hot and spicy, but it was sweet! zzz… This dish cost more than 12,000 VND, and we felt that it was not worth the value.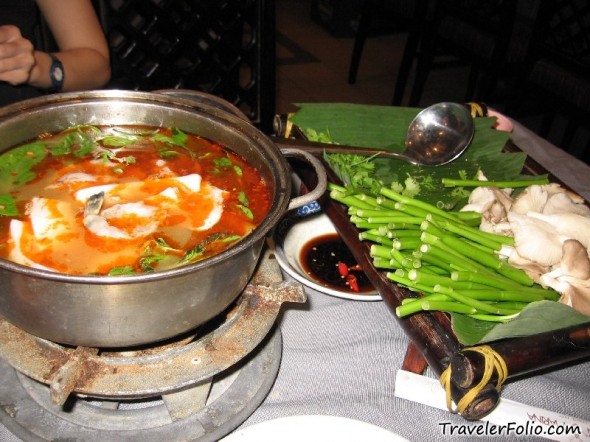 This prawn cake drumstick was nice.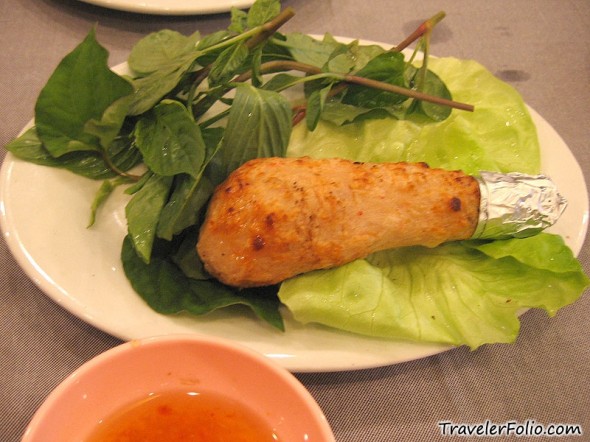 Everywhere we saw Vietnames rice paper spring rolls and we decided to order some. However, these were too dry and the rice paper was thick and hard to chew. They were served cold. My tour mate dislikes eating peppermint leaves, yet these spring rolls had peppermint leaves wrapped inside.
This hot pot was really hot with fire heating it at below. It was not Vietnamese food but was a Macau dish, with a big chicken drum stick and herbal soup. It's just right for my taste buds! It cost 48,000 with a bowl of rice. We had the meal at a food court at Parkson shopping mall (the investor should be from Malaysia).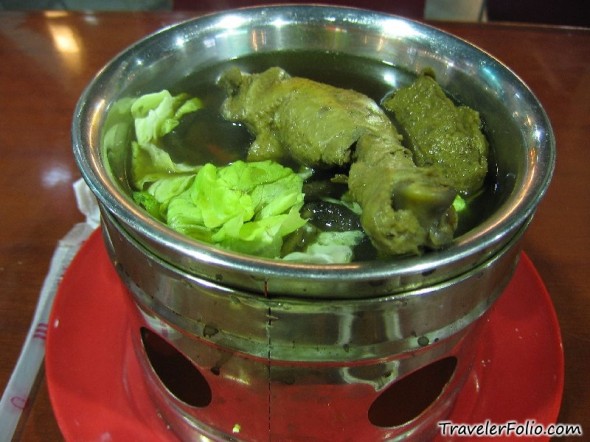 Highlands coffee in Vietnamese style?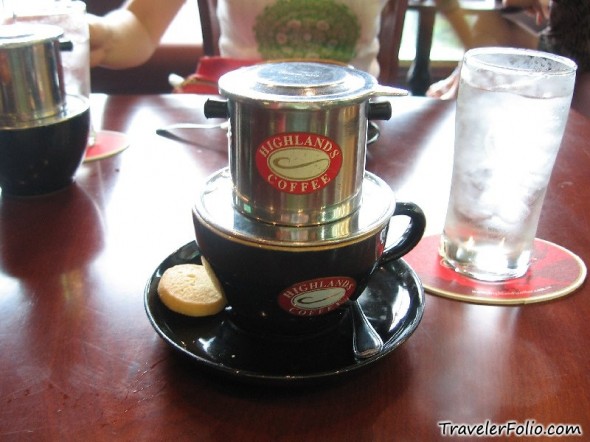 "Finger lickin' good" – The chicken portions were a lot bigger than those in Singapore KFC restaurants. Er, KFC is not Vietnamese food, but Vietnamese chickens?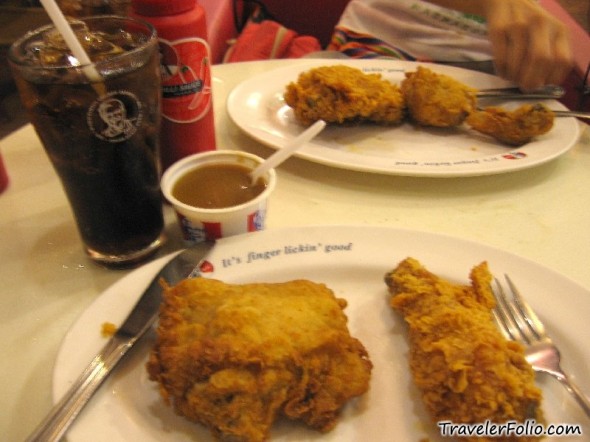 This set of big breakfast is our daily breakfast at Blue River Hotel! Nice crispy French loaf with a tiny sausage, a sunny side up, a banana, a plate of other fruit and a cup of coffee or other drinks.