Earthquake News Update on 2008-05-27 16:06:13
China earthquake death toll rises to 67,183… two fresh aftershocks struck earthquake-hit areas in southwest China on Tuesday afternoon. A 5.4-magnitude aftershock hit Qingchuan County in Sichuan Province at about 4:03 p.m. and another 5.7-magnitude aftershock hit neighboring Ningqiang County in Shaanxi Province, according to the China National Seismological Network.
"Judging from previous earthquakes of a similar magnitude, this time the aftershocks may last for two or three months, and it's not relatively long," said He Yongnian, former deputy director of China Seismological Bureau (CSB) and a seismologist, in an online interview on xinhuanet.com. ~Xinhua.
The massive earthquake that hit Sichuan is a tragedy. The 8-magnitude quake is said to be the country's strongest earthquake in more than half a century.. My heartfelt sympathy and condolences to those affected families… Scenic photos taken before Sichuan earthquake while touring Jiuzhaigou, Chengdu and other part of Sichuan… (See scenic photos)
Videos of Sichuan earthquake. I will update with any latest videos or news.

10 mins before the 2008 Sichuan earthquake in China

Video taken by a student in a classroom in Sichuan.

The aftermath of Sichuan Earthquake: Touching moments.

Chengdu, the capital of Sichuan Province, was badly shaken during the four-minute quake, but the worst damage was in Dujiangyan City, northwest of Chengdu toward the Tibet plateau as seen in the China earthquake map below.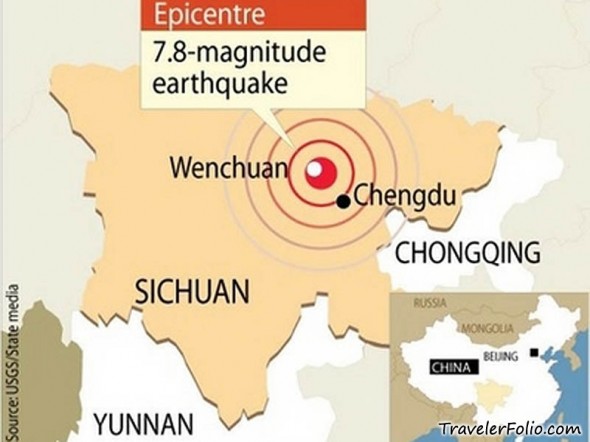 (source taken from a11news.com)