The Singapore Blog Awards has entered into its fifth year! It seems like yesterday when I won the first Singapore Blog Awards Best Photo Blog 2008 by OMY.sg, a bilingual news and interactive web portal by leading media group Singapore Press Holdings Ltd (SPH).

This year is special for me as I was 'promoted' to sit in the judging panel for Singapore Blog Awards 2012 BEST TRAVEL BLOG.
Then, here comes the Super Blogger Award! A pleasant surprise for me when the Singapore Blog Awards committee presented this honorable title to me. Together with four other bloggers, we are the first five to receive the Super Blogger Award since 2008.
I think I should share this award with Jacky, as he is the expert who helps me in designing TravelerFolio, and he travels with me, takes beautiful photos for the blog and encourages me to keep up with the blog.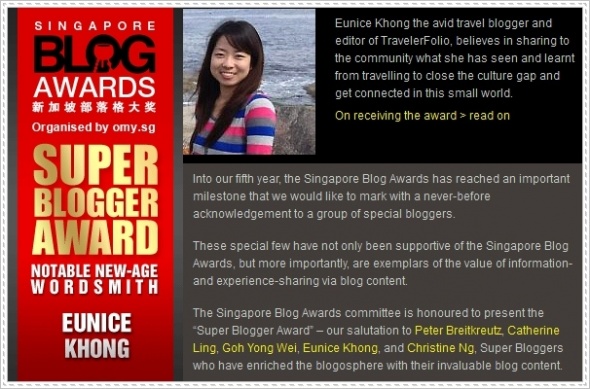 Here is a list of interview questions I replied while travelling/ hiking in the mountains in Israel last week!
1) How do you feel about receiving the Super Blogger Award?
I am thankful that my blog is recognized for this award.
2) What did you gain most during these years of blogging? How did you counter-attack any weariness that deters you from blogging? (if any at all)
I gained friendship, making friends from all over the world, meeting new cultures, exploring history in a vivid kind of way by being there myself.
Being a travel blogger, I get to explore things in a way that other people may not always have the chance, like meeting special people in the country. It's a privilege to share what I've seen and learnt through the blog that is a window to unique visions and activities. People open up their hearts to me, show me their lifestyle and leave a mark in my life.
To counter-attack any weariness in blogging, I just have to start writing about fond memories of the trip and let it flow naturally.
3) How do you think bloggers can play a part in contributing to society, either in general or in any specific area?
Bloggers can share their insights on the topics that they usually blog about, which are the information assets for the online community. Communication can pull down the barrier that divide people of different cultures and beliefs, and bloggers can use their layman tone to bring across messages that are easy to understand.
4) Given the many other social media platforms available these days, what do you think is/are the most valuable aspect(s) about blogs that the other channels not able to surpass/replace?
A blog can be customized according to what you want it to be, eg. the blog layout, design and features, in other words, it reflects your personality.
What you showcase on your blog, people get familiar with you and that brings relationships closer.
5) If you are a Superhero, who do you think you will be and why? What kind of Superpower do you think you will possess? (If none of the existing superheros match what you have in mind, create your own and tell us!)
I don't fantasize so I can't think of any that I wish to be. As I don't believe in superhero or any talent that happens overnight, I won't try to create one. I just want to live my life.
~~~
BIG Hugs to the Singapore Blog Awards committee and all our readers! XOXO