All thumbs up for Sheraton Rajputana, an ITC-Welcomgroup Hotel in Jaipur, the pink city of Rajasthan in northern India. It's the epitome of world class hospitality where the staff become your friends; you are the guest in a big luxury home. We were pampered and very well taken care of throughout our stay in India.
I've been raving about the fantastic experience with ITC hotels. We also stayed at ITC Mughal in Agra, the first Indian hotel awarded the prestigious Aga Khan Award for its Mughal architecture, and ITC Maurya in New Delhi, an architectural masterpiece that houses internationally acclaimed restaurants, including Bukhara- one of the top Indian restaurants in the world where President Obama dined in during his visit in India last November.
Some of the achievements of ITC Hotels
– awarded "Superbrand" in India for its distinctiveness in terms of historic evolution, marketing, advertising and design achievements.
– won the PATA Gold Award in the Corporate Environmental category for its WelcomEnviron initiatives.
– ITC Maurya in New Delhi is the first hotel to be accorded the ISO 14001 certification for its Environment Management Systems in India, followed by ITC Mughal, Agra; Sheraton Rajputana, Jaipur; ITC Windsor, Bangalore and ITC Maratha, Mumbai amongst others.
– hosted world leaders including former US President Bill Clinton, Russian President Vladimir Putin, British Prime Minister Tony Blair and business tycoons such as Bill Gates and Michael Dell.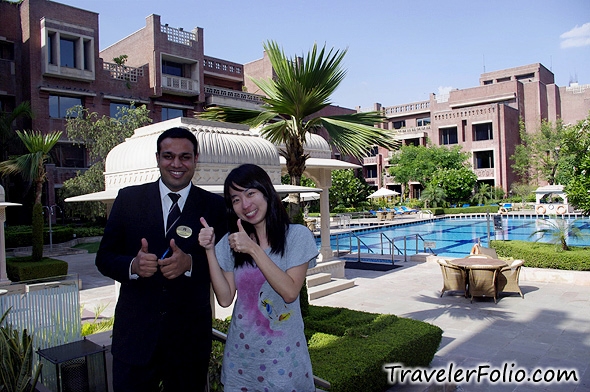 Go Green!
ITC Hotels ~ Responsible Luxury
"ITC is the only company in the world of its size, to achieve the three major global environmental distinctions of being water positive,carbon positive and solid waste recycling positive…"
Sustainable and Renewable Energy
The 'Carbon Positive' corporation creates a positive environmental footprint by minimizing energy consumption and use environment friendly sources of energy to achieve world-class standards of energy utilisation. In fact, 30.9% of ITC's energy consumption is from renewable sources.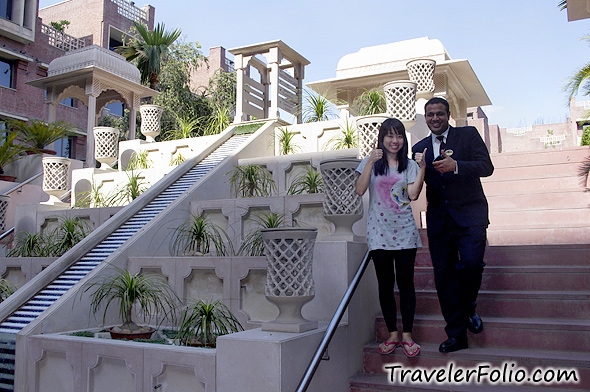 Another thumbs up shot with Nadeem! Old school pose…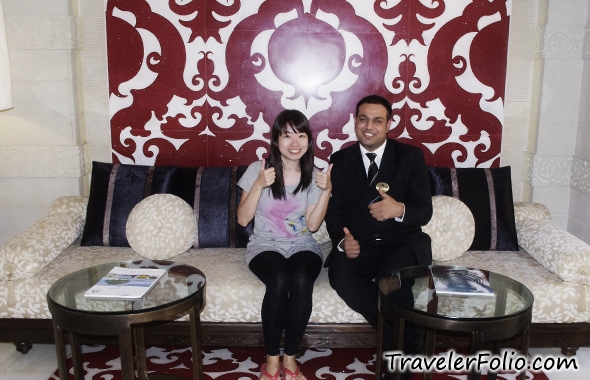 Touted as the best accommodations in the city of Jaipur, Sheraton Rajputana mirrors the traditional havelis or private mansions of the region with a red brick facade rising to different levels around a central area. Intricate latticework, courtyards and long corridors with beautiful art pieces adorning the walls added charm and character to the modern Rajasthani architecture.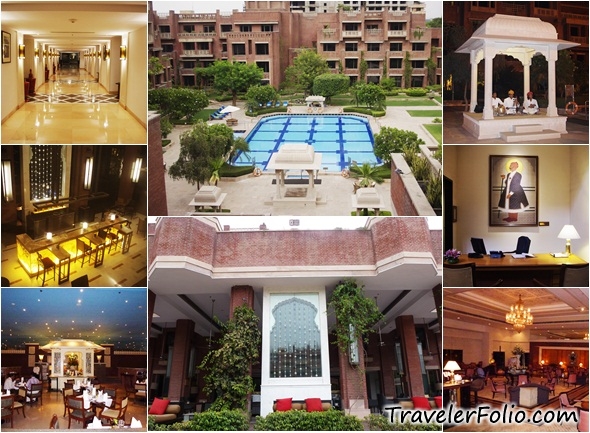 Sheraton Rajputana has a total of 218 well-appointed Suites, Executive Club, Rajputana Chambers and Executive Club Exclusive rooms. The hotel was so nice and comfortable that we decided to stay in for the rest of the day to enjoy spa and indulge in authentic Indian cuisine, after a 2.5-hr flight from Bangalore via IndiGo airline at noon time.
"We'll take care of you. All you have to do is have fun and enjoy your stay." ~ Exactly!
These are some of the features and activities provided at Sheraton Rajputana:
Business Center/ Tennis/ Outdoor Pool/ Fitness Facility/ Shopping/ Car Rental Service/ Barber/ Beauty Salon/ 24-Hour Front Desk/ 24-Hour Concierge Service/ Babysitting Service/ Laundry/Valet Service/ Travel Desk – we joined a well-organised tour in Jaipur with the help of the hotel's Travel House.
Our 2-night stay at the cosy Thikana Suite.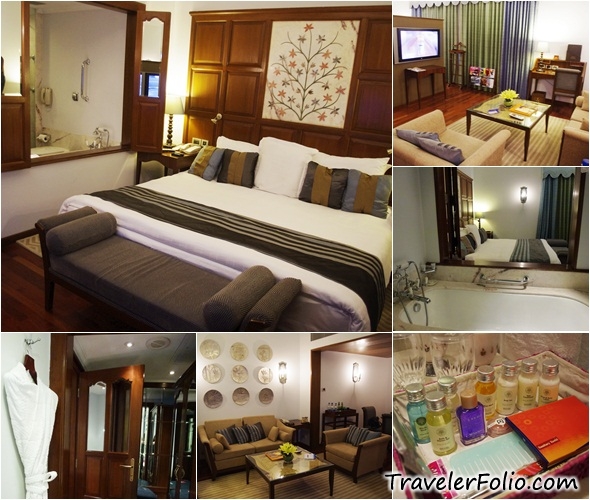 Statues of Rajasthani dancers and musical performers. There is musical performance every evening at the hotel lobby.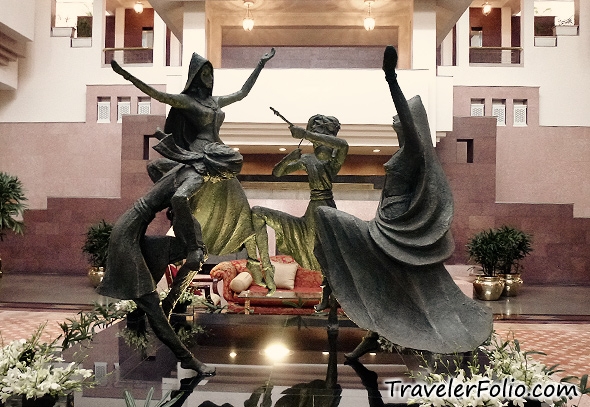 Some of the beautiful art pieces displayed in Sheraton Rajputana. It feels like you've stepped into a palace.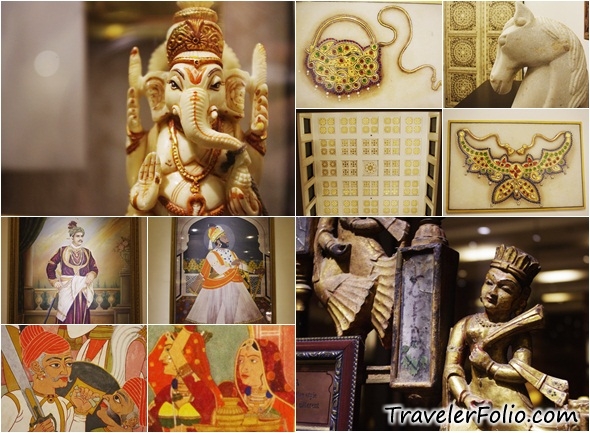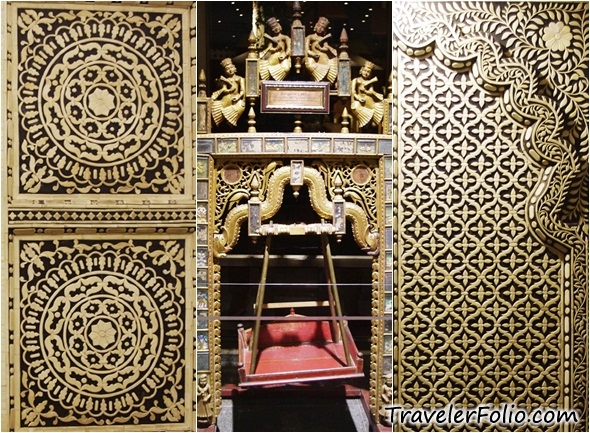 Embark on a spa journey through this ancient land and experience regal luxury and wellness-enhancing rituals uniquely designed to rejuvenate and revitalise the mind, body and soul at the signature Kaya Kalp, created by ITC. We tried all Kaya Kalp Spa at Sheraton Rajputana, ITC Mughal in Agra and ITC Maurya in New Delhi, so impressed by the spa treatments that I'll share more about the award-winning spa experience in another blog post.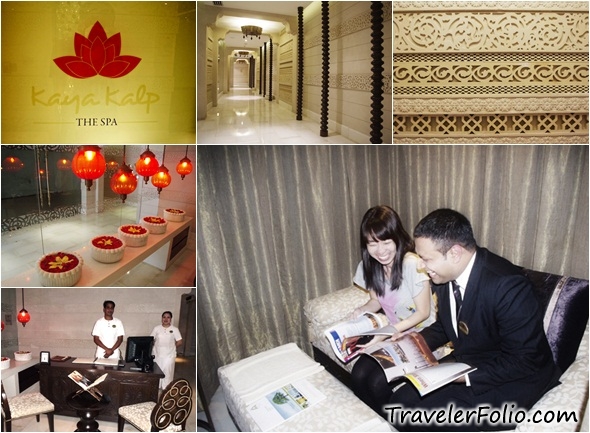 Kaya Kalp – The Spa at Sheraton Rajputana Hotel.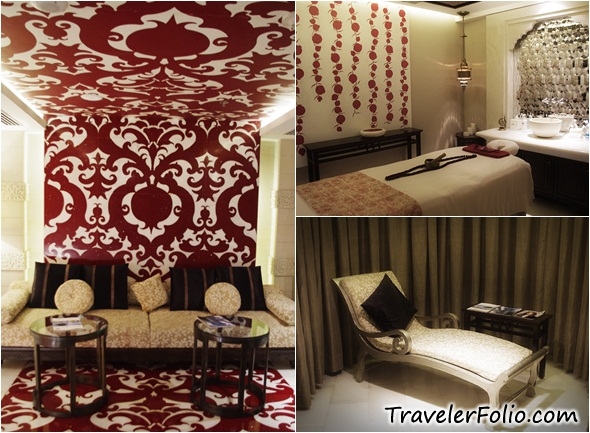 Peshawri
To relish authentic tandoori cuisine of the North-West frontier of India, it's got to be at Peshawri, the multi-award winning restaurant that received accolades including the Best Indian Restaurant in Asia by Miele Guide and Best North Indian Restaurant by Times Food Guide. Peshawri is the first global brand of ITC Welcomgroup, lending its name overseas where it's well known as Bukhara.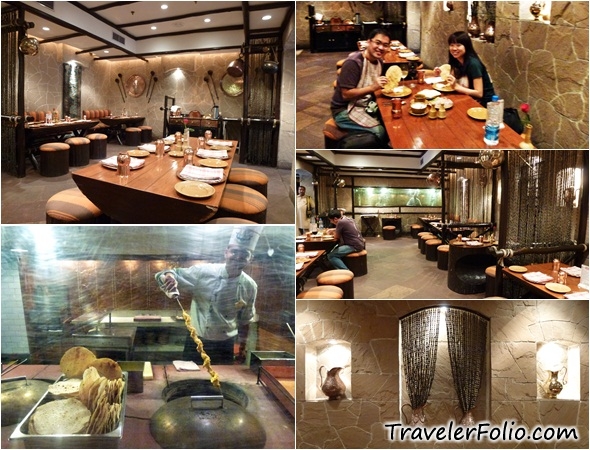 While waiting for food, we could watch the chef prepare the tandoori in the brightly lit show kitchen as it's part of the restaurant. To get a closer look at the tandoor oven, the helpful staff even showed us into the kitchen where we learnt that the pre-marinated chunks of meat are threaded onto skewers and grilled in the oven over charcoal fire for just 15 min to be perfectly done. It may sound simple but this cooking style requires great culinary expertise from the chef.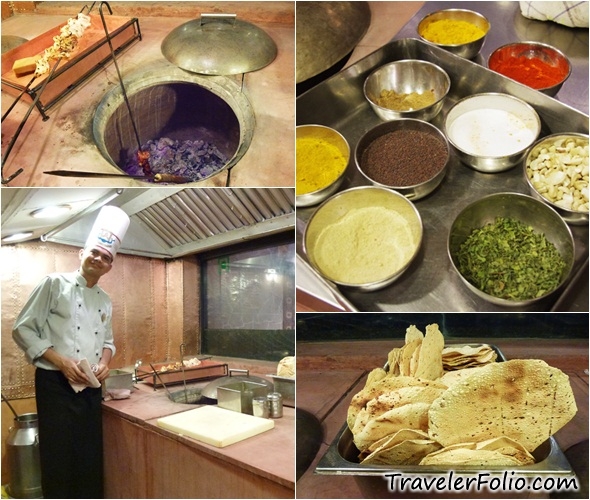 A huge plate of tandoori goodness with Murgh Tandoori (chicken marinated in a mixture of yoghurt), Murgh Malai Kabab (creamy Kabab of boneless chicken blended with cream cheese) and Seekh Kabab (tender lamb mince spiced with royal cumin and saffron).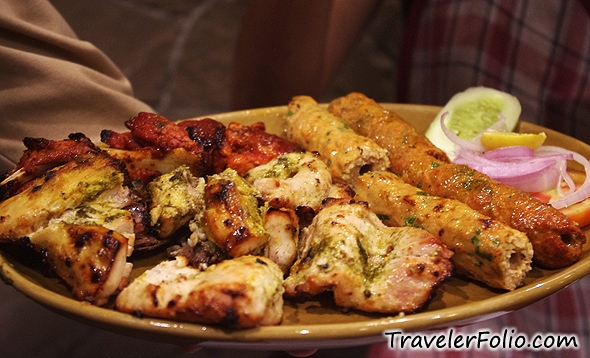 One of my favourite is Tandoori Jhinga. The succulent jumbo prawns marinated in an ajwain flavoured mixture of yoghurt, red chilli, turmeric and garam masala are skewered over charcoal fire until they are roasted to perfection, retaining the moist and natural sweetness of the tandoori prawns that are spongy in a creamy marinade.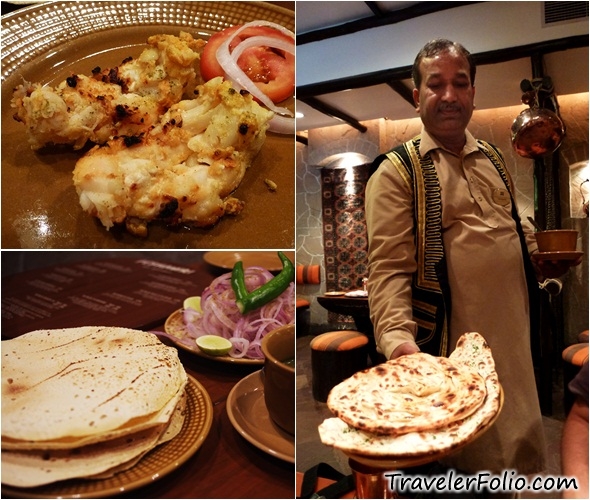 Naan goes well with tandoori. We tried the butter and garlic naans – crisp on the outside, soft inside. Dip the naan in the signature Dal Bukhara, a concoction of whole "urad" lentils, tomatoes, ginger and garlic simmered overnight on slow charcoal embers, added with cream and a dollop of unsalted butter.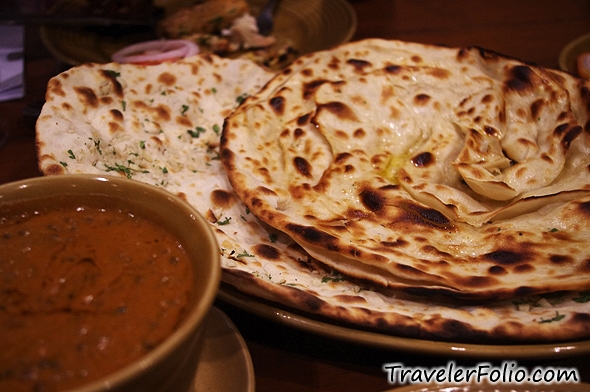 Left: The sweet dish, Gulab Jamun, is soft milk dumpling that is deep fried and doused in sugar syrup.
Right: Anise and sugar to crunch on after meal – licorice flavoured mouth refreshener.
Bottom right: The knowledgeable, warm and friendly staff donned in Peshawri uniform – Pathan suit with a jacket embellished with gold braid. Checked aprons are provided for diners.
Bottom left: The menu is painted on wooden slabs with vegetarian items and non-vegetarian items on each side.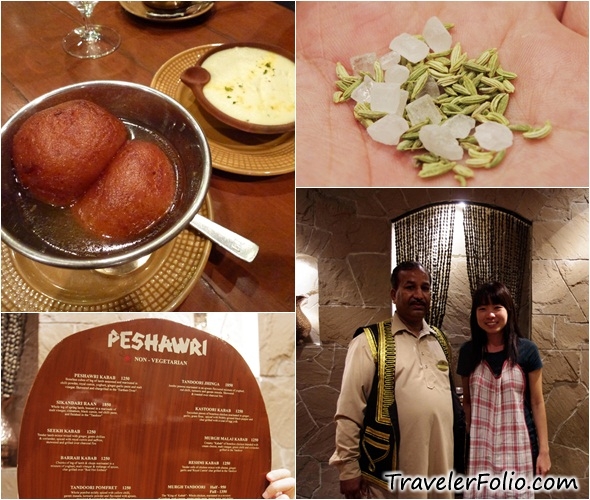 Rasjasthani Folk Songs and Dances
After a long day out, it's perfectly fine to just relax and chill at the hotel to enjoy the classical Rajasthani dance and music performances in the evening.
"Highly cultivated classical music and dance with its own distinct style is part of the cultural tradition of Rajasthan. The music is uncomplicated and songs depict day-to-day relationships and chores, more often focused around fetching water from wells or ponds." ~ Rajasthani culture
Vid of Rajasthani female dancers and musicians.
Vid of Rajasthani folk music performers.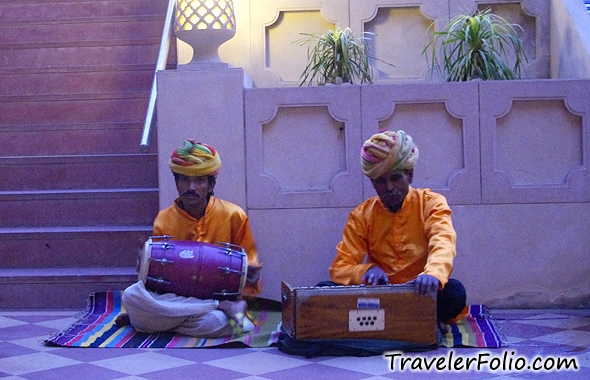 Rajasthani female dancers in traditional costumes balancing brass pots on their heads while pirouetting nimbly to the lively music.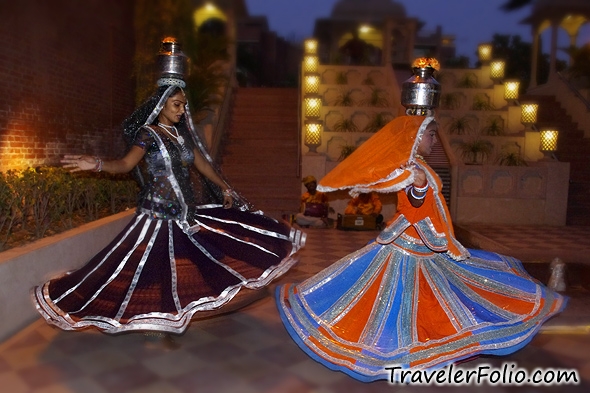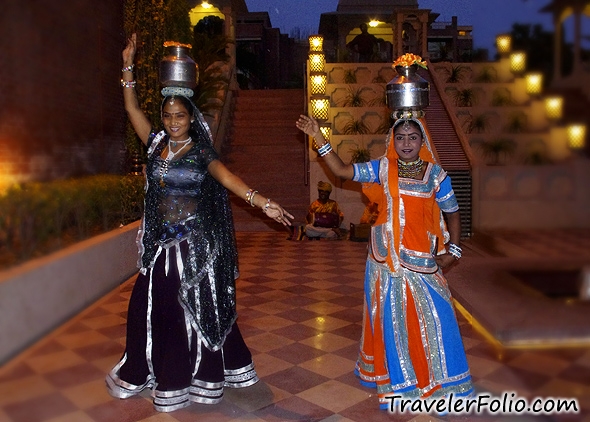 A display of great balancing skill: With a stack of pots on the head, the Bhavai dancer swayed along with the music as she perched on top of brass cups.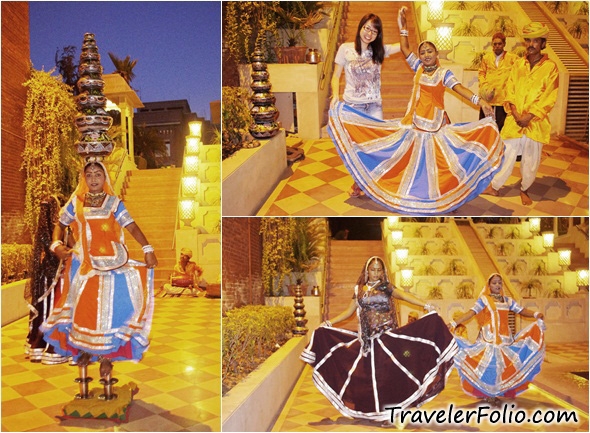 Rajasthani Cuisine
Rajasthan encompasses a large area of the Great Indian Desert – Thar Desert – and the northwestern part of Rajasthan is sandy and dry, even prone to droughts and incapable of growing crops in the summers.
With the influence of the war-like lifestyle of its inhabitants and the limited availability of ingredients in the dry region, food that could last for days and still be consumed without heating are preferred. Due to the scarcity of water, milk, buttermilk and clarified butter are used for cooking. Gram flour is popularly used in delicacies like gatta ki sabzi, Bajra or pearl millet that can grow well in low soil fertility and high temperature region where other cereal crops would not survive, is commonly used in the state for preparations of rotis, khichdi, papads (papadum) and other variations, and curries as well.
Yet, in such dry climate where crop cultivation is limited, the exotic Rajasthani cuisine was created out of necessity and invention.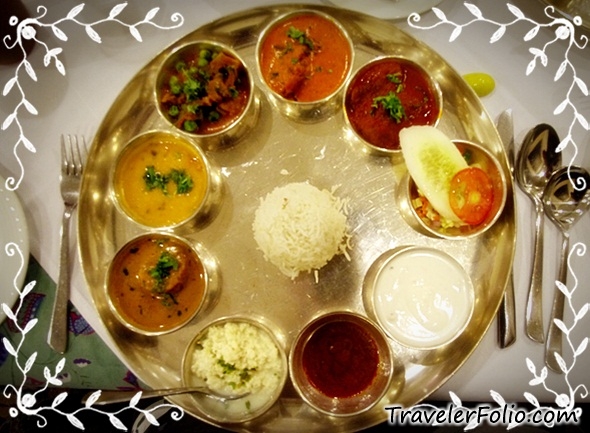 When in Rome, do as the Romans do. Have a taste of authentic Rajasthani cuisine at Jal Mahal accompanied by live Indian songs during dinner time. The restaurant also serves Continental and Chinese delicacies.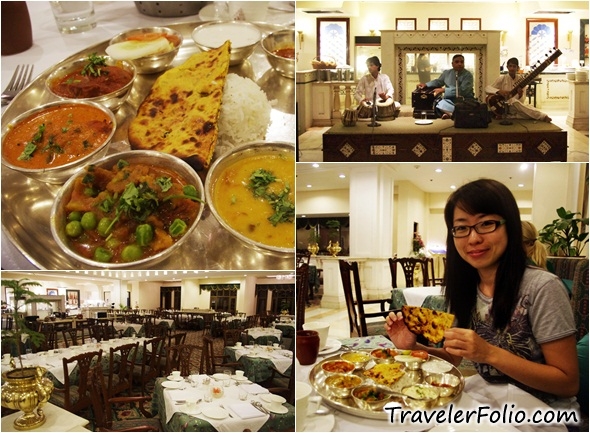 A nice place to chill out after dinner by the poolside @ Jharokha Bar. From the extensive menu list of wines, mocktails and cocktails, we ordered Mojito, a very refreshing mint flavoured Caribbean cocktail with rum and triple sec, and Long island iced tea with a mix of vodka, Gin, tequila, Barcardi white rum, triple sec, lime juice and coke.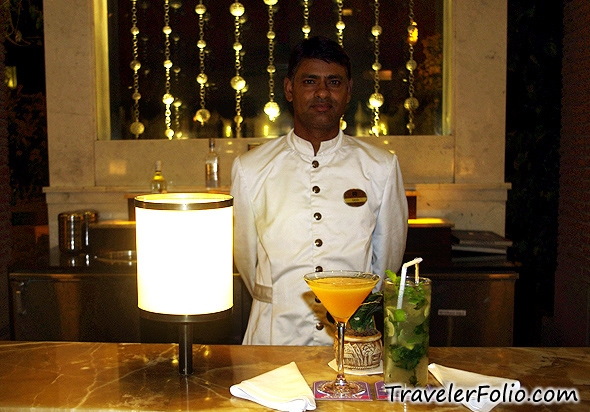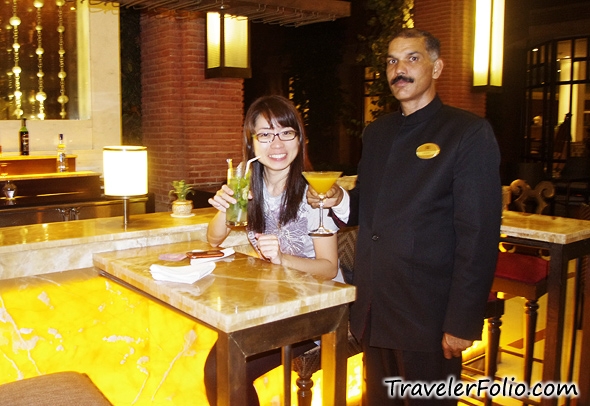 Mr Sanwar, the passionate bartender from Jharokha Bar even specially concocted a very delicious cocktail with tropical fruits for us.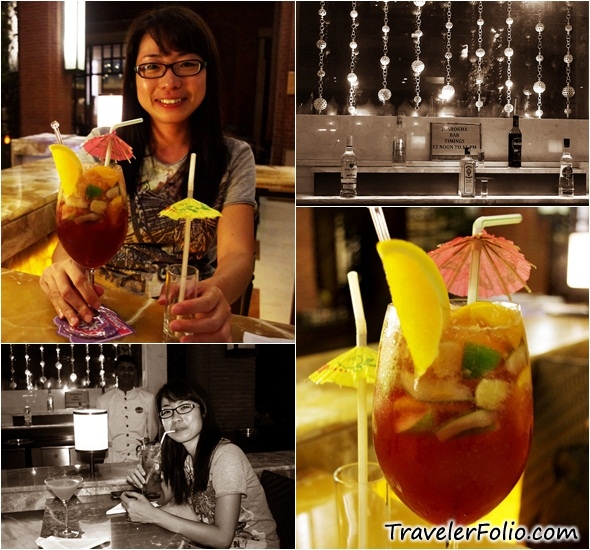 More hotel information on Sheraton Rajputana, Jaipur.
We took loads of photos and videos during the sightseeing trip in Jaipur and visited the famous Amber Fort. Stay tuned for more!
Read all posts on India.