Travelling is not just about visiting sights, indulging in local cuisine, shopping, experiencing different cultures… blah blah… sometimes you get caught in massive jams while on the way to your next destination. And you begin to worry when you see thick smoke rising to the sky…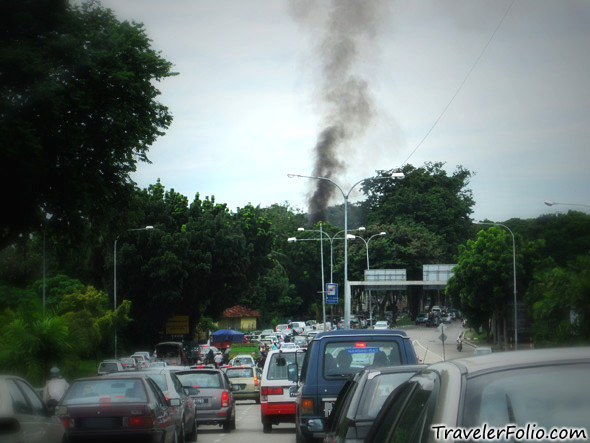 and then… a fire engine whizzes past and stops ahead and you see firemen quickly get to the water hose…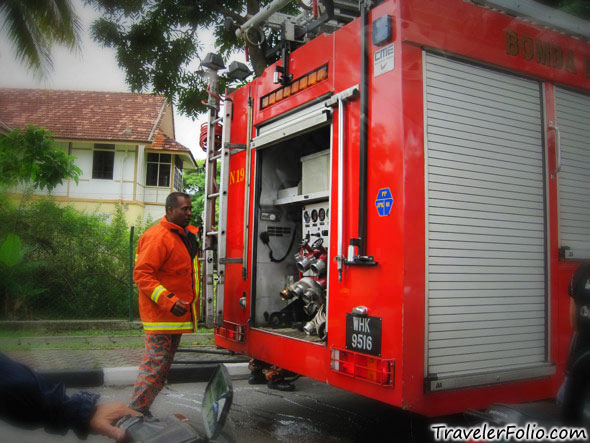 And the next thing you see: a blazing car.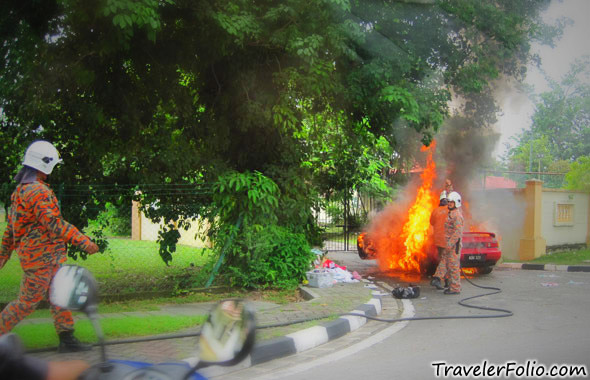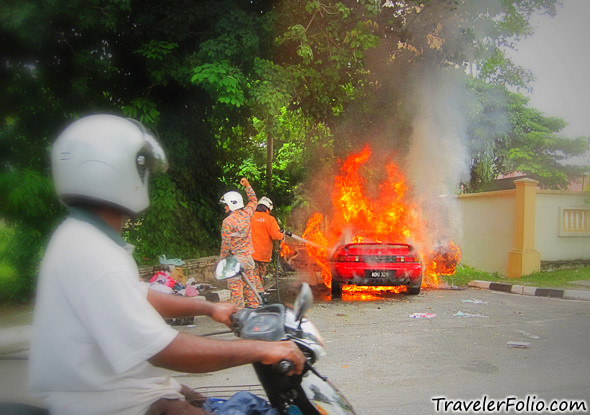 Firemen trying to put out the fire.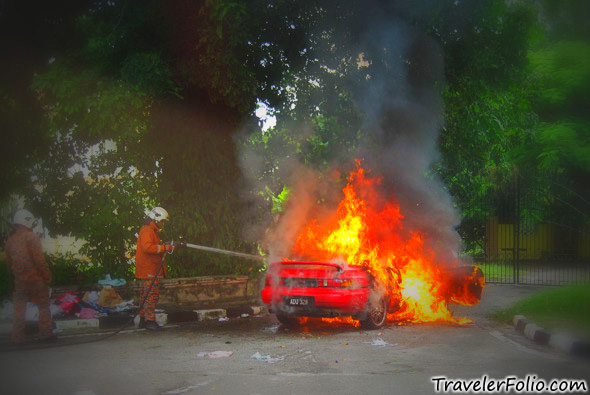 The blazing car was parked at the side of the main road and not obstructing the traffic flow. So why the jam?? Just like any kind of road accident, it must have attracted many curious drivers to slow down and see what's going on. That's why!
In Singapore, it's called Penang Laksa. In Penang, you can't find Penang Laksa as it's known as Asam Laksa. @_@ If you are at Balik Pulau, try this famous Asam Laksa stall which claims that it's Best of the Best Balik Pulau Laksa. They serve three kind of Laksa – Asam Laksa, Siam Laksa (aka Lemak Laksa) and Mix Laksa (Asam + Siam!).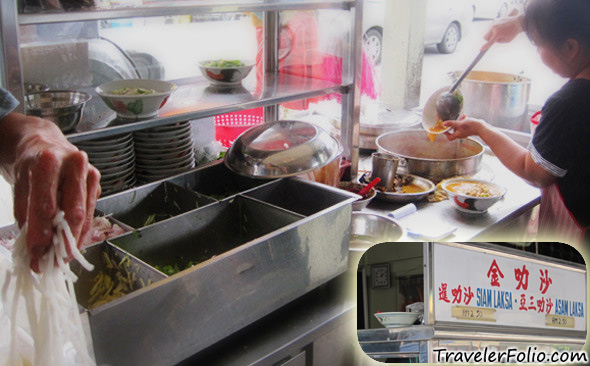 I ordered a bowl of Siam Laksa. If you have tried the original Asam Laksa before, Siam Laksa is sweeter and the soup base is thicker as it's added with coconut milk. Something new for me and it's just right for my taste buds.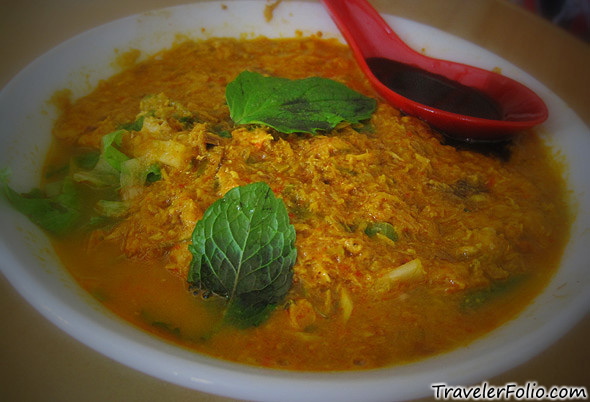 The Asam Laksa is delectable as well! Those who prefer a lighter version can try this. Love the fish flakes!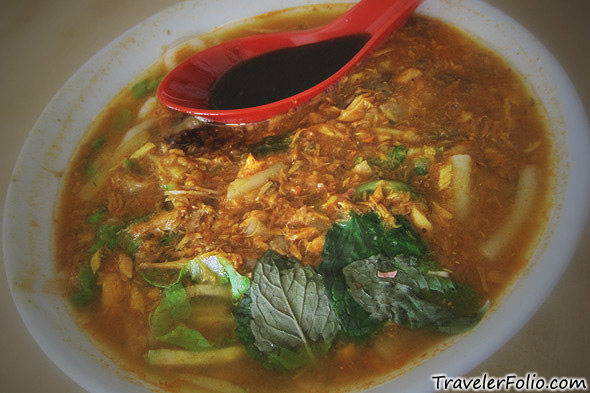 Location of Balik Pulau Laksa: The coffee shop can be found directly at the Jalan Tun Sardon intersection into the main road. Shophouse no. 67.
Opening hours: 11 am – 4 pm. Closed on Wednesday.
At one glance, who would think that this coconut does not contain water but jelly? That's coconut jelly. The coconut water is formed into jelly after food processing. The jelly just tastes like coconut water in jelly form. And there is still soft coconut flesh in the shell. It's a very refreshing dessert!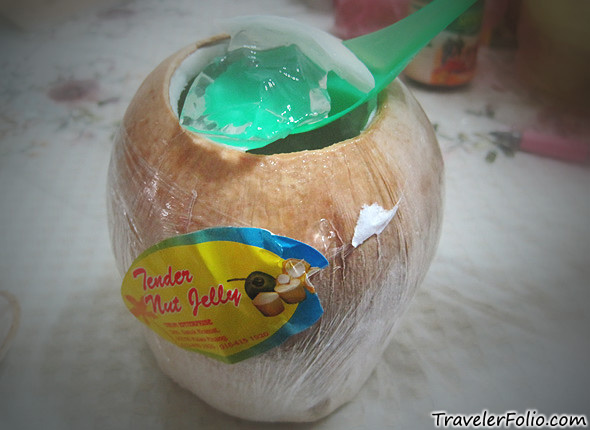 On the label, it's named "Tender Nut Jelly". Maybe you can get some from: 240 Datuk Kramat 10150 Pulau Pinang.
We like to snack at Oldtown Cafe whenever we are in Penang. That day we ordered some slices of kaya butter toast. They looked good on the outside, though seemed abit too dry and crisp. I thought I didn't taste any butter so I lifted up the top slice…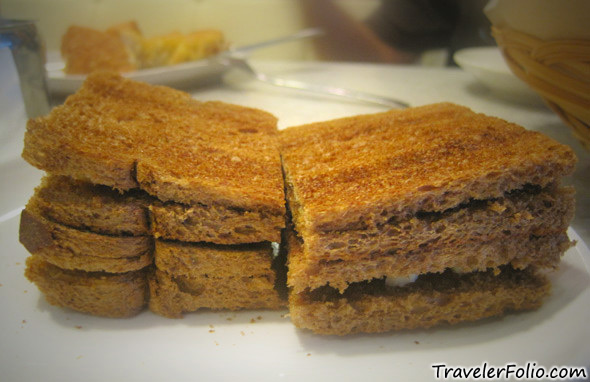 and saw two "fries". So? Nothing. Just wondering why the butter was cut this way.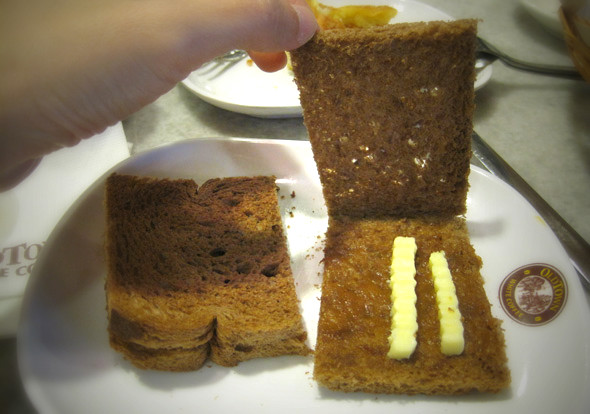 Word of the day:
Rojak – A fruit and vegetable salad dish commonly found in Singapore, Malaysia and Indonesia. It is used as a colloquial expression for an eclectic mix, just like this post with random photos from Penang. \(-.-)/
I'm going Kota Kinabalu (KK), Sabah in two days' time. Come back soon to check out my posts on KK!