The most dangerous shot – we were risking our lives to take this photo!! The Arc De Triomphe stands 49m high, 45m wide and 22m deep. It honours those who fought for France during the Napoleonic Wars and is also the tomb of unknown soldiers. It is an arch of triumph commissioned by Napoléon at Champs Elysées avenue.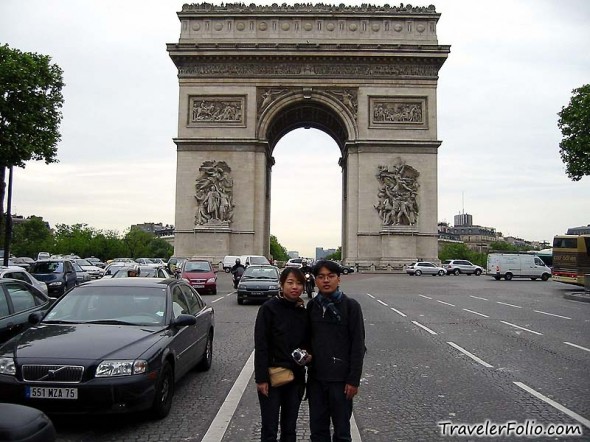 This guy is so tall!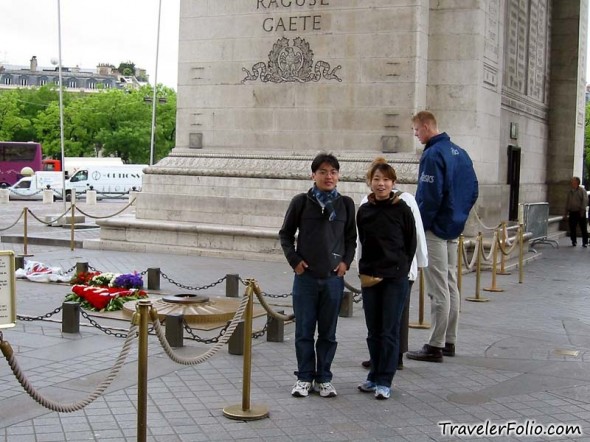 The Champs-Elysées is known as the most beautiful avenue in the world and also a top Paris district for city life, with galleries of designer labels. We heard that there were Chinese people wooing tourists to help them buy branded goods with their passports and in return, these tourists would get a token from these wooers. Indeed, we were even approached by a Chinese lady who persuaded us to help her buy Louis Vuitton. We turned down her request to save our time.
Eiffel Tower – the most visited paid monument in the world – was once an eyesore to many when it was built. The objective of the project was to demonstrate the capabilities of modern steel engineering at Paris 1889 world exhibition, and originally had no use at all! A novelist supposedly ate lunch at the Tower's restaurant every day as he claimed that it was the only place in Paris where he couldn't see the Tower!
There was some restoration work going on at the lower part of the Eiffel Tower, and it was not uncommon to see that at tourist attractions too. We went up to the second floor only as we thought we would only see tiny buildings on the third floor (top floor), just like what we experienced when we were on top of the Oriental Pearl Tower in Shanghai. Also, to get to the higher floor, means higher ticket price. Our friend bought the ticket to the top floor. This awesome photo was taken from the top floor of Eiffel Tower.
It took a while for us to get into an elevator that brought us up to the second floor. The unobstructed panoramic view beneath the Tower was spectacular! It was windy and chilly too!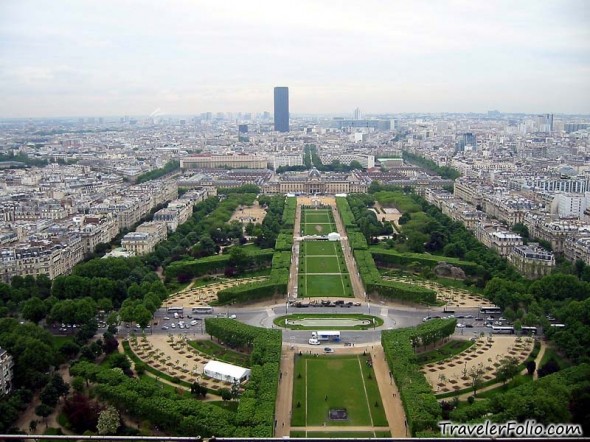 Aerial view from Eiffel Tower.
As the elevator was always packed with visitors, we descended the stairways. It took us quite a while to reach the ground floor and we were pretty tired after walking down the long flight of stairs made of solid iron! Our friend who ascended to the top floor was supposed to meet us at the ground but he wasn't there. We were very cold while waiting for him. There were many blacks selling souvenirs at the ground floor. Our friend finally met us and he claimed that he had a diarrhea at the top floor toilet! What a spot to answer nature's call!