Guess what is this steel structure tower for?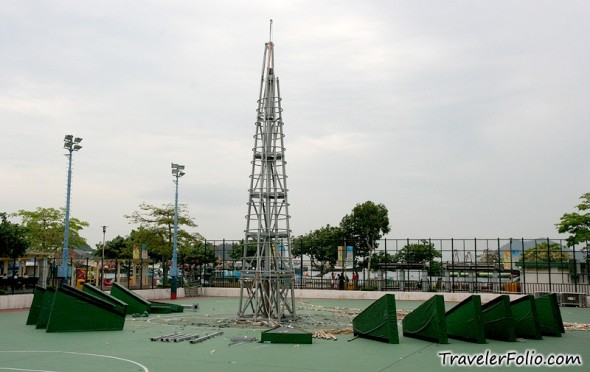 What about these bamboo towers?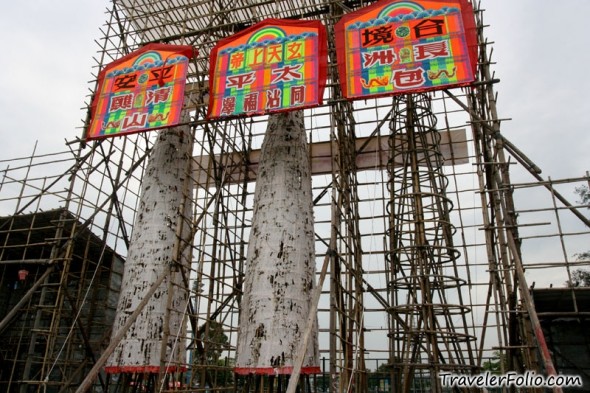 Why is this harmless looking rotten bun being cordoned off?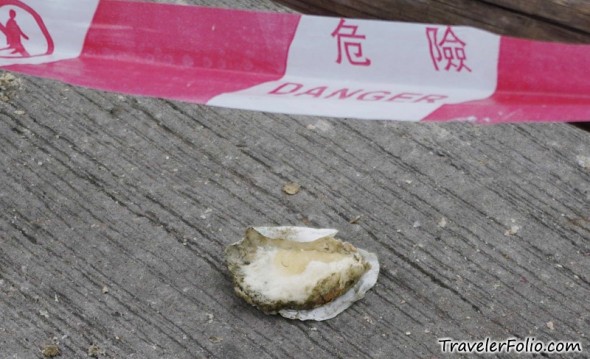 The stone lion's got a fresh one, however…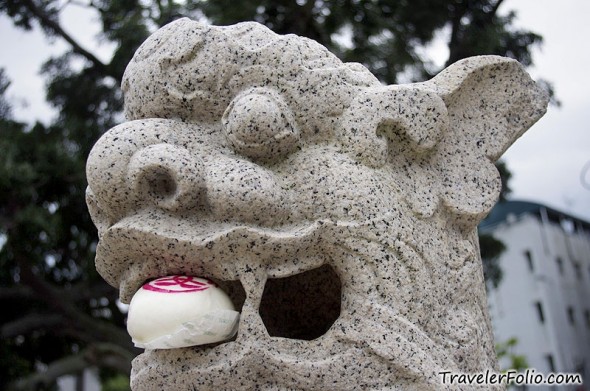 Answer: The three towers are piled with sweet buns believed to bring good luck during Cheung Chau Bun Festival (長洲太平清醮) which is held on the fourth month of the Lunar calendar annually. This year, it took place from 18 to 22 May. The 14-metre tall steel tower is for the "bun scrambling" competition during the festival. The race is about "bun snatching" (抢包山)! Each bun on the tower carries different marks. Twelve finalists clamber up the bun towers and the one who gets the highest score from all the buns grabbed within 3-min win the race.
In fact, the "bun scrambling" competition was banned for 27 years after an accident which occurred in 1978 when one of the bamboo towers collapsed as it couldn't take the weight of so many climbers, resulting in 100 over injuries. In 2005, the bun-snatching activity that is unique to Cheung Chau is revived after long years of negotiation with the government. Since then, this activity has to observed safety measures such as it is limited to only twelve trained climbers for the race; the bamboo towers have been replaced by a steel structure tower and the real buns on the tower have been replaced by plastic buns for hygiene purposes.
When the clock strikes twelve midnight, the "bun snatchers" will race up the bun "hill" to grab as many buns as possible to win the competition!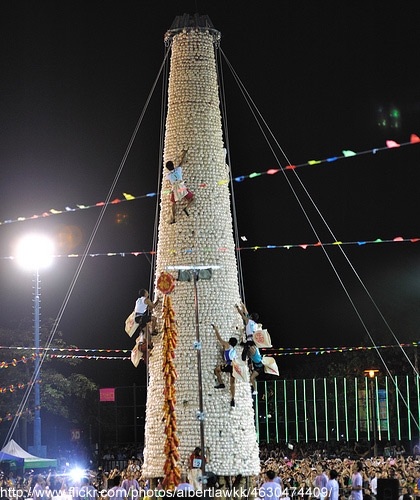 Source of the above photo: http://www.flickr.com/photos/albertlawkk/4630474409/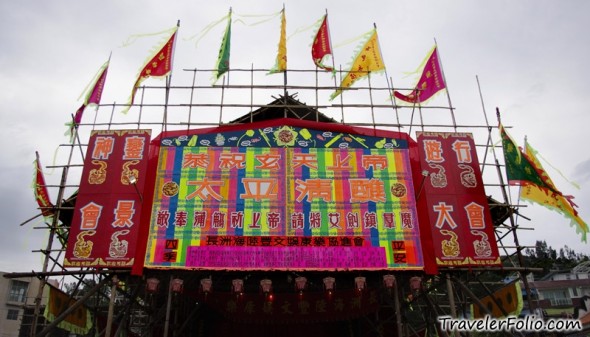 As one of Hong Kong's major cultural events, the Cheung Chau Bun Festival is held in front of Pak Tai temple (北帝廟) aka Yuk Hui temple (玉虛宮) which is the focus of this religious Taoist ceremony. During the festival, it's a tradition that the islanders become vegetarians for three days. There are different beliefs about the origin of Cheung Chau Bun Festival. A common belief says that Cheung Chau was devastated by storms and haunted by the spirits of the islanders following an outbreak of plague in 1894. Generally speaking, the festival is a ceremonial ritual to pray for peace and to pacify the spirits of the island.
The traditional Chinese temple was built in 1783 and it's the oldest temple on the island. It's said that the temple has good Feng Shui as it is situated on the "pulse of the dragon"!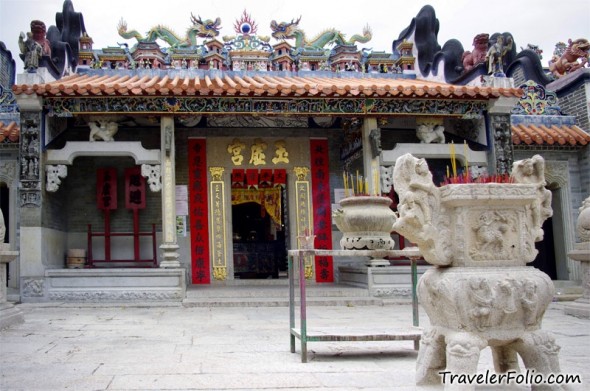 The prayer hall in the temple of Pak Tai, the Taoist Deity. It's believed that this temple houses some relics of 800 years old.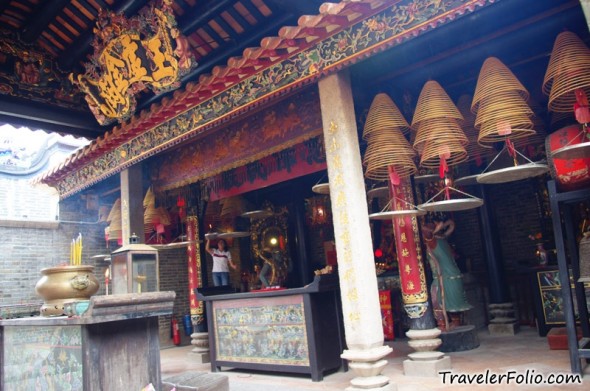 Other highlights of Cheung Chau Bun Festival include lion dance, dragon dance and Piu Sik (literally means "floating colours" in Cantonese) parade of "floats" where children with thick make-up and colourful folklore costumes appeared to be floating high above the crowd and only to be seen standing at the tip of a sword/bar/rod/whatever! supported effortlessly by another child. I've personally seen this act during the "feast of the drunken dragon" in Macau recently (will blog about that in June) and indeed, I was bewildered at first!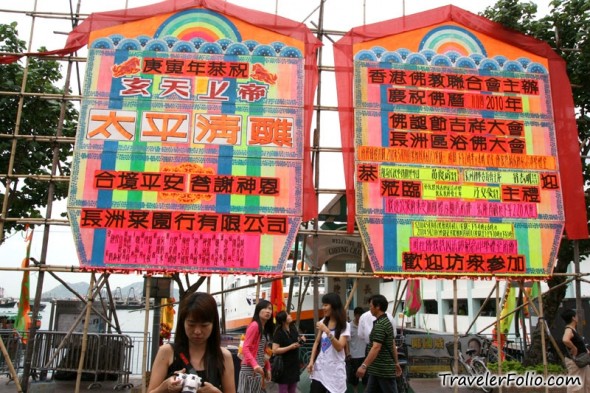 We were in Cheung Chau on Sunday, a day after the "Bun Scrambling" Competition. So, as you can see, we still managed to capture some of the "remainings" after the boisterous festival like the bun towers, make-shift stage and … a rotten bun.
Cheung Chau is one of the many outlaying islands of Hong Kong. It's 10km southwest of Hong Kong island. Here is a map which I took at the pier. Click on the map to view the enlarged map of Cheung Chau. We explored some part of the island on foot.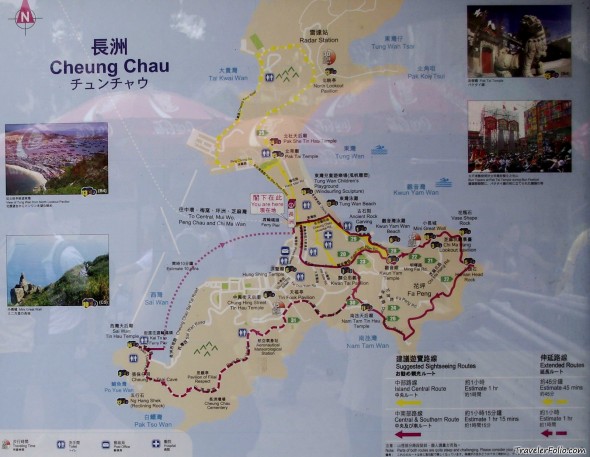 Fishing fleets thronged around the rustic island.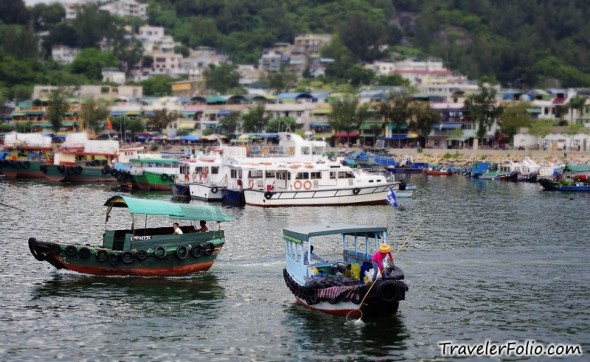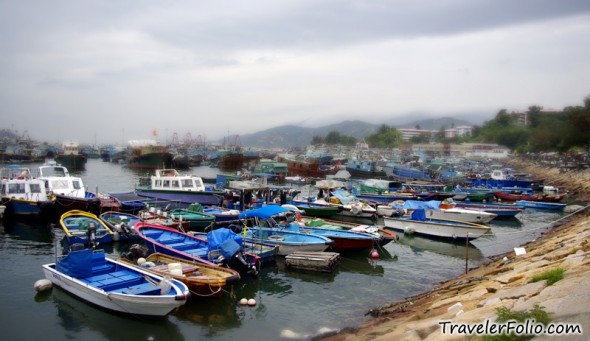 We were greeted by many cute "peace" buns (平安包), not the edible ones, but spongy bun-like souvenirs which I've not seen before! There are "bun" pillows, "bun" fridge magnets, "bun" keychains, "bun" coin purses, "bun" piggy banks, etc. All so lovely!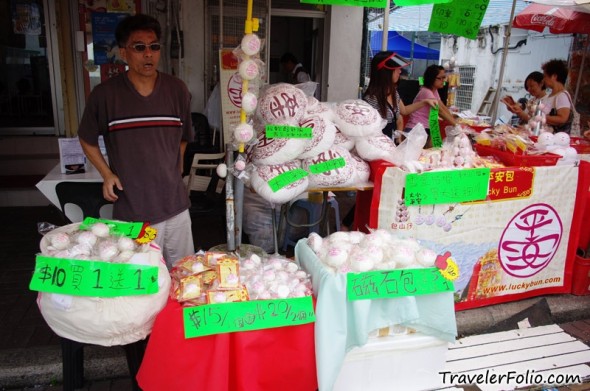 The hanging "buns"!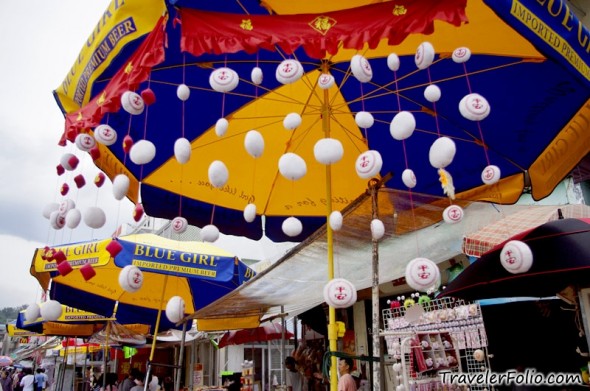 Alright, let's find the REAL ones. The FAMOUS one. It's Kwok Kam Kee (郭锦记) bakery, the baker of the "lucky" buns for the bun towers during Cheung Chau Bun Festival. I think it's not difficult to find this bakery which is located in one of the lanes near the pier, but do ask the locals for direction to save time.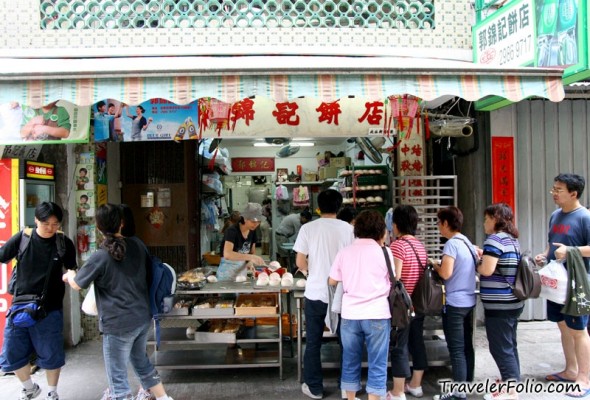 The handmade lotus-filled "ping an" buns (平安包; "peace" bun) . They look like ordinary buns but the texture and paste taste great! So, the psychological effect of eating a "peace" bun? I feel at peace! I bought six "peace" buns and they were packed in a box, easy for me to pack the box into my check-in luggage to take home the buns!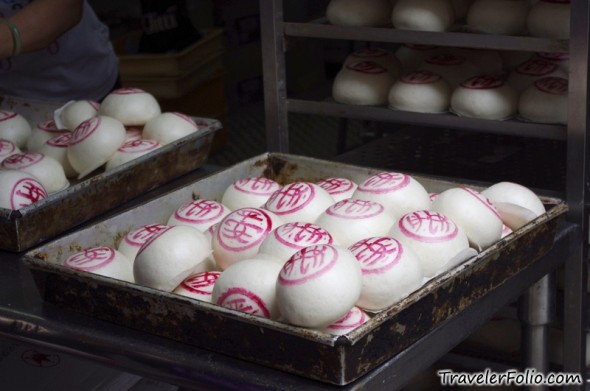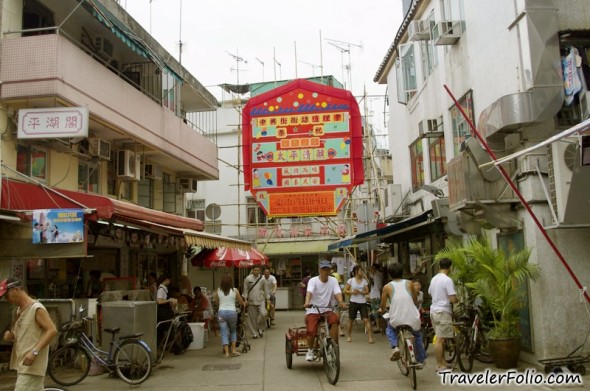 If walking around the island seems too much of a daunting task, you can choose to rent a bicycle or a tricycle with your loved ones seated behind you!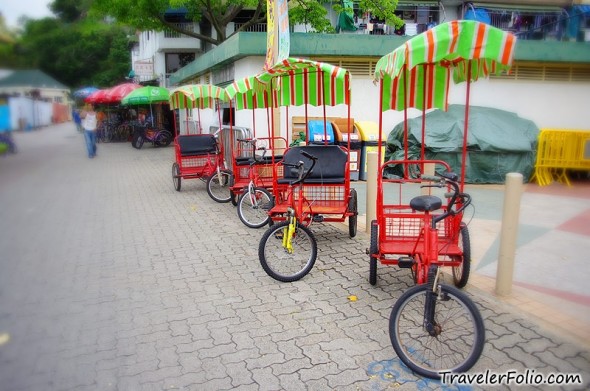 BB Kill = BBQ (Barbeque).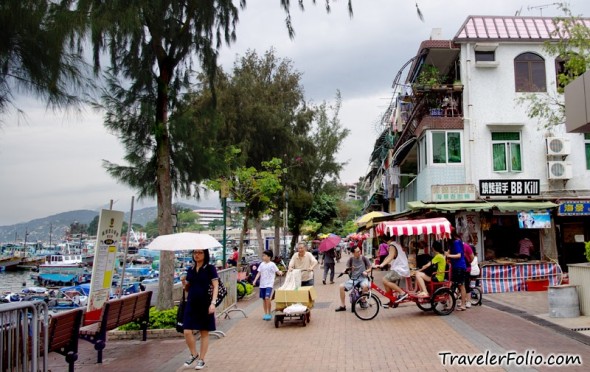 You can feed yourself well on this island.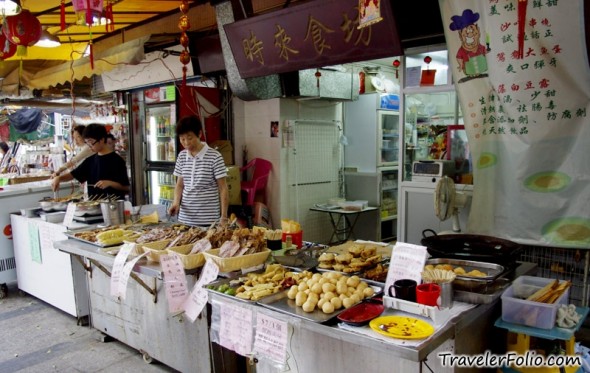 This pastry shop sells really yummilicious pastries, so good and authentic that it's featured on the local TVB magazine.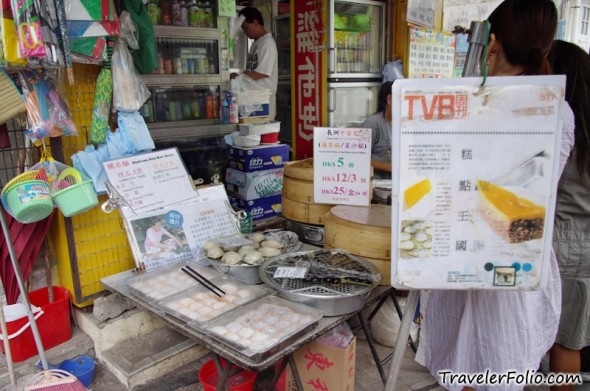 Try this fish ball noodle shop (Zhang1 ji4) near the pier. The fish and cuttlefish balls are fresh and have a springy texture that you hardly taste any flour ingredient in them. They are uniquely good.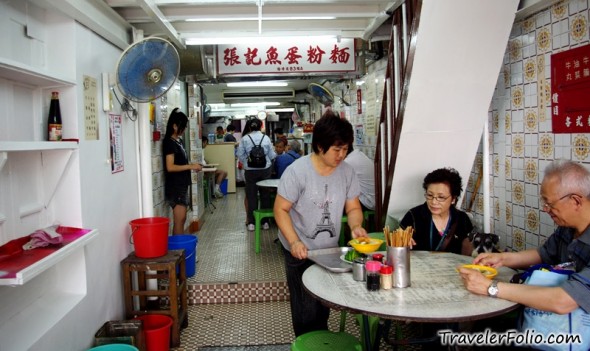 It's not difficult to find your way to the attractions on Cheung Chau with clear information signs around the streets.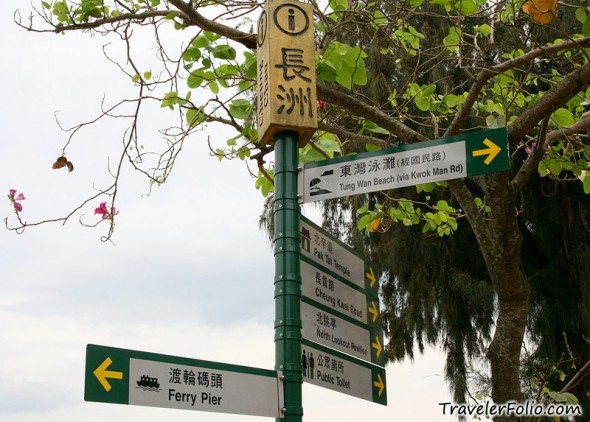 Cheung Chau is also popular for its beaches among Hong Kongers. Tung Wan Beach is just a few minutes walk away from the ferry pier and Kwun Yam Wan Beach is further down the stretch of coastline. The Ancient Rock Carving attraction is located somewhere in between the two beaches.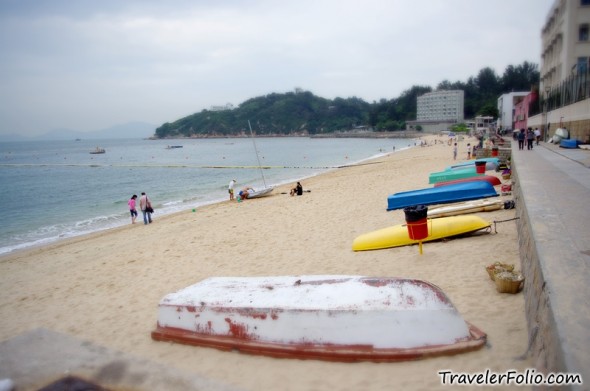 It's pretty easy to explore the island on foot. You can be walking along the lanes lined with eateries and grocery stores, yet after a turn, you might step into someone else's backyard.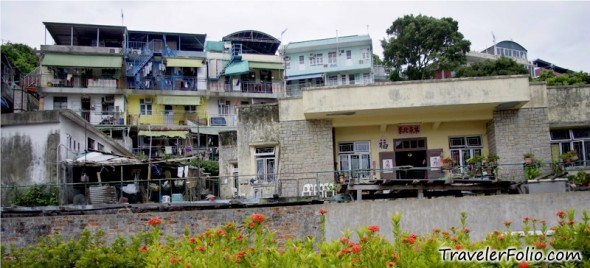 Residents playing ball game at the field in the neighbourhood.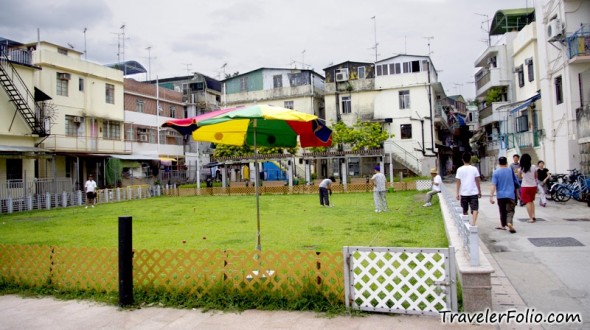 A stall filled with chinaware.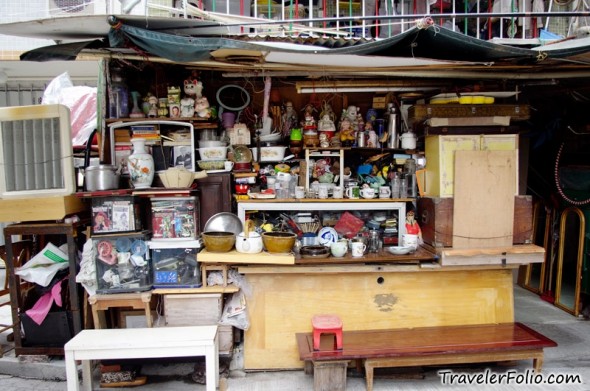 Surprisingly, we came across DBS, our very own Singapore bank on Cheung Chau.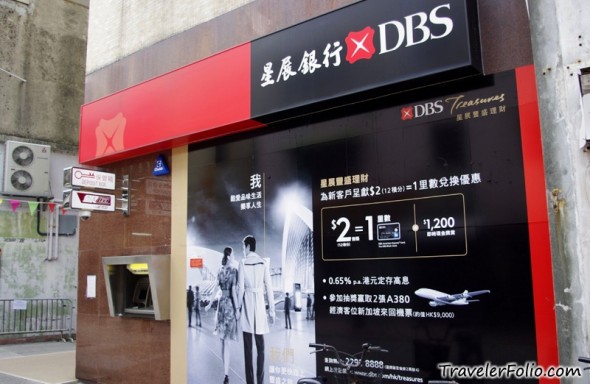 We spent about half a day in Cheung Chau before we returned to Hong Kong island by Fast Ferry. Other attractions on Cheung Chau that we didn't cover include Mini Great Wall, Ancient Rock Carving and Cheung Po Tsai (張保仔; a famous pirate of Hong Kong in the 19th century who later obtained a government position!) Cave, the cave where it's believed that he kept his treasures.
How to go Cheung Chau (長洲) from Hong Kong island by ferry?
Get to Central Pier (中環碼頭). If you are taking MTR, alight at Central (中環)station and walk to Pier 5 to depart for Cheung Chau.
Unknowingly, we took First Ferry, the slower ferry that cost us HK$16.80/pax for an hour's ferry ride to Cheung Chau. If you don't mind paying more to save time, you can opt for Fast Ferry. It cost us HK$60+/pax for a 30-min fast ferry ride when we departed from Cheung Chau and back to Central Pier in Hong Kong island.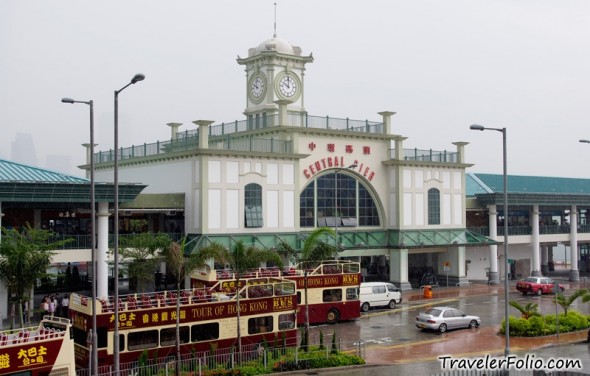 You need to walk quite a bit from Central MTR station to Central Pier.

Look what I've got from Cheung Chau. "Peace" bun tees and souvenirs, and six big and REAL "peace" buns filled with lotus and sesame!

Next, more on Hong Kong!