Continuing from Osaka-Kyoto-Kobe Trip (part 2)…
We started the day early with a trip to The Instant Ramen Museum in Ikeda, Osaka – the hometown of Momofuku Ando, founder of Nissin Food Products and Inventor of the world's first instant ramen.
The museum exhibits the history gallery of chicken ramen, how instant noodles was invented in 1958, followed by the invention of Cup Noodle in 1971 and space ramen that can be eaten in space by 2005. An inspiring educational walk-through that showcases the creativity and perseverance of a great inventor, Momofuku Ando.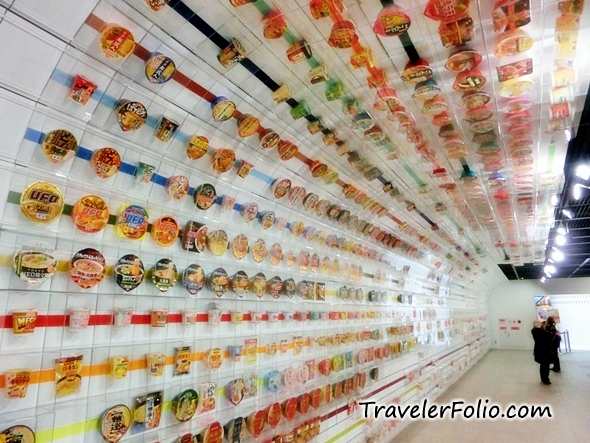 Children were hands-on making their own instant ramen at My Cup Noodle Factory (reservations and admission fee required).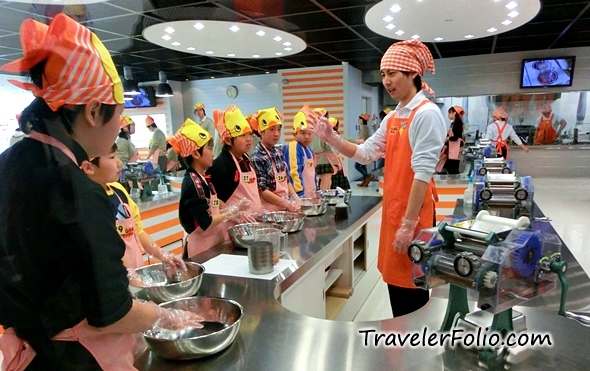 We personalised our own Cup Noodle! At the mini factory, we designed the packaging with colour markers before picking the instant noodle flavour and ingredients.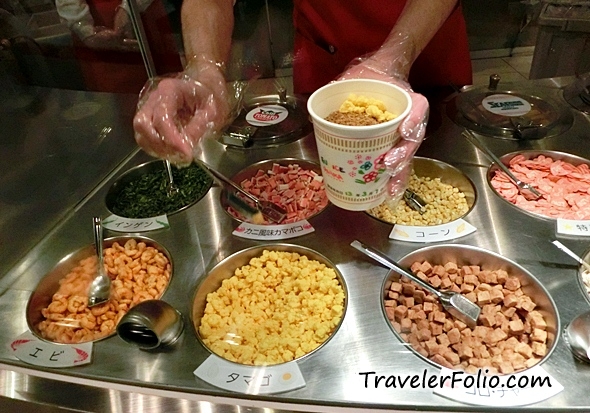 My curry flavour Cup Noodle and the giant-sized Cup Noodle model. There are some venting machines at the premises where you can buy different flavours of Cup Noodle (apparently at a cheaper price) that we can't find at our local stores.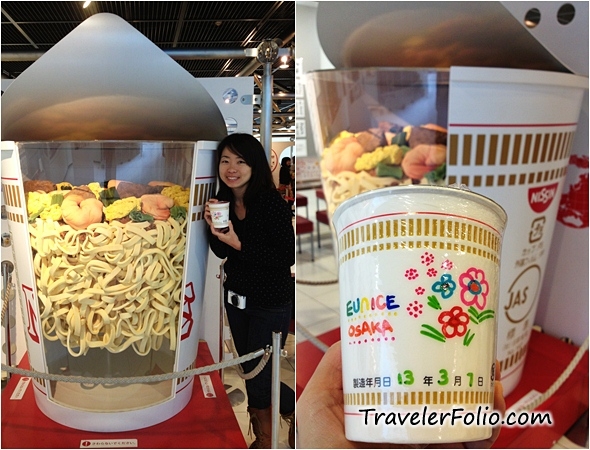 To get to the Instant Ramen Museum, take the train to Ikeda Station along Hankyu Takarazuka line, exit from Masumi-cho and walk approximately 5-min to the museum.
Kobe
Kobe (神戸) is a popular destination not to be missed when you are touring Osaka and surrounding cities. It is recommended to get a 2-day Hankyu Tourist Pass for unlimited train rides between Osaka, Kobe and Kyoto at the cost of ¥1,200 only. (Web: rail.hankyu.co.jp/en/hankyu_tourist_pass.html)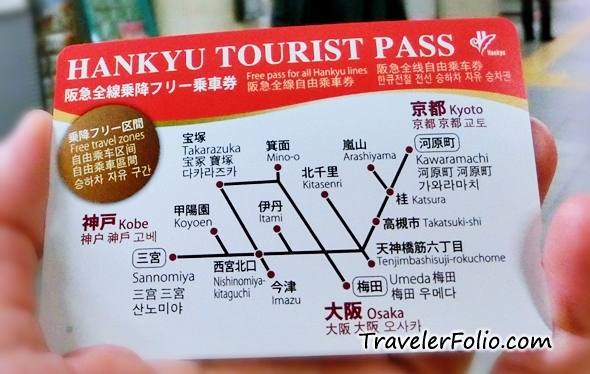 From Umeda Station in Osaka, it only takes about 45-min train ride to Kobe on the Hankyu line.

Hankyu railway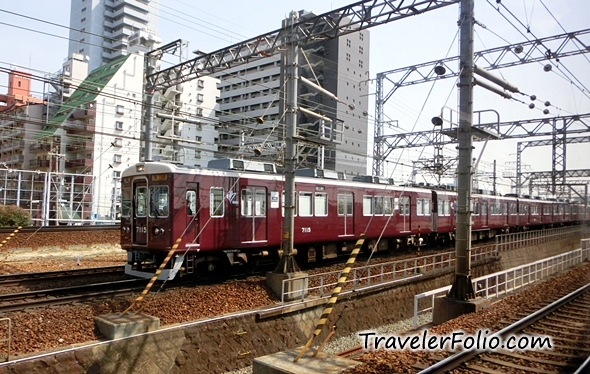 Kobe beef
Kobe is well-known for its namesake beef and Arima hot springs. We couldn't wait to try the famous Kobe beef and went straight to Steak Land restaurant which is located near Sannomiya Station.
At Steak Land, the chefs prepared our beef steak lunch in teppanyaki style right in front of us. They would ask how you want your steak to be done – rare, medium-rare, well done. Not a beef person, I had mine well done. But hey, I liked the steak! The texture was very tender and succulent, no 'gamey' taste (if you don't like beef, you'd know what I mean) at all. For those who don't eat beef, you can order the seafood set meal.
The Kobe steak lunch comes with a soup, rice and a drink as well, and the whole set costs less than S$100. It's well worth it!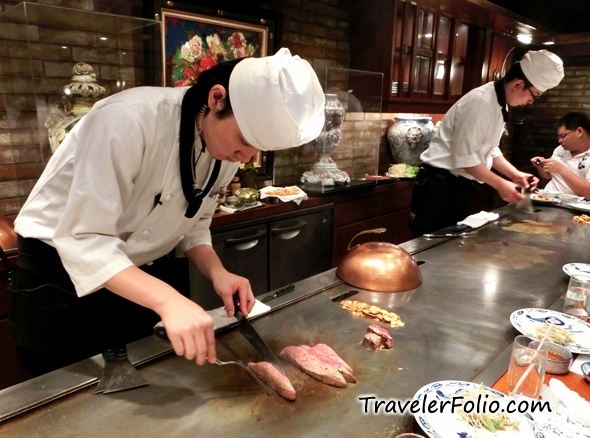 Slabs of beef were cut into smaller pieces and cooked in front of the diners.
My Kobe beef steak! It was so good the taste still lingers in my memory.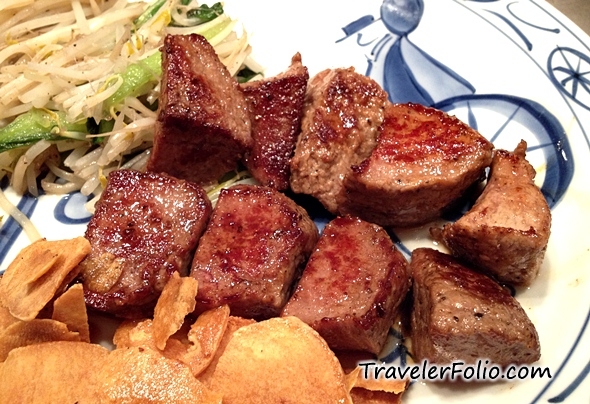 Arima Hotsprings
Arima Hotsprings (有馬温泉), or Arima Onsen, is an escape from the hustle and bustle of the Kansai metropolitan area. Its history dates back to the 8th century and is one of the oldest onsen in Japan. Nestled in the tranquil surroundings in Kobe, Arima Onsen has two types of hot springs, namely kinsen, aka 'gold spring', which has yellow-brown spring water containing iron and salt; the colourless 'silver spring' or ginsen with radium and carbonate.
There are several private hot spring resorts and two public bathhouses for one-day trip in Arima. You may check out this website for more information: www.arima-onsen.com/eng/spa.html
Walk along the main street of the hotspring town and you will find souvenirs to bring back home. We bought a lot of Tansan Senbei. There are samples to try before buying. The carbonated crackers are thin, flat, very crispy and taste like wafer. Some have flavours like ginger and seaweed, other crackers have a layer of cream like matcha or strawberry in between.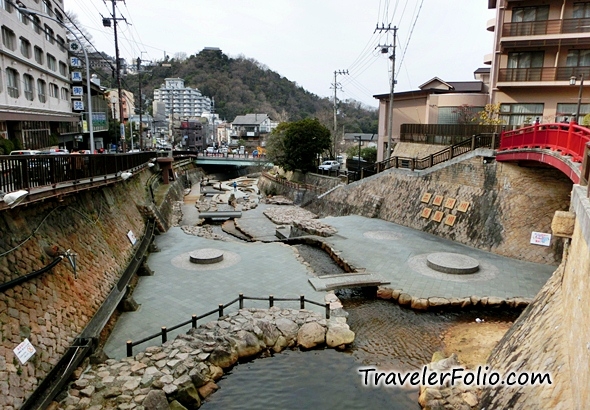 After we headed back to Osaka City, it was time to shop around at Hankyu Department Store. The huge retail paradise is only 3-min walk from Hankyu Umeda Station. I was overwhelmed with so many brand names and products, from the latest fashion for men and women, luxury brands such as Louis Vuitton, Chanel and Gucci, and a plethora of accessories to prestigious food establishments offering Japanese, Chinese, Korean, Italian and other Western cuisines.
Best of all, tourists get 5% discount off when purchasing goods plus tax exemption. You have to sign up and get the guest coupon at the information counter at Hankyu Department Store.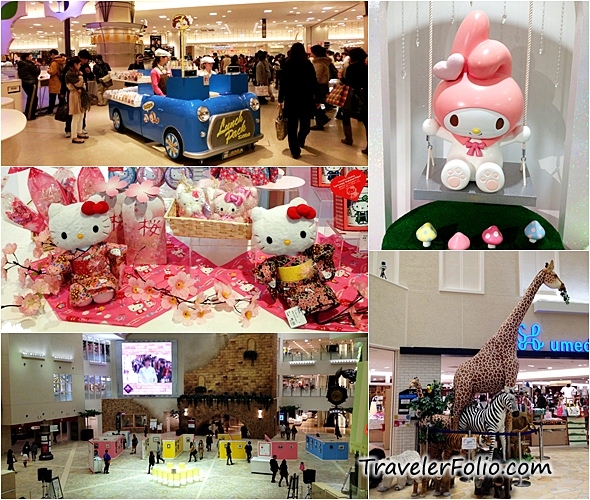 Dotonbori
Before my trip to Osaka, my buddy told me about 'that place' with the Glico running man that I should go. Apparently, it's so famous that the icon is a representation of Dotonbori, an entertainment and gastronomic district in Namba. A hip and chic area gleaming with neon lights and filled with trendy youngsters and tourists.
Dotonbori is only a 5-minute walk from Namba Station.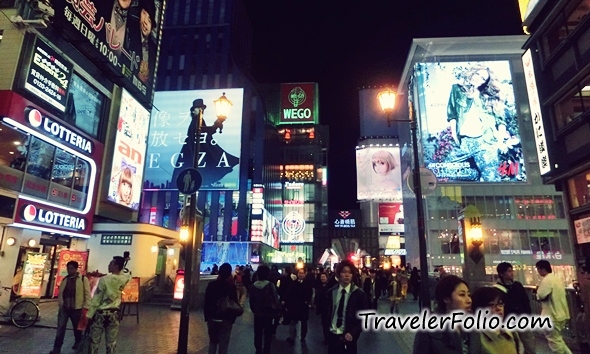 The humongous Kani Doraku Crab on the facade of the crab restaurant is another popular image of Dotonbori.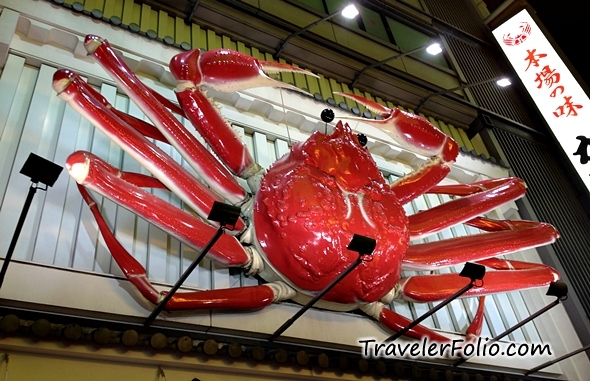 Vibrant and colourful, the area has a great selection of restaurants and bars.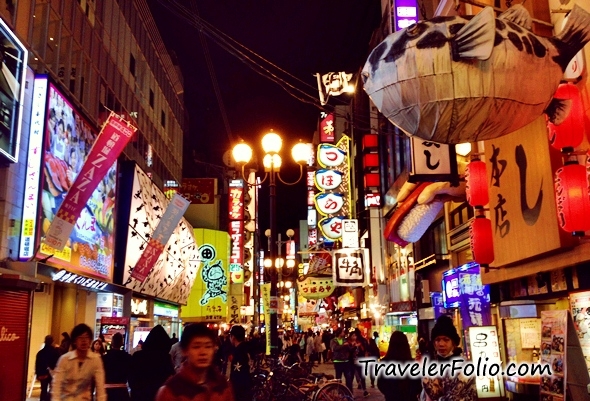 Other cute and attractive signs on the facade of restaurants at Dotonbori.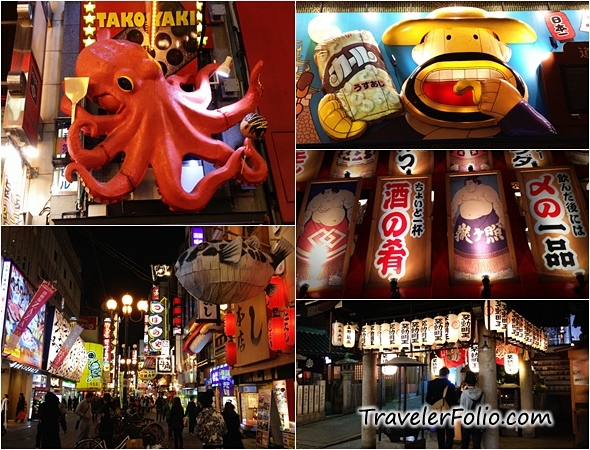 One of the best experiences in Japan was food! We were delighted to be accompanied by our guide from
Nankai Travel International and Japanese friends as they could help us order mouth-watering local dishes at Japanese restaurants that do not have English menus.
Dotonbori has numerous eateries along the main walkways and alleys. Walk into Hozenji-Yokocho alley where there's a temple at the entrance, Mizukake-Jaya is located nearby and I had my favourite dinner there. It serves robata-yaki – slow-grilled food over hot charcoal. The place is one of those where friends get together after work for a good dinner and drinks.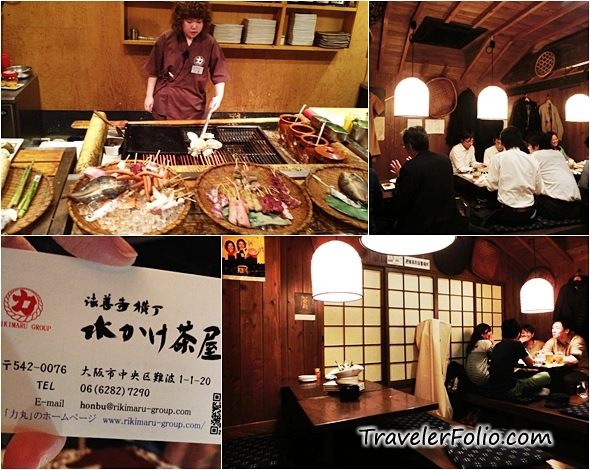 Rich and juicy scallops freshly grilled on the fan-shaped shells, so delicate and flavourful.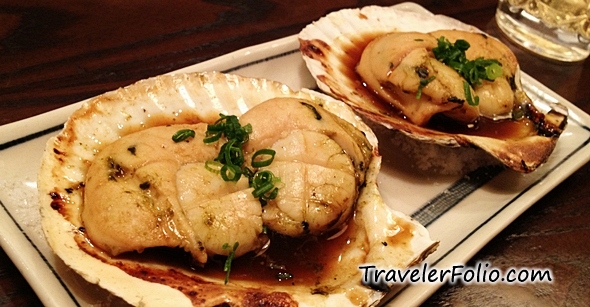 Naturally sweet-tasting and tender cuttlefish. Oishii!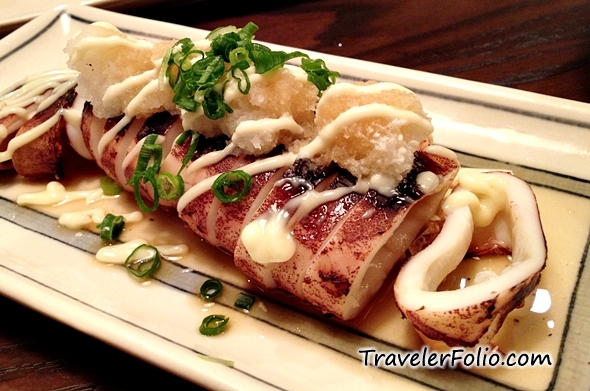 Omelette, tofu in light peanut sauce, grilled potato and eggplants.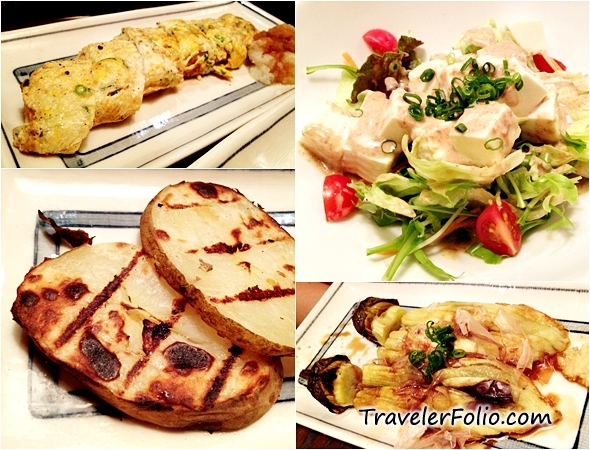 The alley near Mizukake-Jaya restaurant.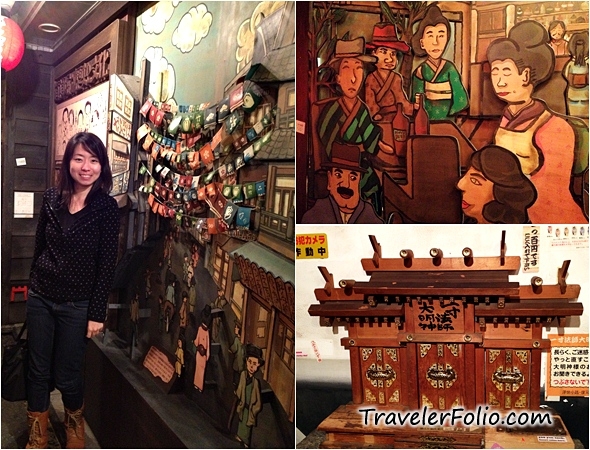 Our accommodation for the next two nights was Dormy Inn Shinsaibashi, a pretty decent and clean hotel conveniently located within a few minutes walk to Dotonbori.
Read next post on Kyoto, Arashiyama & Osaka. All posts on Osaka-Kyoto-Kobe trip.