Continuing from Osaka-Kyoto-Kobe Trip (part 3) …
Arashiyama
A day after Kobe trip, we took Hankyu Railway again out of Osaka to Kyoto, using the 2-day Hankyu Tourist Pass (rail.hankyu.co.jp/en/hankyu_tourist_pass.html) which costs ¥1,200 for unlimited train rides between Osaka, Kobe and Kyoto. En route to Kyoto, we stopped by Arashiyama, a scenic spot popularly known for cherry blossom viewing and spectacular autumn foliage.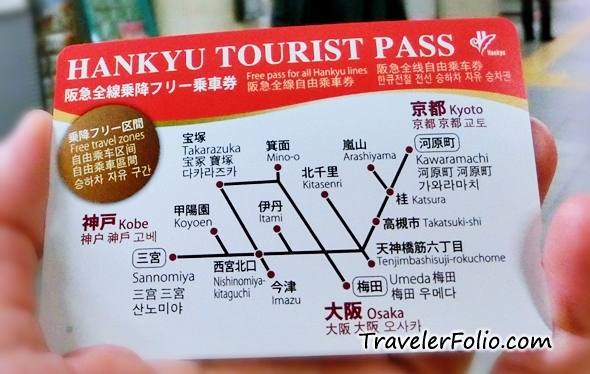 Arashiyama Station and Hankyu train.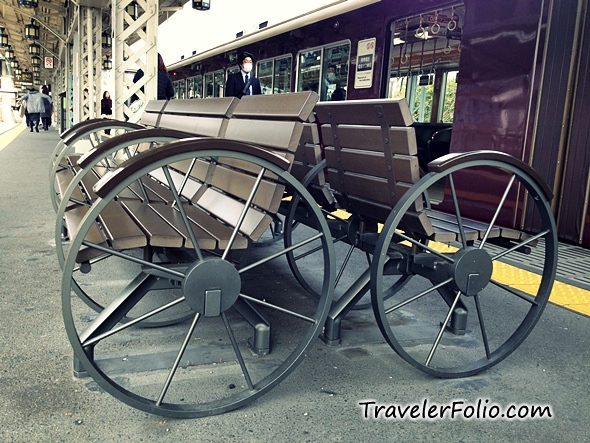 There were quite a number of people fishing from the bridge, you could tell Arashiyama is a place to slow down the pace and relax in tranquil surroundings. Rows of cherry trees were still bare, if only we came two weeks later, the scenic spot would be shrouded in sakura pink.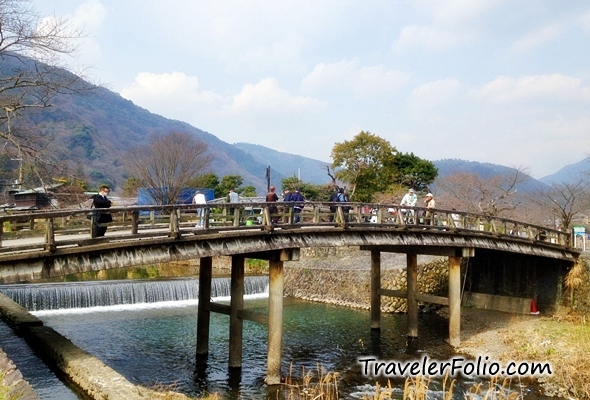 A peaceful and quiet place to take in some deep breaths.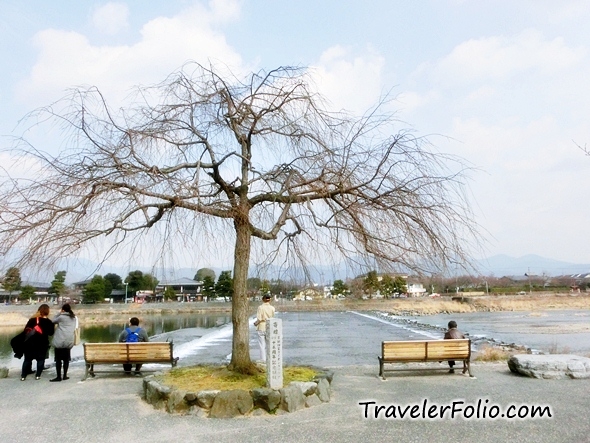 The river flowing through Arashiyama.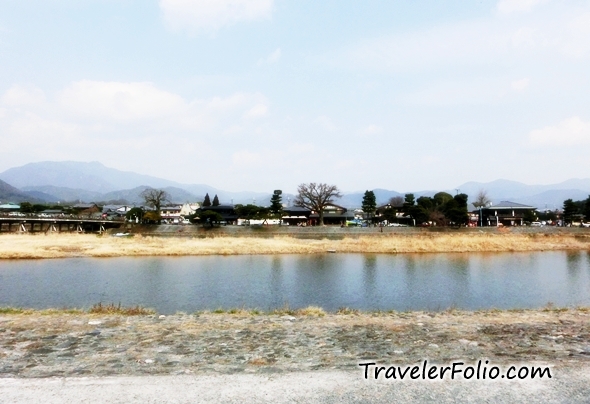 In autumn, the mountain slopes are ablaze with splendid colours. If you plan to visit Osaka in autumn, don't miss Arashiyama as it's easily accessible via Hankyu Railway.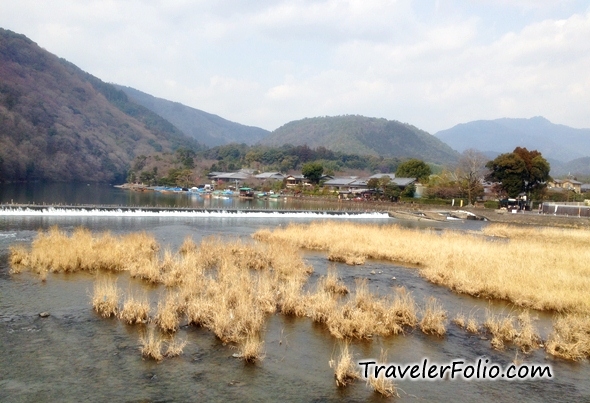 Restaurants and souvenir shops flank the road.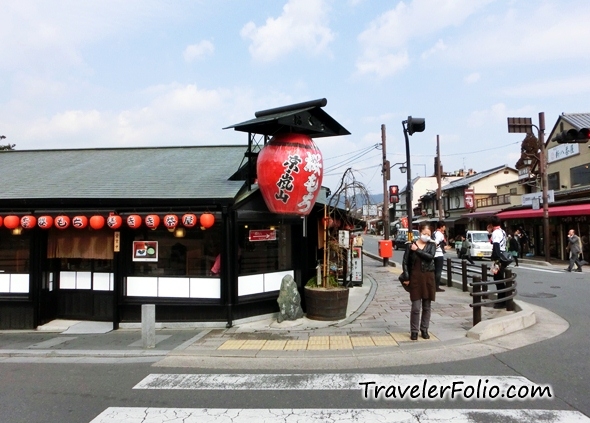 We bought some really smooth and creamy matcha ice cream from a stall located near the junction. The cone was tasty and very crispy. Such a big ice cream cone costs only ¥250.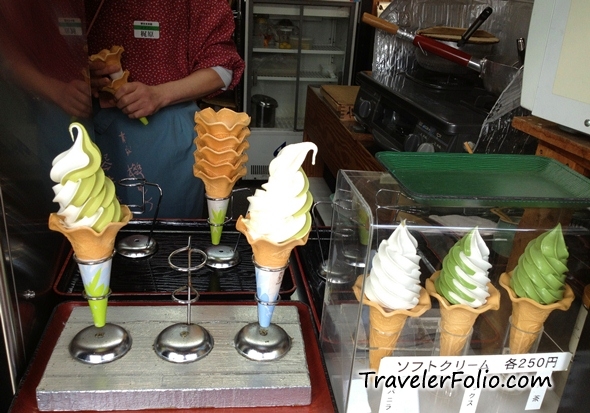 Tough young men as rickshaw pullers at Arashiyama.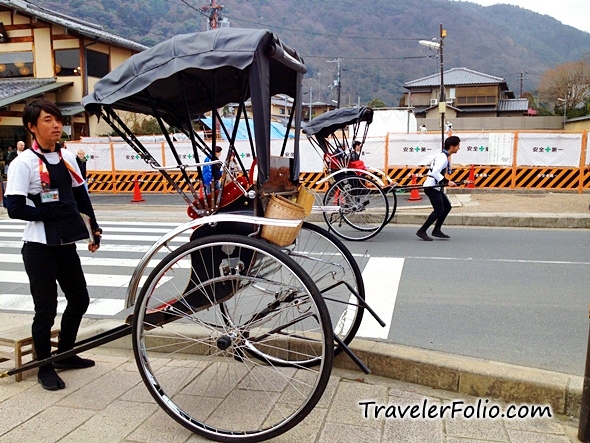 Kyoto
After a short stopover in Arashiyama, we continued the day to Kyoto via Hankyu line. The former imperial city of Japan for over a thousand years is an open air museum with a myriad of ancient temples, structures and cultural treasures, still well preserved till today. There are 17 locations listed on the UNESCO World Heritage Site Historic Monuments of Ancient Kyoto. We visited two of them: Kinkaku-ji aka Temple of the Golden Pavilion and Kiyomizu-dera.
Kinkaku-ji
Even if you have not been there, you could have seen the famous golden structure on travel guides and documentaries. The garden complex is a classical example of Japanese garden design back in the Muromachi period. The top two stories of the Zen Buddhist temple are covered with pure gold leaf – very eye-catching!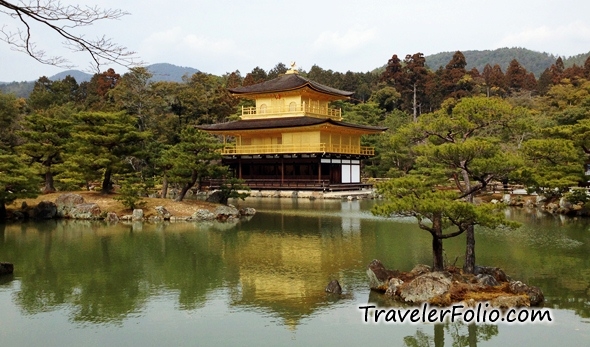 The white piece of admission ticket to Kinkaku-ji serves as a lucky charm as well!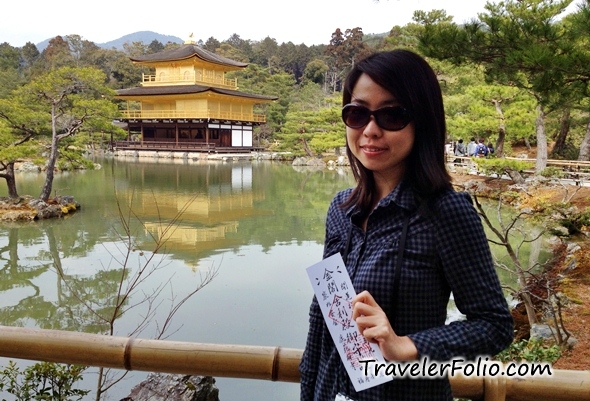 It's real gold leaf covering the top two levels of the temple.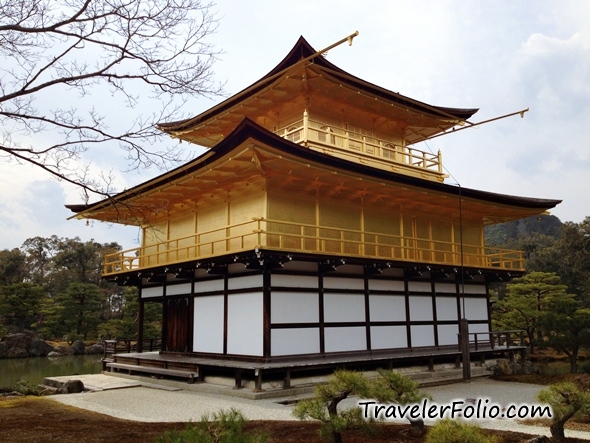 I bought a Hello Kitty charm! There are plenty of cute souvenirs to bring home at the touristy area.
For lunch, we dined at Kiyomizu-Junsei-Okabeya (http://www.okabeya.com), a Kyoto-style restaurant located in one of the wooden townhouses near Kiyomizu-zaka main street. We had yudofu course which comes with a hot pot of tofu cubes simmered in a light broth along with tempura veggies, dengaku (tofu skewer spread with grilled soy bean paste), kaiseki (assorted veggies), sesame tofu, pickles and rice. The set meal cost around ¥2100. It was the healthiest meal I had that month! LOL
Walk along Kiyomizu-zaka and you will find traditional Japanese assorted yatsuhashi that look like triangular shaped mochi and other interesting foodstuff. I bought quite a lot of yatsuhashi of different flavours. They were freshly made, yes, still warm and the skin was very thin. Do take note of the expiry date as they can only last for a few days.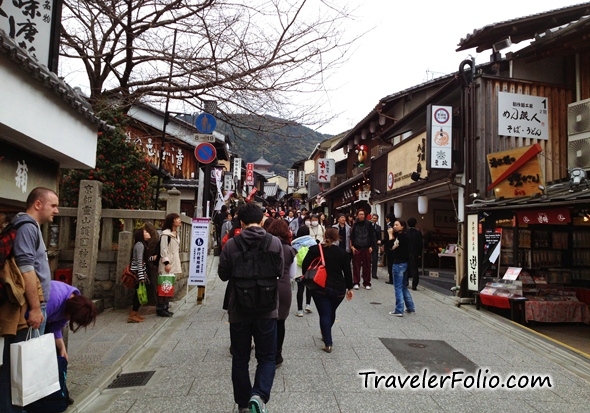 Hello Kitty in sakura kimono!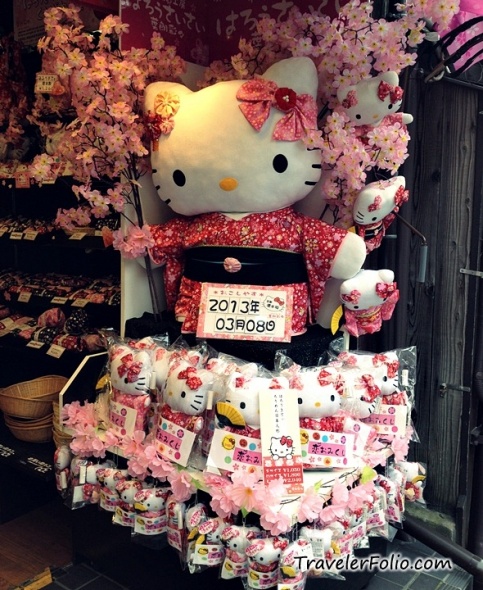 Kiyomizu-dera
We walked through Kiyomizu-zaka street and up the slope to one of the most well-known historic monuments of Kyoto – Kiyomizu-dera. It's a common sight to see tourists wearing kimono walking around at the heritage site. You can even rent a kimono from some of the shops along the nearby street.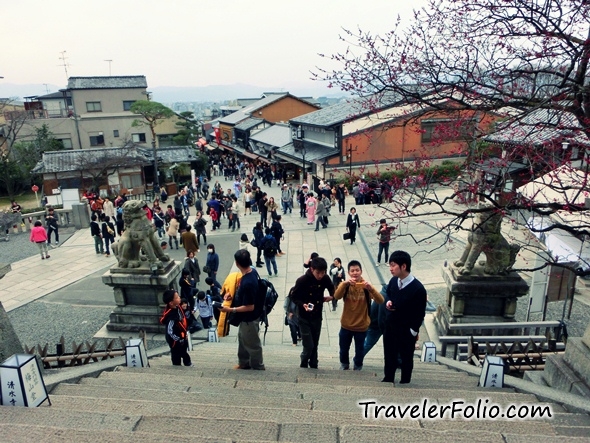 The impressive Deva gate and the three-storeys pagoda in the background.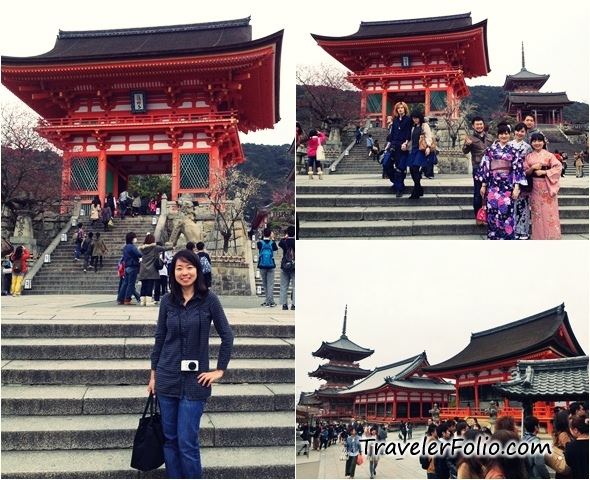 The surrounding scene of Kiyomizu-dera changes with seasons. In spring, cherry blossoms are in full bloom. Autumn sees the landscape transform into a palette of brilliant colours. Looking at the magnificent temple, did you know that not even a single nail was used to construct the whole structure? During the Edo period, if the person jumped down 13-metre from the veranda could survive, his wish would come true. Of course, now it's prohibited to do so!
From the hilltop, we can see the city view from afar.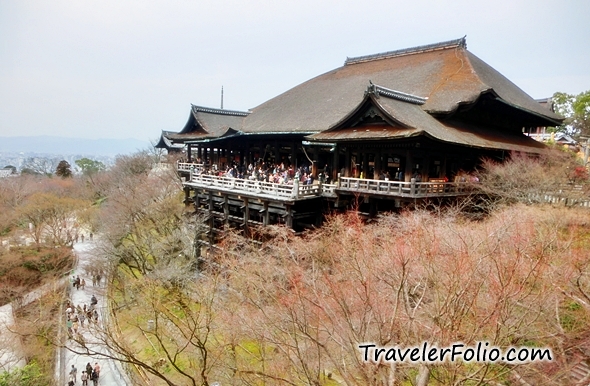 Visitors queue up and use long ladles to drink the sacred water which flows from the Otowa waterfall. It's believed that by drinking from the three streams of water, you are blessed with good health, longevity and success.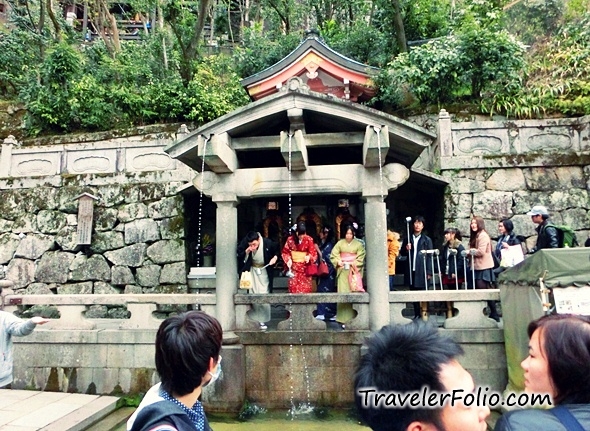 Torii of Jishu-jinja, the traditional Japanese gate of a match making shrine.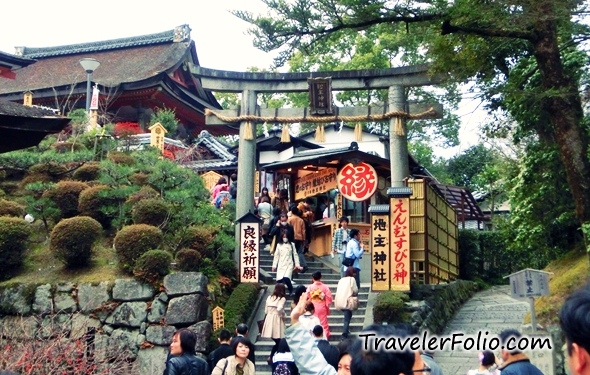 A monk and a Buddha statue.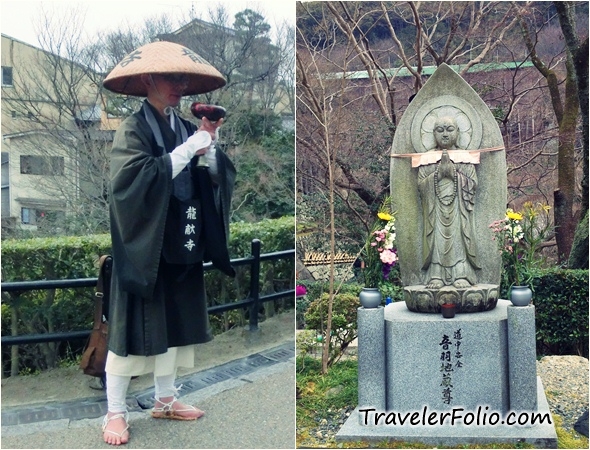 Before we left Kyoto, we had a sumptuous dinner at Michikusa-Genge, an izakaya (Japanese style pub). The set includes a hot pot of chicken meat and veggies, sushi, tofu, deep fried fish and pickles. A very filling meal.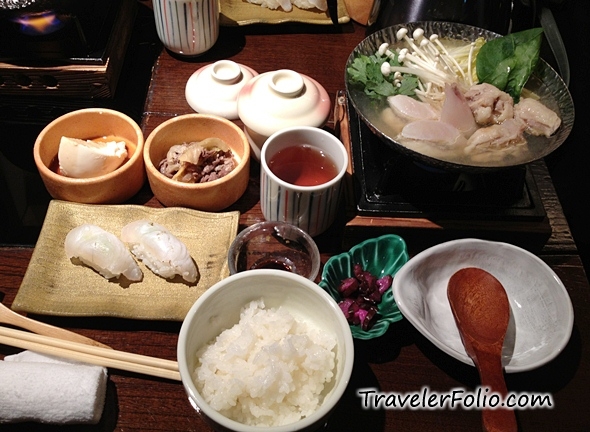 Osaka
We returned to Osaka and ended the day trip at the Floating Garden Observatory on the 39th floor of Umeda Sky Building, popularly known as a 'pair of skyscrapers connected in mid air', a prominent landmark in Shin Umeda City. The unusual architecture is located within minutes walk from JR Osaka Station and Umeda Station.
On the Floating Garden Observatory, visitors can enjoy a breathtaking 360-degree panoramic view of Osaka, a city with modern high-rise buildings, rivers and bridges.
The city of Osaka at night. The Floating Observatory is known as one of the best spots in Japan to watch the golden sunset over the bay area.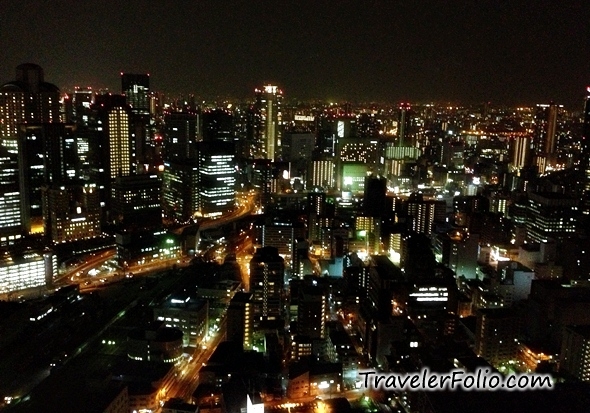 The Floating Garden is also a popular hangout place for romantic couples. At the Lumi Deck (rooftop), lovers can buy a heart lock and attach it to the Fence of Vows.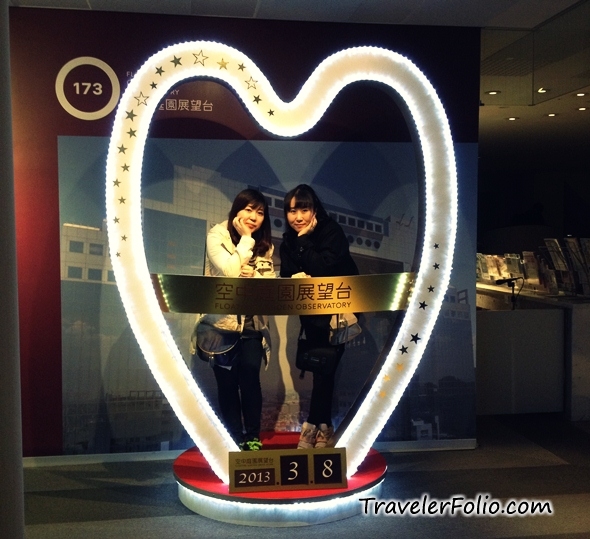 Adult admission fee to the Floating Garden Observatory is ¥700. More information at www.kuchu-teien.com/english/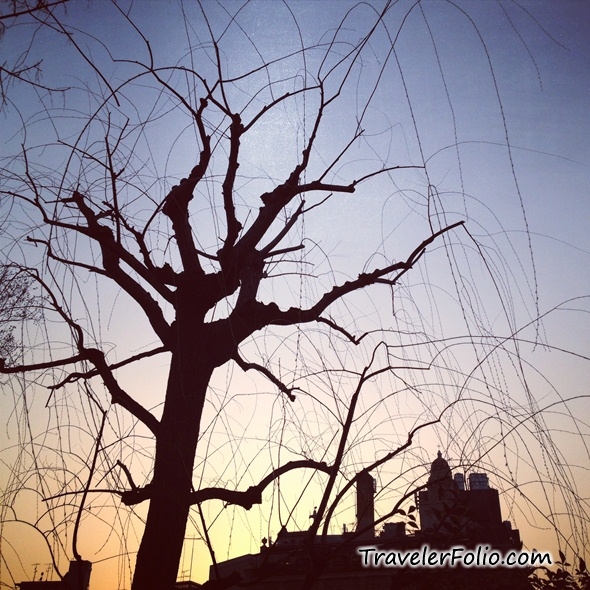 A random shot of sunset in Kyoto.
Read all posts on Osaka-Kyto-Kobe trip.