Continuing from Osaka-Kyoto-Kobe Trip (part 1)
Osaka Castle
Built in the 16th century, Osaka Castle is one of the main attractions in Osaka, famous in Japan. It is situated at the city centre, near Kansai International Airport, so we visited the castle on our first day of arrival in the morning before city sightseeing.
If only we were there a couple of weeks later, at the right place and time, we would be surrounded by cherry blossoms! During springtime, throngs of locals and tourists flock to the premises of Osaka Castle as the park is filled with pretty cherry blossoms. The scenery changes with seasons, attracting visitors all year round.
For a panoramic view of the city and its surroundings, go up to the observation deck at the top floor of the castle. Learn the history of the castle at its museum that exhibits a great collection of historic artifacts including military armours and weapons, portraits and other illustrations of ancient battles and wars.
A view of the city from the observation deck of the castle.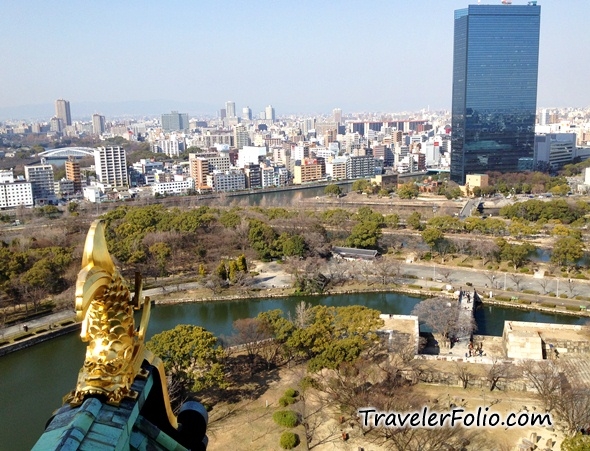 The premises of Osaka Castle.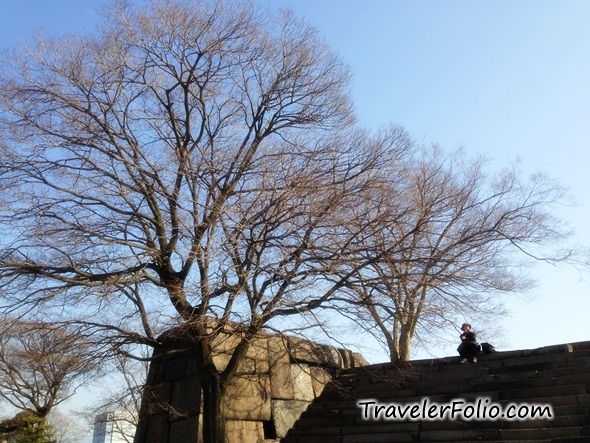 The entrance to the castle. There are rumours about samurai ghosts seen fighting here at night!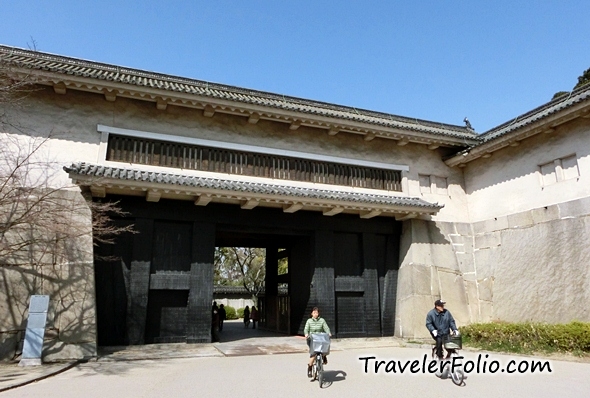 Maid Cafe
At Nipponbashi, also known as 'Den-Den Town', the shopping district is the mecca for 'otakus' as there are many retail outlets selling anime collectibles, cosplay costumes, comic books, video games and other 'otaku' items. We saw girls and guys in cosplay walking around, some were giving out flyers.
By now, I bet many of you have heard of maid or cosplay-themed cafes that are found all over Japan. These cafes were originally catered to attract male 'otakus' – anime and manga fans; now, the maid cafes are well patronized by couples, women and tourists like us! 'Den-Den Town' has a number of such cafes and we walked into one called Tea Maid Cafe CCO (http://ccocha.com/).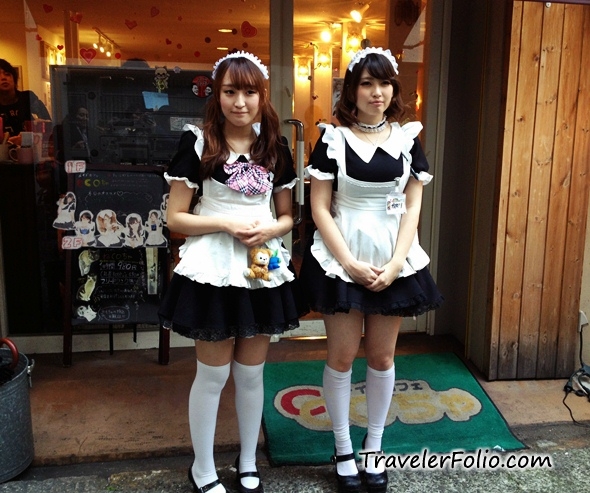 At the maid cafe, photo collages of young girls adorned the walls and there were couples, girls in cosplay as well as guys sitting alone waiting to be served by attractive, innocent-looking waitresses all dressed in French maid outfit. A cup of beverage costs at least 500 yen and we ordered coffee and hot chocolate.
While waiting to be served, we played the curious tourists, observing every movement of the maids. A nasty maid plonked a cup on the table and shouted at a male customer looking sheepish yet seemingly amused. Another sweet-looking maid knelt by the table while adding sugar into our male friend's coffee and stirred it, speaking in Japanese she meant to make the drink yummy. Cute. Yes. No matter what, they were just role-playing and very polite.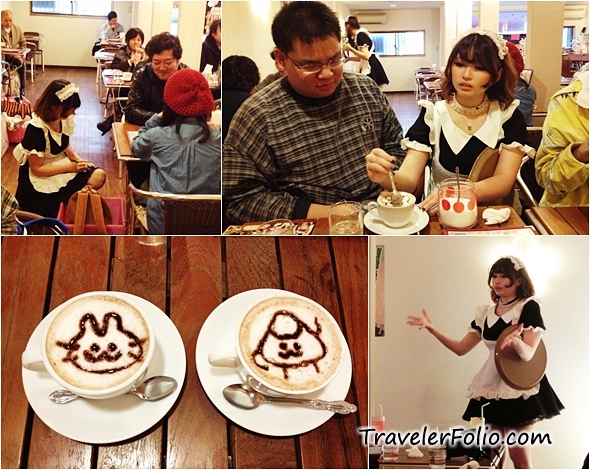 While I was trying to act cute with the maid …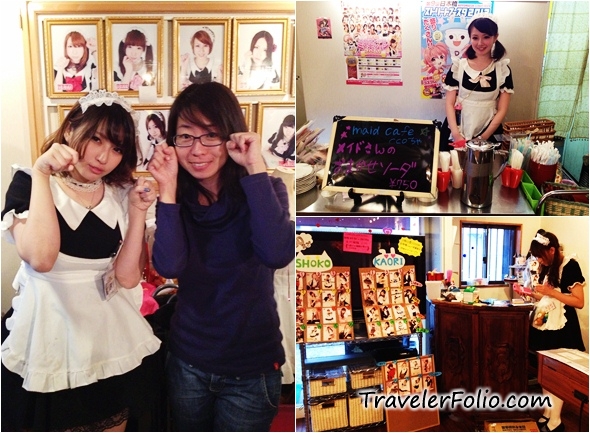 Shinsekai
Shinsekai translates to 'new world'. Doesn't it sound like Hokkien for the same meaning as well? The area is an old neighbourhood lined with restaurants, pachinko parlours and retail stores. The Tsutenkaku tower forms a picturesque backdrop amidst the neon sign boards of various establishments.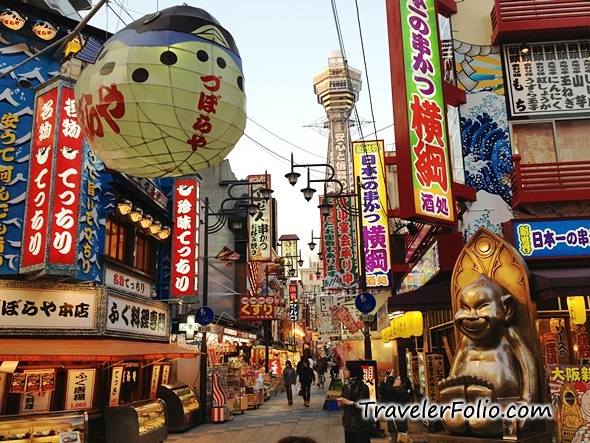 Kushikatsu is one of Osaka's most popular food. There are many izakayas serving kushikatsu at Shinsekai. Our Japanese guide took us to Yamatoya where we were seated on tatami mats and dined from low tables.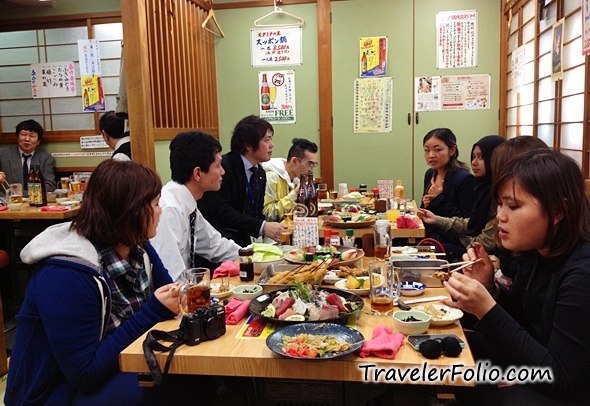 A platter of nicely arranged sashimi with slices of salmon, tuna, yellowtail and salad; sushi and kushikatsu which are skewers of chicken, vegetables and prawns coated in egg, flour and panko before they are deep-fried until crust is golden brown. YUMMY!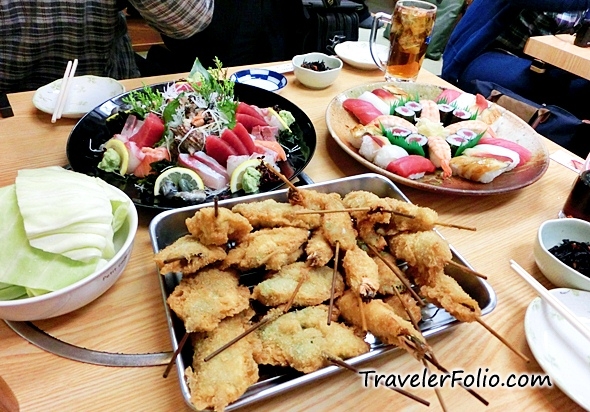 After dinner, the night was still young so we had the time to walk around the underground shops at Nankai Namba Station where Takashimaya Department Store is located as well. Frasers Residence Nankai Osaka, our accommodation for the night, is only within minutes walk away.
Next, let's go to Kobe! Read all posts on Osaka-Kyoto-Kobe trip.