I wish I could stay on for a few more days to explore Kuala Lumpur since I hadn't been there for years but we had to drive back to Penang island to catch the flight back to Singapore two days later.
Back in Penang, we continued to indulge in more authentic local eats on a Monday morning at Air Itam market. There were many market-goers around, probably cos it was Malaysia National Day, a public holiday. Or is the market always crowded in the morning?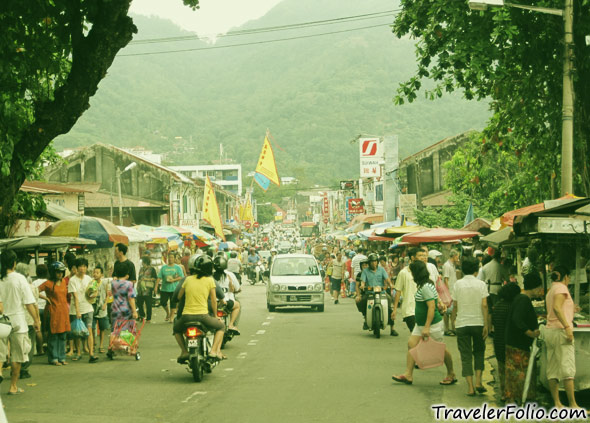 It was quite unusual for someone who kept snapping away in this local market area. Obviously, I looked like a tourist. No, not all Singapore tourists are so engrossed in taking pics this way, unless… if you are a travel blogger?? So nowadays, whenever I see people taking photos, especially aiming at food before eating, I would think they might have a blog. XD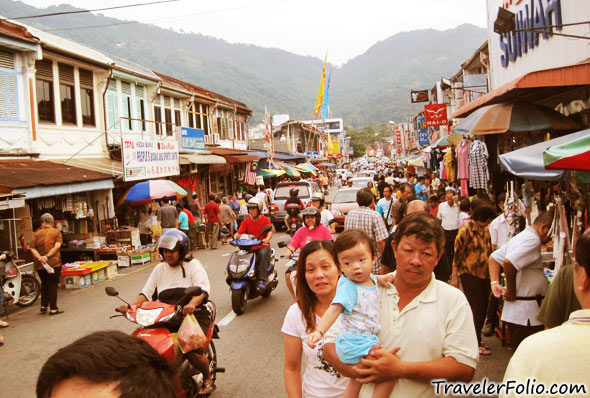 It's so convenient. You don't need to find parking lot and can just buy groceries along the way on a scooter, just like MacDonald's Drive Thru'. =D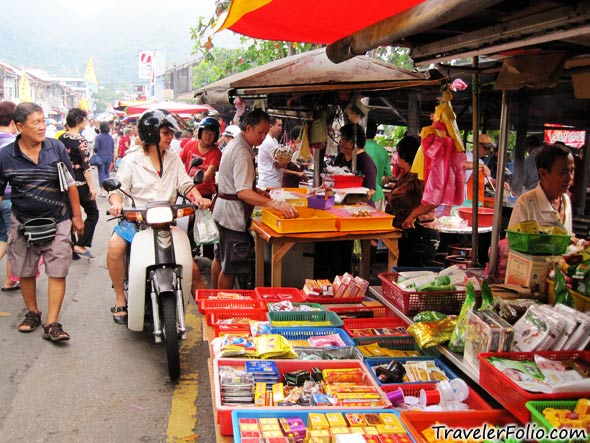 Fresh chicken.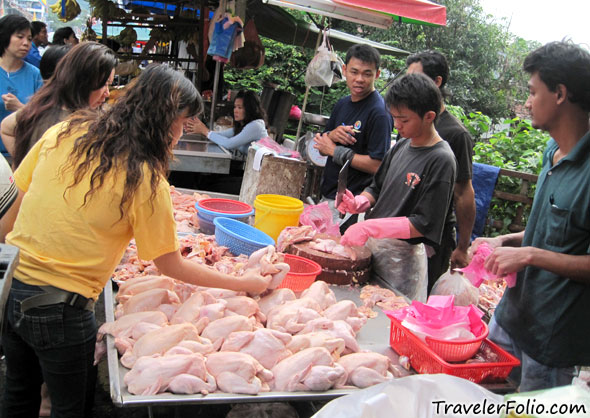 This friendly uncle took out a harmless-looking little snake from the container and posed this shot for me. Well, I guess, those snakes are for consumption. :S Or could it be for "animal liberation"?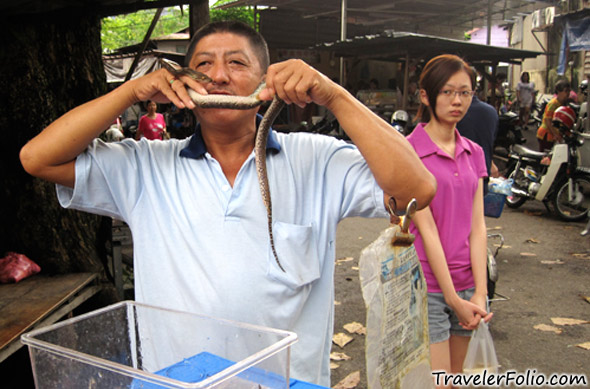 A cage of turtles. apparently, are for someone's dining table. Hey maybe that's for "animal liberation". Also, live fish in buckets of water.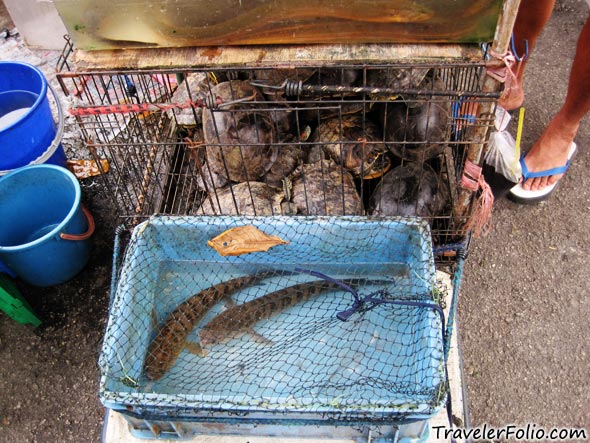 We came to Air Itam for the famous "Kio Kar" curry mee! I bet Penangites know about this stall along the roadside manned by the two (or three?) old aunties who cook curry using charcoal stove. All the ingredients and pots are placed on the floor. While sitting on stools, the friendly ladies would prepare the food for the customers. It's not easy to find seats as there are only a few tables along the busy street.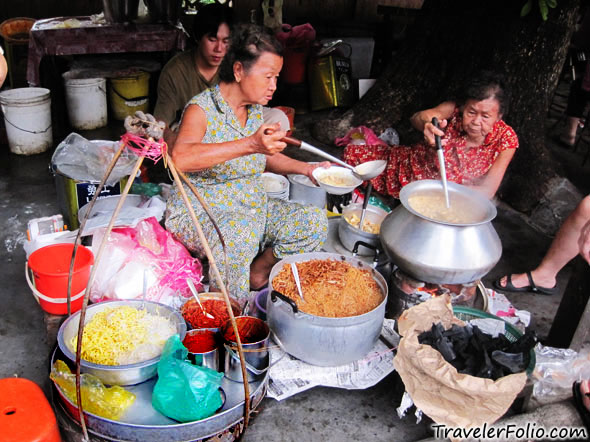 I was a little surprised when my order came. It wasn't quite like the curry mee with thick red curry gravy that I know of. The curry has little coconut milk in it so it tastes like soup to me. If you like it more spicy, stir the chilli paste into the gravy. The bowl is topped with cuttle fish and tau pok (fried bean curd).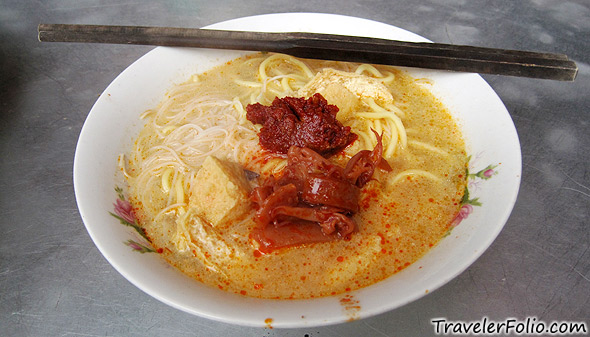 Old wooden chopsticks, perhaps, older than you!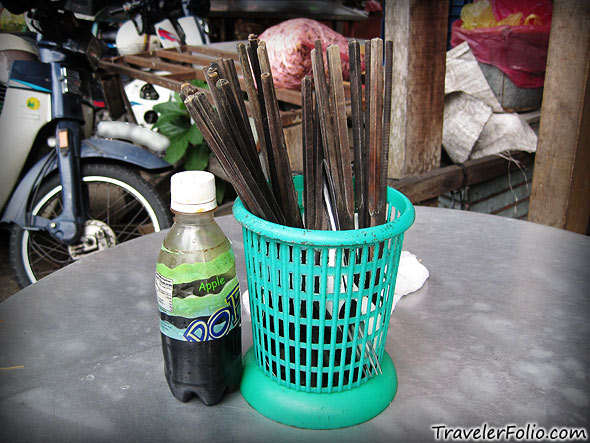 Perched against a hill slope in Air Itam, Kek Lok Si (极乐寺) is the largest Buddhist temple in Southeast Asia. The magnificent temple also houses a columbarium with niches to store cremation urns. Those marble niches at the top floor facing the city and the sea are the most expensive: one niche costs up to RM30,ooo (~US$8700).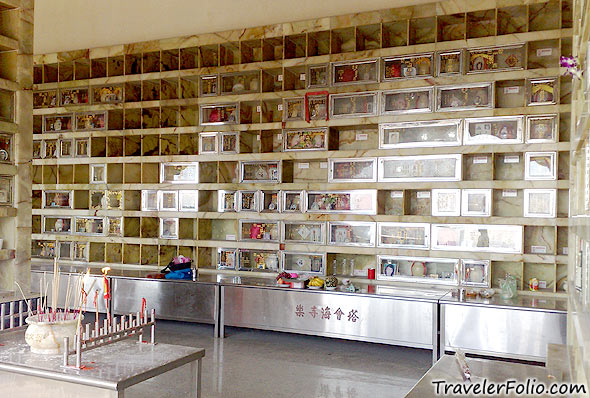 A panoramic view of Penang from Kek Lok Si Temple. Scroll Left->Right.

We see this beautiful sunset everyday from a room in the house.