Keren: We are going to meet Ilana Goor, a very famous artist and designer!
Ilana Goor
It's not very often we get to walk side by side with a world renowned artist in her private museum, her residence. Apparently, Ilana Goor was having meal when we arrived but she still came to us with a very warm welcome.
Unconventional, individualistic and multifaceted, Goor developed her artistic techniques from an early age and rose to prominence with her large buckle belts for men in the United States. In fact, she held the first one-woman exhibition at the California Museum of Science and Industry in Los Angeles in 1972.
Internationally known as a self-taught artist whose creations are a blend of abstract and realism, the ingenious 76 year-old works on sculptures, lighting fixtures, furnitures, jewellery and fashion items which you can find prominently displayed in distinguished galleries locally and worldwide, such as the Tel Aviv Museum of Art and the Museum of 20th Century Art in Vienna.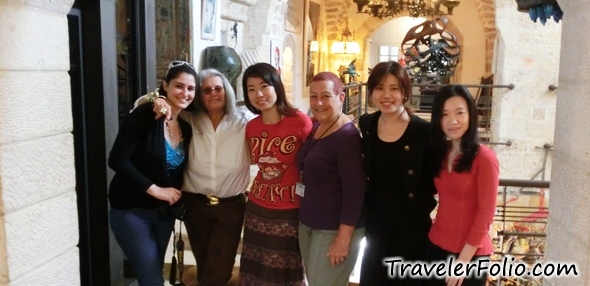 From Left: Keren Or, Ilana Goor, me, Phyllis Gil-Ad (our lovely guide), Wendy and Laytin.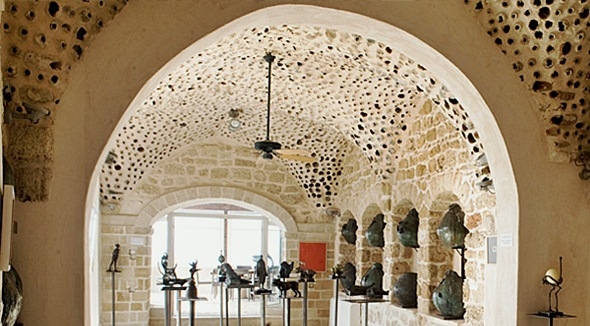 The Museum houses a huge collection of over 500 masterpieces from all over the world including Ilana Goor's artworks. Goor bought the building in 1983 without knowing what it contains. The brick architecture dating back to the 18th century used to serve as a hostel for pilgrims on the way to the holy Jerusalem.
Intensive reconstruction revealed some historic finds like an ancient stone oven that was used during the times when soap and perfume were produced in the building; and a decorative ceiling that resembles a beehive, featuring clay pitchers that provided insulation. More discoveries have yet to be made as digging is still ongoing!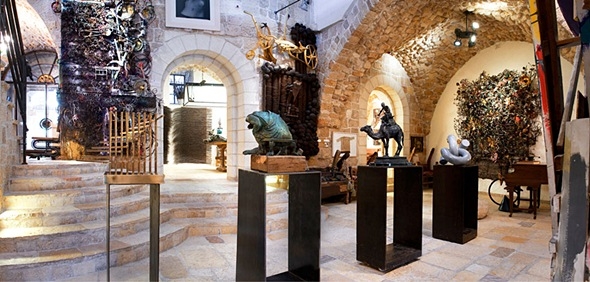 Overwhelmed by the mind-boggling exhibits at the Main Atrium, curiosity led us to other atria to appreciate Goor's impressive artworks and collections. She seems to have iron hands that can transform strong and rough materials like iron and bronze into lively, whimsical sculptures.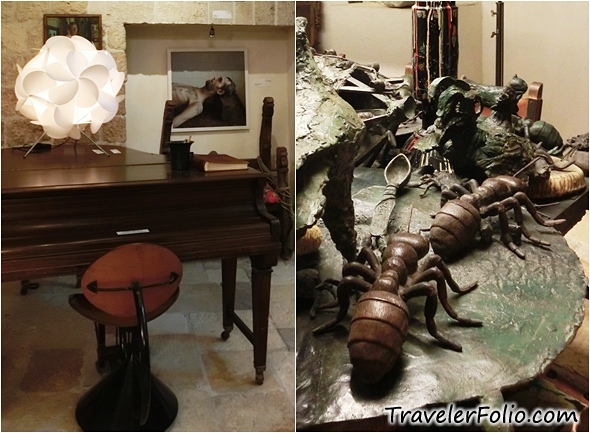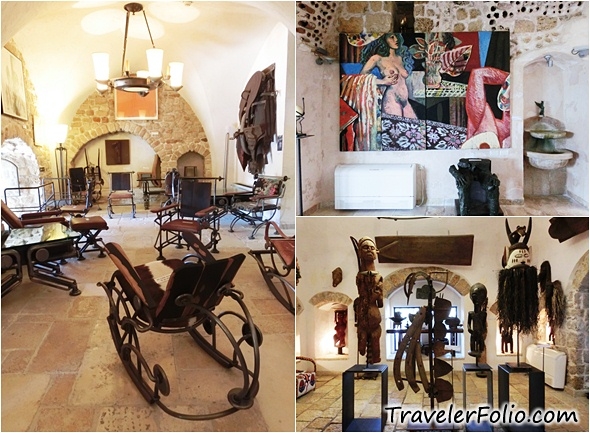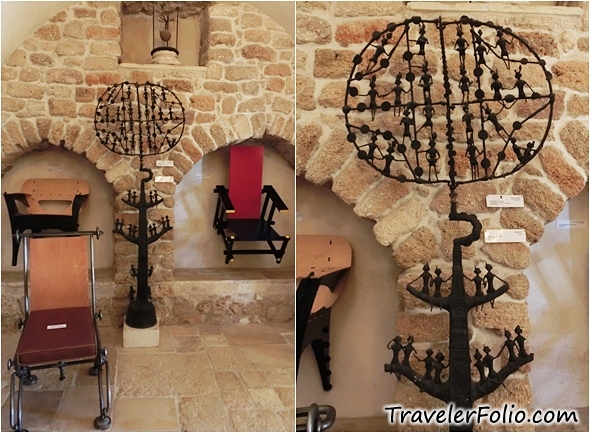 The bluish chandelier hanging elegantly from the ceiling was brought to Israel from a mosque in Egypt by Goor. Now it's one of the museum collections.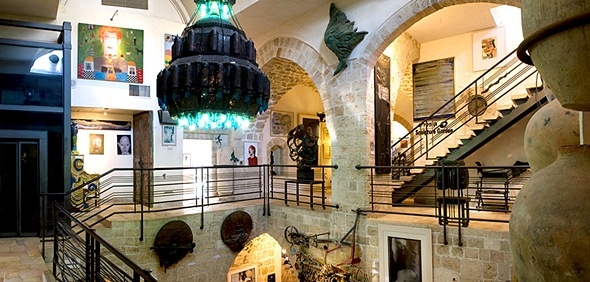 The Christian Room that displays a sacred collection of crosses and figurines made of olive wood.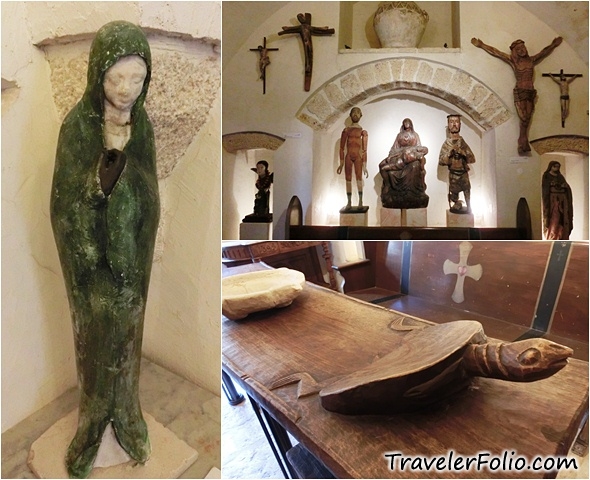 I was 'thick-skinned' enough to snap an 'intimate' shot of Goor's husband's exquisite buckle when we learnt that it was designed by the wife!
By the way, you can find uniquely designed jewellery and creations by Ilana Goor at the museum shop.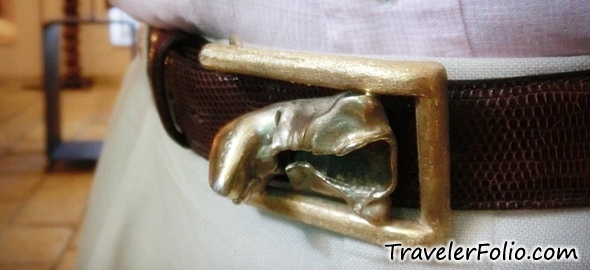 The Sculpture Garden is everyone's favourite! Once you are up there on the Museum's roof, you'll be inspired with thoughts like 'I wish I've such a dream home', 'I wish I can see such breathtaking view of the Mediterranean Sea everyday'… Look at that azure sky and glistening blue sea!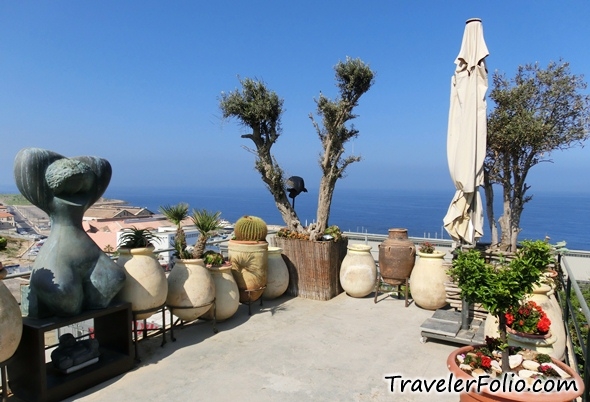 Like its namesake, there are large sculptures made of different materials on display at the rooftop garden. Guess what you see here? It's a coffin. Many have wondered what it contains. We didn't have the courage to peek inside. Let the matter rest!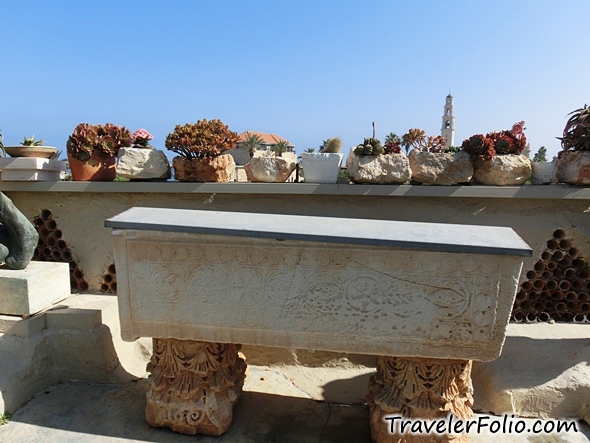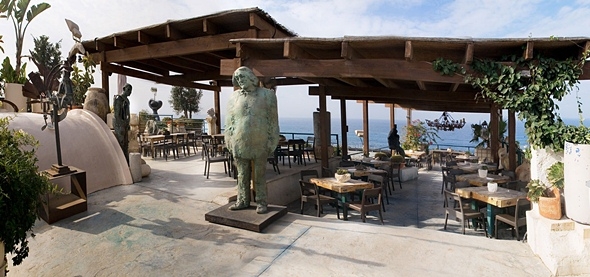 Jaffa and the Mediterranean Sea. Jaffa is one of the oldest port cities in the world.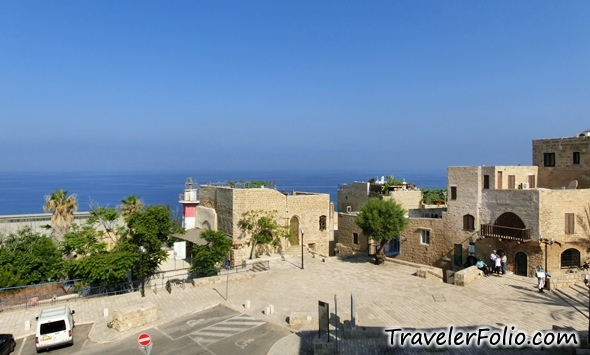 Besides being amazed and inspired by the unique collections and artworks of Ilana Goor, the museum is an attraction in its own right. It's mind-blowing! Many of us felt like we've entered into another world. Be sure to put it on your itinerary!
Ilana Goor Museum
Address: Ilana Goor Museum, 4 Mazal Dagim St., Old Jaffa
Web: http://www.ilanagoor.com/index.php?lang=eng
Dr. Shakshouka restaurant
What's next after the museum tour? Ilana Goor invited us to have a late breakfast at the nearby Dr. Shakshouka – a very popular kosher Tripolitanian restaurant that specializes in traditional home cooked dishes that have been passed down for generations.
I dined at Dr. Shakshouka on my first trip in Israel last year and fell in love with 'Shakshouka'! In case you are wondering what it is all about, the North African dish is a mix of tomatoes, bell peppers, poached eggs and spices served on a cooking pan. Sounds like a simple dish but it's so yummy both Wendy and I still crave for Shakshouka. (We found some eateries in Singapore selling the dish but it pales in comparison.)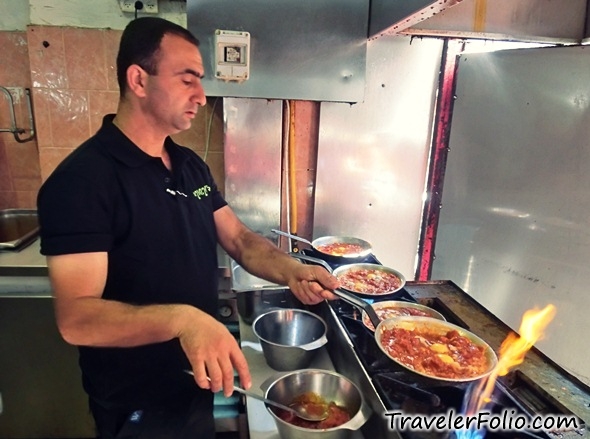 The real stuff that we go gaga over – Shakshouka … *drool*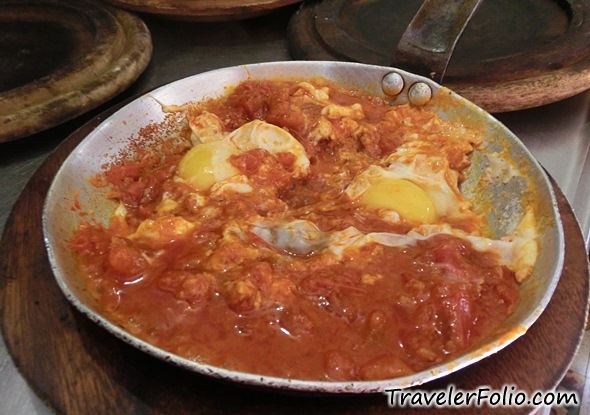 I was pretty excited when the boss of the namesake restaurant dined with us! 'Dr. Shakshouka' and Ilana Goor are both famous personalities and friends. Who doesn't know them in Israel?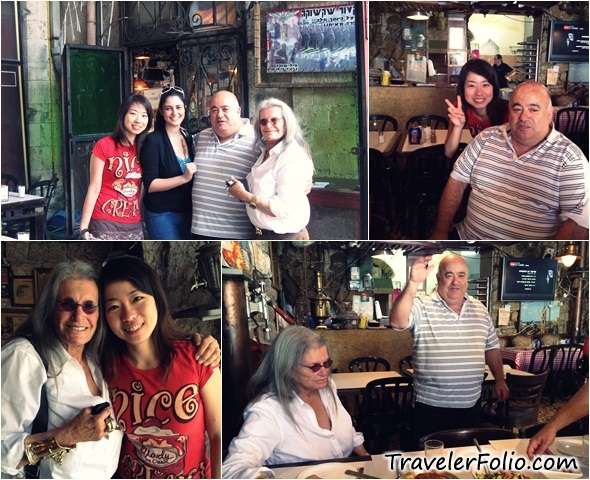 Photos with 'Dr. Shakshouka' and Ilana Goor at the quirky restaurant, one of its kind with pots suspending from the ceiling. A very unusual ambience to dine in!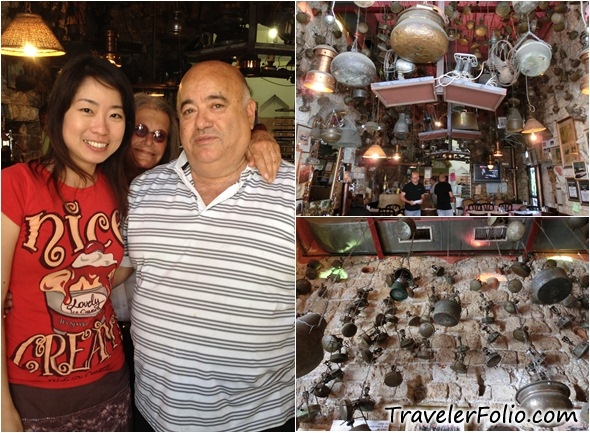 Dr. Shakshouka restaurant
Address: Beit Eshel 3, Jaffa, Tel aviv
Web: http://drshaksuka.rest-e.co.il/
Special thanks to Ms Phyllis Gil-Ad who was our professional guide in Jerusalem and the Dead Sea as well! You will see more of her photos in my upcoming posts. A very knowledgeable and passionate guide with intense insights of Israel. Phyllis is like our walking encyclopedia, she could feed us with information about the country in various aspects and we were very much enlightened and inspired by her! You know she is in her seventies yet still looks so full of live and energy! (See group photo with Phyllis as shown on top.)
Read all posts on Israel.