"We're born to fly, we're meant to. At iFly Singapore, this is flying."
Situated in Sentosa of Singapore, iFly Singapore offers another tourist destination for those seeking adrenaline rush activity, you will experience thrilling indoor skydiving action like no other. Get ready to fly with me as I unveil the unique body flight experience right here in the Singapore.
1. Safety
The base has a stainless steel elastic net that can withstand the weights of 200 people of 100kg each! There is no fear of stepping out the plane at the height of 12,000 feet, no fear of parachute malfunction.
The patented wind tunnel design is state-of-the-art for ensuring safety. There are 4 huge fans located not at the bottom, but on the top of the building. The air circulates through the air towers and then blow upwards, achieving wind speed of up to 300 km/h (normal body flight wind speed ranges from 160 to 190 km/h) The tunnel design has an accident rate of ZERO!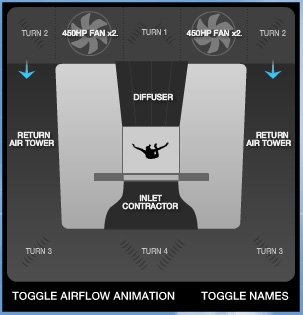 All the 11 certified instructors of iFly Singapore have undergone intensive training compliance with International Bodyflight Association (IBA). They have over 26,560 hours of combined flight time. Safe!
Training is provided before the each and every flight where the instructor will explain the correct body posture, hand signs for communication and safety. That's why you have to "check in" one and a half hour before flight time.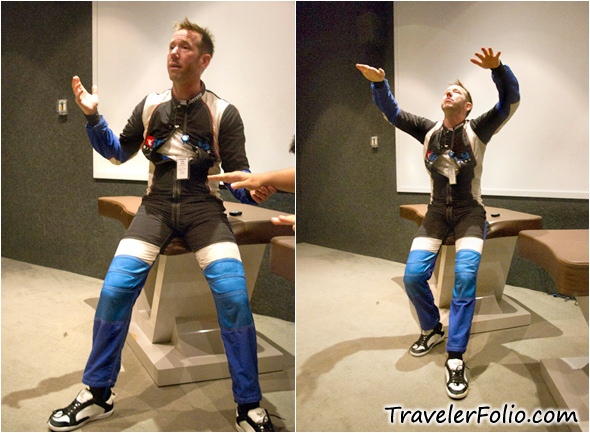 2. No Bad Weather
Unlike actual skydiving, there is no worry of bad weather. As a first timer, I could fly freely at my own whilst the instructor is always by my side guiding my body to contour correctly, asking me to relax when I tensed up, pulling me back when I was about to hit the wall, and most importantly, reminding me to smile at the camera. *Say cheese*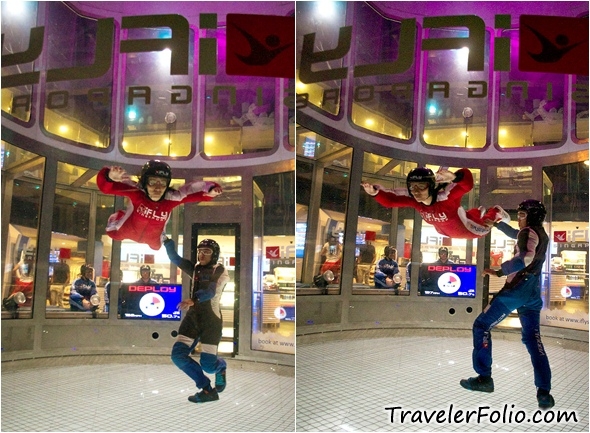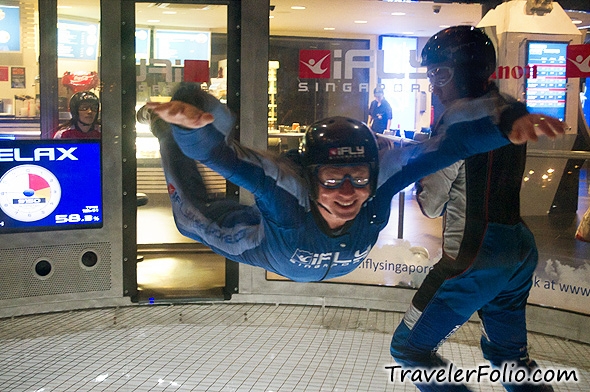 As compared to tandem jump (where a learner is connected via a harness to a tandem instructor), you need to take a plane to fly to the altitude of 12,000 feet, plunge down 3,000 feet and the parachute is then deployed. The time it takes falling through the air from 12,000 feet to 3,000 feet is almost the amount of time you spend inside the simulator, and you get the chance to try it 2 dives in iFly Singapore. The best part is it costs only 1/5th of the cost of a tandem jump.
3. World's largest indoor skydiving simulator
Measuring at a height of 56.5ft and width of 16.5 ft, it just means that you can fly as high as 3 to 4 storeys, as I did in my last dive where I flew with the instructor. It was really fun! Imagine flying up and down, circling inside the tunnel, and rolling in the air.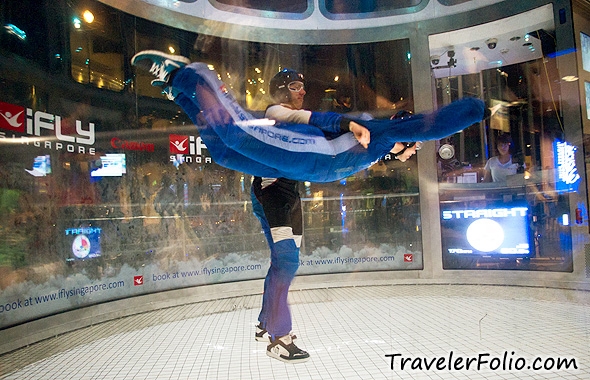 Being the largest also means that at any one time, up to 20 professional flyers can be accommodated inside the barrel, that's a huge space for us to do some styles such as freeflying, four/eight-way formations and Vertical Relative Work.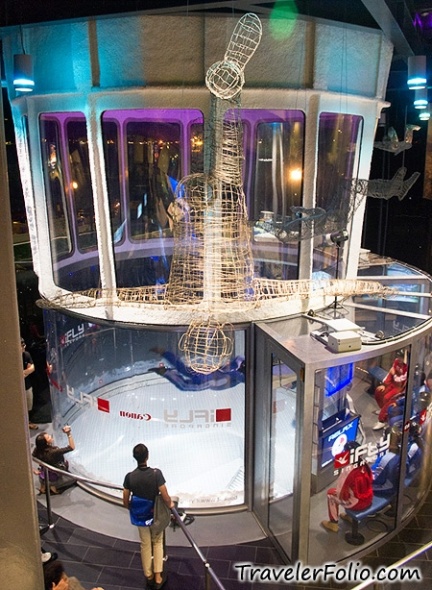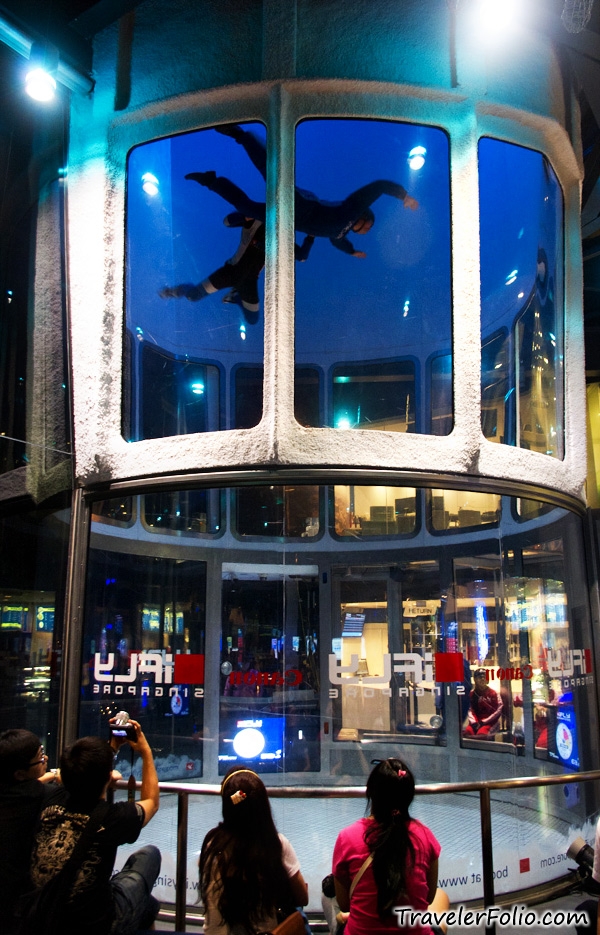 Get ready to fly?
If possible, book your flight time around 8.00 − 8.30pm. Why? Because that's the time when the firework display of "Songs of the Seas" is launched. You might get that firework display as the background as you fly. Even if you can't make it at that time, fret not, because the the wind tunnel offers the breathtaking view of the South China Sea.
Gear Up Area
For safety purposes, only covered shoes with laces are allowed, no slippers, heels or sandals. You can rent shoes at the counter. All loose items such as rings, chains, ear rings, watches, wallet, handphones are to be kept in the locker. Spectacles are fine, goggles are provided.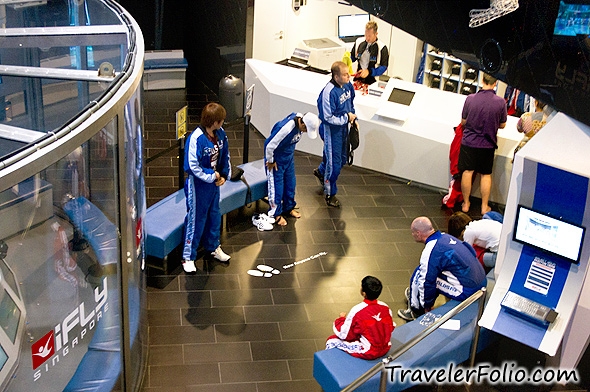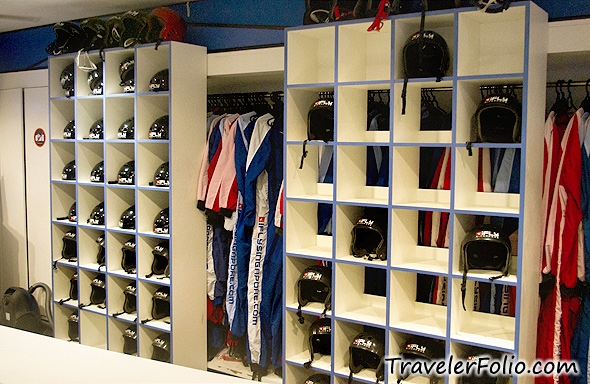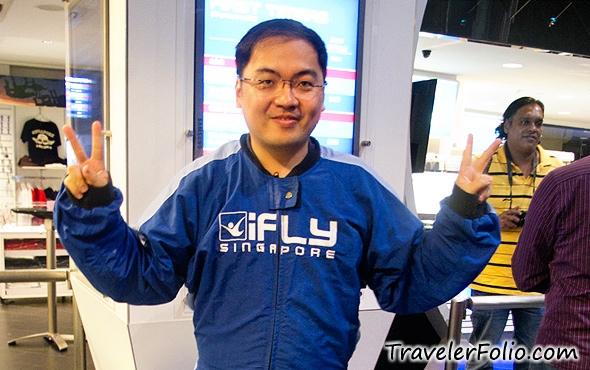 Each group consists of around 10 − 12 people, each dive last for at least 45 seconds which is long enough for first timers (actual skydiving from 12,000 feet to 3,000 feet gives 45 seconds to 60 seconds of free falling). The Adult First Timer Challenge Package package allows for 2 skydives. However, if time permits, you can go for another dive at a much cheaper rate per dive. Just let the instructor know, and you might be able to fly with the instructor like me. Trust me, it's really fun to fly with instructor!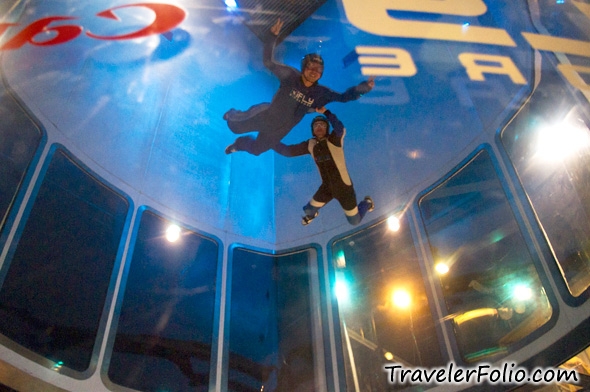 ---
TravelerFolio Special
From 29 Oct to 31 Oct 2011, go in a group of THREE to enjoy a 20% off the Adult First Timer Challenge Package. PLUS receive TWO PHOTOS and one DVD of the flight experience for FREE (total saving of more than S$150)
Just flash this blog post (https://travelerfolio.com/ifly-singapore-skydiving), either on your mobile, laptop, tablet or print out upon purchase of your flight tickets at the iFly Singapore's ticketing booth.
Terms:
1. Discount is only valid for flight bookings made for all three first time flyers.
2. Valid for both online and onside bookings
3. Not valid in conjunction with other vouchers/discounts/promotions
4. iFly Singapore reserves the right to amend the terms and conditions without prior notice.
---
More information on iFly Singapore http://www.iflysingapore.com/main.html