Upon arrival at Soekarno-Hatta International Airport in Jakarta, the capital city of Indonesia, we were DELIGHTED to be treated like some BIG SHOTS when a few big luxurious cars from Hotel Indonesia Kempinski picked us up, two passengers in each BMW, and drove us to the 5-star hotel that's located in the city centre, some 40 minutes away from the airport.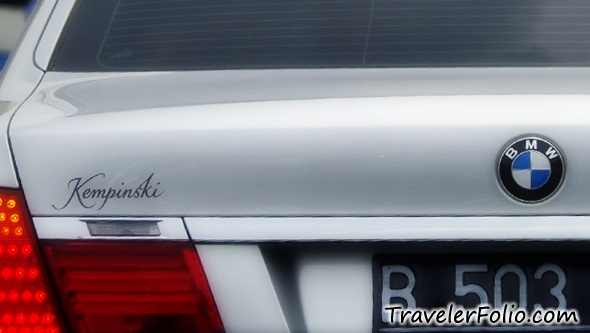 An urban vista of the busy city centre from our room at Hotel Indonesia Kempinki. The roundabout – Bundaran HI – draws attention to the iconic "Welcome Statue" perched in the middle of a huge fountain. The statue was dedicated as a welcome gesture to guests during the 4th Asian Games in Jakarta in 1962.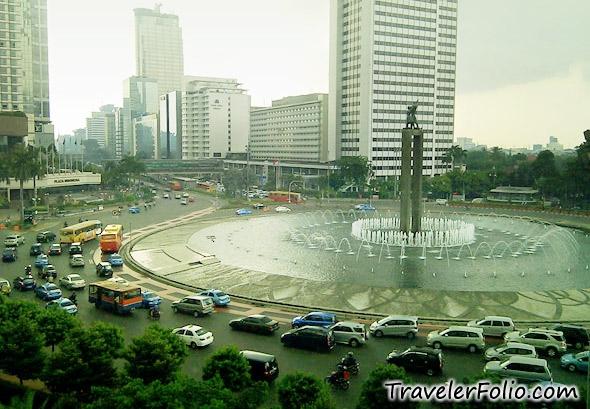 Opened in May 2010, Hotel Indonesia Kempinski earns its reputation as one of the best newest hotel in the world 2010 by Conde Nast Traveler US. In fact, the establishment was previously Hotel Indonesia that was officially initiated by the first President Soekarno as the first 5-star hotels in South East Asia positioned to promote Indonesia's tourism.
Today, Hotel Indonesia Kempinski is recognised as a historical site by the Indonesian government. Managed by Kempinski Hotels S.A., Europe's oldest luxury hotel chain, the heritage landmark is reconstructed and revived into a distinguished hotel that combines Indonesian hospitality and European luxury for the discerning holiday makers and business delegates.
The contemporary-style Grand Deluxe Room with a super comfy King size bed, a state-of-art in-room entertainment system, Wi-Fi accessible (to stay wired!) and amenities that you can expect from a 5-star opulent hotel. I think it's gonna be my BESTEST hotel stay of the year!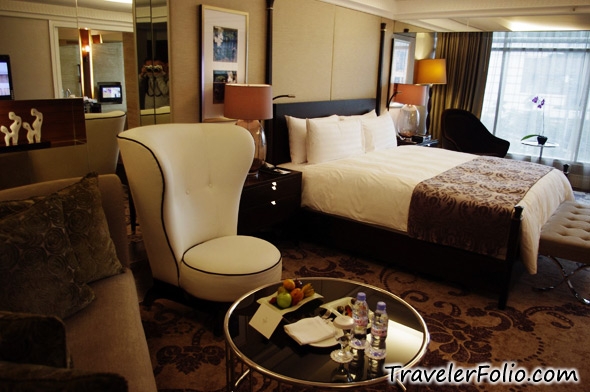 The en-suite bathroom is lavishly equipped with a rain shower, two sinks and a big bathtub with a flat screen TV alongside. And yes, you can literally soak in the city view too!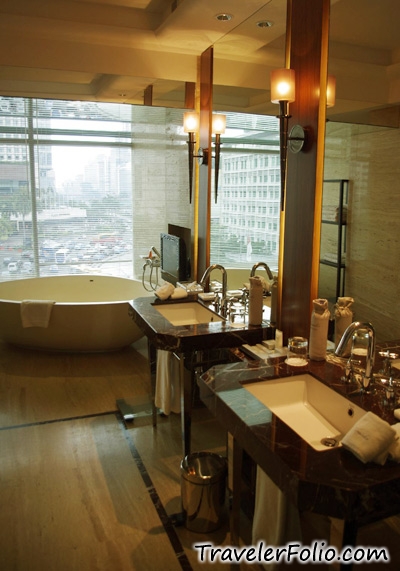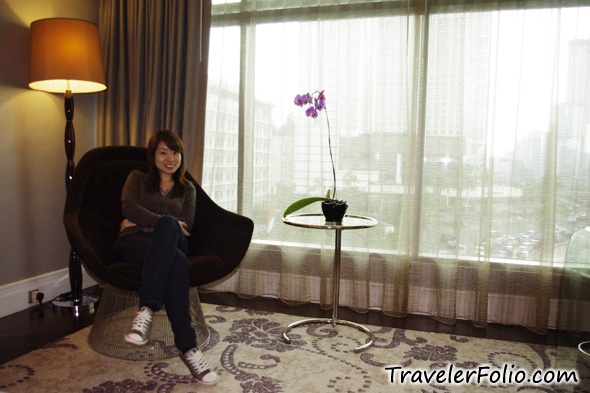 The grand hotel lobby.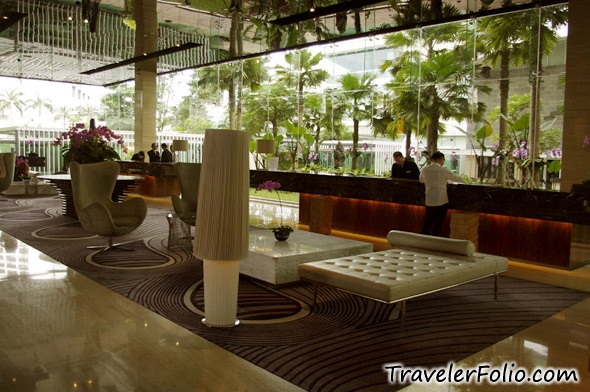 The splendid oval-shaped Bali Room is a historical legacy; it used to be utilized by the then President Soekarno (Sukarno) as a meeting room to entertain state guests and VIPs in the 1960s. Today, the Bali Room has been restored to hold grand celebrations and conferences. The "LCD mood lighting" on the ceiling is able to change colours according to requests.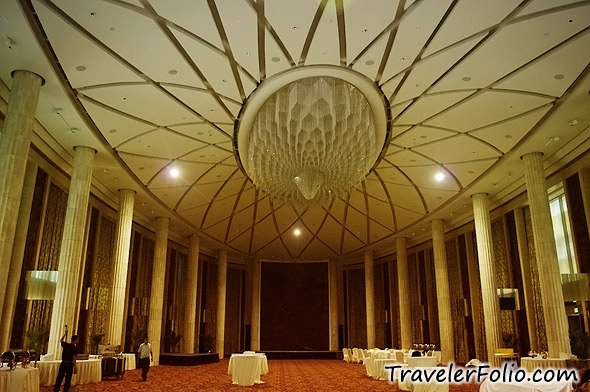 Rejuvenate and recharge. Treat your senses at the KempinskiSPA that offers traditional massage and beauty treatments.
A traditional way of Indonesian greeting: pressing the palms (like praying) together near the chest.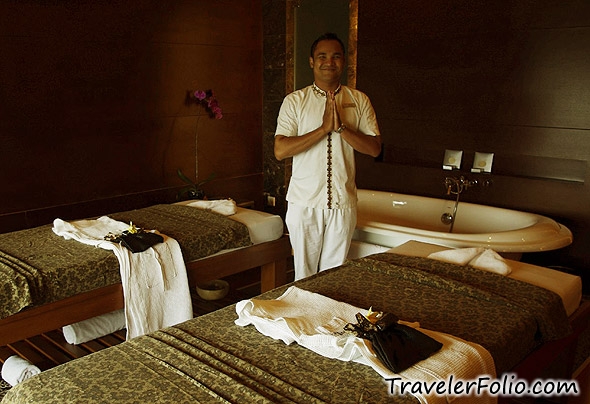 Get a dip in the pool or work-out at the state-of-the-art gym facilities.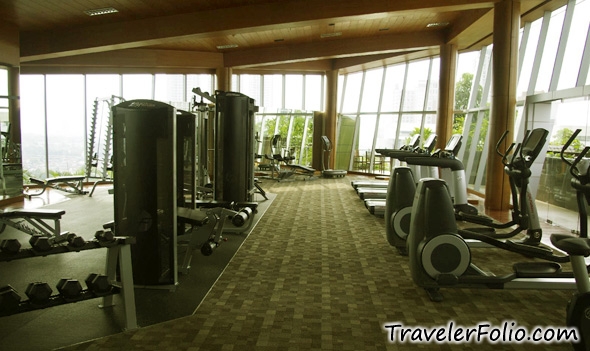 For retail therapy, you'll be happy to know that Hotel Indonesia Kempinski is part of Grand Indonesia Shopping Town featuring high-end boutiques, Indonesian handicrafts, authentic goods, restaurants and a movie complex.
It's not surprising that such a prestigious hotel houses exquisite restaurants spearheaded by culinary experts to present Indonesian and international cuisines to the guests. We had a scrumptious buffet lunch at Signatures Restaurant where you can dine indoor or al fresco.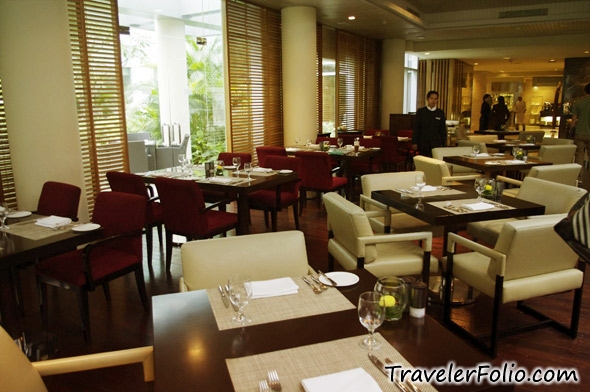 Signatures Restaurant offers a great variety of lip-smacking delicacies and a good gastronomic experience for me to try some local food. Eventually, I realised I love Indonesian cuisine!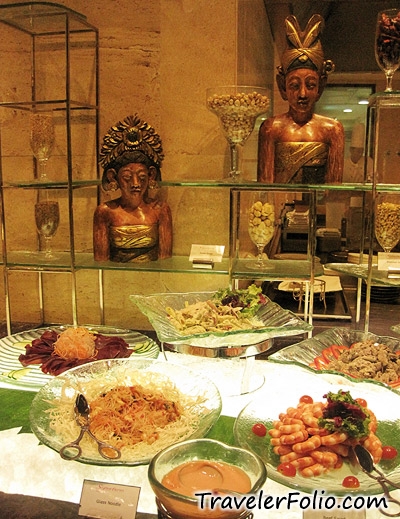 The chef was preparing my ice-cream teppanyaki on a marble slab.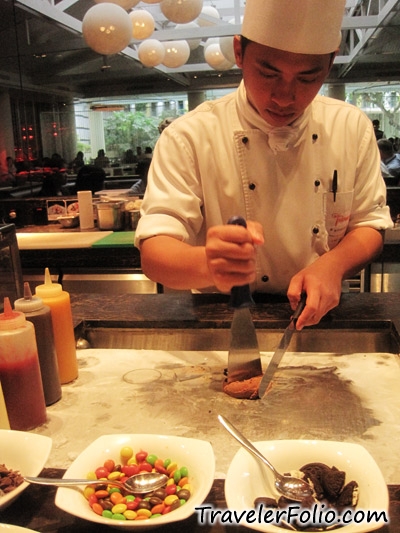 For dessert lovers, you will be spoilt for choice. I had a toothsome spread of cakes and puddings on the table; mind you, this photo only shows a portion of it. My "dessert-not-enough" syndrome has already caused some jaw-drops.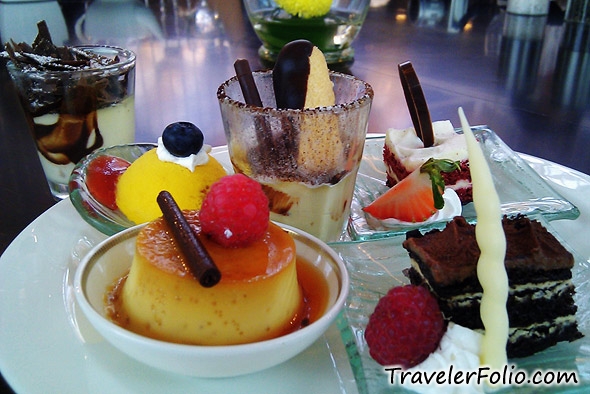 Located in Hotel Indonesia Kempinski, Paulaner Bräuhaus dishes up Bavarian specialities with an onsite microbrewery that brews pure, unadulterated beer that is served fresh. Coincidentally, it was the hotel's first Oktoberfest held at Paulaner Bräuhaus and we were invited to attend the German beer festival.
The famous Donautal Duo Band from Germany entertained us throughout the Oktoberfest celebration. The Germans can even sing a Mandarin song like a Chinese! OMG They can sing 《月亮代表我的心》!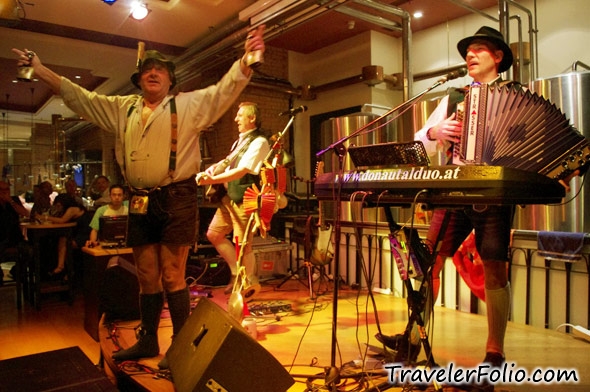 Seriously, I think this German accordion player knows Kung Fu!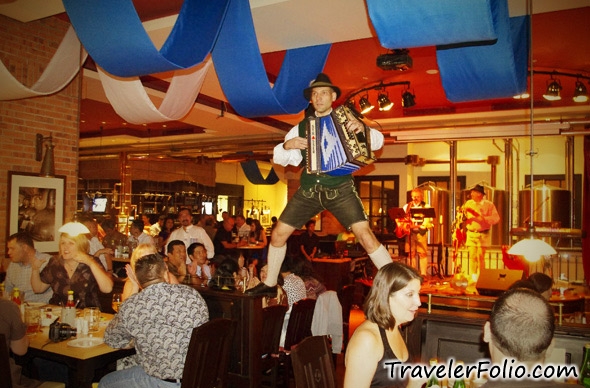 One of the Donautal Duo Band performers donned in sleeping gown suddenly approached us and stood on our table while he was holding a candle and singing!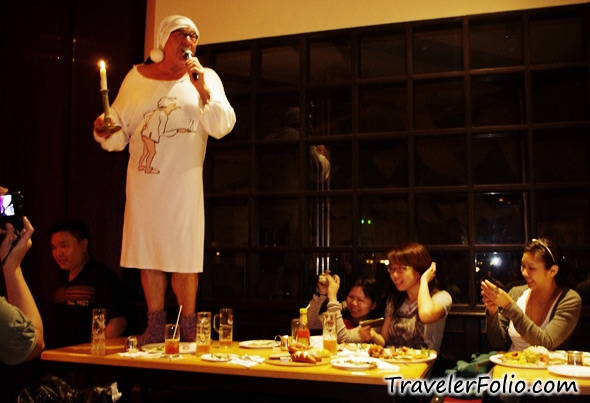 Gosh! Now then I realised he sucked the candle.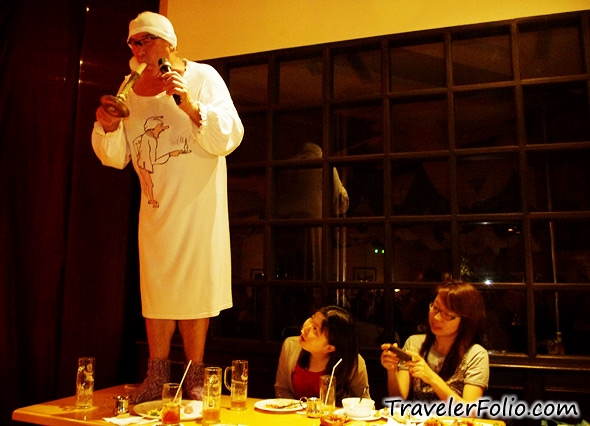 Roast and steamed pork knuckles, sausages, hams, cheeses, potato chips, salads and Paulaner beers were some of the tasty food and drinks served at the Oktoberfest party at Paulaner Bräuhaus.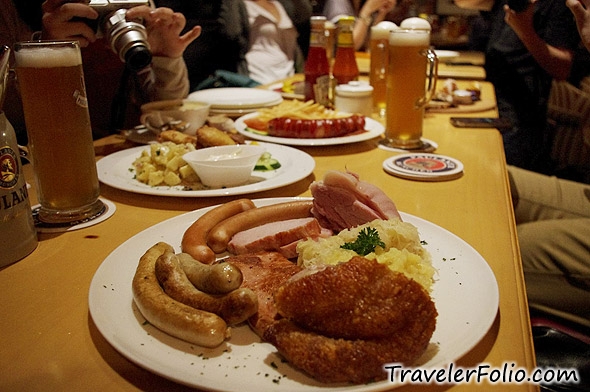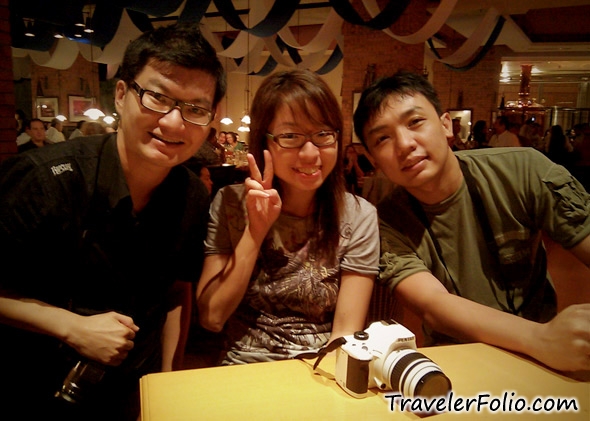 nom nom nommmm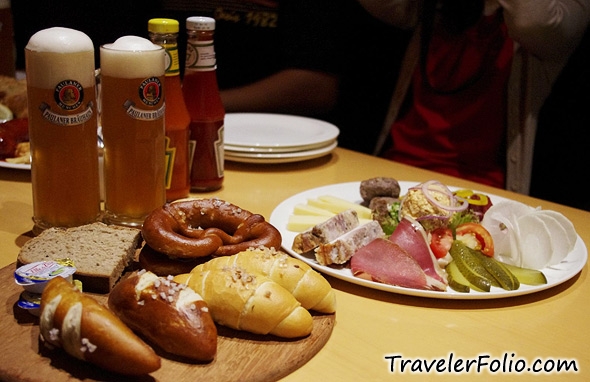 The German folks were getting high…
Kick his ass!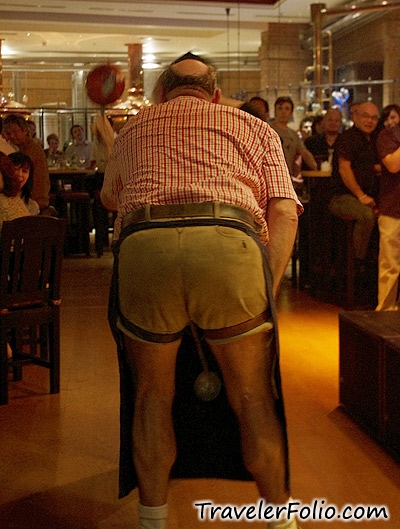 Look at his bottom. Kinky!
Address of Hotel Indonesia Kempinski: J1. MH Thamrin No. 1. Jakarta 10310, Indonesia.
http://www.kempinski.com/en/jakarta/Pages/Welcome.aspx
Garuda now offers very good deals for weekend getaway from Singapore to exotic destinations in Indonesia till 31 March 2011. The promotion packages include luxury hotel stays + return air ticket. Check out garudaindonesia.com.sg
Follow me as I continue to blog about our 3 days 2 nights Garuda Indonesia experience, a weekend getaway to Jakarta and Bandung!