The world's only F1 Night Race has begun in Singapore since last night. Tonight is the qualifying rounds and tomorrow is the final race. I want to watch F1!!! Yay can only watch it 'live' on TV. My friend told me they could catch glimpses of the F1 race at Marina Bay Square last year and the sound was so deafening that she got headache. Sounds good! I think I'll just mingle around the area tomorrow. LOL (update: I did get the ticket to watch F1 Qualifying Rounds at the last min!)
F1 Rocks™ Singapore is the first ever F1 rocks concert held during the Grand Prix week set to rock the F1 Night Race city with 'live' performances featuring some of the biggest stars like Beyonce and Black Eyed Peas. Thankfully, I got a pair of complimentary tickets from LG, the sponsor of F1 Rocks™, to attend the rock concert two days ago.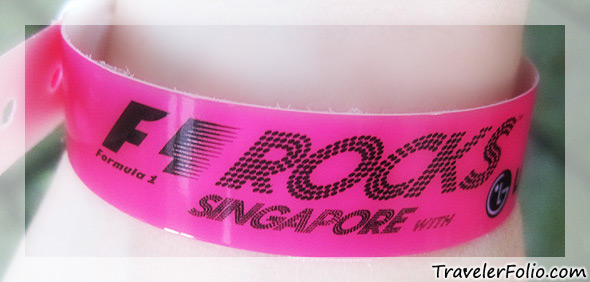 Getting ready for a high-octane evening with Jacky Cheung, the legendary singer from Hong Kong, together with the diva of mandarin pop – A-mei, Sodagreen and Da Mouth after walking up flights of stairs to Fort Canning hill where F1 Rocks is held. We reached around 6.45pm and our tickets allowed us through the fast track entry so there was no queue and it was hassle free with the security. I heard that some die-hard fans were already queuing up at the normal entry since 7am in the morning!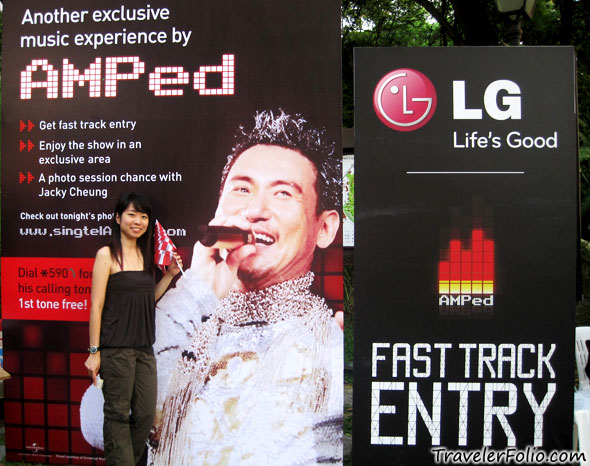 Well well since I'm a travel blogger, I won't want to miss this cannon. You'll come across this 9-pound cannon at Fort Canning hill. Like the name suggests, it's meant to shoot a 9-pound cannonball. This kind of gun dates back from the early 19-century and had become obsolete before Fort Canning was built. So, you better not think that this is our line of defence. XD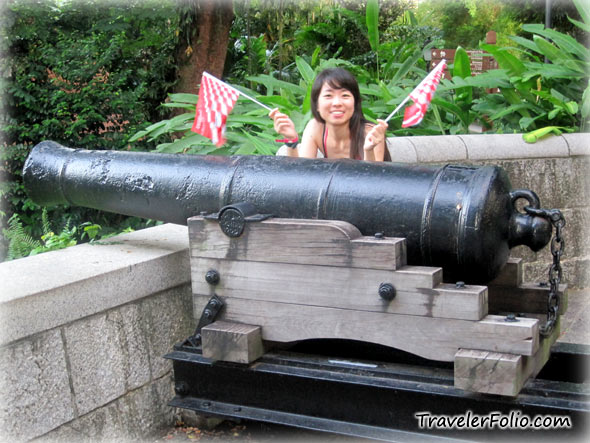 Here is the F1 ROCKS Concert! It's a rain or shine event and the day was hot and humid. Fortunately, no rain. The band on the stage was Sodagreen who were trying out the sound systems while we waited eagerly for the show to start at 7pm+.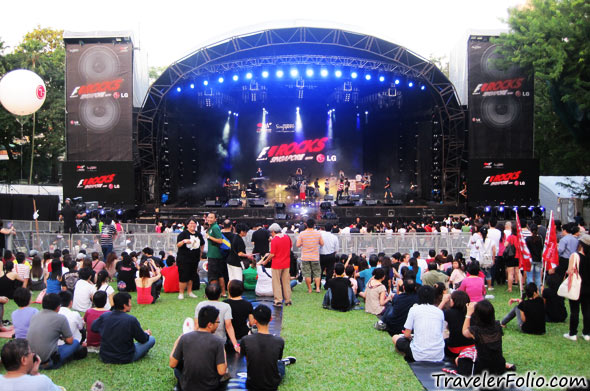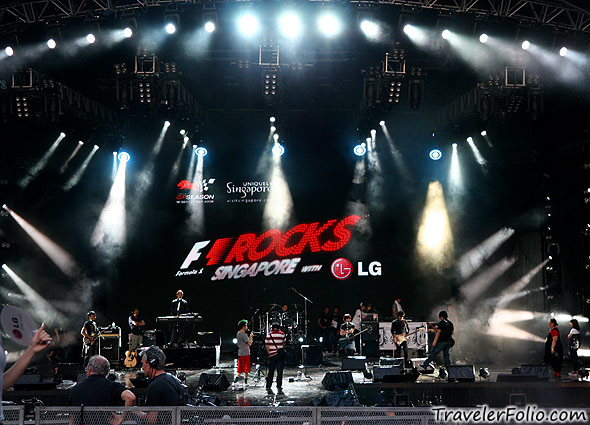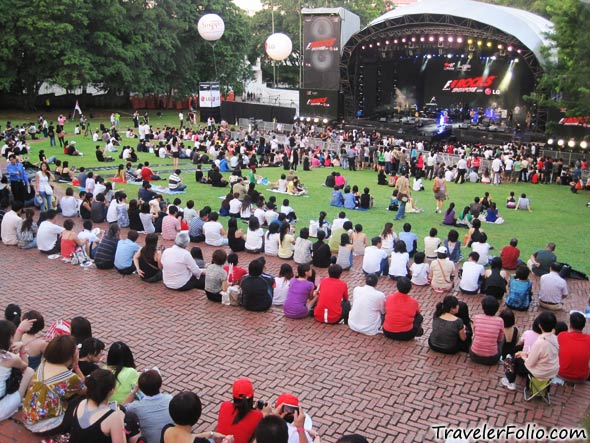 A little history about Fort Canning hill: It was once the forbidden hill of ancient Malay royalty. Later the British colonial leaders made their residences there and the hill became a military base during WWII. Now, what is left is the reminder of Singapore's colonial past.
How to go to Fort Canning Park? Nearest MRT stations: City Hall, Clarke Quay or Dhoby Ghaut. It is about 8-10mins walk from each station.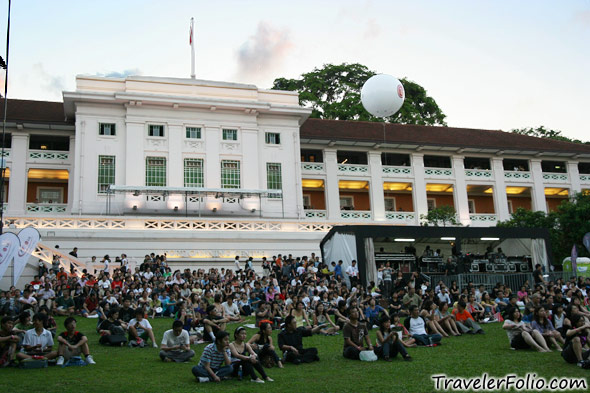 Still waiting to ROCK… night fell and more people were coming in.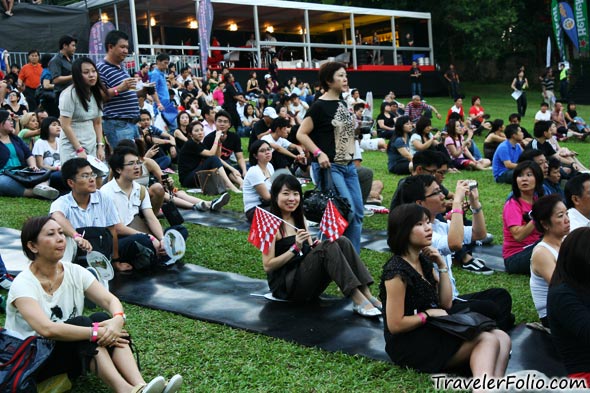 Flashes of the F1 Night Race that took place for the first time in Singapore last year…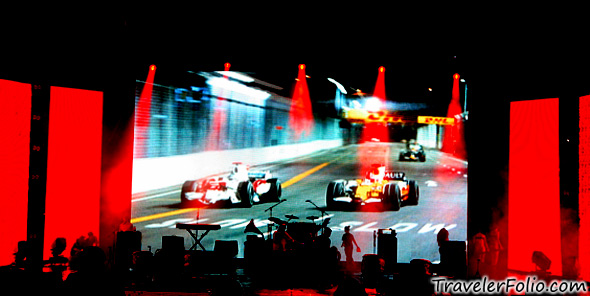 You can't sit to watch a rock concert! Everyone started to move nearer to the blasting stage while Da Mouth kicked off with their hot dance hit.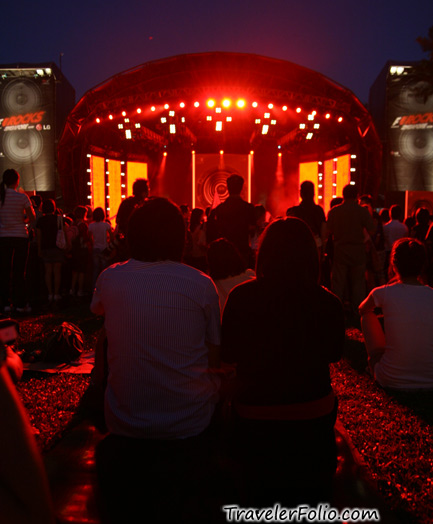 Next, more of F1 Rocks with Jacky Cheung, Sodagreen, Da Mouth, videos and A-mei up close at the media centre!