By Kelly Khong
We were first attracted by its refreshing turquoise blue and white interior with quirky birdcages and stylized trees; Delicious at Scotts Square provides a great hangout for diners who are looking for a fusion of Asian and Western cuisine.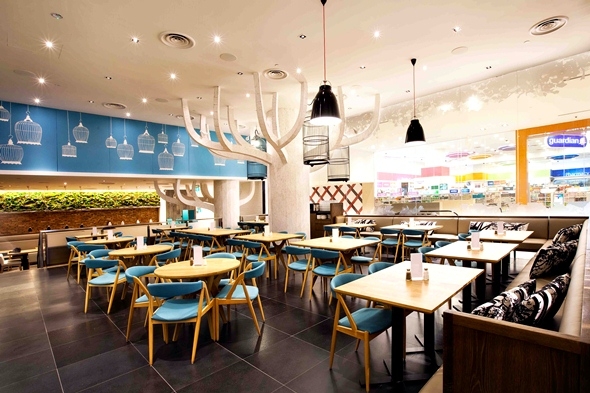 Steve Allen, the Eastern & Oriental Creative Chef, and his team endeavour to satisfy every diner's palate. "Keep cooking simple, if all you can cook great is a beef pie, then cook a great beef pie. Everyone will appreciate good food no matter how simple it is," says Chef Allen who has deep appreciation and interest in Southeast Asia cuisines.
You will be spoilt for choice with the menu. Apart from the must-have starters and main courses in western cuisine such Chicken Tenders and Duck Confit Spaghetti, Delicious dishes out a taste of Penang wonders too – Rendang Tok Beef Short Ribs, Seafood Sambal Tumis and Keropok Lekor, just to mention a few.
Nasi Kerabu with Ayam Percik (crisp skin, spicy barbecued chicken) served with raw ulam, salted egg & keropok.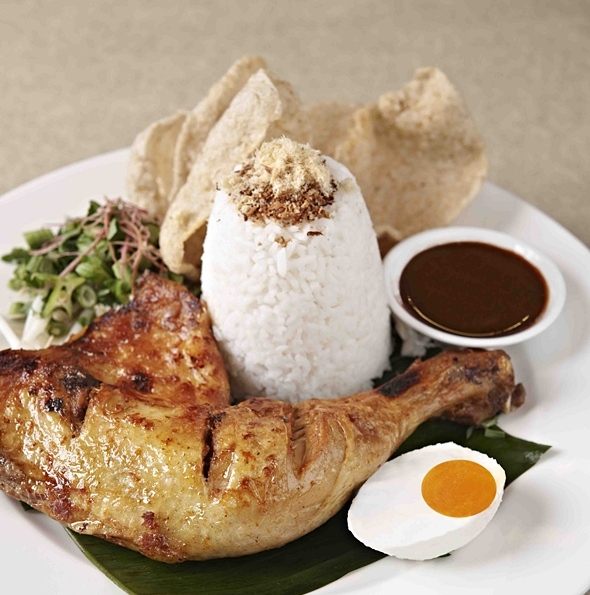 The Seriously Delicious Cheeseburger served with shoestring fries certainly can satiate the crave for comfort food.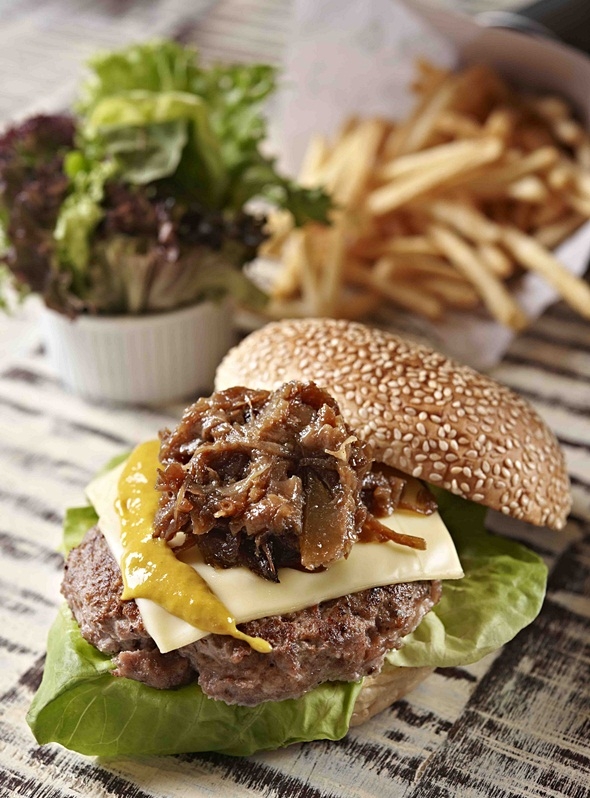 Duck Confit Spaghetti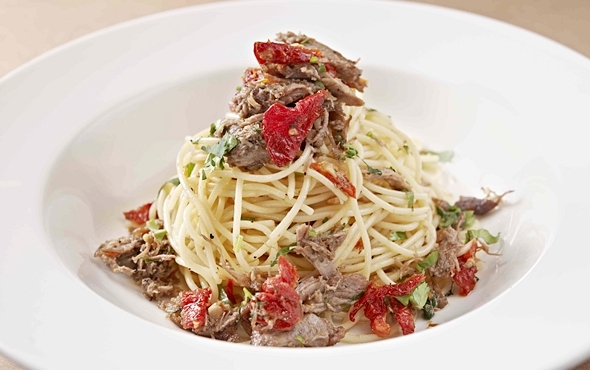 Special highlight for the Soft Shell Chilli Crabs, an innovative dish served by Delicious, where eating chili crabs is no longer a messy affair. Go for it, as the dish is drizzled with local favourite sweet and spicy sauce, served with fried mantou (buns) or white rice. This spin-off is novel yet strangely familiar to the locals and is highly recommended to try for yourself.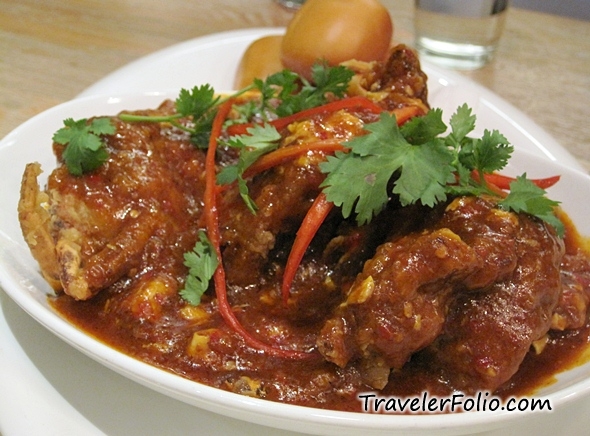 End the meal with a prefect note by having Coconut Cake with Fresh Coconut fillings. It's my favourite pick on the dessert page as coconut fillings and shavings favoured the cake with natural coconut sweetness that is light and refreshing. It's also a dessert not too commonly served elsewhere.
Coconut Cake with Fresh Coconut fillings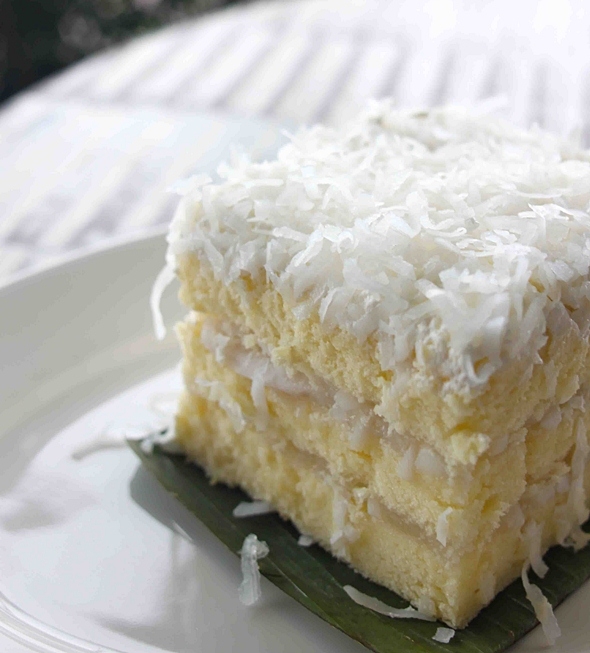 Delicious also serves fizzies and frosties, shakes, juices, coffee, teas as well as beer and wines. After a hearty meal, spend a good time with your company and retreat into a sanctuary of peace in Delicious.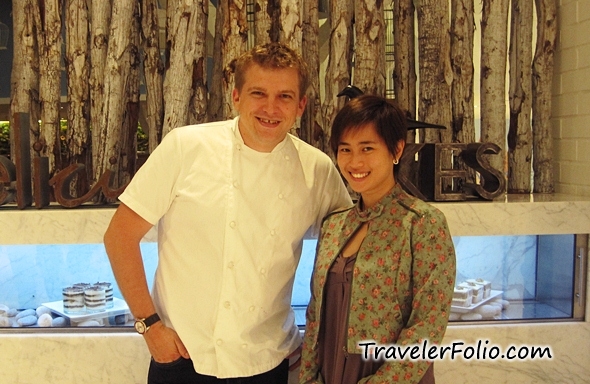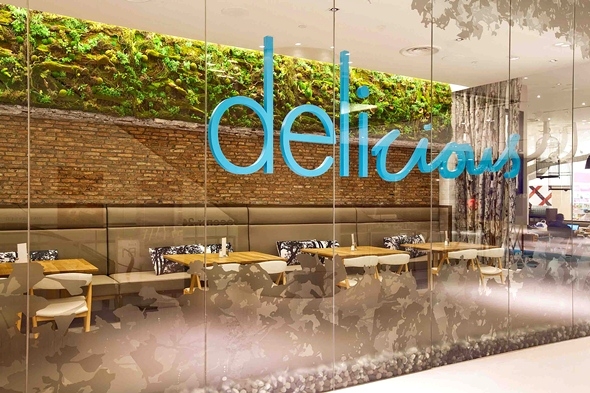 Delicious @ Scotts Square
Opening Hours: Mon-Sun & PH, 11am-9pm
Address: Basement 1 Scott Square No 6, Scotts Road Singapore 228209
Telephone: (+65) 6636 0903
Web: www.thedeliciousgroup.com.sg