Cradle Mountain-Lake St Clair National Park is such a beautiful paradise that even if you have forgotten your camera, you won't forget the stunning sceneries that are already etched in your memories. Who wouldn't want to stay longer in Cradle Mountain? Nonetheless, there is always another pristine region waiting for us to explore in Tasmania: Stanley, a quaint town of natural beauty in the far north-west – gateway to Cape Grim where you can take in some of the cleanest air in the world!
From Cradle region, it takes approximately 1.5 hours to arrive in Stanley. Anyway, it's likely that you would never have a boring long ride in this compact island state of Australia; there are plenty of good food and interesting sights to stopover for.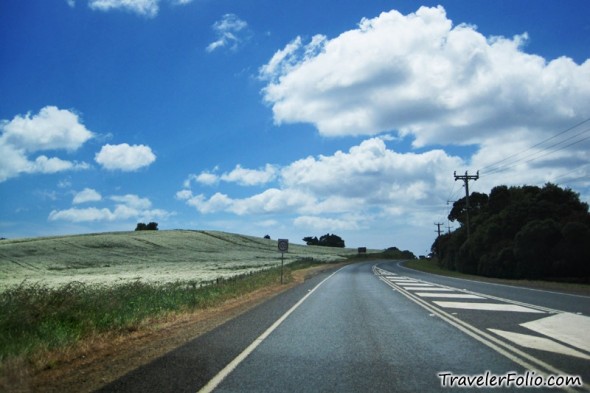 Along the Bass Highway, we pulled off in Wynyard, a lovely laid-back town that lies 16 km west of Burnie. Along the sparkling stretch of Bass Strait coast, the sweeping view is dominated by Wynyard's remarkable feature – Table Cape. The 180 metres high plateau that was once a volcanic lava lake has been transmuted into rich agricultural soil that is perfect for cultivating tulips. In the tulip blooming season in spring (September to October), you will see a vivid array of banded colours across the fields. No wonder it's a photographer's dream to capture that very picturesque scene.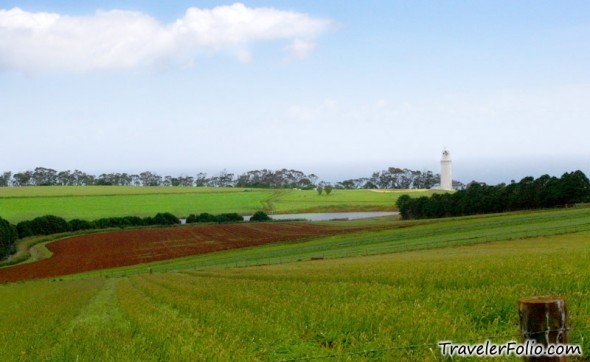 Table Cape Tulip Farm is located at 363 Table Cape Road, Wynyard Tas 7325. Web: www.vdqbulbs.com.au
A short walk (30 mins return) from Table Cape Lookout will bring you to the iconic Table Cape Lighthouse (since 1888) that is located on the cliff top, offering a viewpoint for miles around.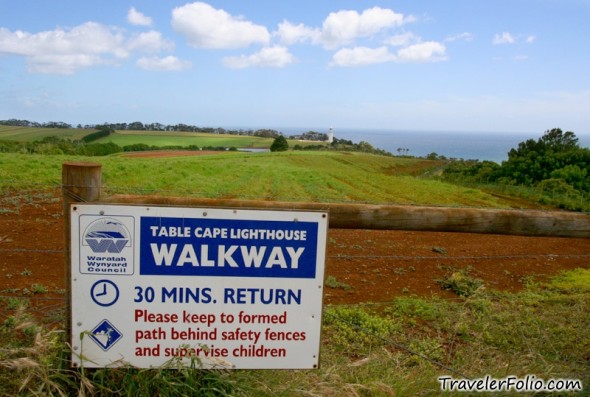 Table Cape Lookout – an extensive view along the North West coast of Tasmania.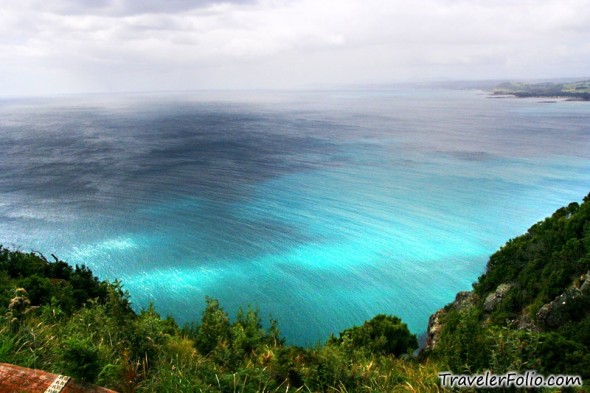 How about having lunch by the beachside while soaking in the breathtaking views of Bass Strait? We had a rejuvenating lunch at Jolly Rogers Restaurant at Boat Harbour Beach mid-way before we continued our journey to Stanley.
The restaurant serves a good selection of fine Tasmanian food (big portion!), savoury desserts, aromatic coffees, and of course, Tasmanian wines and beers.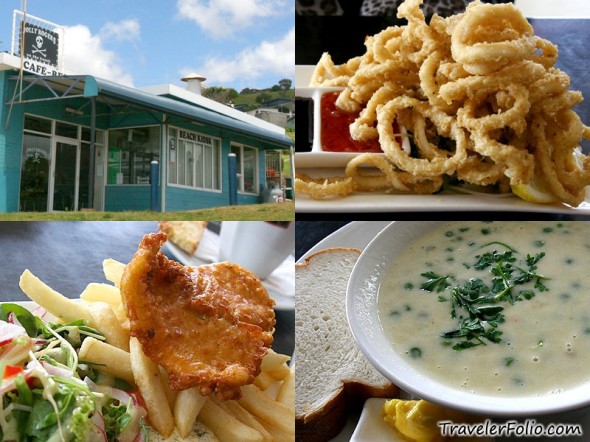 After about an hour's drive, when you see a distinctive flat-topped circular knoll looming on the horizon along the Bass Strait, you know you are arriving in Stanley. And the plateau is the famous landmark of Stanley – The Nut.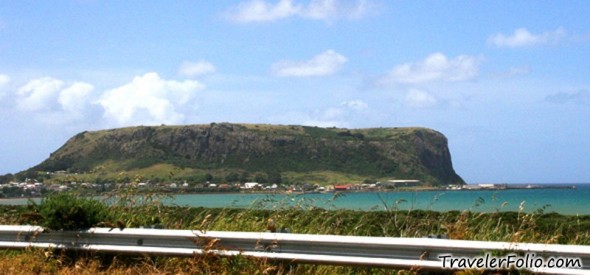 We checked in at Beachside Retreat West Inlet, an award-winning unique waterfront accommodation that offers contemporary-style eco-cabins and new luxury nature cabins tuck away from the hustle and bustle of everyday life. With private access to a secluded beach at your doorstep, the first class accommodation is the perfect place to unwind, relax and rediscover the simple yet quality pleasures that the nature offers.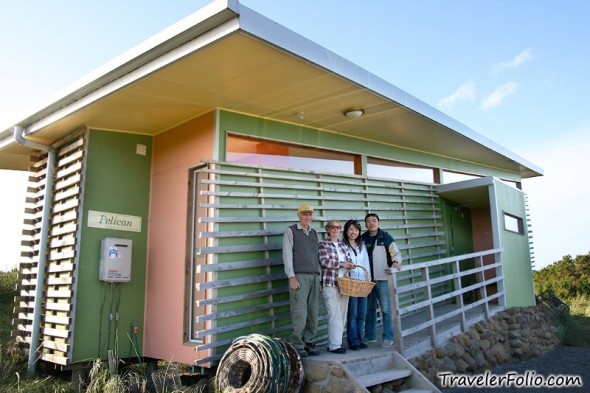 Photo features Chris and Janette, the passionate owners and committed hosts of our stay. We are staying at Pelican Luxury Cabin for 2 nights. The self-contained environmentally designed eco-cabin overlooks the sea and is catered for couples. We gonna have a second honeymoon in this gorgeous beachfront eco-cabin!

The beautiful beach at our doorstep! Choose the Beach or the Nature Trail – the property itself is already a very charming attraction!

Our hosts Chris and Janette told us that half a dozen of Sperm Whales were stranded along the coastline of their property over the past 10 years. A few years ago, a large sperm whale had to be towed out to the sea by a fishing trawler. Chris even has the photos of the stranded whale to share with us here.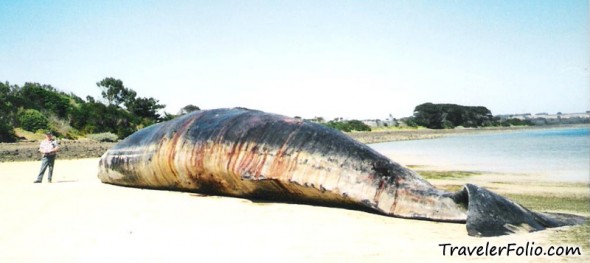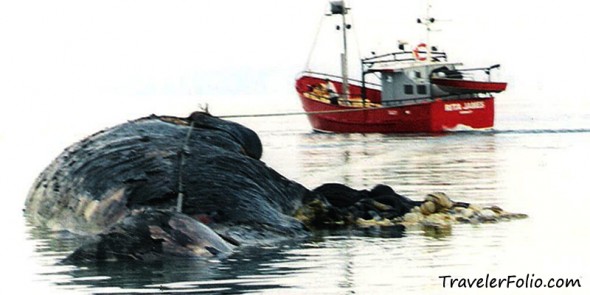 Beachside Retreat West Inlet is a great base to visit the Nut, national parks, forestry reserves, and cruises. Burnie Airport is just 40 mins away from this relaxing hideaway. The property owners host nature tours for their resident guests and also take people out who are not staying in the property. The 4WD Land Rover is used for private hire and quotes are available. (Chris's Email: tours@beachsideretreat.com)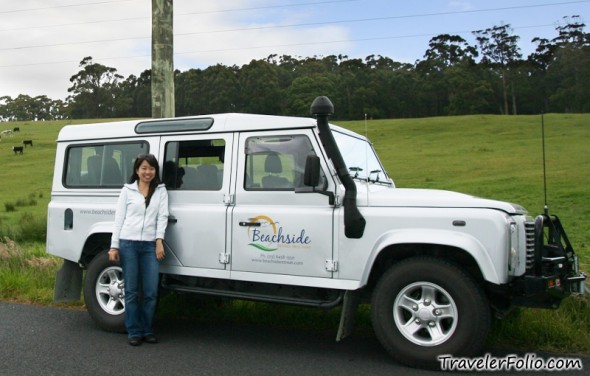 Address of Beachside Retreat West Inlet: 253 Stanley Highway, Stanley 7331.
Web: www.beachsideretreat.com
Read next post: Day 6 – Scenic Stanley