Just back from Korea! We had a blast on the week-long trip, traveling from Busan to the eastern part of the Korean peninsula, namely Gyeongsangbuk-do and Gangwon-do, and Seoul with K-Shuttle seat-in-tour bus.
Busan's waterfront.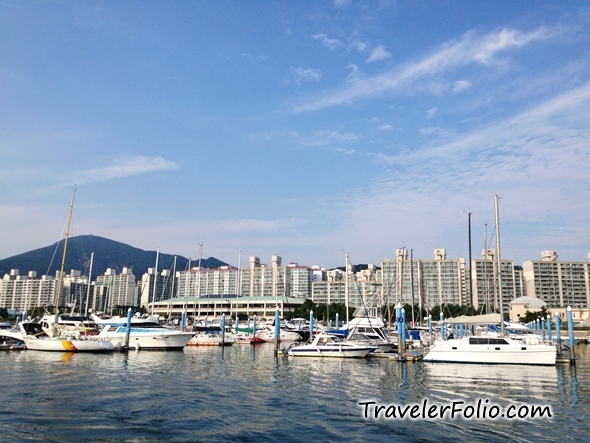 On the first day of the trip, we arrived at Incheon Airport after a 6-hour overnight flight from Singapore. Before proceeding to Gimpo airport to catch the next flight to Busan, we collected our SIM cards that we ordered online from Evergreen Mobile at Incheon airport. My iPhone got connected immediately as soon as the SIM card was inserted. Throughout the trip, I enjoyed the high-speed network connection with 'Olleh' – it was a breeze to upload photos to Instagram and Facebook. There wasn't any 'downtime' with the connection even when we were on highways in the mountainous region and high up at Mt Soerak. You can find out the suitable package on Evergreen Mobile website (www.egsimcard.co.kr).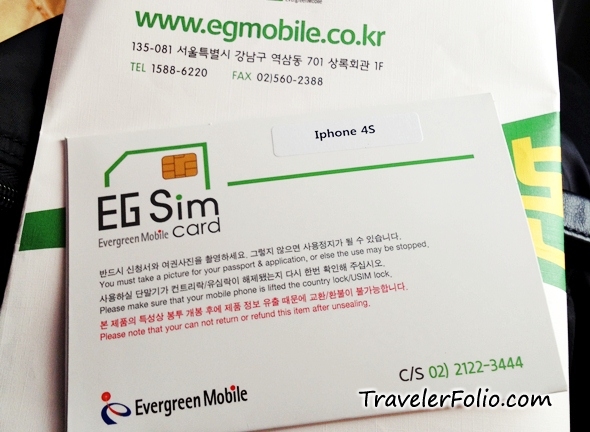 To get to Gimpo airport, purchase an airport bus ticket (₩5000) at the the bus terminal counters. From Incheon airport to Gimpo airport, it takes about 30-min.
Air Busan flew us to Busan in an hour. We boarded the airport bus (₩7000/ ticket) that dropped us at Seacloud Hotel at Haeundae an hour later.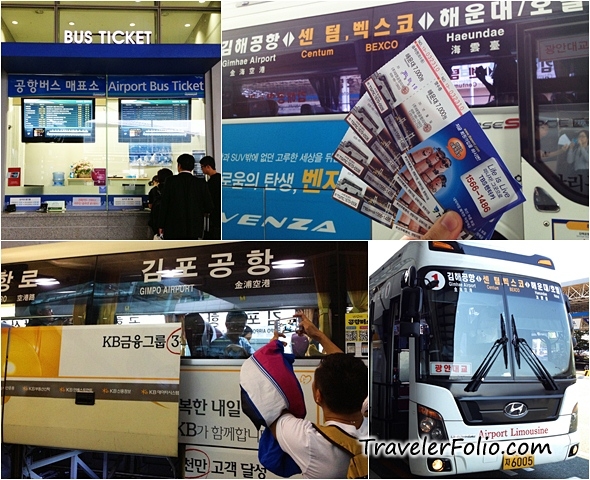 Quite a bit of traveling on the first day, yes. I was glad to be back in Busan again since July!
To satisfy the hunger pangs, we walked to Sogogi Gukbap Street in Haeundae for a beef-licious lunch. There are a number of small eateries serving awesome beef soup and noodles (~₩3500). Try the ox blood soup for only ₩3000.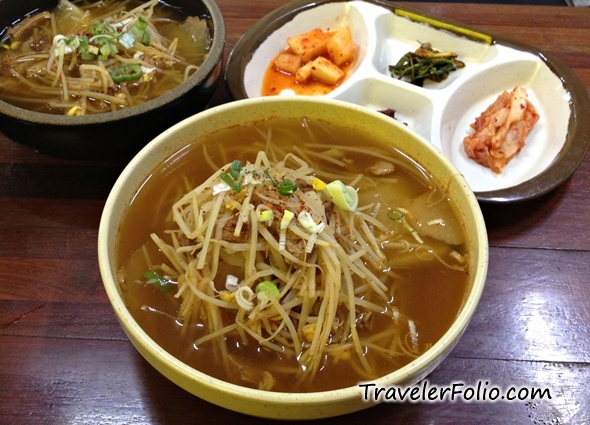 Jjimjilbang
Have you been to a Jjimjilbang in Korea? It's a public bathhouse popular among locals. Usually opens 24-hour, some travellers sleep overnight to enjoy the bathhouse and sauna, and continue to travel the next morning.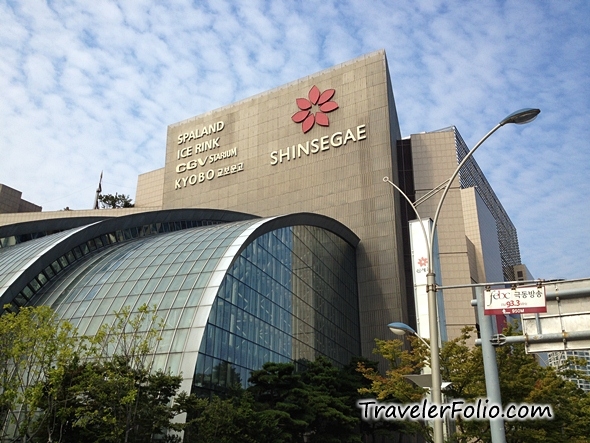 We badly needed a good rest to recharge ourselves after much travelling since the overnight flight and morning flight to Busan, but couldn't check in the hotel yet, so we spent a couple of hours at the Spa Land located at Shinsegae Centum City, the world's largest shopping complex in the Guinness Book of World Records.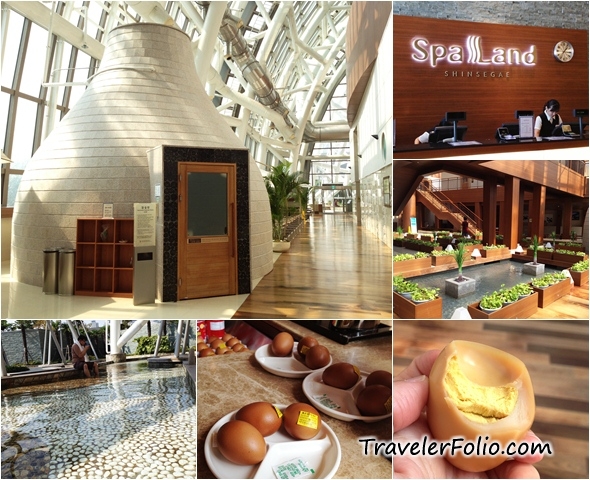 Like an oasis in the heart of Busan, Spa Land has two different kinds of all-natural spring water pumped up from underground – sodium bicarbonate hot spring and sodium chloride hot spring. There are 22 spas fed by natural spring water beneficial for health; 13 themed Jjimjilbangs including Finnish sauna, yellow earth room, Roman room, hard wood charcoal room and SEV room.
Yacht B
Back in July when I was in Busan, we cruised along Haeundae and Gwangan Bridge to soak in the breathtaking city view while having dinner on board the ferry. This time round, we sailed out in the daytime on Yacht B, a Korean made catamaran sail yacht operated by BEXCO, and toured Marine City, Dongbaek Island, Haeundae Beach and Gwangan Bridge before heading back to Busan Yachting Center in an hour.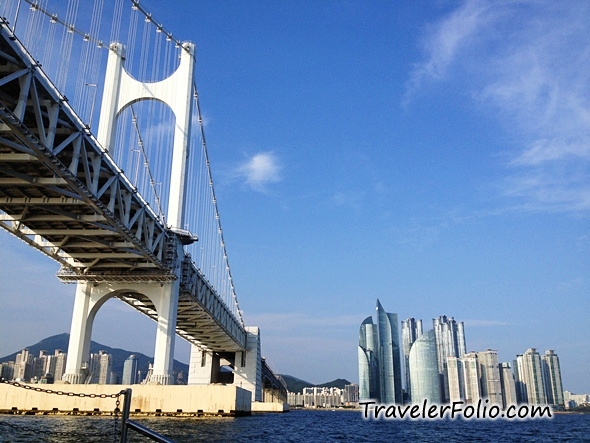 It was total relaxation (if you do not have sea sickness) on board the yacht tour with the friendly crew. While enjoying the sea breeze and picturesque views, some tried fishing while others took photos and foot bath.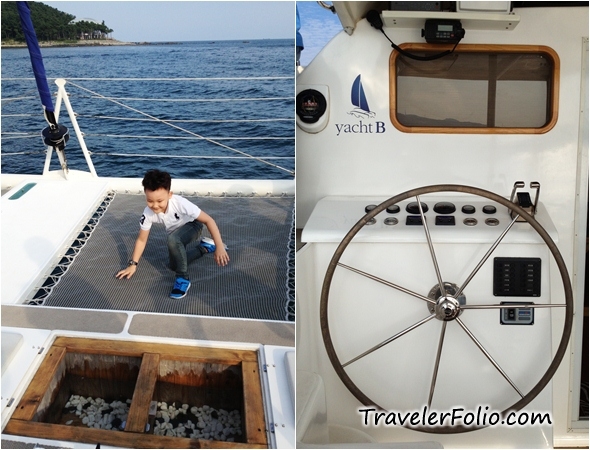 Darren was seriously fishing for a mermaid.
The crew grilled sausages, beef and vegetables for us to snack on. It was a short tour but quite a memorable one. For online reservation, go to www.yachtb.co.kr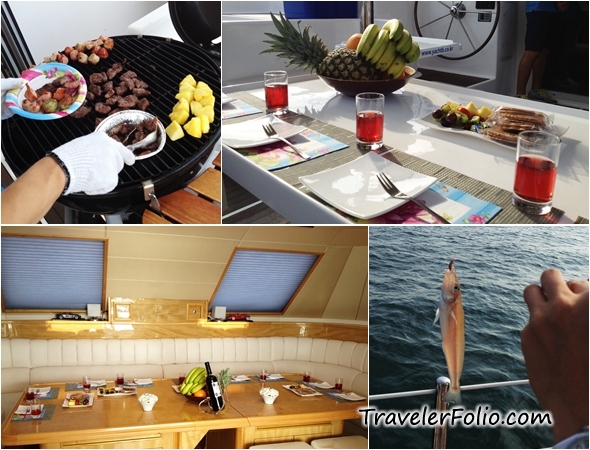 Head down to Gwangalli beach area where there are many restaurants specializing in Eonyang bulgogi – meat of cows reared in Eonyang. We dined at Jinmi Eonyang Bulgogi, each of us set back ₩25000 for a sumptuous dinner of roast beef so tender and juicy that I couldn't resist after the first bite.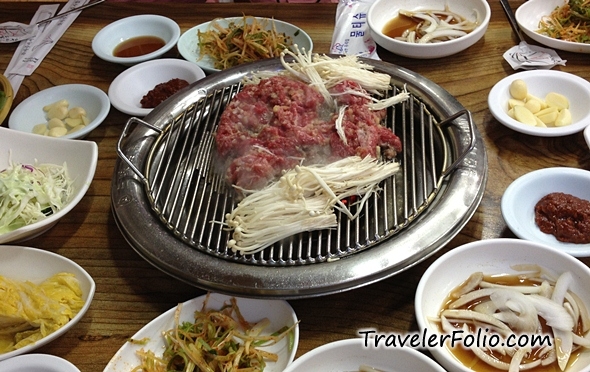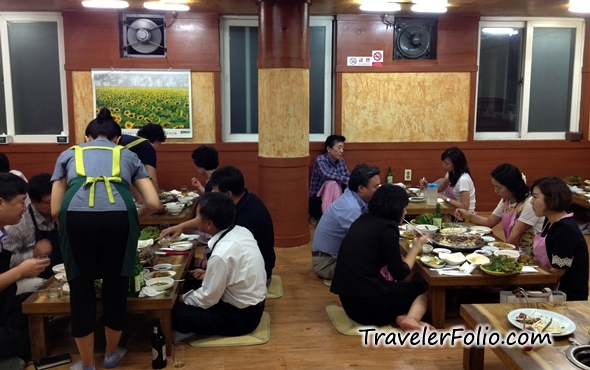 After dinner, take a stroll along Gwangalli beach, the second most popular beach in Busan after Haeundae Beach. The panoramic view here is nothing short of spectacular.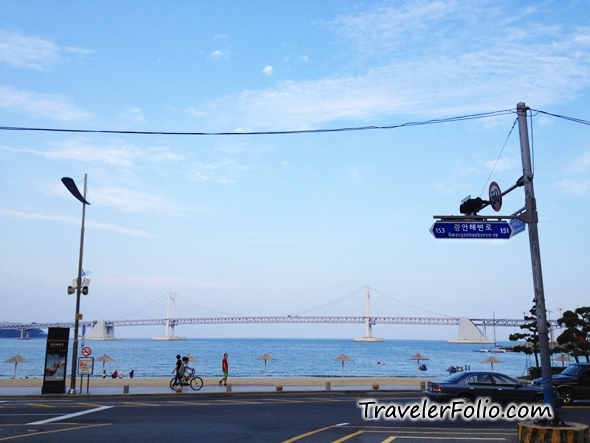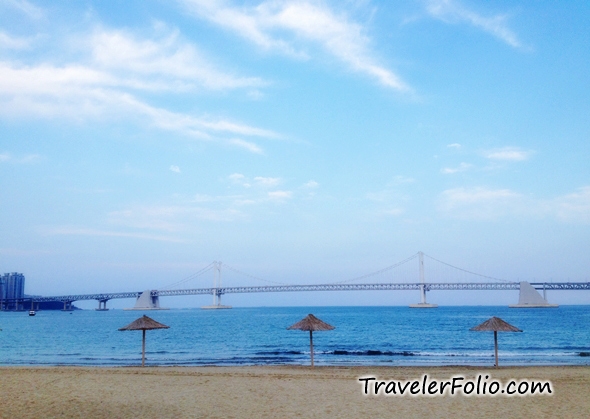 Gwangan Bridge is also known as Diamond Bridge.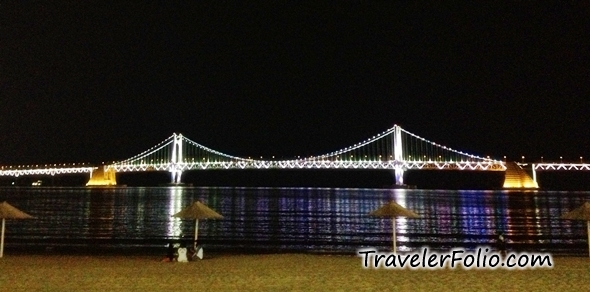 The night view of Busan from my hotel room at Seacloud Hotel in Haeundae.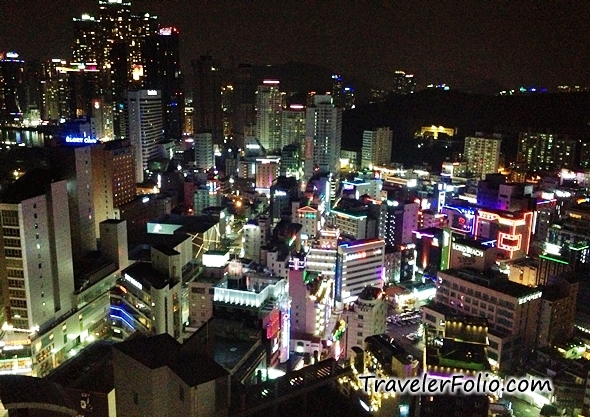 Read all posts on Korea Free & Easy
*Special thanks to Korea Tourism Organization Singapore for making this trip possible.