.
Gamcheon Culture Village
A must-see attraction that you shouldn't miss, Gamcheon Culture Village is the Santorini of Busan. Colourful hillside houses, verdant rolling hills and calm waters formed the picturesque scene of the rustic village. Be awed by the picture-perfect setting after a short walk up the steps to the observation deck.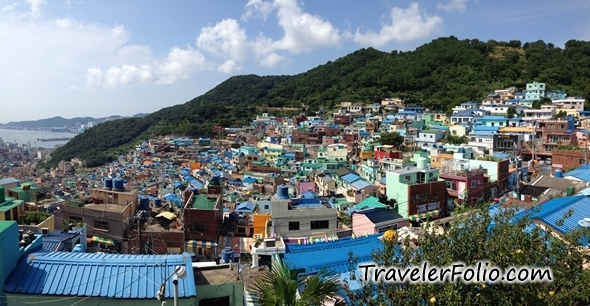 Colourful houses overlooking the sea.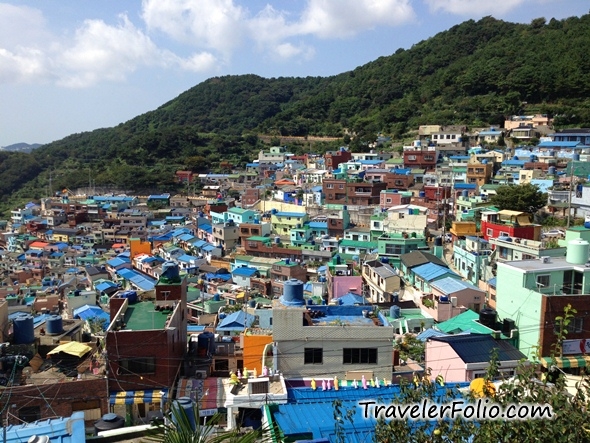 We came across some quirky sculptures and artworks at the village, interesting enough to keep our camera shutter busy.
Can you see a huge fish here? It's pointing towards the direction to the observatory.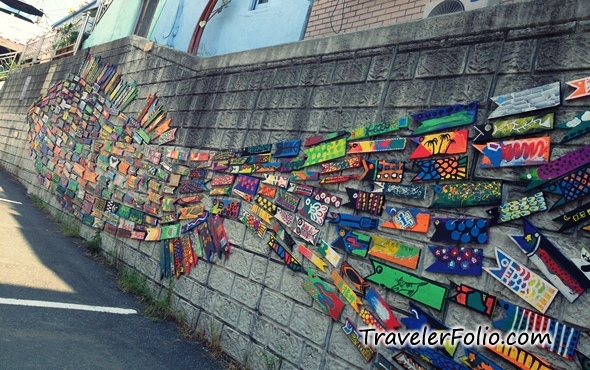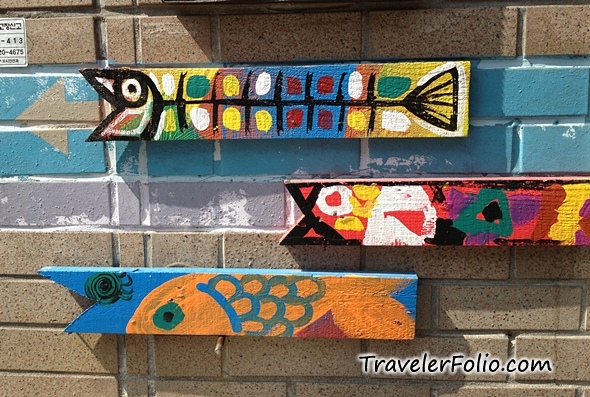 These colourful wooden blocks show you the direction up to the observatory.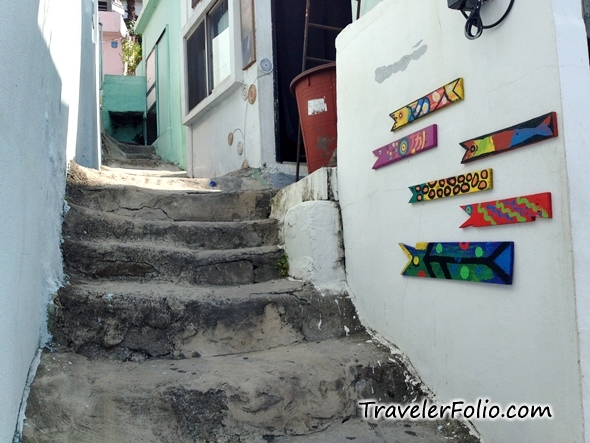 Ornamental birds on top of Gamnae Cafe where we popped by for coffee break.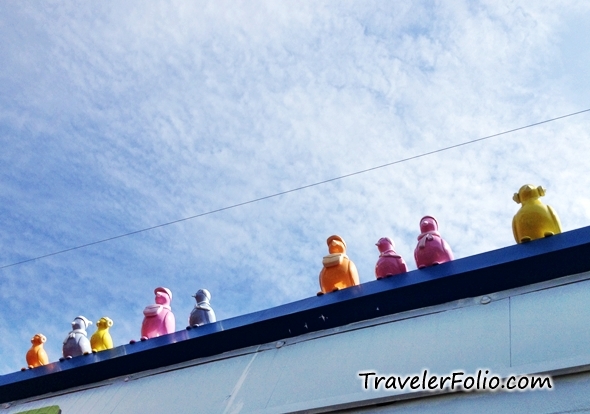 Chillax at this well-decorated cafe after some walking up and down the steps.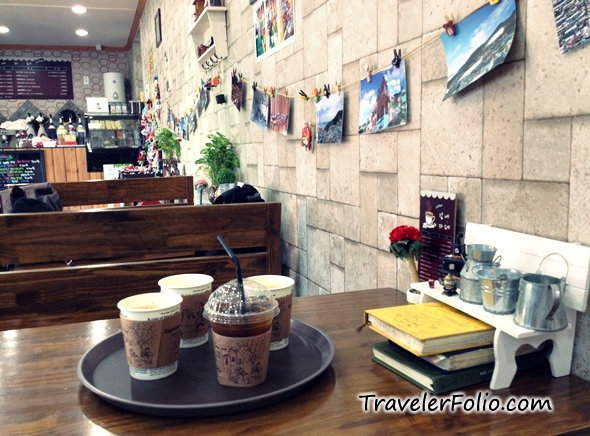 Who would have thought of recycling old pants for flower pots?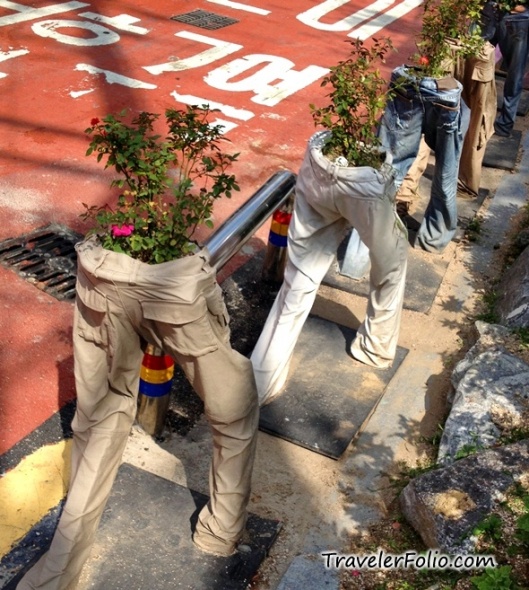 The main road that leads to the quaint alleys and observatory.
It takes a while (1~1.5hr by public buses) to get to Gamcheon Culture Village from where we were staying at Haeundae area. We took a bus and alighted after 19 stops to board another bus to the village. For comfort, you may consider taking a cab there; well, if you are travelling with 2~3 friends, just split the cost! Anyway, it's worth visiting the tourist attraction and spend a lazy afternoon exploring the nooks and corners of the quaint village.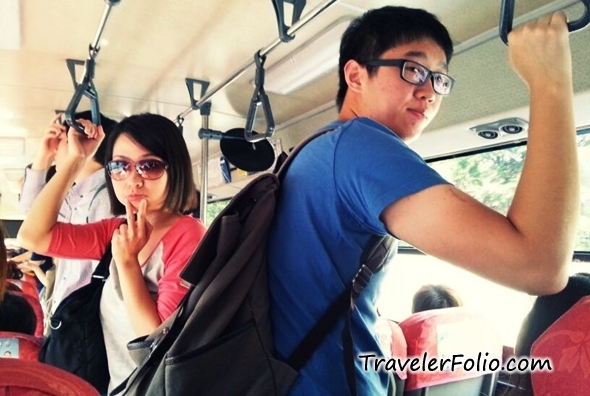 Taejogdae Resort Park
What's next? We travelled to another scenic destination – Taejongdae Resort Park. Before we began to explore the park, we had a delicious lunch at one of the Korean restaurants near the entrance of the park. I had a hearty meal of bibimbap (₩7000) 'mixed rice'.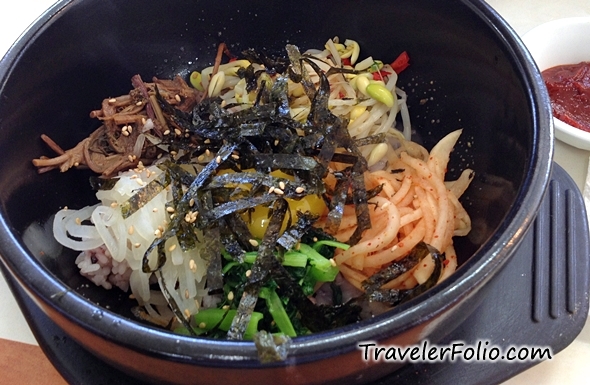 Located at the southern end of Yongdo island, Taejongdae is a nature park that offers spectacular views of the vast ocean and cliffs along the sweeping coastline. No automobile is allowed in the park, so visitors have to take the cute Danubi Train provided by the park at the entrance.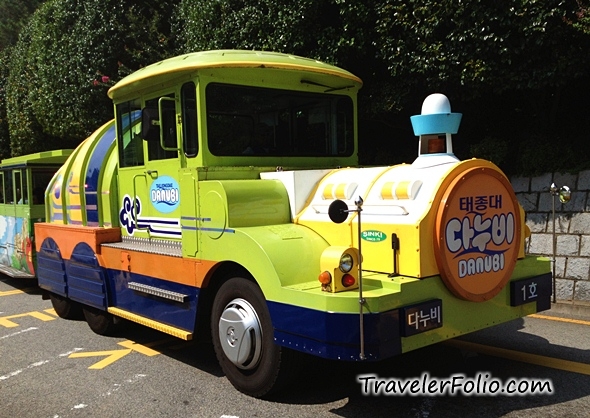 Here we were at the Taejongdae Observatory, appreciating the magnificence of Mother Nature. The location of the observatory used to be called "Suicide Rock" as many took their lives from the spot. In front of the observatory, the statue of a mother with her children reminds us of mother's love, so to speak, treasure life.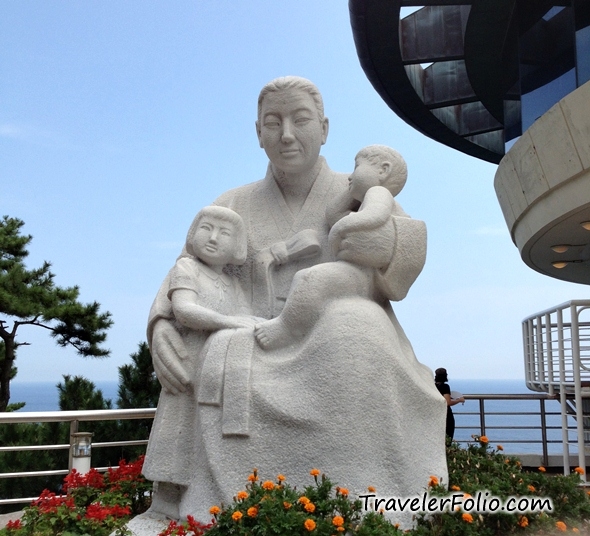 Islands of Japan from afar can be seen on a very clear day.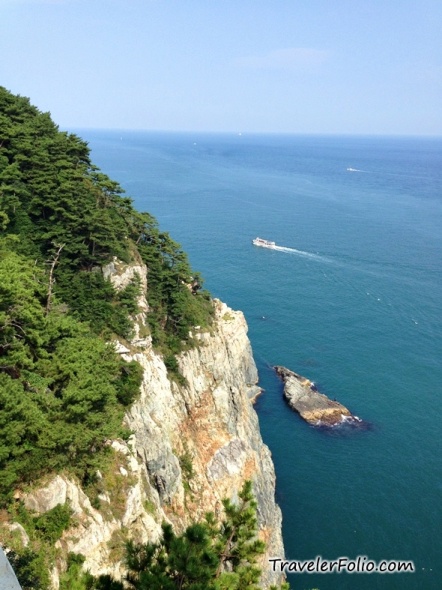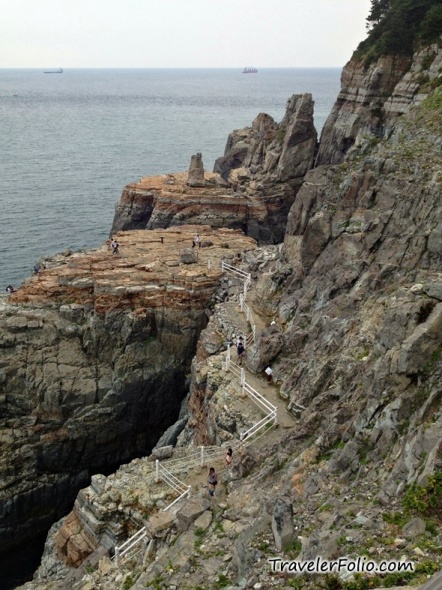 If you have time, make your way down to the Shinsun Rock and marvel at the majestic nature of the ocean.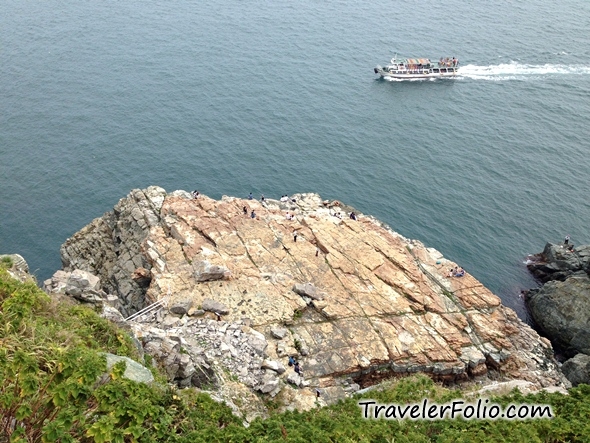 K-Shuttle Bus
We took a cab back to Seacloud hotel to collect our luggage before travelling to the nearby Westin Hotel in Haeundae to meet our English speaking guide, Mr Kim from K-Shuttle. A new chapter of the journey began. We were leaving Busan with K-Shuttle deluxe bus. I felt relaxed on the thought that we would be ferried around without the hassle of taking public transport.
Haeundae Beach, as seen from Westin Hotel.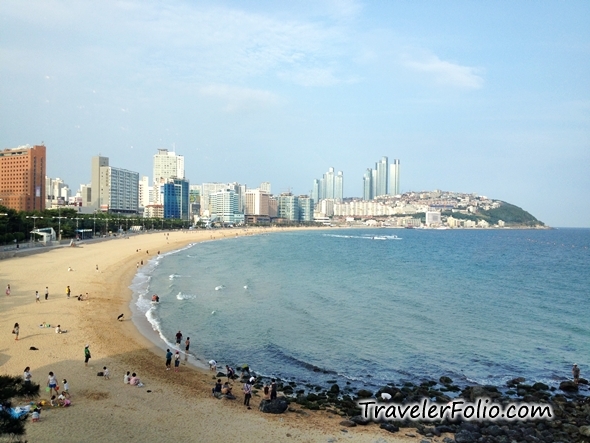 K-Shuttle is an exclusive bus that tours the must-see destinations in Korea that normal tour operators do not take you to. An English speaking guide will accompany you throughout the journey, breaking down language and cultural barriers. Some of the best traditional and historical attractions that K-Shuttle will take you to include Gongju, Buyeo, Gwangju, Gyeongju, Gangneung, Busan, Yeosu and Pyeongchang, the venue of the 2018 Winter Olympics.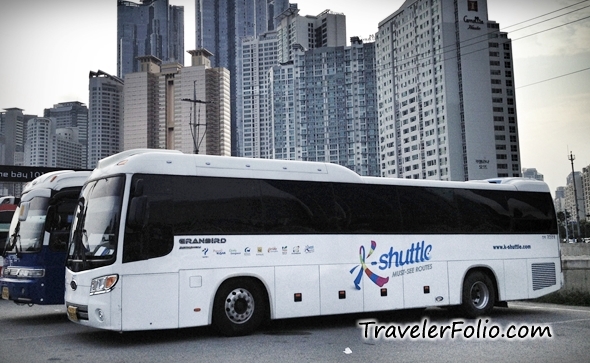 Operating daily, K-Shuttle is designed to provide the flexibility for free and independent travellers – the shuttle bus allows you to get on and off at any of the stops along its routes without extra costs, so that you can join another K-Shuttle bus the next day (subject to seat availability). In addition, K-Shuttle tours do not include any shopping destinations and tipping is not expected.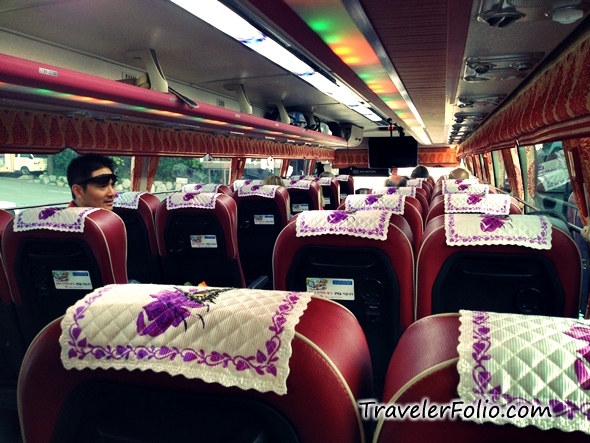 K-Shuttle bus tour departs from Seoul and the round trip will last 5-day 4-night. We only joined K-Shuttle in Busan for a 3-day 2-night tour to Gyeongju, Andong, Wonju, Pyeongchang, Mount Seorakan and ended in Seoul. Our package includes hotel accommodation, breakfast, English tour guide and admission fees to some attractions. For more information on K-Shuttle bus tours, check out www.k-shuttle.com
Together with 16 new travelling companions (Germans, Americans, Chinese) on the K-Shuttle bus, we headed to the historic city of Gyeongju. Known as 'the museum without walls', Gyeongju is home to 4 UNESCO heritage sites. We put up a night at Concord Hotel. An interesting highlight of the hotel is that its water supply is pumped up from a natural spring that has a pH level of 8.5-9.5, so the water feels soapy and it's good for your skin!
K-Shuttle brought us to all the nice traditional Korean restaurants during the bus trip. We had Jeju island black pork dinner at a restaurant overlooking the lake that's within walking distance from Concord Hotel Gyeongju.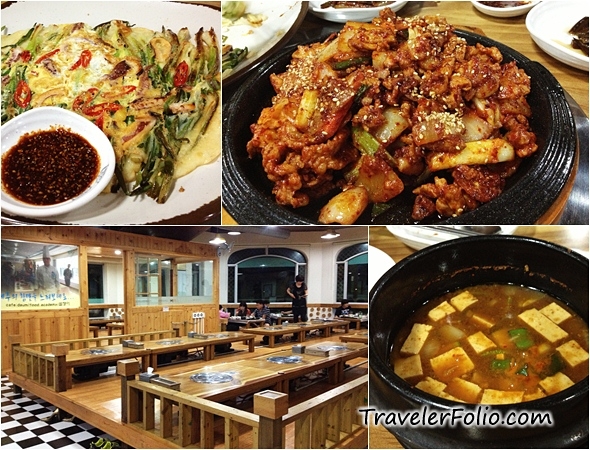 Come back here again soon for updates on Gyeongju and Andong!
Read Korea Free & Easy: Busan (part 1) and all posts on Korea Free & Easy
*Special thanks to Korea Tourism Organization Singapore for making this trip possible.