I heard a beautiful lyrical language floating around the station the moment we stepped out of the train after a 3-hr journey from London Gatwick airport. It must be Welsh, I thought, one of the oldest living languages in Europe from the 6th Century.
"Croeso I Caerdydd! Welcome to Cardiff!"
We arrived in the capital city of Wales on the first day of our 11-day trip around the United Kingdom. From Queen Street rail station to Hilton Hotel, a 10-min walk through swanky shopping arcades neatly tucked in rows of gorgeous historic buildings was a bit of window-shopping for me!
A spinning carousel.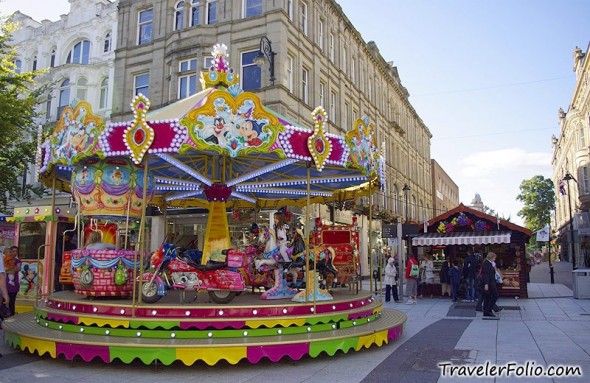 Happy kids walking on water in water spheres.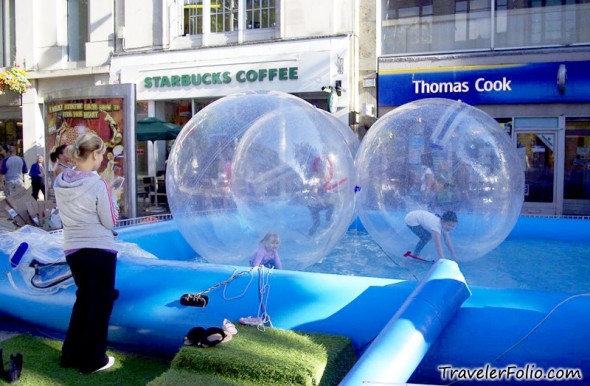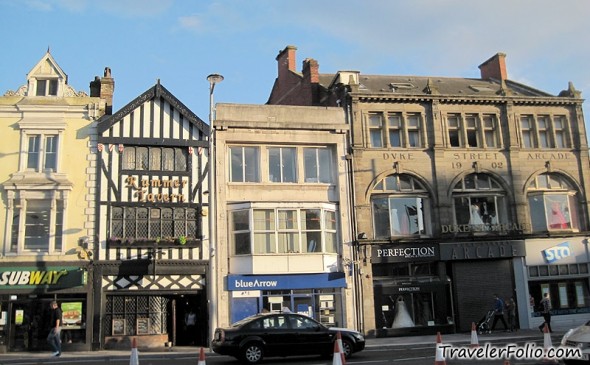 Cardiff is so compact that it's easy to navigate around the city without squinting your eyes on the locality map. The Civic Centre of imposing architectures set in lush green surroundings including the Welsh National War Memorial, the Temple of Peace, Cardiff University and the National Museum Cardiff; the magnificent Millennium Stadium and the shopping district touted as Top 5 UK shopping destination are all within a stone's throw away.
We can't miss Cardiff Castle too! Quite an unusual sight to behold, it's not a common affair to see a fairy tale-like castle right out of a room window, so close-by opposite Hilton Hotel that I could see the Singapore flag among other national flags perched on the castle wall!
Trying not to remind my biological clock that it was already 1am in Singapore (time to sleep!) when the Welsh sky is still bright and blue at 6pm and only gets dark after 9pm in summer, we headed to the Civic Centre to check out some of the finest buildings in the region.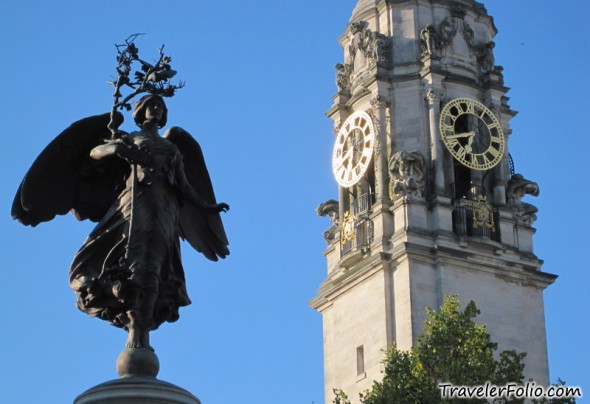 Cardiff City Hall.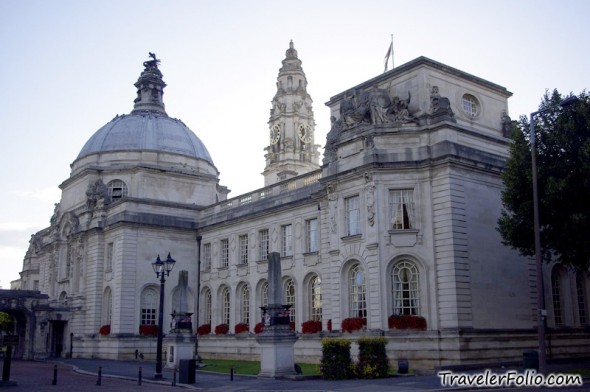 Spot the snarling dragon atop City Hall seemingly guarding an egg that perhaps symbolises Wales.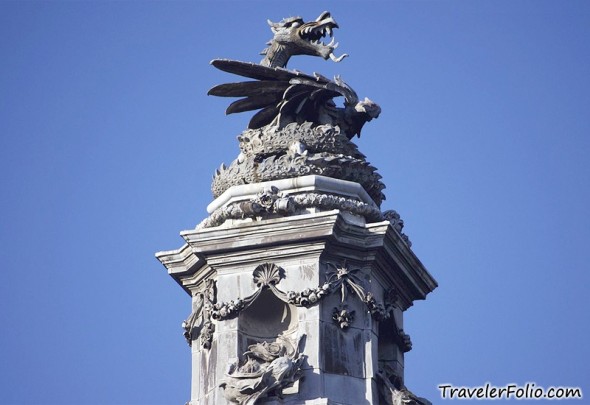 The National Museum Cardiff is one of the main draws at the heart of the Civic Centre. The green-domed museum houses a huge collection of paintings by world-renowned artists such as Monet, Pissarro, Renoir and Van Gogh as well as other highlights including the Evolution of Wales where you take on a 4,600 million year voyage alongside dinosaurs and the Archaeology Gallery that showcases Roman relics, Celtic Crosses, and Bronze Age goldwork. Admission to this world-class museum is FREE!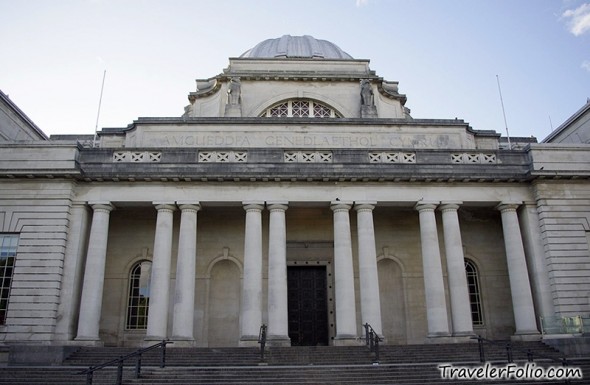 Located in Cathays Park, the Welsh National War Memorial in Alexandra Gardens commemorates the Welsh soldiers who died in World War I and World War II.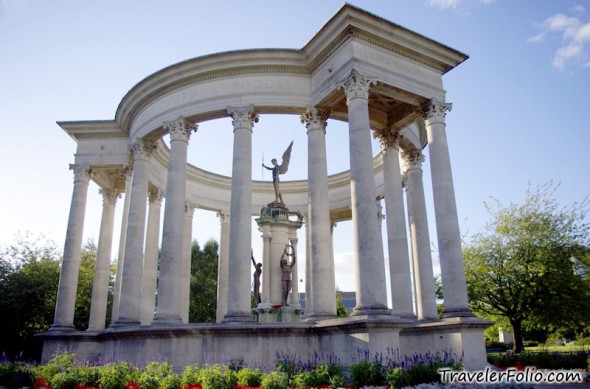 Cathays Park.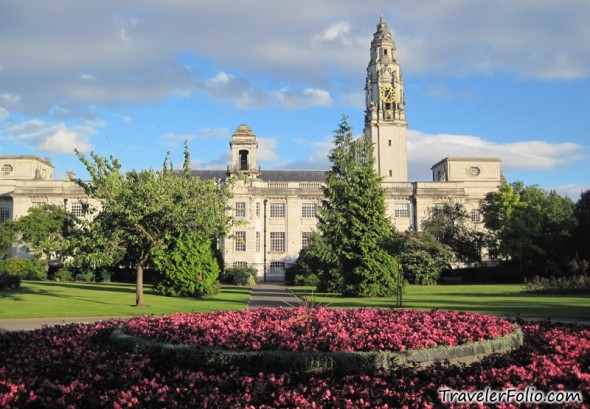 Cardiff University – one of the UK's leading universities.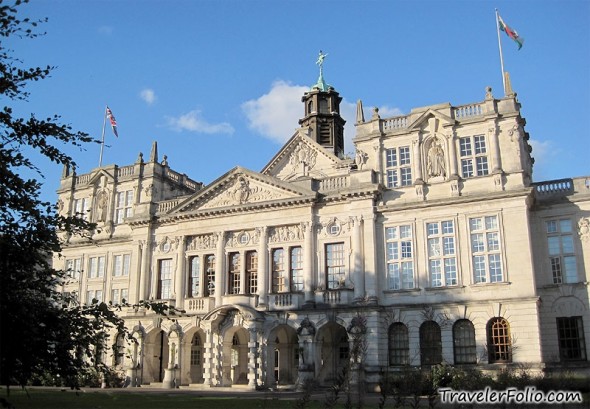 Thursday is late night shopping day with many shops open till 8pm in Cardiff. With a little time on hand, we hanged around the bustling shoppers' paradise teeming with niche boutiques along Queen Street and modern shopping complexes like Capitol, Queens and St David's that features high street fashion retailers including H&M, Fat Face, BHS, Republic and John Lewi's department store along with restaurants and cafes such as Yo Sushi, Nando's and Costa Coffee.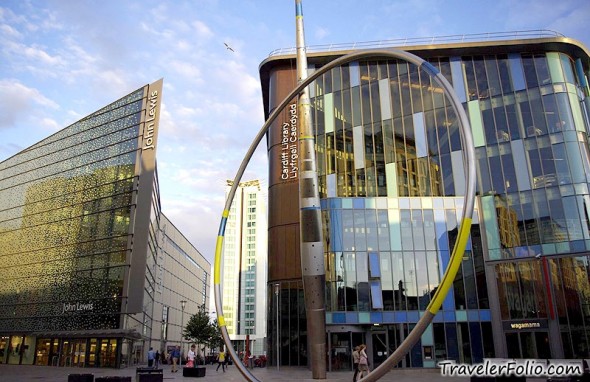 Pedestrianised shopping streets.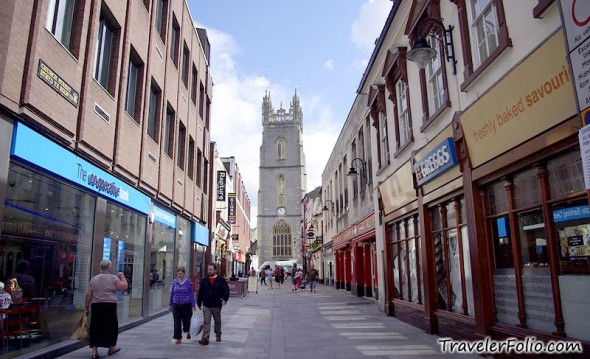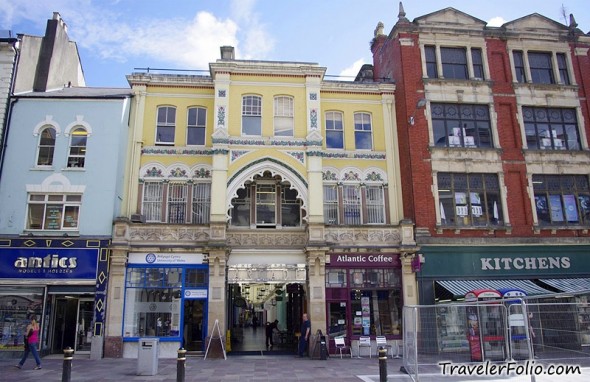 How about getting some Welsh souvenirs? Pop in Welsh Lovespoon Gallery just opposite Cardiff Castle. Give your dear ones the gift of love – the Welsh Lovespoon. It was traditionally given to a girl by her lover and symbolises luck, faith and love among others.
However, I think it would be tough to take this world's largest Welsh Lovespoon back home!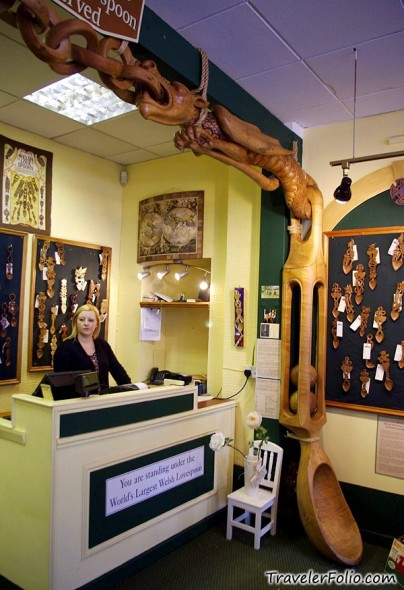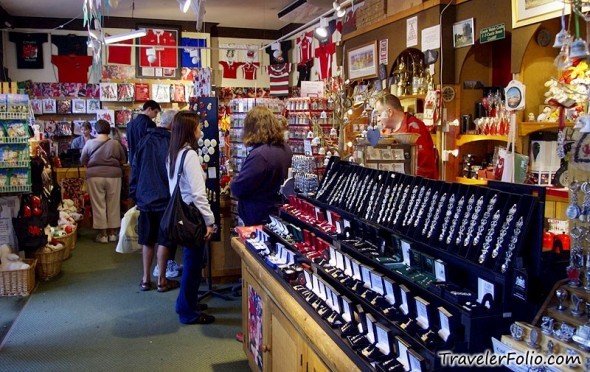 Cardiff Visitor Centre is conveniently located in the city centre at The Old Library, The Hayes. It offers services including bed bookings and internet access. Open 7 days a week till 6pm, except Sunday when it closes at 4pm.
Nothing beats a sensuous and delicious dinner in a cozy restaurant to end the day. Back to Hilton Hotel, we dined in Razzi restaurant that serves very good Welsh and British cuisines and had a 3-course meal. Our sumptuous seafood dishes came with big succulent scallops, savoury crabmeat cakes, chicken with laverbread (laver is seaweed) and a tasty pan-fried sea bass fillet with crisp skin. The toothsome desserts gave the perfect finishing touch of the quality dinner. (Price including a 3-course meal and non-alcoholic drink: £30+ per pax.)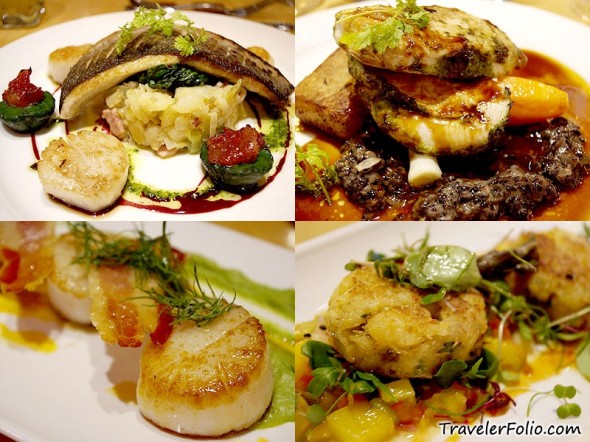 Hilton Hotel in Cardiff.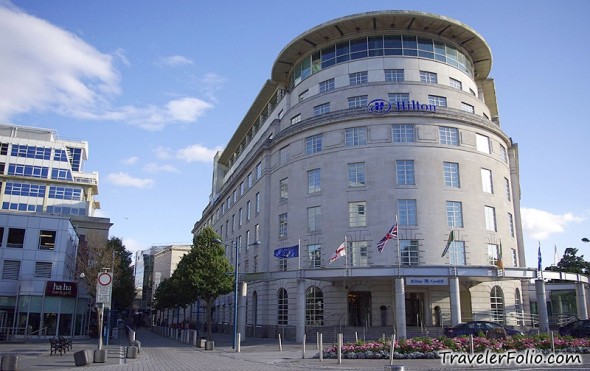 In the meantime, check out STA Travel website for great travel deals with up to 50% discount! Offers end on 11 Sept '10.
Read the next post on Touring around Cardiff in a day.